designboom is the first and largest independent publication dedicated to architecture and design.
3,5 million people who spend their valuable time on designboom can't be wrong.
these are impressive numbers (and real measurable results):
designboom is the most popular web-destination for architects and designers worldwide.
in the 17 years that we've been online designboom has helped some of the world's most respected
companies communicating their work and themselves to our audience in a purposeful manner,
underlining the high profile of their activities.
traffic*
• 3,5 million monthly visitors for designboom.com
• 1 million monthly visitors for designboom.cn
• over 15 million monthly page views
• over 45,000 articles
• over 230k bi-weekly newsletter subscribers
• over 110k daily newsletter subscribers
• over 1,2M facebook followers
• over 1,4M instagram followers
• over 1,1M twitter followers
• over 5,7M google+ followers
[* as of november 2017]

banner formats
designboom offers several options for reaching our audience through banner advertisements
- on a global level
- or geotargeted (local advertising)
unless otherwise noted, ads are displayed in rotation for the length of the agreement,
until the guaranteed amount of impressions is achieved.
BILLBOARDS
- banner location: every page of designboom (ROS); BOLD over the fold
- banner size: 950x250, 970x250, 1156x250
- filetypes: static picture, javascripts
- CPM: 30,
- average CTR: 0,45
HALF PAGE
- banner location: every page of designboom;
- banner size: 300x600 pixels
- filetypes: static picture, javascripts
- CPM: 20,
- average CTR: 0,30
MOBILE PREMIUM
- banner location: every page of designboom; ROS
- banner size: 500x600
- static images only (.jpg or .gif files)
- CPM: 16,
- average CTR: 0,25
NEWSLETTER BANNERS
- weekly newsletter
sent every monday
banner location: TOP - over the fold
banner size: 818x330 pixels- static images only (.jpg or .gif files)
sent out to over 230,000 subscribers throughout the world.
this audience is made up of mostly professionals as well as architecture and design enthusiasts.
the newsletter highlights our most popular articles, notable art, architecture and design projects,
and reports from international events, design competition announcements, and other news.
- daily newsletter
sent out seven days a week
the daily newsletter reaches 100,000+ subscribers, mostly people working in professional
architecture and design studios - a must read for innovation managers of companies.
from monday to friday the newsletter lists daily articles. on saturday it features the ten most popular
articles from the past week, while sunday's newsletter follows a specific theme.
RATES
please write to us specifying your ad request.
we can also design a campaign proposal for more integrated advertising exposure.
contact: [email protected]
please note
• repeat and extended contract advertisers will receive a discount.
• complete impression and click-through reports are available upon request.
• third-party ad servers are welcome.
• ad campaigns can be customized.
OUR ADVERTISING CLIENTS INCLUDE:
AUTOMOTIVE:
AUDI, GERMANY
BMW, GERMANY
FIAT GROUP, ITALY
INFINITI, JAPAN
LEXUS, JAPAN
MINI, GERMANY
NISSAN, JAPAN
PEUGEOT, FRANCE
RENAULT, FRANCE
PORSCHE, GERMANY
SMART, GERMANY
CONSUMER ELECTRONICS:
ACER, TAIWAN
ALTEC LANSING, USA
FUJITSU, JAPAN
HP, USA
LG, KOREA
PHILIPS, NETHERLANDS
PLANTRONICS, USA
SAMSUNG, KOREA
SANYO, JAPAN
TIVOLI AUDIO, USA
EDUCATION:
CREATIVE ACADEMY, milan, ITALY
ECOLE SPECIALE D'ARCHITECTURE, paris, FRANCE
FULL SAIL UNIVERSITY, florida, USA
HONK KONG POLYTECHNIC, HONG KONG
IED barcelona, SPAIN
MFA - PRODUCTS OF DESIGN, new york, USA
NATIONAL TAIWAN NORMAL UNIVERSITY, taipei, TAIWAN
PARSONS THE NEW SCHOOL, new york, USA
PIET ZWART INSTITUTE, rotterdam, THE NETHERLANDS
RISD - RHODE ISLAND SCHOOL of DESIGN, USA
SAIC - School of the Art Institute of Chicago, USA
SCUOLA POLITECNICA di DESIGN, milan, ITALY
SOUTHERN CALIFORNIA INSTITUTE of ARCHITECTURE, USA
FAIRS & INSTITUTIONS:
DESIGN ASSOCIATION, JAPAN
DWELL ON DESIGN, los angeles, USA
FIERA MILANO INTERNATIONAL, ITALY
HONG KONG DESIGN CENTRE, HONG KONG
KOREA INSTITUTE OF DESIGN PROMOTION, KOREA
ICEX - INSTITUTO ESPANOL de COMERCIO EXTERIOR – SPAIN
ICFF _ INTERNATIONAL CONTEMPORARY FURNITURE FAIR, new york, USA
IF - INTERNATIONAL FORUM DESIGN, hannover, GERMANY
IFFS - INTERNATIONAL FURNITURE FAIR SINGAPORE
IMM COLOGNE, GERMANY
INTERZUM INTERNATIONAL FAIR, cologne, GERMANY
JAPAN INSTITUTE OF DESIGN, JAPAN
MAD - MUSEUM OF ART AND DESIGN, new york, USA
MAISON & OBJET, paris, FRANCE
MUDAM, LUXEMBOURG
POWERHOUSE MUSEUM, sidney, AUSTRALIA
STOCKOLM FURNITURE FAIR, SWEDEN
VICTORIA & ALBERT MUSEUM, UK
LIFESTYLE:
HERMES, FRANCE
MARIMEKKO, FINLAND
MB&F, SWITZERLAND
MOLESKINE, ITALY
ONITSUKA TIGER, JAPAN
SWAROVSKI, AUSTRIA
UNIQLO, JAPAN
HOMEWARE: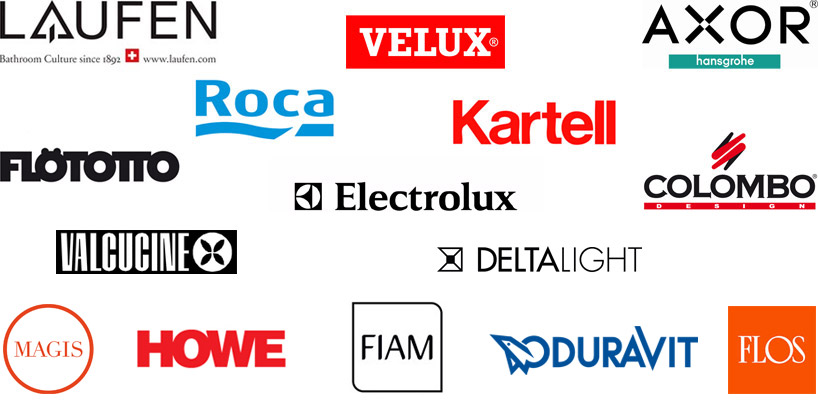 AXOR, GERMANY
COLOMBO DESIGN, ITALY
DELTALIGHT, BELGIUM
DURAVIT, GERMANY
ELECTROLUX, SWEDEN
FIAM. ITALY
FLOS, ITALY
FLOTOTTO, GERMANY
HOWE, DENMARK
KARTELL, ITALY
LAUFEN, SWITZERLAND
MAGIS, ITALY
ROCA, SPAIN
VALCUCINE, ITALY
VELUX, DENMARK
SOFTWARE - INTERNET:
FAB, USA
ISTOCKPHOTO, USA
SOLIDTHINKING, USA
SQUARESPACE, USA
---
for any inquiry, please do not hesitate to contact us
massimo mini
[email protected]