designboom is the first and largest independent publication dedicated to architecture and design. 3.5 million people who spend their valuable time on designboom can't be wrong.
these are impressive numbers (and real measurable results): in the 20 years that we've been online, designboom has helped some of the world's most respected companies communicate their work and themselves to our audience in a purposeful manner, underlining the high profile of their activities.
traffic*
• 3.5 million monthly visitors for designboom.com
• 1 million monthly visitors for designboom.cn
• over 15 million monthly page views
• over 50,000 articles
• over 275k weekly newsletter subscribers
• over 120k daily newsletter subscribers
• over 3M instagram followers
• over 1.2M facebook followers
• over 1.2M twitter followers
• over 200k wechat followers
[* as of august 2020]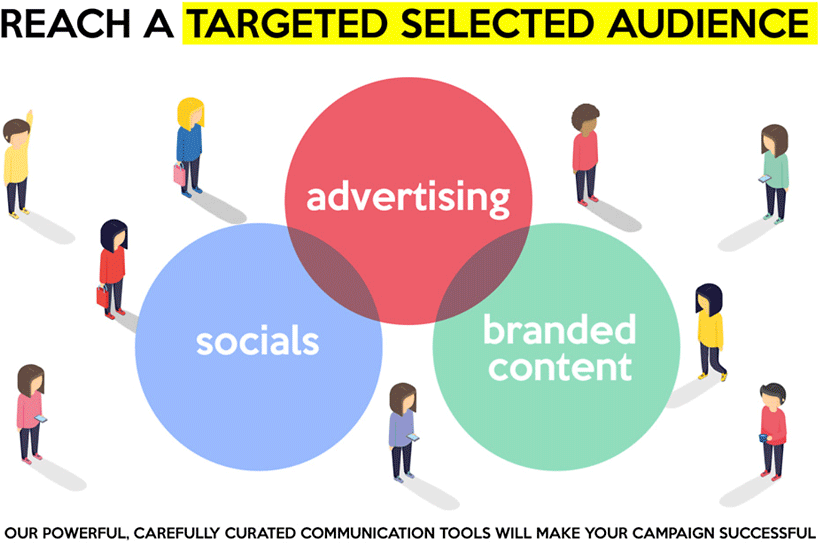 banner formats
designboom offers several options for reaching our audience through banner advertisements
– on a global level
– or geotargeted (local advertising)
unless otherwise noted, ads are displayed in rotation for the length of the agreement,
until the guaranteed amount of impressions is achieved.
BILLBOARDS
– banner location: every page of designboom (ROS); BOLD over the fold
– banner size: 950×250, 970×250, 1156×250
– filetypes: static picture, javascripts
– CPM: 30,
– average CTR: 0,45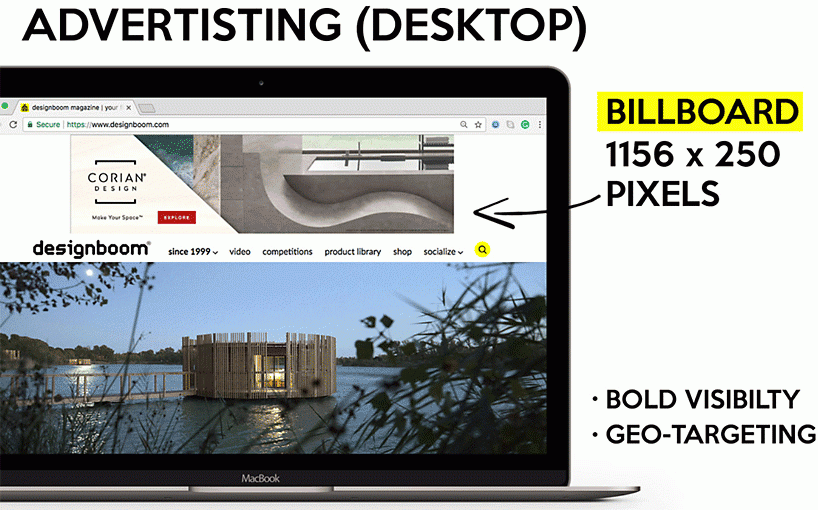 HALF PAGE
– banner location: every page of designboom;
– banner size: 300×600 pixels
– filetypes: static picture, javascripts
– CPM: 20,
– average CTR: 0,30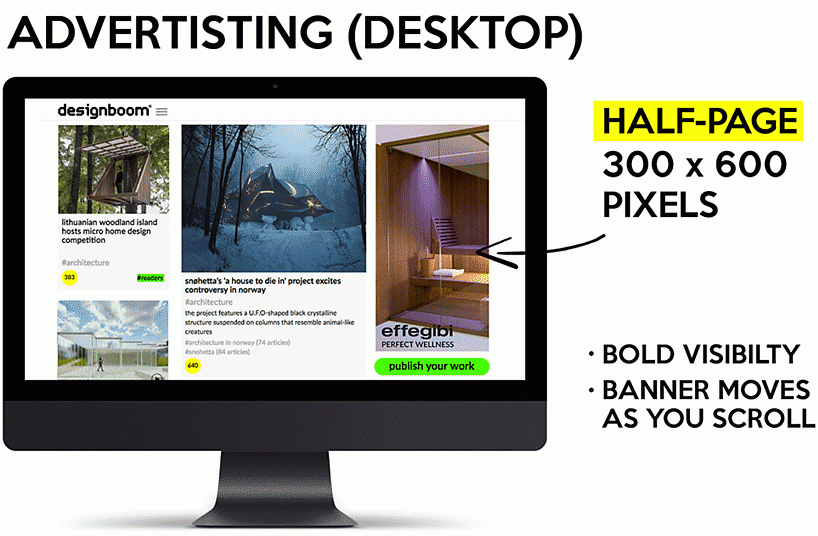 MOBILE PREMIUM
– banner location: every page of designboom; ROS
– banner size: 500×600
– static images only (.jpg or .gif files)
– CPM: 16,
– average CTR: 0,25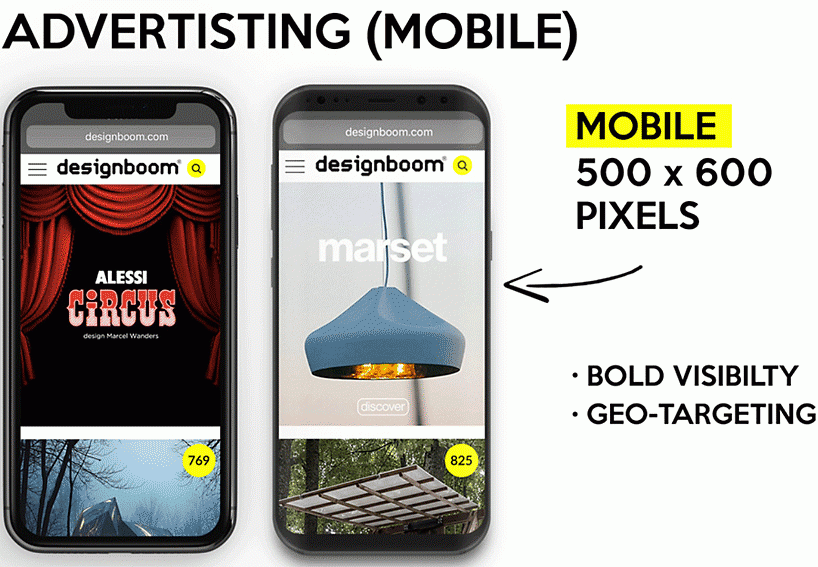 NEWSLETTER BANNERS
– weekly newsletter
sent every monday
– daily newsletter
sent out seven days a week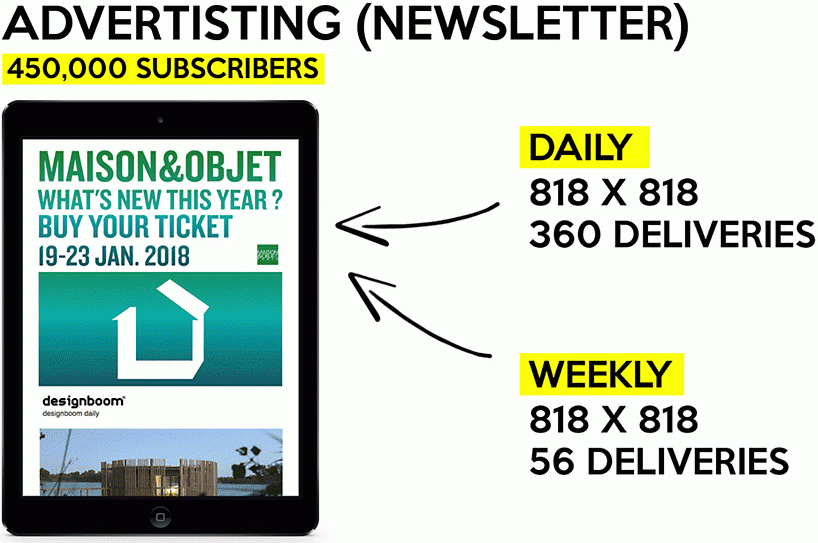 RATES
please write to us specifying your ad request.
we can also design a campaign proposal for more integrated advertising exposure.
contact: [email protected]
please note
• repeat and extended contract advertisers will receive a discount
• complete impression and click-through reports are available upon request
• third-party ad servers are welcome
• ad campaigns can be customized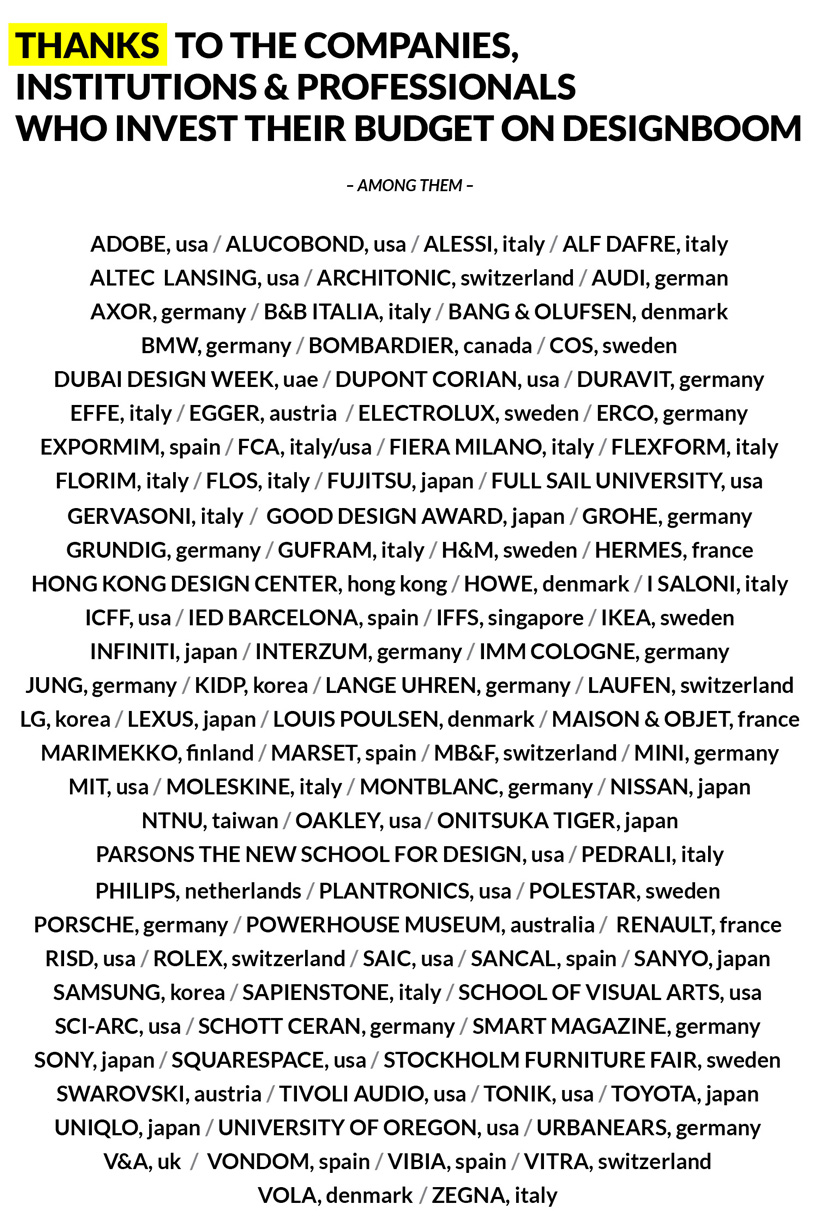 —
for any inquiries, please do not hesitate to contact us:
torsten mischel
[email protected]