jan 10, 2013
24H architecture: children's activity and learning center, thailand
'children's activity and learning center' by 24H-architecture, koh kood, thailandimage © boris zeisser/ 24H-architectureall images courtesy of 24H-architecture
our friend olav bruin with dutch practice 24H-architecture shared the 'children's activity and learning center' with us, part of the six senses' soneva kiri resort on the island of koh koodin the gulf of thailand. as the most striking of a series of ecologically-charged icons designed for the resort, the children's center is a locally-sourced and labored bamboo structure out of a child's paradise designed to provide a place for them to play, eat, learn, discover, share, watch, laugh, and listen all the while being infused with an environmentally friendly and local message. the manta ray-inspired form is anchored into a rocky slope and launches out towards the bay, with a large organic translucent canopy that cantilevers up to eight meters over all the program to provide adequate shading from the intense sun and protection from the heavy rains. the interior program contains an auditorium/ cinema for films, lectures and plays, a library with books on permaculture and local traditions and culture, an art room, music and fashion rooms, a 'hang-out' balcony and slide. nearby satellite structures provide the bathrooms and a small kitchen that invited kids to pick their own vegetables and cook their own lunches with the aid of a specialized chef. the set back footprint of the program means that the interior is always well ventilated and lit from indirect light, helping to maintain a comfortable temperature at all times.
view from uphill, the roof transitions into the rocky mountainsideimage © kiattipong panchee
the massive domed roof creates a sheltered microcosm of mini-structures that all have their own distinct character, from several rooms clad in dispersed bamboo members reminiscent of the beijing national stadium's skin, or the seemingly cantilevering (in reality suspended) basket filled with pillows. the interior is composed of a combination of local plantation river red gum wood for the flooring and solid rattan members that are weaved almost like a large-scale wicker to make smaller structural elements or for decorative purposes. the construction uses all sizes of bamboo reeds, taking full advantage its versatile characteristics. larger poles are used for the two anchoring columns that end directly into a large concrete pylon. as the column base transitions into the roof structure the size of the members diminishes, instead creating beams out of grouped members on perpendicular grids. the canopy tiles are made from split and flattened pole sections.  
view from below, the structure seems to soar out towards the seaimage © boris zeisser/ 24H-architecture
two bamboo columns anchor the structure (left) image © kiattipong panchee(right) image © boris zeisser/ 24H-architecture
grouped members create flexible composite beamsimage © kiattipong panchee
pinned together with nut, bolt and washerimage © kiattipong panchee
interior is an open plan under an umbrella-like canopyimage © kiattipong panchee
reading room with a mesh bed offering views to the groundimage © kiattipong panchee
specialized roomimage © boris zeisser/ 24H-architecture
view inside the suspended basketimage © kiattipong panchee
music room with sheet music wrapping the outer structure over the bamboo reed frameimage © kiattipong panchee
door detailimage © boris zeisser/ 24H-architecture
view out to the bayimage © boris zeisser/ 24H-architecture
primary construction materialimage © kiattipong panchee
roof tilesimage © kiattipong panchee
construction of the canopyimage © olav bruin / 24H-architecture
construction of the canopy: placing the tilesimage © olav bruin / 24H-architecture
interior structure constructionimage © olav bruin / 24H-architecture
(left) local manual labor built the structure(right) column assemblyimage © olav bruin / 24H-architecture
constructionimage © olav bruin / 24H-architecture
a mix of power and hand tools were used through the various stagesimage © olav bruin / 24H-architecture
site plan
floor plan / level 0
floor plan / level 1 : enrtrance
floor plan / level 2
roof structure
section
section
elevation
elevation
elevation
ventilation diagram
roof and internal structure construction details
bamboo connection detail
concrete footing and column detail
bamboo structural diagram
model
model
model
concept sketch
project info:
client: six senses resorts and spasreference client: sonu shivdasaniarchitect: 24h-architecturedesign: boris zeisser, maartje lammers with: olav bruin, anne laure nolenprogram: auditorium/cinema, library, art room, music room, fashion room, chill balcony and slide.site address: soneva kiri resort, 110 moo 4, koh kood sub-district, koh kood district, trat 23000, thailanddesign: 2007construction: 2008-2009completion: 2009floor area: 165 sqmbamboo consultant: jörg stamm, colombialocal architect: habita architects, thailandstructural engineer building: planning & design, thailandstructural engineer for wind-tunnel tests: ove arup thailand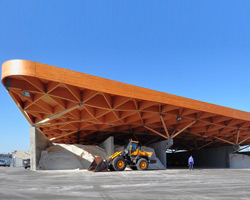 jun 21, 2014
jun 21, 2014
jun 30, 2013
jun 30, 2013
jan 08, 2013
jan 08, 2013
apr 02, 2011
apr 02, 2011
aug 29, 2017
aug 29, 2017
aug 24, 2017
aug 24, 2017
aug 09, 2017
aug 09, 2017
oct 28, 2017
oct 28, 2017
sep 26, 2017
sep 26, 2017
sep 25, 2017
sep 25, 2017