may 06, 2016
3XN exhibition opens at berlin's aedes architecture forum
a new exhibition at berlin's aedes architecture forum has opened, celebrating the 30th anniversary of danish firm 3XN. titled 'behind the scenes: simplicity & complexity of architecture', the presentation takes an in-depth look at the process of creating buildings, and the creative collaborations established along the way. 3XN uses models, drawings, and photos to explore a range of themes, including: the evolution of building forms, façades, shaping space, physical connection, architectural collaboration and innovative materials.

the exhibition is hosted at berlin's aedes architecture forum
all images courtesy of 3XN
'we are celebrating 3XN's 30th anniversary to demonstrate that kim herforth nielsen and his team are creating much more than buildings,' says kristin feireiss, founder of aedes. 'their architecture gives cities and their inhabitants an essential added value in function as well as in living quality. so it is not a coincidence that they chose the title 'behind the scenes' for the new exhibition. besides the fact that, like in a movie, the making of a project needs a lot of participants, partners and experts to bring it into being, all is made to have a happy ending for the partners in the building process, for the cities and places, as well as for the users of the architecture, spaces an facilities.'

the presentation takes an in-depth look at the process of creating buildings
on display are recent projects like the quay quarter tower in sydney and international olympic committee headquarters in lausanne, as well as a selection of other significant schemes that represent the firm's approach. 'behind the scenes' is on view until june 9, 2016 at the aedes architecture forum, before traveling to the danish cities of copenhagen and aarhus. kristin feireiss and helga retzer founded aedes in 1980 as the first private architecture gallery in europe. previous exhibitions presented at the venue include displays highlighting the work of dutch practice mecanoo, and marte marte architects.

the display uses models, drawings, and photos to explore a range of themes

material samples form part of the presentation

on display are recent projects, including the international olympic committee headquarters

a wide range of different themes are explored

'behind the scenes' is on view until june 9, 2016 at the aedes architecture forum
Save
3XN
(44 articles)
oct 31, 2017
oct 31, 2017
oct 17, 2017
oct 17, 2017
oct 03, 2017
oct 03, 2017
sep 01, 2017
sep 01, 2017
jun 26, 2017
jun 26, 2017
may 15, 2017
may 15, 2017
oct 08, 2017
oct 08, 2017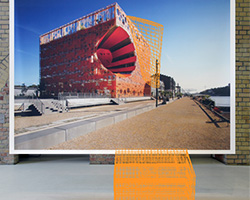 apr 14, 2017
apr 14, 2017
jul 26, 2016
jul 26, 2016