jun 25, 2009
3XN: 'learning from nature' showcase pavillion, louisiana
'learning from nature' pavillion by 3XN architects image courtesy 3XN architects
as part of the 'green architecture for the future' exhibition, the louisiana museum of modern art invited 3XN architects to design a pavilion demonstrating cutting edge possibilities with sustainable and intelligent materials.
the vision of the project was to build with biodegradable and energy-generating materials, creating an energy-self-sufficient architecture that also can be part of, and be decomposed in, the biological cycle after use.
well-known synthetic products have been substituted with biological and reusable materials. for the outer shell of the sculpture, glass fiber composites have been substituted with a bio composite from flax fibers cast in biological resin. cork sheets replace polystyrene foam for the inner core.
'learning from nature' pavillion image courtesy 3XN architects
for the sculpture, the newest built-in technologies have been applied creating a dynamic and green architecture. on the top face of the pavilion, 1mm flexible solar cells are placed. the cells are cast in thin film making them applicable to double curved surfaces. piezoelectric materials that generate an electric current from the weight of the visitors are laid in the floor. combined, this makes the sculpture self-sufficient with energy to power the integrated led lights.
the 'learning from nature' pavilion has a coating of nanoparticles that makes the surfaces self-cleaning. due to a hydrophilic nanostructure, rain water is dispersed beneath the dirt on the surface, leaving it cleaner. a second coating adds air cleaning properties to the pavilion. a chemical process called photocatalysis decomposes up to 70 percent of pollutants from industrial smog.
the pavilion retains heat by using phase changing materials. heated by the sun, the material retains the energy, releasing it again when the temperature drops. at exactly 23 degrees celsius, the material changes from a solid to a liquid form. when the temperature rises, the material absorbs energy and is liquefied. when the temperature drops, it solidifies and releases energy. in other words, the surface of the pavilion remains cooler when the temperature of the surroundings is rising, and vice versa. it is estimated that phase changing materials can cut costs with 10 to 15 percent on heating and cooling of buildings.
'learning from nature' pavillion image courtesy 3XN architects
the design of the pavilion is optimized according to function and material consumption. the mode of expression and material consumption is digitally designed to meet the exact needs, i.e. 14 layers of fiber and 84mm of cork are specifically designed to meet the dynamic forces arising from wind load and the load from people walking on the surface.
'learning from nature' pavillion image courtesy 3XN architects
'learning from nature' pavillion image courtesy 3XN architects
credits: the design team participating from 3xn was: kim herforth nielsen, kasper guldager jørgensen, rasmus møller, christian bundegaard, stian lenes and morten myrup.
project partners: 3xn – architects and project management cowi – engineering and light design stage one freeform composites – production and installation basf, the chemical company – phase changing materials ashland inc. – producer of bioresin amorim cork composites – producer of cork libeco-lagae – producer of natural fibers flex cell – producer of flexible photovoltaic noliac motion – producer of piezoelectric materials nano-x gmbh – self-cleaning surface coatings phillips – producer of led light 3m – structural tape micronal pcm©, climate control – phase changing materials optima projects limited – composite consultant netcomposites ltd. – network within composites scenetek – installation of electrical components danish technological institute – self-cleaning counseling risø national laboratory dtu – composite testing
3XN
(53 articles)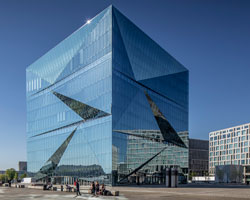 may 02, 2020
may 02, 2020
jun 19, 2019
jun 19, 2019
feb 14, 2019
feb 14, 2019
nov 06, 2018
nov 06, 2018
sep 05, 2018
sep 05, 2018
aug 31, 2018
aug 31, 2018
a diverse digital database that acts as a valuable guide in gaining insight and information about a product directly from the manufacturer, and serves as a rich reference point in developing a project or scheme.