piero lissoni, one of the world's most celebrated designers, renowned for his furniture and interiors, has been commissioned to design his first new york luxury tower at 45 park place in tribeca. the 50-residence features an exclusive collection of one- to four-bedroom contemporary homes with ultra-modern design and finishes. the amenities, also designed by piero, include a spacious double-height lobby and serenity garden; a luxurious 50-foot indoor pool and spa; a residents' club; fitness center; yoga and barre studio; and a children's playroom.
45 park place promotional video
45 park place is being developed by leading new york-based real estate investor and developer, soho properties, under the creative direction of sharif el-gamal. architect jean nouvel will design the building's 'serenity garden,' along with the muslim cultural center that will eventually rise next to the skyscraper. while lissoni is responsible for the interiors, michael abboud of SOMA architects has designed the building's sleek, stepped exterior.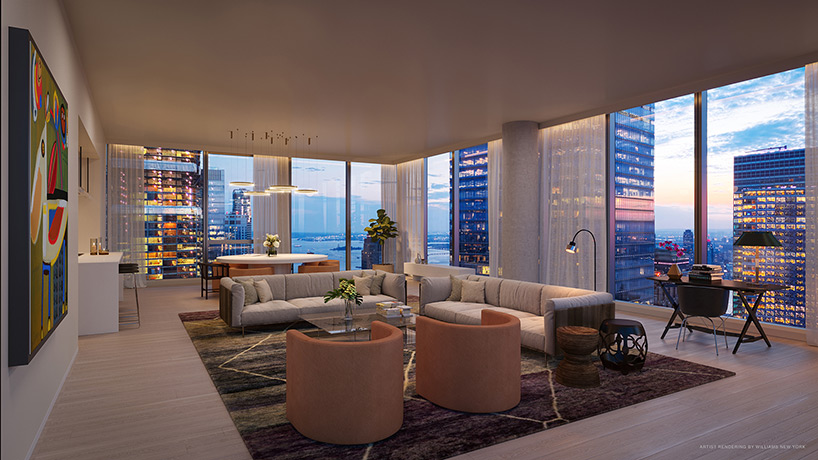 'great room' on the 27th floor
designboom visited the sales gallery of 45 park place, complete with a simulation of panoramic tribeca views, for an exclusive interview with piero lissoni. within the breathtaking setting of a model grand apartment, we learned more about his creative approach and design process.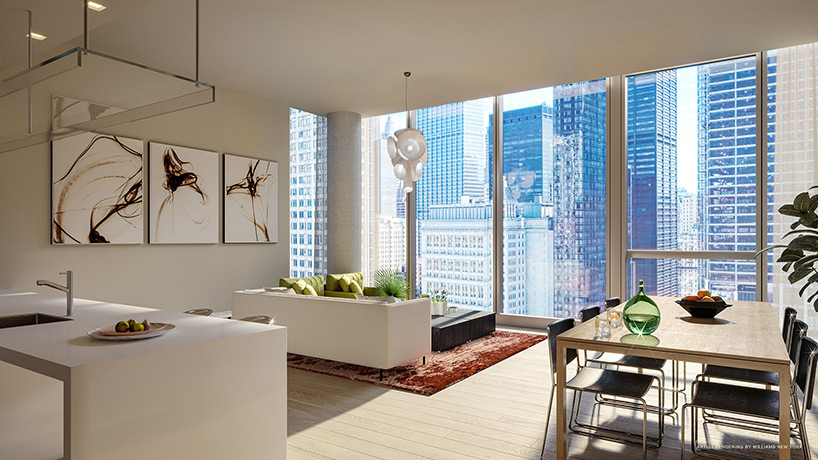 residence on the 18th floor
designboom (DB): 45 park place will be your first project in new york. have any of your past works inspired your creative approach to the project?

piero lissoni (PL): yes, 45 park place is the first project in town. for the project, I am acting as both a designer and an art director. I started to work together with the team at soho properties a few years ago, and the collaboration was intended as an exchange between creative people: between architecture and interiors, and vice-versa. I didn't design the project only because I contributed to the decoration. we worked together in the whole design process.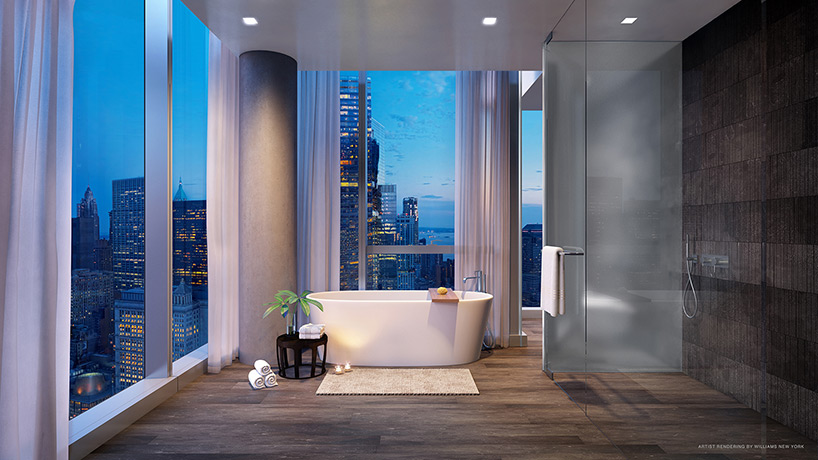 panoramic views of the city surround the apartments, creating a surreal environment
PL (continued): in a humanistic way, we adjusted the proportions of the tower. when you think about a building, it doesn't matter if it's a tall building or a small house. sometimes you forget this simple detail: the human scale. we started to use this approach. to be humanistic, to be connected with every detail in a very human way.
for example, most apartments in new york towers usually have the same height. we decided to choose another point of view. the lower-level apartments are designed with higher ceilings, because when you live inside a tower, you want higher spaces since you are a little bit compressed inside this artificial jungle. when the tree becomes free outside of the jungle, we reduced the height for the upper level apartments.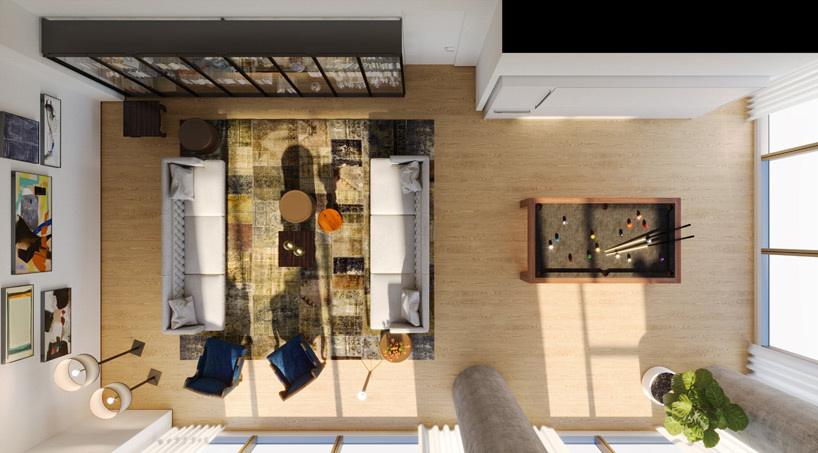 the resident's lounge was also designed by piero lissoni
PL (continued): of course, I put inside a 100% european consciousness. new york is for me, the most important 'european' town in the world. many people think new york is america, but it's not true. new york is new york first. culturally speaking, it's the most integrated and disintegrated town in the world. it is full of different cultures, and for me, it's european.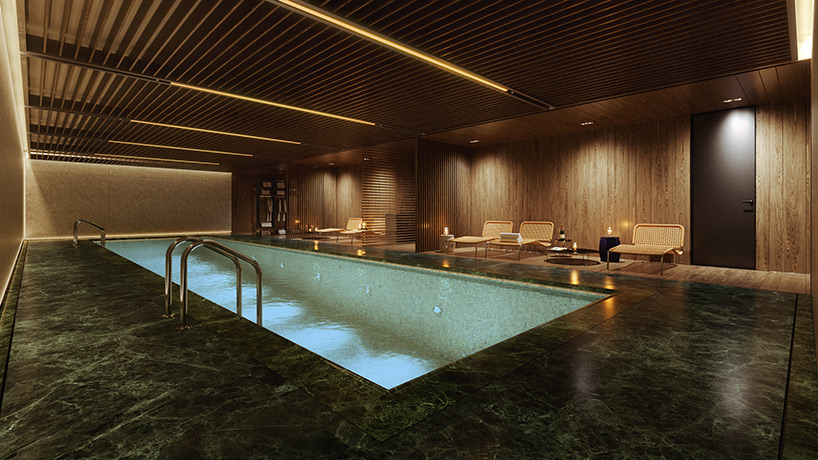 rendering of the 50-foot indoor pool at 45 park place
DB: what kind of brief were you given? what did you want to achieve and how much personal freedom did you have with the project?
PL: to be creative, because creativity is a strange level of freedom. when I started to work with sharif and the team I was just one face inside the team. creativity requires a logical discussion that grows everyday. and of course, they chose me as a public face because I'm so beautiful (laughs). the creativity was inside the team and we chose the capacity to work together. we started to discuss together with the same approach. when we start to design, we start to design together. it was a discussion. I believe they chose me because I'm so decorative.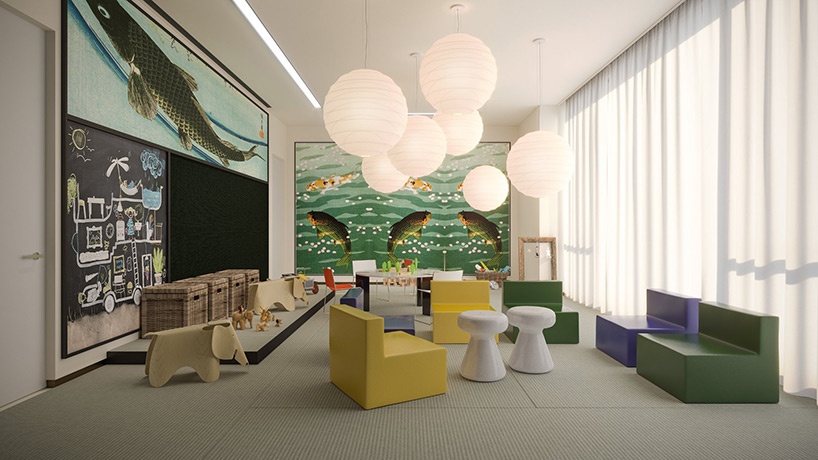 the children's play room will provide a space for younger residents
DB: what are some of your signature designs within the building? there's a signature spiral staircase within the duplex penthouse, for example.
PL: that is just one detail. I think the most important thing is that we follow centimeter by centimeter, the belief that everything is in the details. everything is detailed. everything was thought of before. I don't design an apartment, you know. I design the physically part of life. you have to follow all details. you have to follow all different feelings. when you are inside one apartment, you have to feel 'ok, that one is my home, it is not a piero lissoni home'.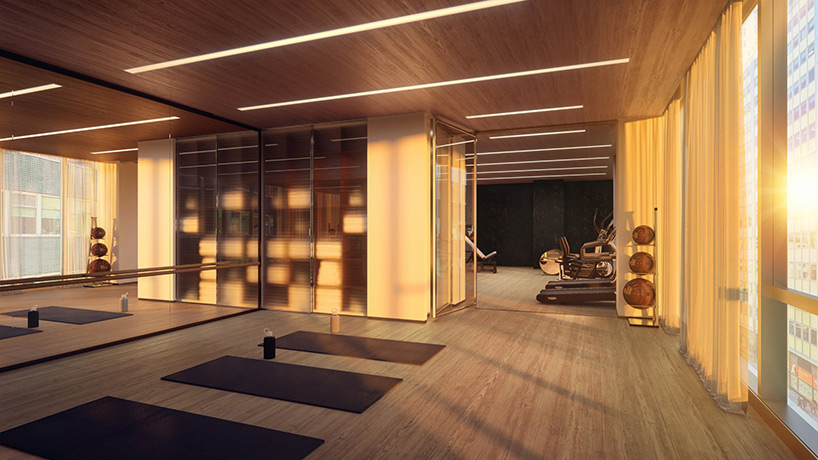 the yoga and barre studio is one of the several luxury amenities included within the building
PL (continued): of course I put inside some iconic things, and all the iconic things are in the whole building. it's a contaminated and connected building. connected with many different cultures. some pieces are from italy, there is a piece from china, model furniture.. incredible pieces of design, worldwide design. beautiful kitchens from europe, boffi. we chose for each part of the building, the different part of the furniture detail. we chose the best. we didn't compromise and I think that is important. mr sharif is a very visual person, very visual.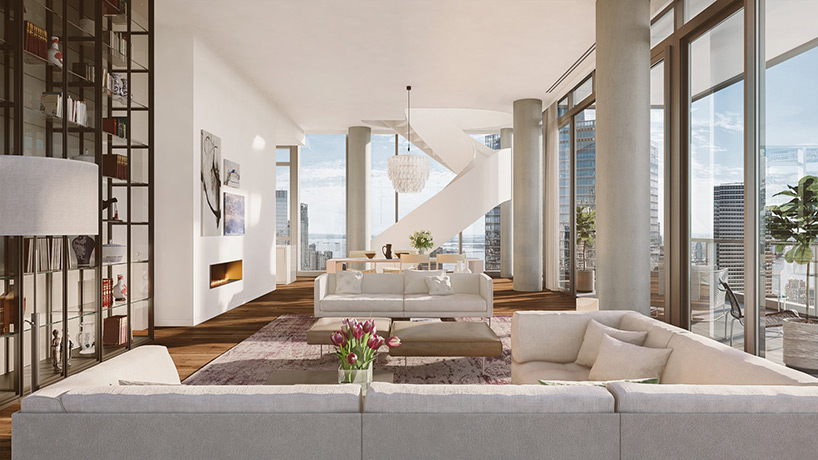 the 'sculptural staircase' of the duplex penthouse will transport residents to a 'twilight zone'
DB: what does luxury mean to you specifically as a designer?
PL: don't forget, I'm european. forget for one moment the idea of a luxury way of life, internationally speaking. for me, luxury is a quality of life, it's space, it's light, it's time. and last but not least, culture. the rest, like jets, cars, they are silly things. they are toys. luxury is the capacity to understand the quality. capacity to read a book, poetry or novel, in the same time to open a newspaper.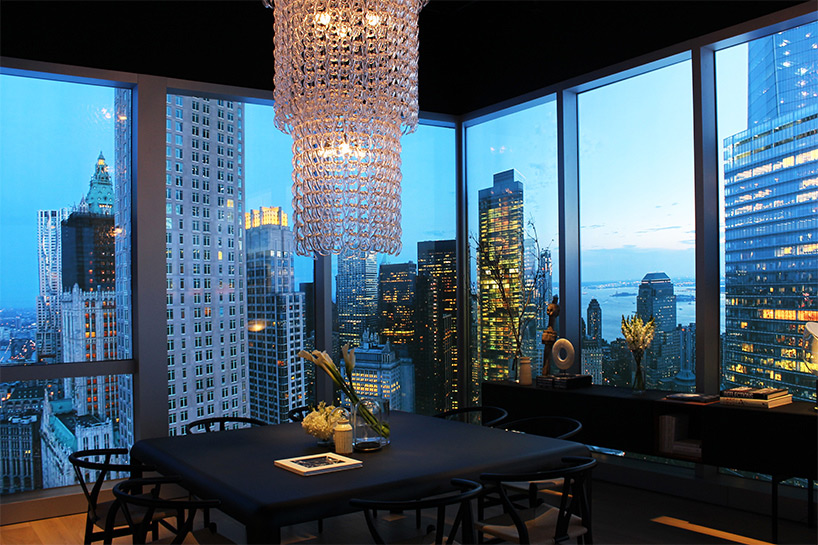 projected images re-create the panoramic views at the sales gallery
image © designboom
DB: how did the history of tribeca and its new emerging downtown influence your approach to the project?
PL: a lot, because tribeca is a parcel in manhattan. the whole quarter is full of incredible buildings. you feel that you are in a special place of new york. the dimensions of the building, the feeling in the air… of course, it's a beautiful area. 10 years ago, 15 years ago it was all neglected. the people forgot some incredible spaces. now, tribeca has become probably too in-fashion — except the holland tunnel.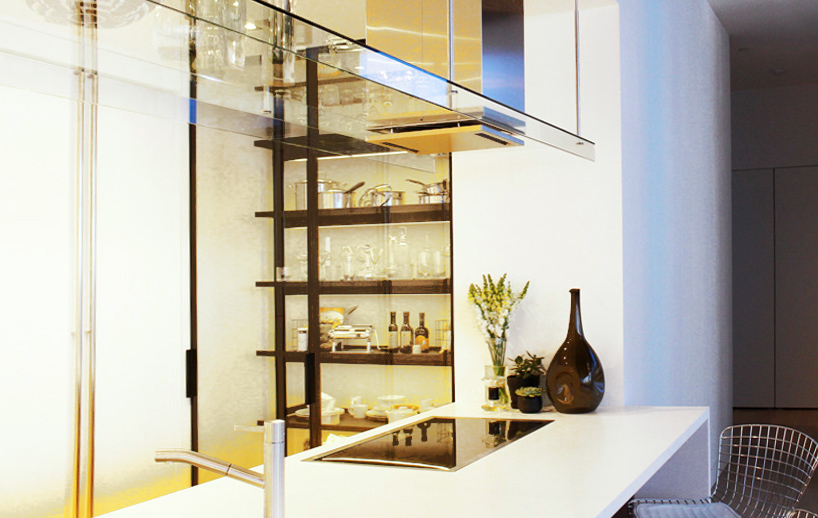 the model kitchen serves as a centerpiece of the model apartment
image © designboom
DB: you had a statement on the transparency of the building, can you elaborate on how that was important to you?
PL: the transparency was crucial, when you live in manhattan the light is very particular. it's not only shaped by summer, spring, autumn, winter. manhattan has a special light. it's not controlled by god, it's controlled by the surroundings. some houses nearby, some buildings nearby, some other tall buildings change the light in town. I hope to design something totally transparent, because I like to bring, to achieve, to stop the light from outside to inside. I like to show it to everybody. it's like a theater, or like a TV channel.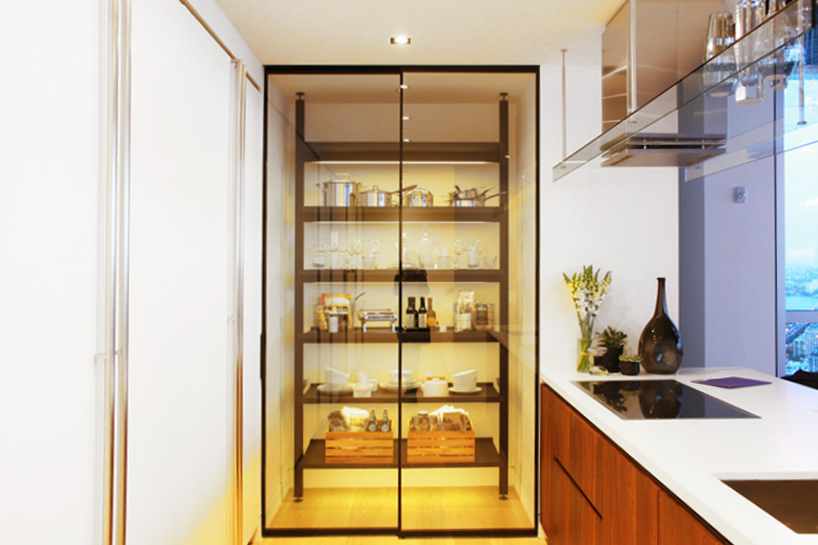 a model boffi kitchen, custom-designed by piero lissoni, at the sales gallery
image © designboom
DB: how did you approach the lobby, given its role as the first entry point for visitors to the building?
PL: I think when you open the door, you have to feel: not 'welcome back home'. I decided to design the lobby as a hotel lobby. it's for many different people, of many different cultures — like a beautiful lobby for a hotel. it doesn't matter if you are a guest, or an inhabitant, it's a special place. it's a twilight zone, with pieces of art and modernist design. at the same time, it is a lobby. not the classical entrance with one person saying 'hi good morning'. pure hotel lobby.
DB: did any of your projects in europe, directly inspire the project. or did you recreate elements from any past project?
PL: the project is new. for example, I used industrial production from boffi, but at the same time, I custom-modeled it. I re-designed everything only for this place. I re-designed everything — the whole kitchen for that tower, and only for that tower. I put inside some pieces designed by me, like some tables, but I'm not so auto-referential. I also choose things from the international market.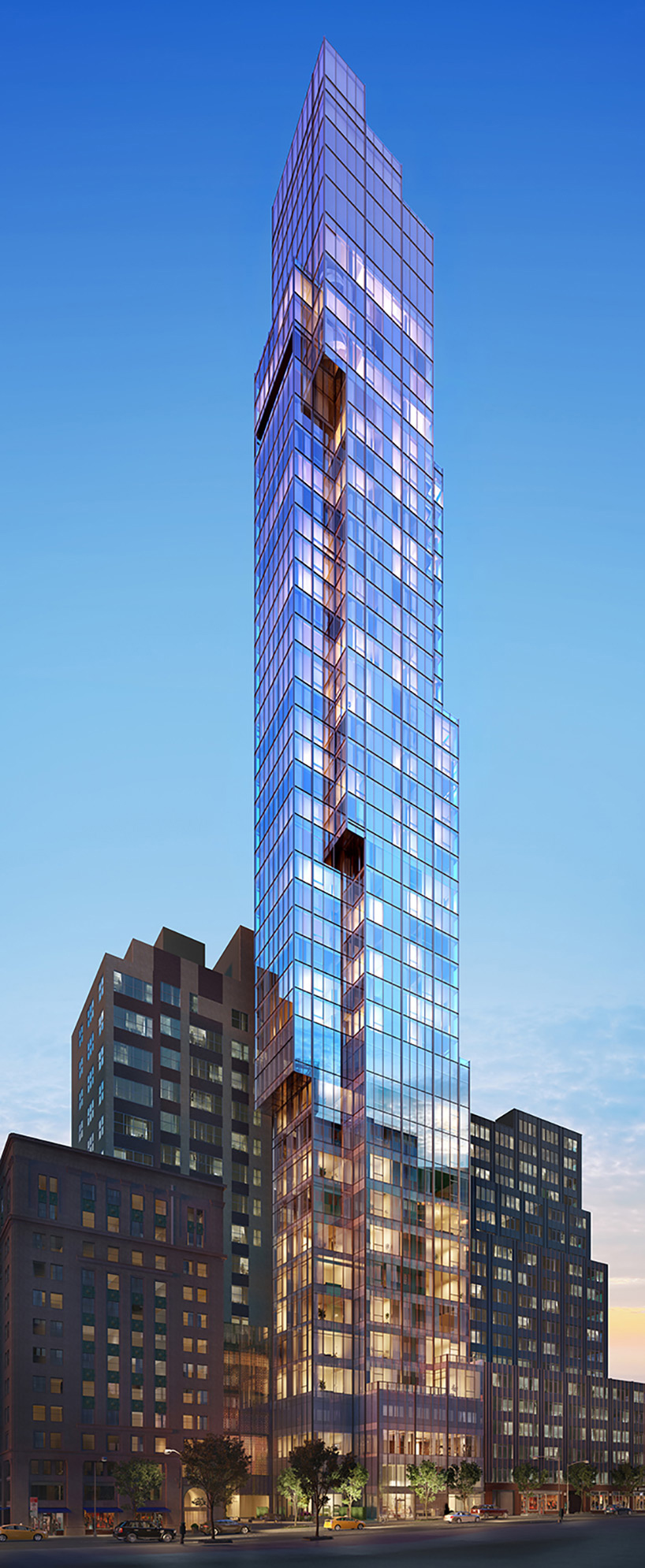 exterior rendering of tower with steeped exterior designed by michael abboud
artist rending by williams new york
DB: can you talk more about the duplex penthouses and how they are unique from the other apartments?
PL: because i designed it, that's enough! (laughs) I put inside some antique pieces, the stair for me is an architectural topic. I'm only the director for that. they think the stair is a stupid connection from two different places. for me the stairs, they are the main connections. the 'twilight zone', if you remember, was a science fiction movie, maybe twilight zone. all the time I'm thinking when I take the stair, I don't know if I'm in another dimension, a life, or universe. when I design the stair, I force the stair to be, structurally speaking, a dream for me. because it's become a sculptural piece. but the beauty of that you know, is because, you're living in the air, you're flying in the air like a bird, with or without the stairs.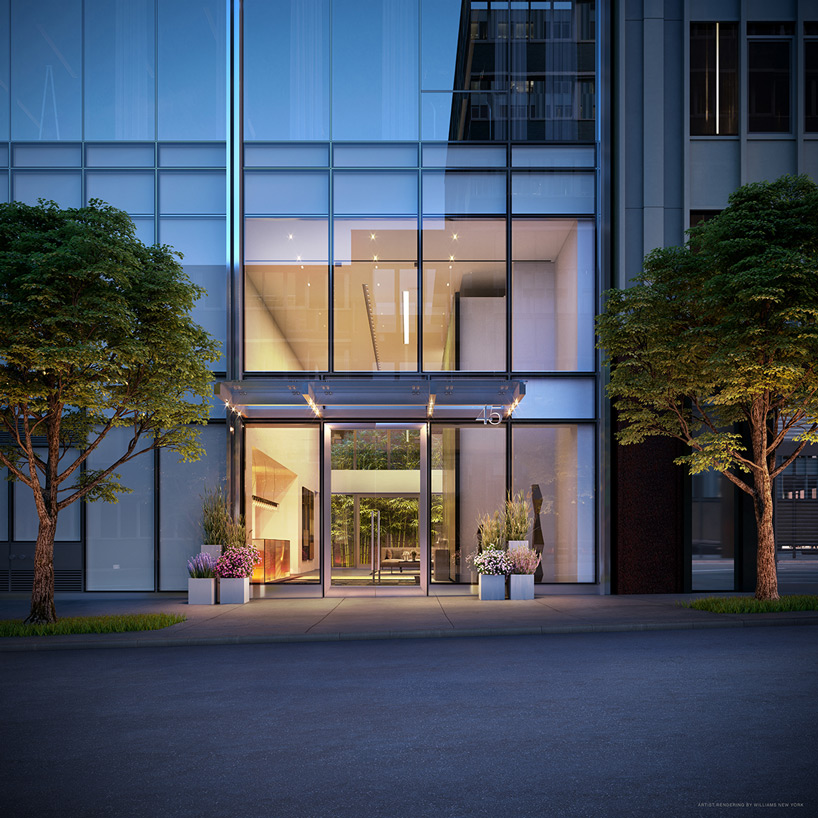 exterior rendering of the lobby and entrance for 45 park place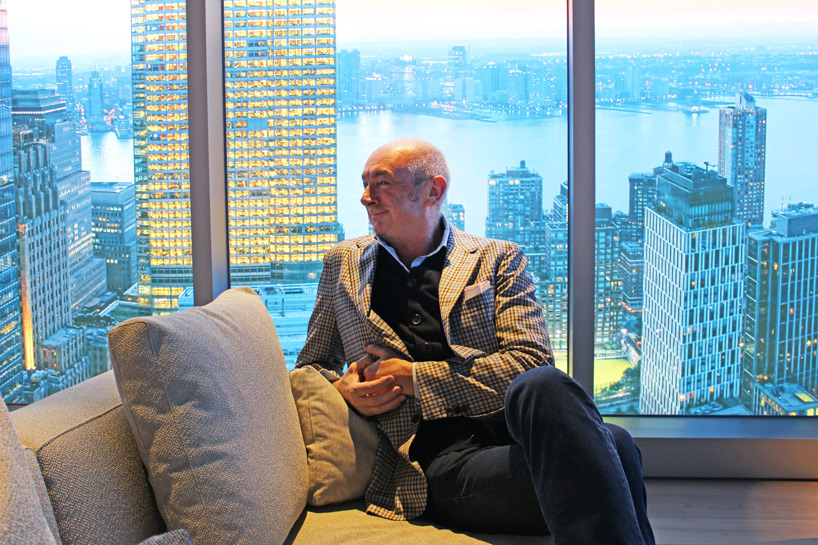 portrait of piero lissoni at the sales gallery
image © designboom
isabel narea
I designboom
nov 19, 2017
a diverse digital database that acts as a valuable guide in gaining insight and information about a product directly from the manufacturer, and serves as a rich reference point in developing a project or scheme.
designboom will always be there for you
milan, new york, beijing, tokyo

,
since 1999