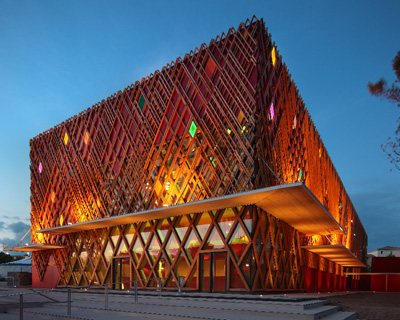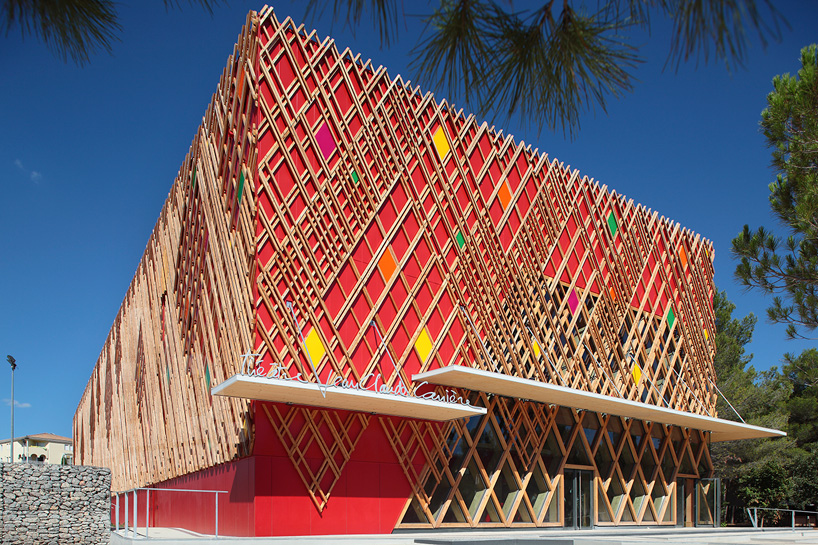 oct 04, 2013
A+ architecture: jean-claude carriere theatre, montpellier
A+ architecture: jean-claude carriere theatre, montpellier
image © marie-caroline lucat
at the site of domaine of o. in montpellier, france stands the 'jean-claude carrière theatre' designed by A+ architecture. the bold, vibrant culture box is situated amongst a forest of pine trees just off an esplanade, offering a welcome, and suited contrast to its natural setting. the fiery red volume is enveloped in a harlequin patterned façade–which speaks of the building's function–that is made from cuts of wood strategically arranged to create the motif. this woven exterior also features colorful diamond-shaped lights embedded within, that further reference the expressed geometries as well as offering dynamic visuals by night.  

the exterior of the red volume is wrapped in a wooden harlequin motif
image © marie-caroline lucat
the 'jean-claude carrière theatre' is approached via an expansive public piazza which allows the architecture to breathe, while a large courtyard leads visitors to the entrance of the theatre and restaurant. at the main access point of the cultural space, the wooden harlequin ornamentation opens up to better reveal the programs found on the interior. from here, one is able to see the mezzanine within, and likewise  the diamonds from the outside are echoed on the inside. the architecture itself is a composition of modular wooden panels which have offered ease and speed of construction, taking one year from conception to complete the building. the thickness of these modules have been structured to stop undesired noises from filtering into the neighbourhood, resulting in a sound isolated structure, which at the same time provides ideal acoustic comfort for the audiences enjoying the performances staged within. this balance is achieved through the precise width and wall composition, with the angle at which they tilt banishing floating echoes. in addition, the stage components themselves have been designed so that they can be easily disassembled, transported and reassembled on another site. this area has the capacity to seat 600 people or accommodate 1200 standing guests.
since the initial designs and sketches through to its realization, the team behind the 'jean-claude carrière theatre' have approached the build in a manner that has reduced its environmental impact to a minimum both in material consumption, and to the technical day-to-day operation of the site, using twice as less energy as another property of its size typically would. for example, dynamic thermal simulations have seen the structure harnessing the mediterranean climate in such a way that there has been no systematic need of air conditioningg within. in addition, all lights , including those on stage are 100% LED. the resulting volume is a green  in the heart of a century-old park.

a large public plaza surrounds the theatre
image © marie-caroline lucat

view to the restaurant
image © marie-caroline lucat

a walkway wraps around the perimeter of the theatre
image © marie-caroline lucat

detail of the wooden harlequin motif on the exterior
image © marie-caroline lucat

the theatre in the context of its century-old park site
image © marie-caroline lucat

image © marie-caroline lucat

the mezzanine above the main hall
image © marie-caroline lucat

performing hall with open seats
image © marie-caroline lucat

image © marie-caroline lucat
 

video describing the construction of the 'jean-claude carrière theatre' (in french only)
video courtesy of domainedo
project info:
project: conception and realisation of the jean-claude carriere theatre, a 600-seat theatre and its restaurant
client: conseil général de l'hérault
location: montpellier, france
type: restricted tender procedure
architect: A+ architecture, led by philippe bonon, philippe cervantes, gilles gal
project manager: tiffanie renard, architect
mission: under french law (loi M.O.P.) + EXE/SYNTH, OPC, GDD, IDME, SSI
team: spie sud-ouest, darver, structure bois couverture, calder, arteba, celsius environnement
floor area: 2620 m2
dimensions: 70m building length; 22,3m building width; 13,2m building height
stage dimensions: 21,3m stage width; 17,5m stage depth; 12m stage hiehg under the technical grid; 10m stage height under the walkway
competition: first prize, june 2012
completion: june 2013
nov 20, 2013
nov 20, 2013
oct 20, 2013
oct 20, 2013