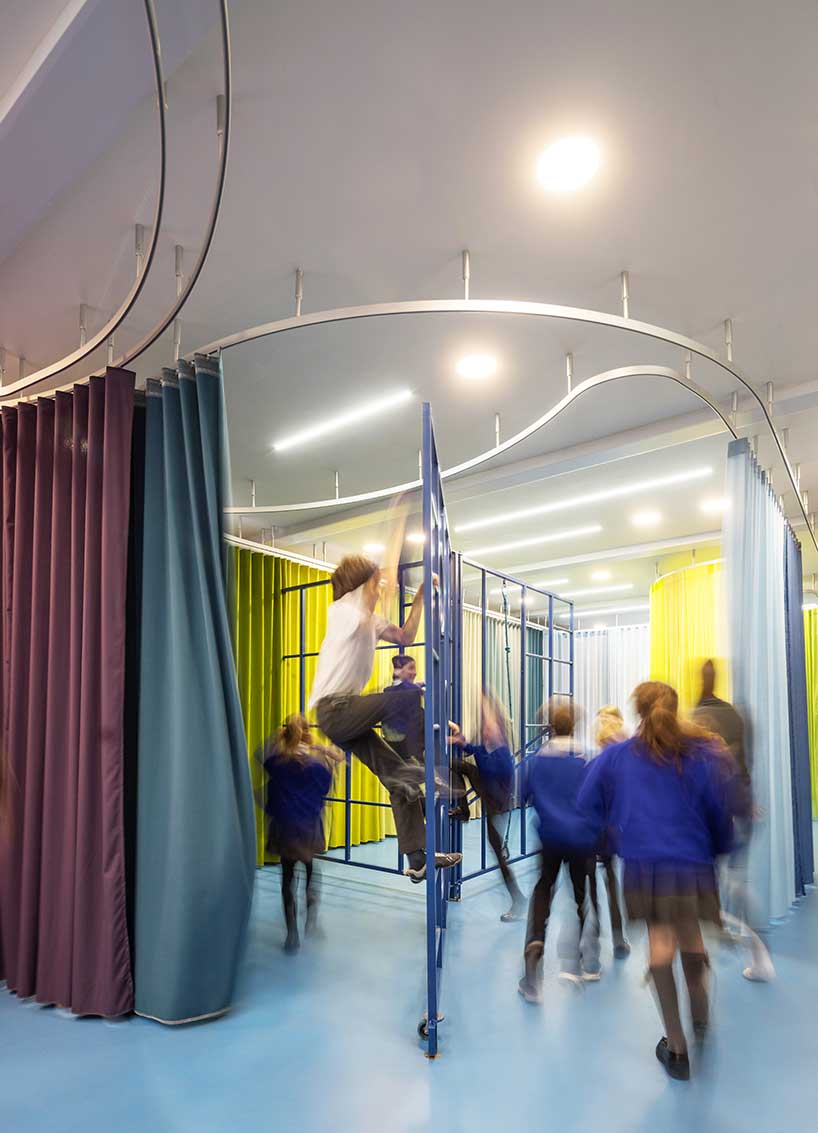 sep 18, 2016
aberrant architecture reconfigures london school with sculptural rails and colored curtains
aberrant architecture has completed the second phase of its ongoing redesign of rosemary works school in hackney, east london. the project continues the studio's involvement with the educational establishment, after the first stage of improvements was completed in 2015. the second phase of the interior project centers around its multi-purpose hall, with ideas on how this space might be used generated through a series of workshops with school children.

all images © simon kennedy, unless otherwise stated
aberrant architecture's intervention includes a series of sculptural rails, customizable lighting and brightly colored curtains in varying opacities, allowing for adjustable degrees of privacy and acting as acoustic barriers. flexible conditions allow the volume to be transformed to accommodate a range of different activities — from a large dining hall for lunch sittings, to an interior more suited for after-school clubs or reading groups.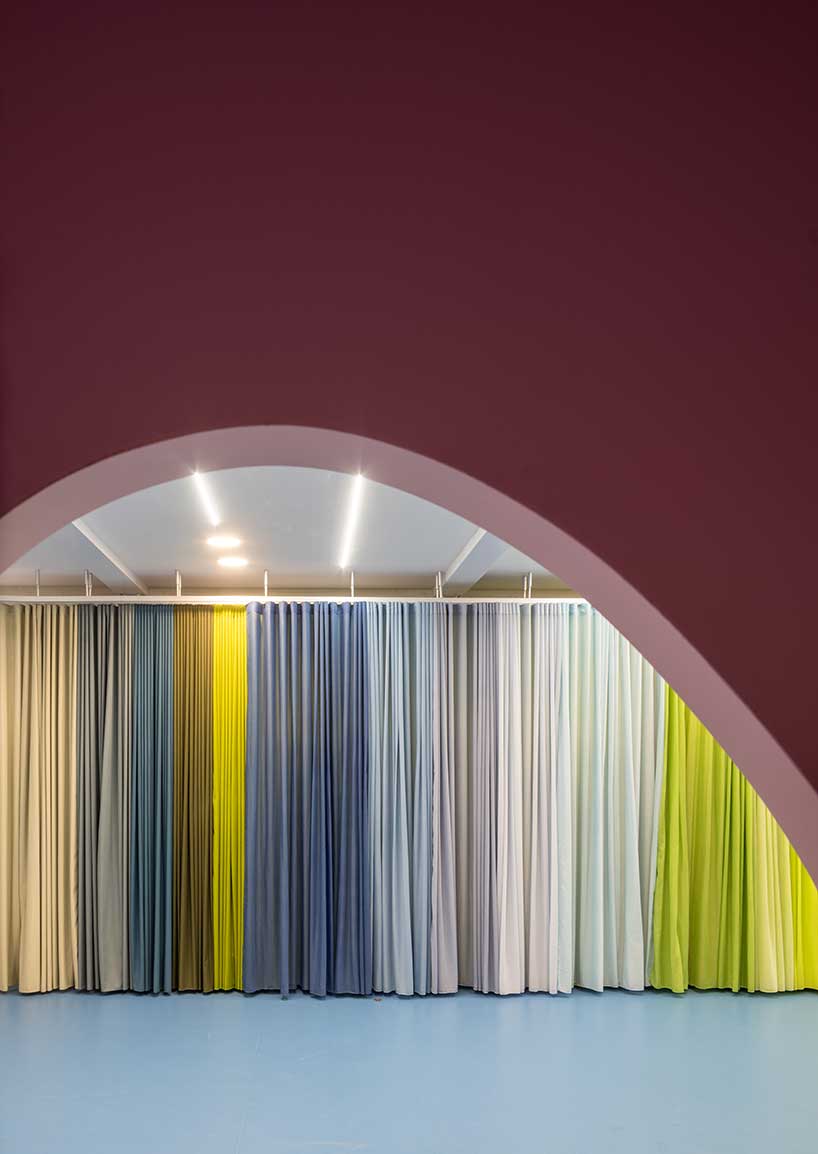 sculptural rails, customizable lighting, and brightly colored curtains have all been utilized
'there are two parallel curtain rails, one for sheer and another for opaque layers,' explains david chambers of aberrant architecture. 'we specified the latest weaving technology for the most durable fabrics in bright, contemporary colors. the combination of sheer and solid textures allow teachers and children to play with the quality of light within the varied environments that they create.'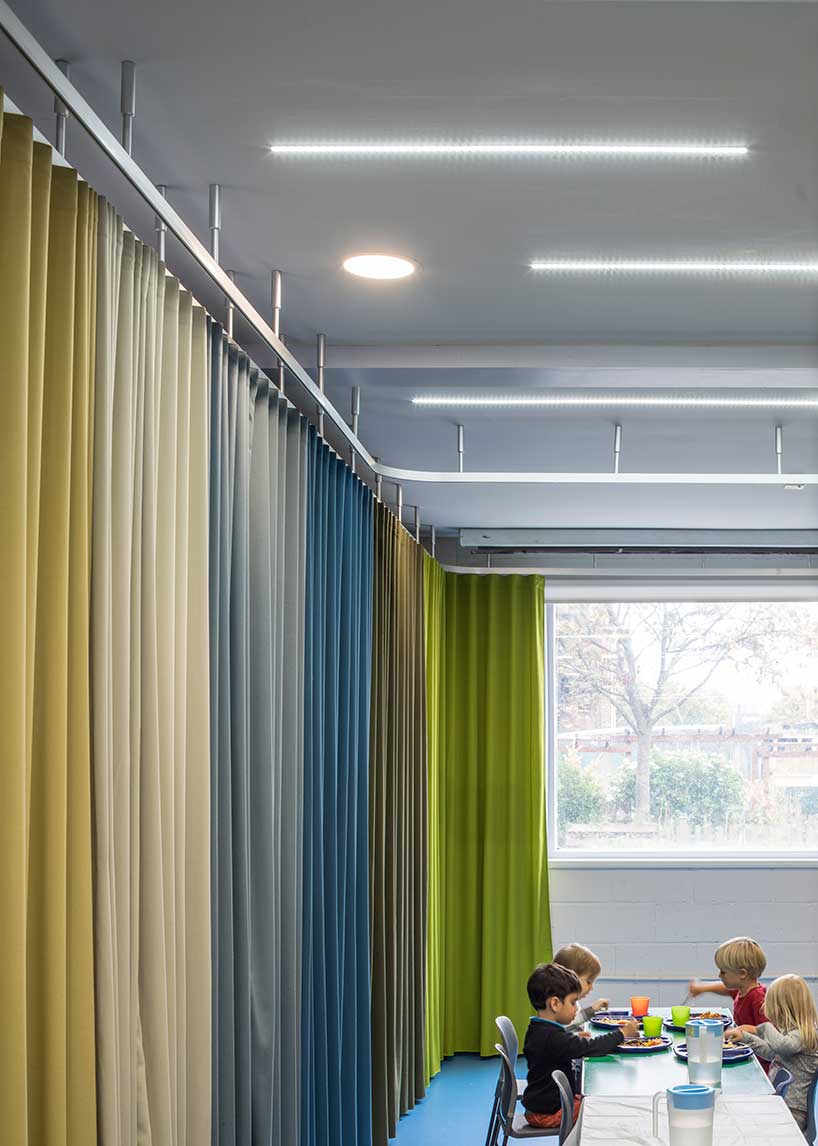 the curtains allow for adjustable degrees of privacy
'part of our inspiration regarding how the room might be used came directly from the children's sketches, made during our workshops,' adds aberrant architecture's kevin haley. 'the arrangement of the tables for lunch, for example, came from the children's reference to the great dining hall in the harry potter books. we tried to continue this sense of adventure by providing under-stair hide-outs and playful openings in the furniture, as well as with the 'magic' sticky wall by the staircase – which uses a special magnetic plaster.'

the movable partitions also serve as acoustic barriers
in addition, aberrant architecture has created a series of mobile and multi-functional furniture elements, which allow users to configure their own space. the designs also provide a variety of storage options that can be adapted for a range of different functions. the elements form a 'kit of parts', which can be used to divide the space or to accommodate a diversity of simultaneous activities within a single room. the entire collection — which includes a mobile podium, a 'keepsafe-house', and a B-shaped bookcase — is custom-designed to be stowed beneath an existing staircase.

flexible conditions allow the volume to be transformed to accommodate a range of different activities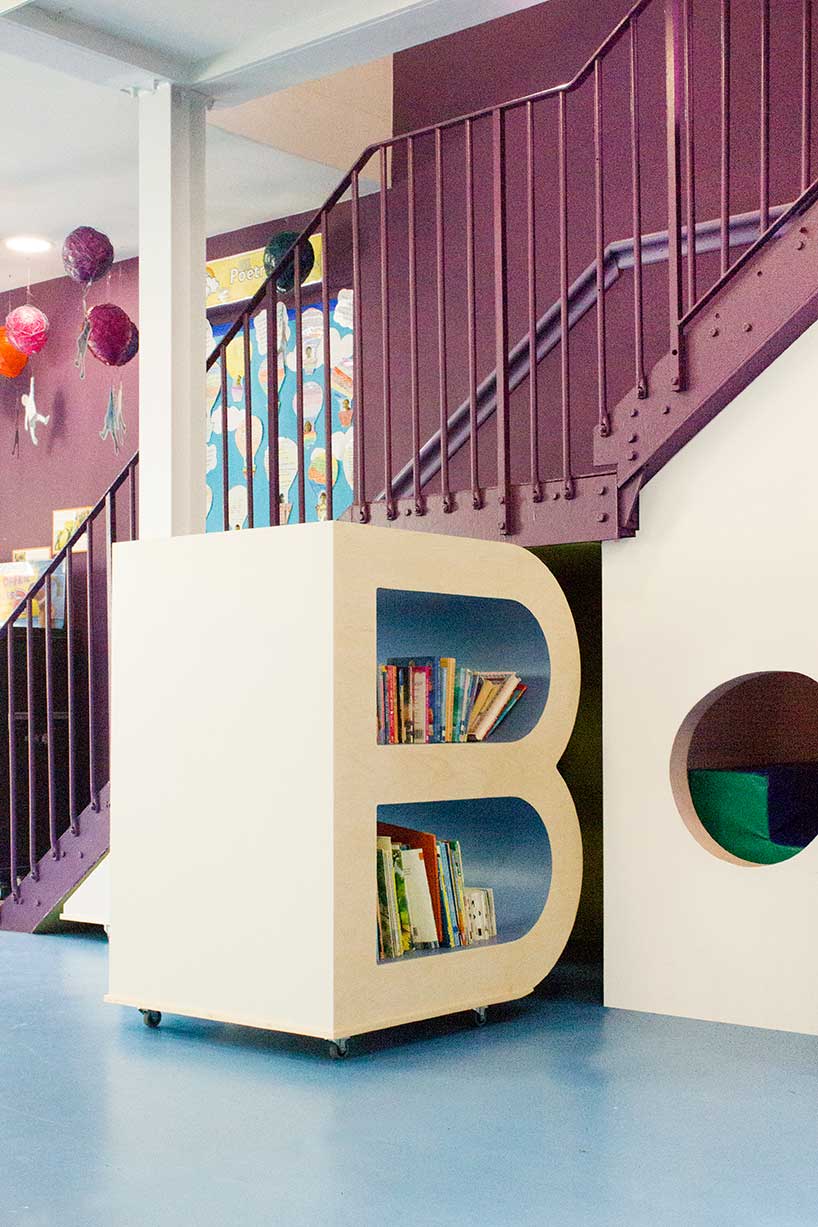 aberrant architecture has created a series of mobile and multi-functional furniture elements
image © aberrant architecture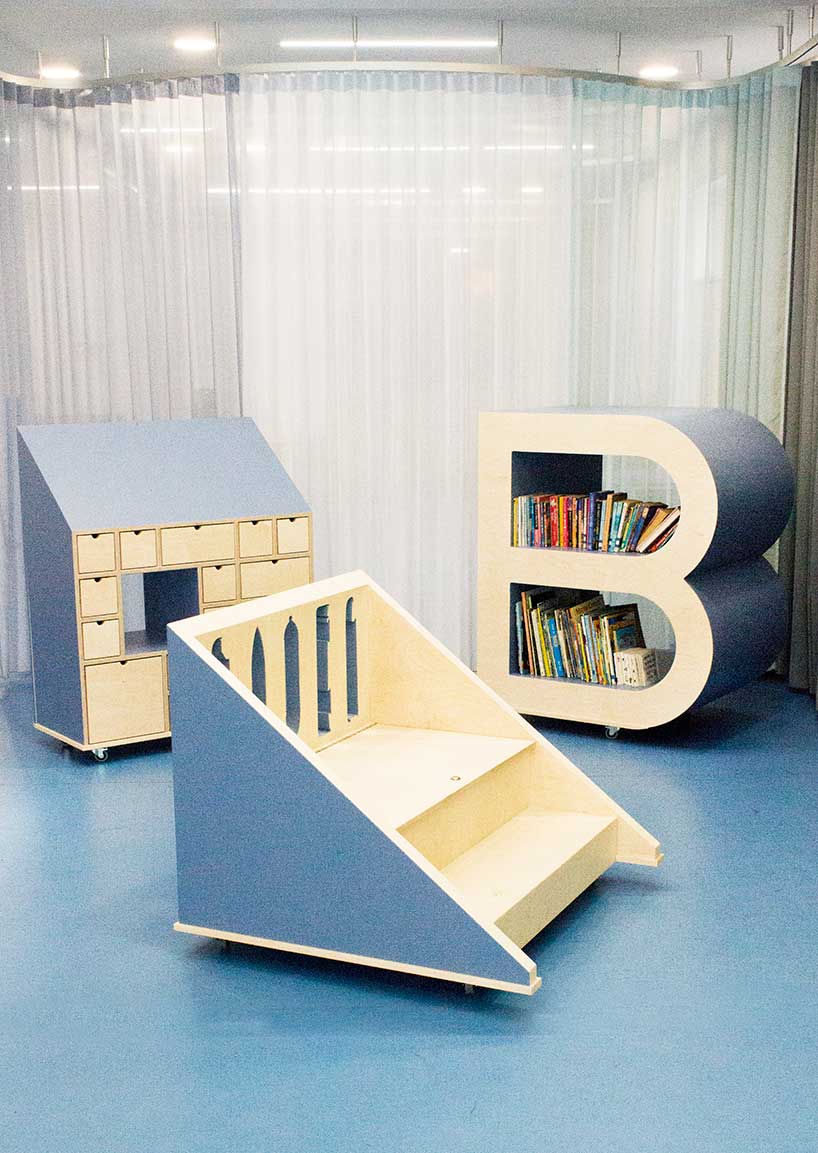 the collection includes a mobile podium, a 'keepsafe-house', and a B-shaped bookcase
image © aberrant architecture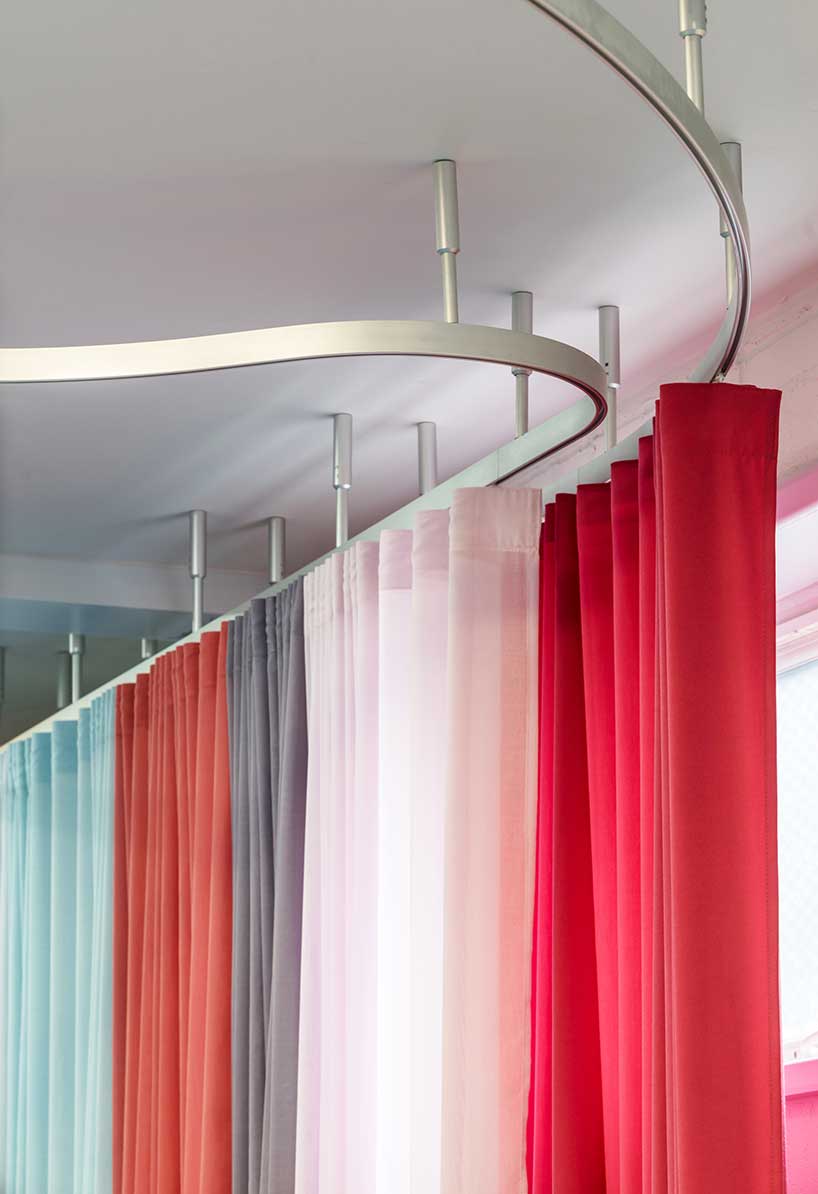 the project continues the studio's involvement with rosemary works school

functions for the the multi-purpose hall were generated through a series of workshops
Save
Save
Save
Save
Save
Save
Save
Save
Save
Save
Save
Save
Save
sep 30, 2014
sep 30, 2014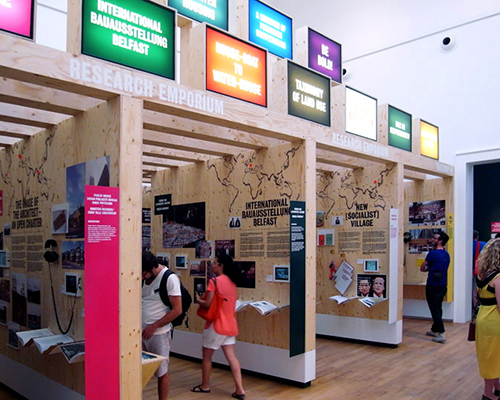 aug 28, 2012
aug 28, 2012
jun 01, 2012
jun 01, 2012
oct 24, 2017
oct 24, 2017
oct 24, 2017
oct 24, 2017
oct 21, 2017
oct 21, 2017
oct 31, 2017
oct 31, 2017
oct 24, 2017
oct 24, 2017
oct 24, 2017
oct 24, 2017
oct 30, 2017
oct 30, 2017
oct 27, 2017
oct 27, 2017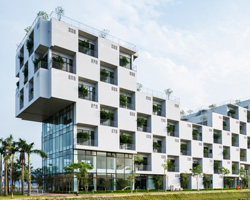 oct 24, 2017
oct 24, 2017