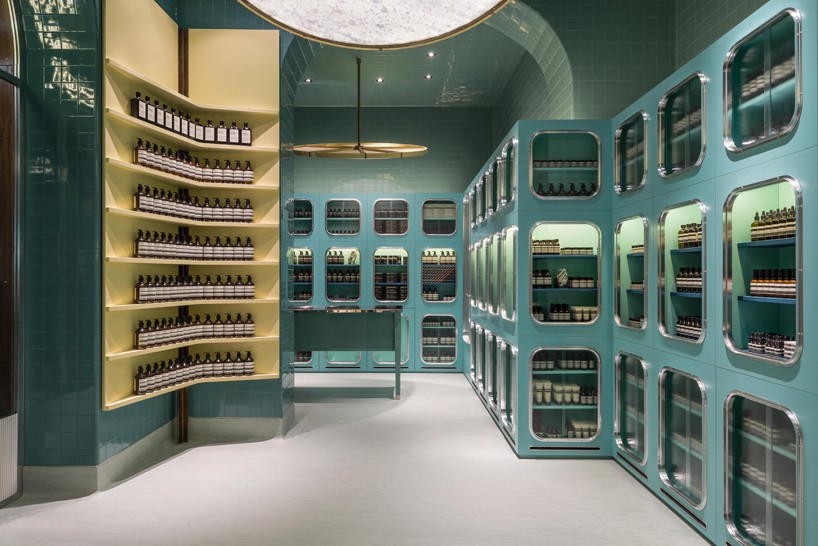 jan 25, 2016
aesop store by dimorestudio references italian bottegas in milan
aesop store by dimorestudio references italian bottegas in milan
all images by paola pansini
recognized by their signature packaging and the individuality of each one of their boutiques, australian skincare brand aesop has established a second store in milan. based in the historical center, the authentic and distinctive interior is set within a 35 square meter space and created in collaboration with milanese design firm dimore studio.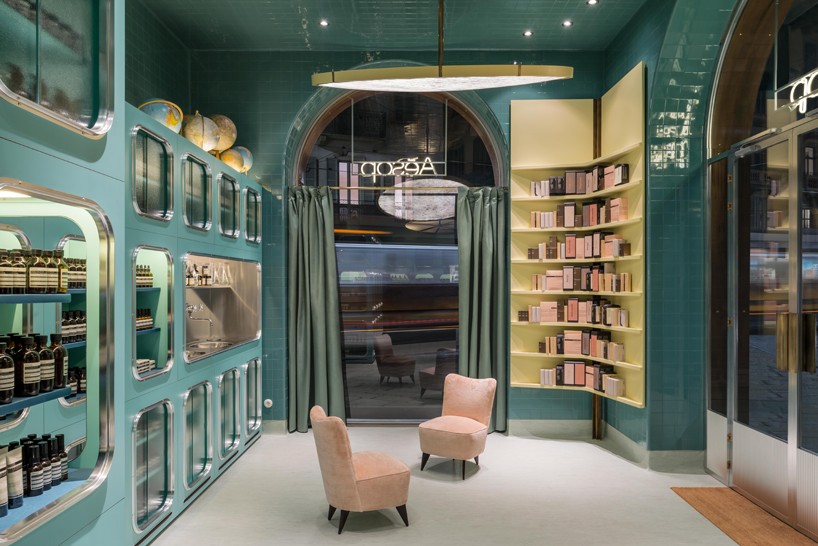 glossy teal subway tiles cover the planes and arches of the ceiling, contrasting with lemon-yellow corner shelving
the interior is composed of glossy finishes illustrated with the teal tiling covering the walls, planes and arches of the ceiling. display cabinets framed with rounded windows – each accentuated by a silver rim – wraps around the inner walls of the scheme and offer glimpses of the neatly lined selection of products. two large disks suspended by brass rods acts as the source of light, while a stainless steel sink sits underneath acting as a core element within the space.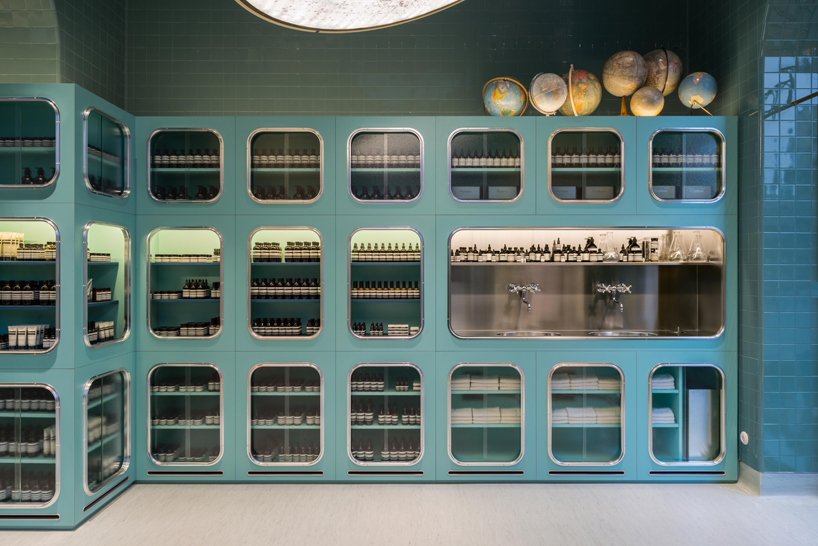 rounded windows with a silver frame provide views of the rows of aesop products
'we had already worked with aesop for the paris store at st germain des près – it came natural to be involved in the corso magenta store in milan.' emiliano salci and britt moran of dimore studio tells designboom 'for paris, our inspiration was a classical french taste, whereas for milan we looked for a local and distinctive trait. the furniture is reminiscent of old chests and cupboards found in italian villas, whereas the linoleum on the floor is influenced by the kitchen and pantry flooring seen in piero portaluppi's villa necchi.'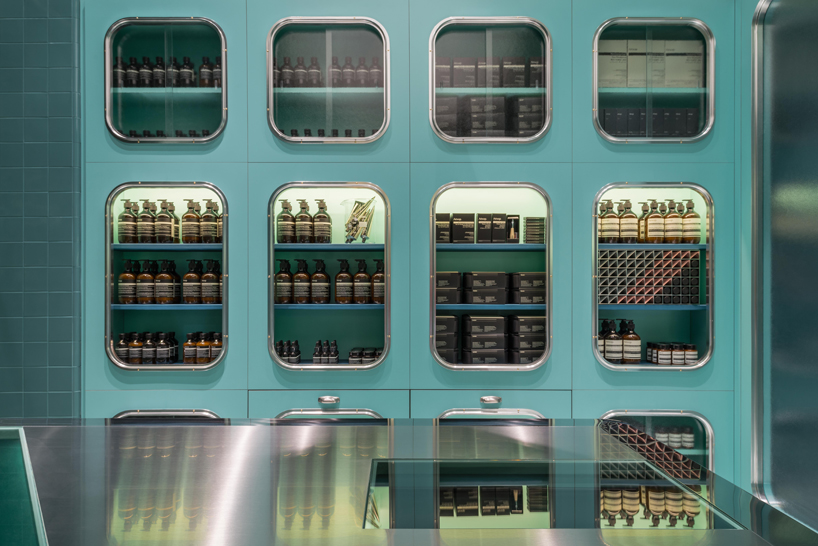 the materials use reference butlers' pantries of 1930s italian villas
furthermore, the boutique is distinguished by its color palette. muted greens, yellows and pastel pinks contrast and highlight the whimsical essay on materials that reference butler pantries' of 1930s italian villas. the elegant cohesion of tones and materials form a calm elegance, inviting clients to freely engage and browse aesop's products, while enjoying the characteristic setting at the same time.

aesop is known for the unique design of each one of their stores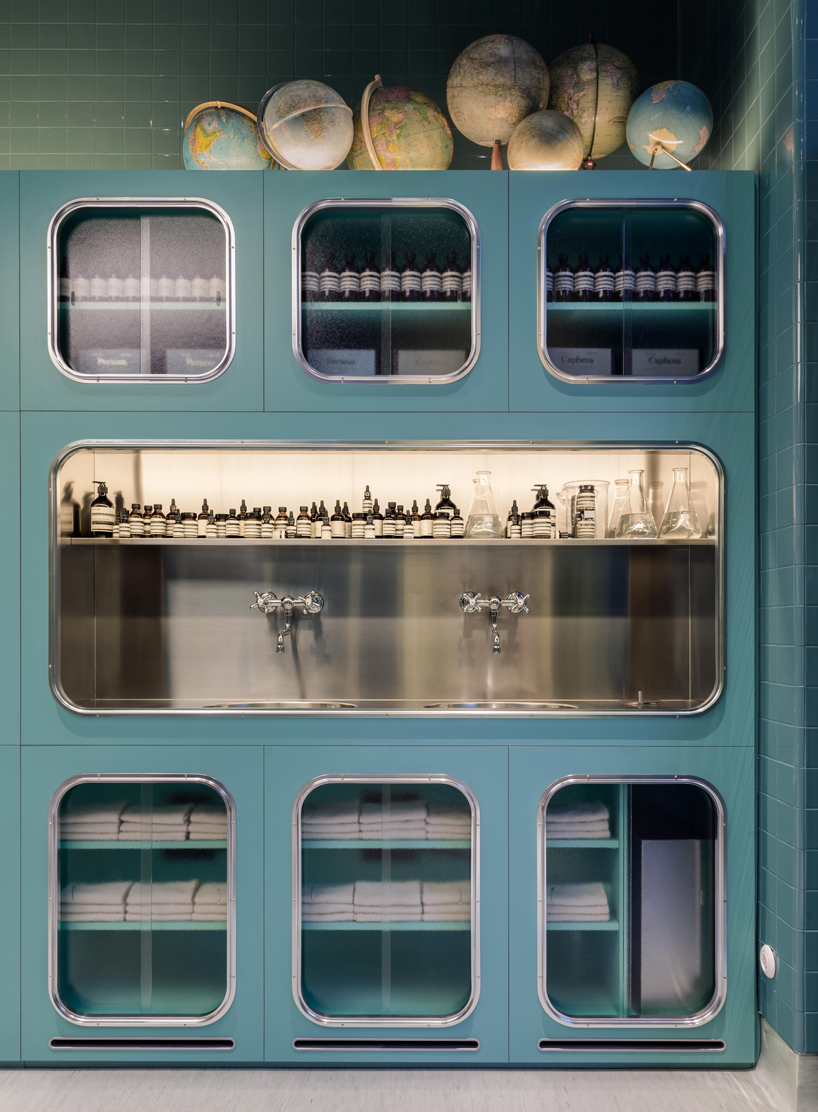 a line of globes add a distinct touch to the vintage-style interiors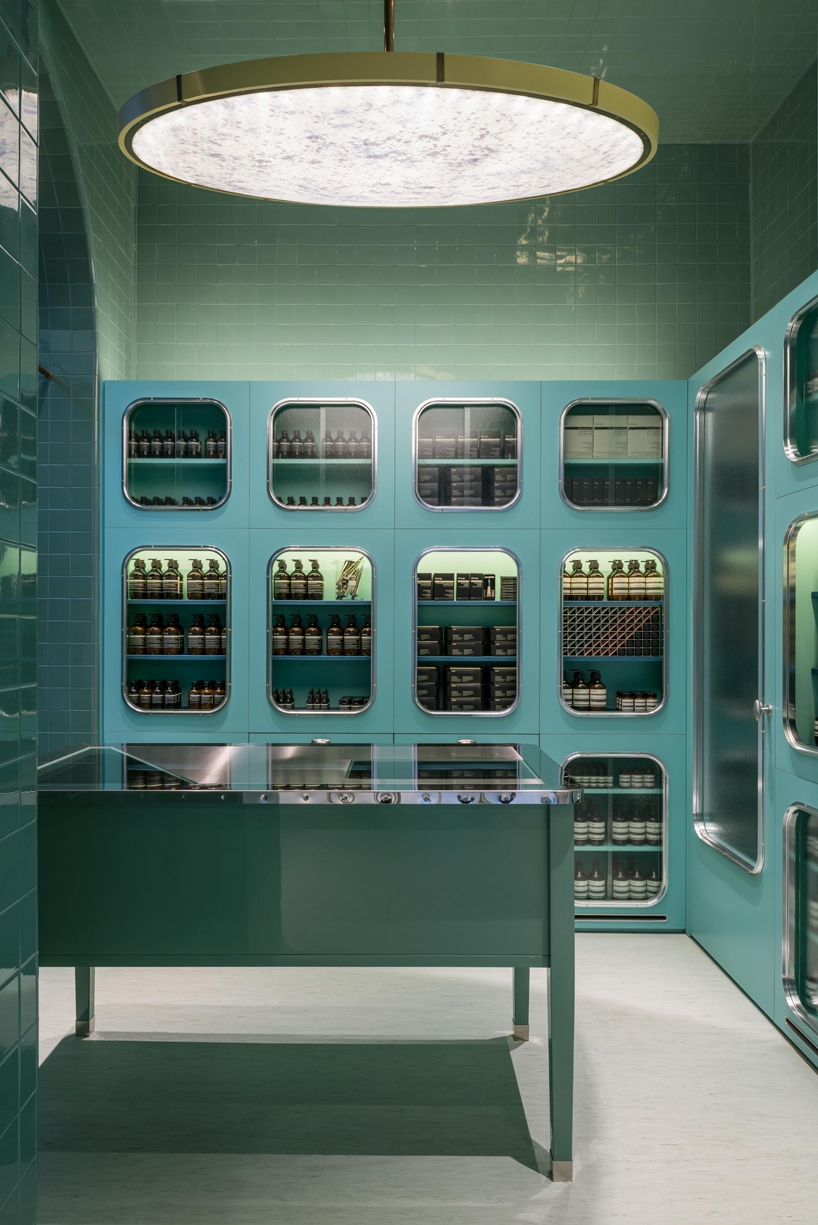 a stainless steel wash basin sits underneath the light for demonstrations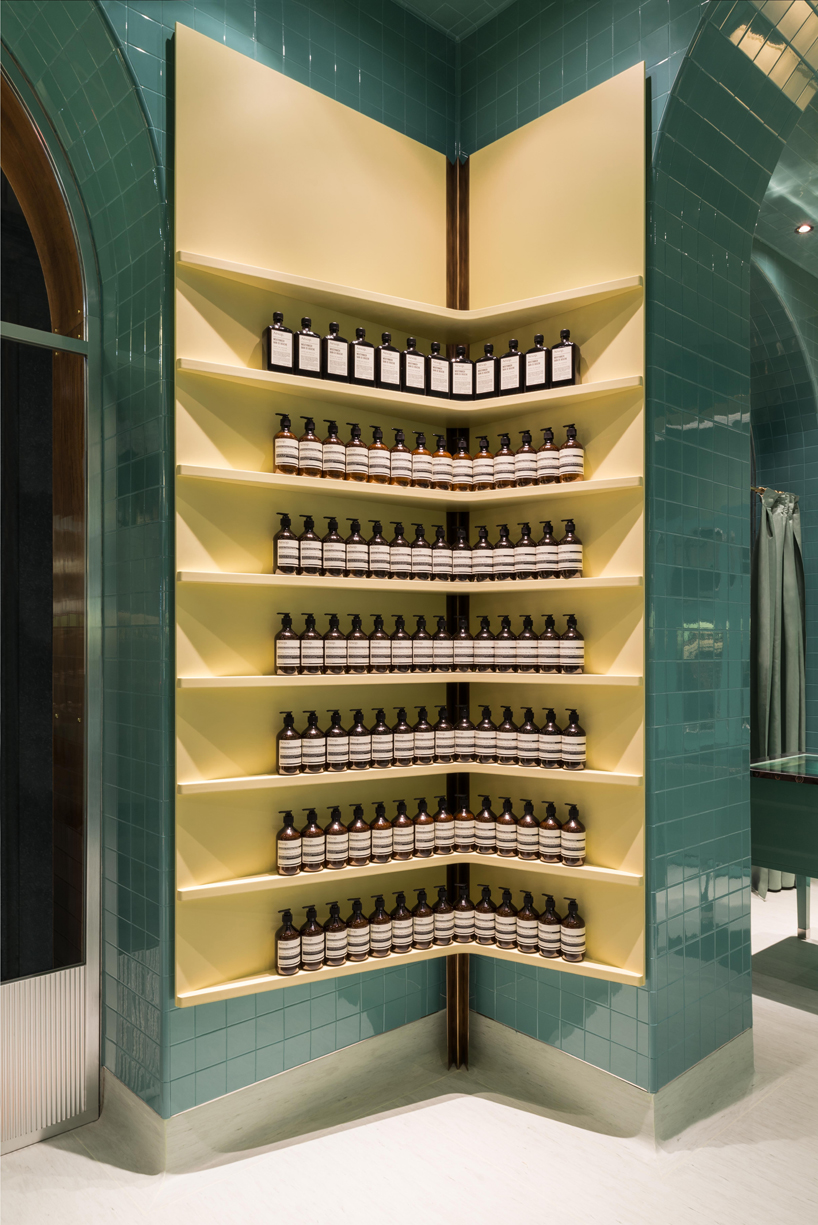 a corner display shelf colored in yellow highlights the bottles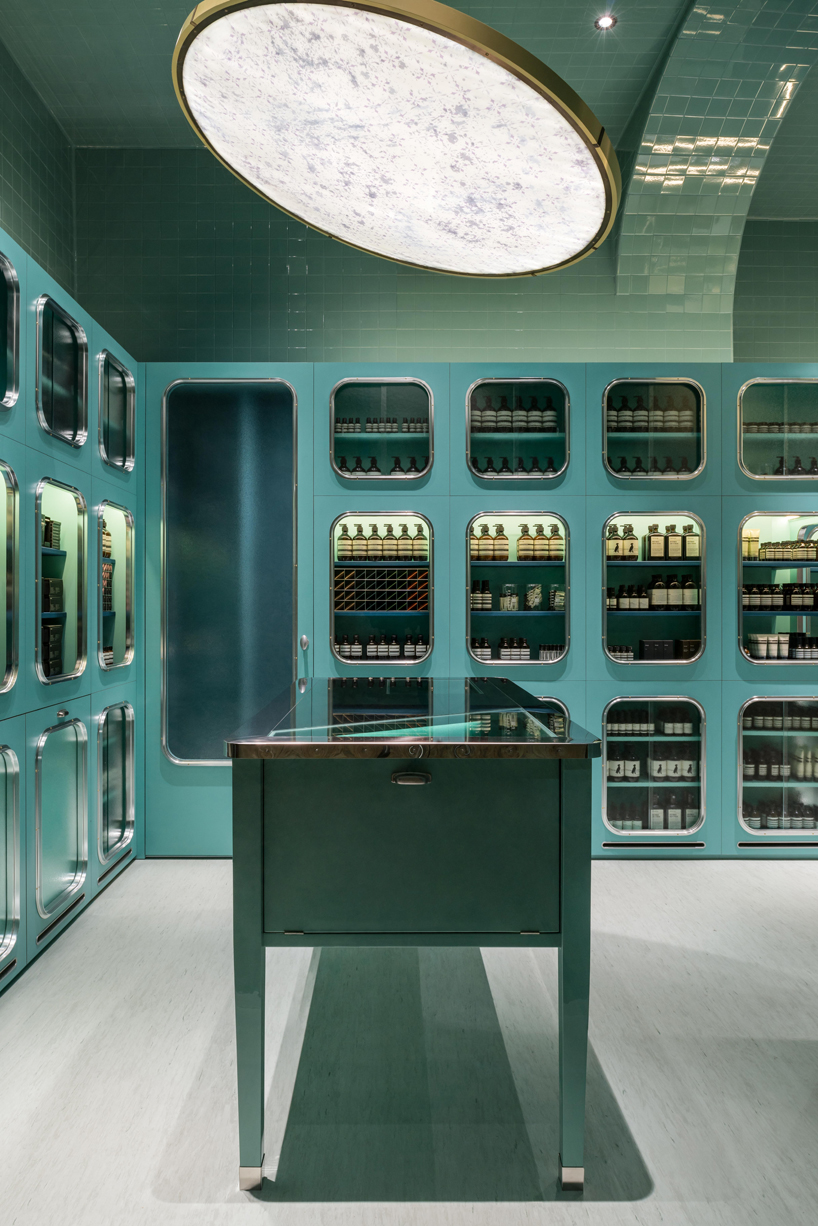 illuminating the entire interior are two large disks suspended by a canopy of brass rods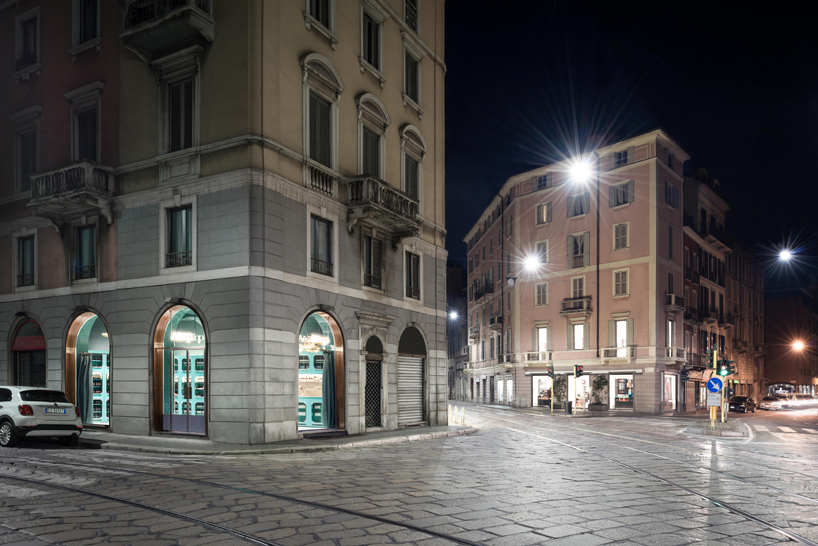 the store is located on via meravigli 18, milan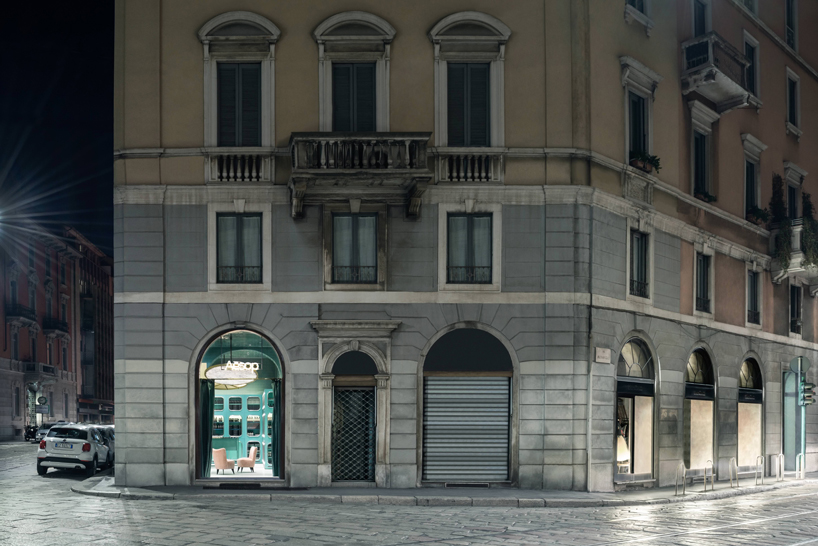 aesop
(28 articles)
apr 30, 2017
apr 30, 2017
mar 12, 2017
mar 12, 2017
dec 27, 2016
dec 27, 2016
jul 17, 2017
jul 17, 2017
jul 10, 2017
jul 10, 2017
jul 04, 2017
jul 04, 2017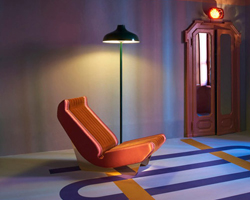 apr 11, 2017
apr 11, 2017
jun 20, 2016
jun 20, 2016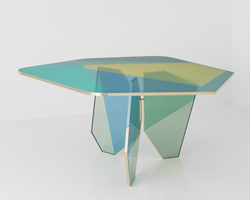 may 26, 2016
may 26, 2016
jul 19, 2017
jul 19, 2017
jul 10, 2017
jul 10, 2017
jun 24, 2017
jun 24, 2017