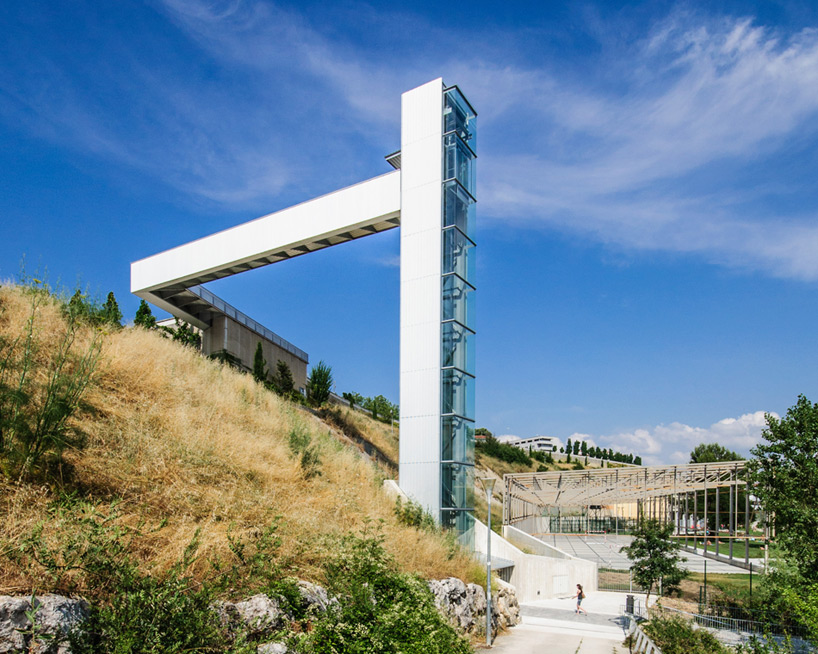 mar 17, 2014
urban elevator by ah asociados unites neighborhoods in pamplona
urban elevator by ah asociados unites neighborhoods in pamplona
photo by imagina2 visualization studio
spanish practice ah asociados has completed an 'urban elevator' in pamplona, spain, designed to connect two neighborhoods separated by a thirty meter drop. replacing a precarious ramp and stairway, the singular urban intervention comprises an integrated footbridge and tower that allows for pedestrian and cycle routes between the two heights.
the scheme was developed from an initial study – commissioned by the local council – that considered pedestrian mobility within the region. the research looked at various areas of historical accessibility and urban integration problems, and how they could be solved though mechanical and engineering solutions.

the intervention allows for pedestrian and cycle routes between the two heights
photo by imagina2 visualization studio
the basic shape of the footbridge is formed by a continued beam from which the supports of the pavement are born. the exterior of the beam and the lateral levels of the tower are enveloped in a folded steel plate, establishing a visual continuity that enhances the juxtaposition between the natural and the built landscape. the asymmetry of the bridge protects pedestrians from crosswinds and presents expansive views across the landscape below.
characterized by its formal simplicity and rational use of structural elements, the 'urban elevator' connects two communities no longer separated by the region's undulating topography.

the asymmetry of the bridge protects pedestrians from crosswinds
photo by imagina2 visualization studio

the elevator replaces a precarious ramp and stairway
photo by imagina2 visualization studio

the 'urban elevator' connects two communities separated by a 30 meter height difference
photo by imagina2 visualization studio

the design is characterized by its formal simplicity and rational use of structural elements
photo by imagina2 visualization studio

the scheme was developed from an initial study, commissioned by the local council
photo by imagina2 visualization studio

echavacoiz's 'urban elevator' lit up at night
photo by imagina2 visualization studio
project info:
location: echavacoiz neighborhood, pamplona, spain
architects: ah asociados (miguel a. alonso del val, rufino j. hernández minguillón, marcos escartín miguel, mikel zabalza zamarbide)
design team: patricia biain ugarte (project manager), esperanza marrodán ciordia, maría josé alonso pérez, xabier eskisabel azanza
engineers: eduardo ozcoidi echarren (structure), javier gironés navarlaz (facilities), michel aldaz garcía-mina (S&H)
client: strategic projects area, pamplona city council
project date: january 31st, 2012
start work date: october 8th, 2012
completion date: july 3rd, 2013
photography: imagina2 visualization studio