jul 26, 2011
AKA: inariyama special education school
'inariyama special education school' by atsushi kitagawara architects in chikuma, nagano, japan all images courtesy atsushi kitagawara architects image © hiroyuki kurashima
'inariyama special education school' by japanese practice atsushi kitagawara architects (AKA) is a 15, 000 m2 educational facility composed of multiple building units in chikuma, nagano, japan. conceived as a 'town'-like architecture, the design combines outdoor courtyards, open spaces, and small vegetable fields in its composition to stimulate activities for both the children and the local community.
fly-by view image © takumi ota
utilizing traditional japanese wood construction technique, the school is almost entirely made of lumber from the nagano prefecture. the general form and roof shape of the buildings feature large intersecting pitches that can be clearly read from the outside. abstract, branch-like structures clad in a shade of yellow highlight the construction of the school while lending the buildings a distinct visual identity within the area.
exterior view image © takumi ota
utilizing neither metallic materials or glued-laminated timber, the structural components of the school makes transparent its wooden construction by having it the focal point of the interior space. interweaving lumber units provide a rhythmic effect to the ceiling with the majority of the finished surfaces also being done in larch. the choice of local materials coupled with the construction technique kept both the energy consumption and CO2 exhaust during the manufacturing process to a minimum.
facade element image © takumi ota
image © takumi ota
sheltered drop-off zone image © hiroyuki kurashima
atrium image © takumi ota
roof structure image © takumi ota
class room image © takumi ota
indoor gymnasium image © hiroyuki kurashima
outdoor space image © takumi ota
night view image © takumi ota
sep 14, 2017
sep 14, 2017
sep 14, 2017
sep 14, 2017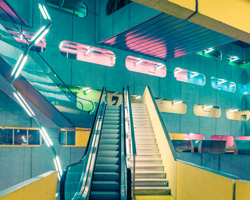 aug 22, 2017
aug 22, 2017