mar 02, 2016
AL_A's mosque design for abu dhabi to be a light-filled vertical landscape
AL_A's mosque design for abu dhabi to be a light-filled vertical landscape
all images © AL_A architects
AL_A architects led by amanda levete has won a competition to design a mosque adjacent to the foster-designed world trade center in the city of abu dhabi. the proposal will see a dynamic 2000 sqm area transformed to host a vast mosque and park space to provide a peaceful place of worship and respite.

the scheme will be situated in a park next to the foster and partner designed world trade center
entered through the park, the trees and columns align, and a grid emerges in an axis to guide people towards the mosque. once inside the axis shifts towards mecca where a series of tree-like columns  grow into a perforated roof canopy to encourage the play of light and shadow. the surface of the columns draws influence from the rich tradition of islamic geometrical patterns. the pattern of perforation on the columns is designed using a bespoke computer script to vary and control the amount of light entering through the roof structure.

the roof is designed as a landscape to be viewed from the surrounding high rise buildings
serving as a focal point of worship for the citizens of abu dhabi; the design will evoke the transition from the temporal to the transcendent – a narrative sequence expressed through architecture that links the spiritual to the everyday.
'the mosque is envisaged as a piece of the city, one that reflects the journey from the temporal to the spiritual. set within a park, the mosque and the garden become one, with the trees and the columns forming an informal vertical landscape and allowing friday prayers to spill outside.' – ho-yin ng, director of AL_A

the pattern of perforation is designed using a bespoke computer script to vary and control the amount of light

the islamic architectural tradition of arches is played out in the rhythm of the structure
jul 10, 2017
jul 10, 2017
jun 28, 2017
jun 28, 2017
may 18, 2017
may 18, 2017
may 29, 2017
may 29, 2017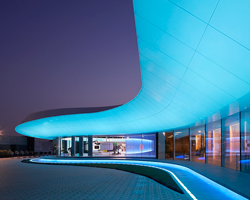 may 10, 2017
may 10, 2017
apr 27, 2017
apr 27, 2017
oct 20, 2016
oct 20, 2016
aug 18, 2016
aug 18, 2016
jul 07, 2016
jul 07, 2016