the palm springs art museum presents 'albert frey and lina bo bardi: a search for living architecture' — an exhibit that explores the synergy between the works of both mid-century modern masters. 3D models, drawings, design objects and photographs convey frey and bo bardi's shared belief in architecture as a way to connect people, nature, and buildings.

the exhibit includes a comprehensive archive of works by both architects
'the parallel odysseys of frey and bo bardi represent the emergence of southern california and são paulo as architectural laboratories of the mid-20th century,' says elizabeth armstrong, executive director of the palm springs art museum. 'although they never met, this exhibition shows how they each embraced the social and environmental contexts specific to their respective adoptive homes'.

the design of the exhibition mimics the playful and colorful designs of the architects
the exhibit examines four homes in order to highlight the parallels between both architects. the 'frey II' house in palm springs is juxtaposed with bo bardi's 'casa de vidro' in sao paulo. similarly, bo bardi's 'cirell house' and frey's 'aluminaire house' are examined in comparison. the homes demonstrate the ways in which frey and bo bardi both embraced modern technologies and design while carefully responding to the climate and terrain of their respective environments. exhibition sponsor, italian furniture brand arper reissued bo bardi's signature bowl chair in a limited edition, which is on display at the show.

model of the frey II house

an 'bo bardi' chair reissued by arper is included in the exhibit

bo bardi's conceptual sketches of the bowl chair are placed behind the final product

while the architects never met, their works demonstrate a similar focus on context and nature

the homes demonstrate a desire to embrace nature

the exhibit showcases the emergence of southern california and são paulo as architectural laboratories

the bowl chairs, reissued by arper, situated in the casa de vidro, são paulo

bo bardi's sketches are characterized by her use of vibrant colors

frey II house, northeast corner

southwest view of aluminaire house by lina bo bardi

the use of cantilevers creates the illusion of a floating pavilion within the jungle

bo bardi's use of cantilevers at casa de vidro is similarly employed at the aluminaire house
jun 04, 2015
jun 04, 2015
jan 30, 2015
jan 30, 2015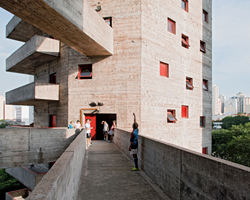 nov 27, 2014
nov 27, 2014