alberto campo baeza has designed a multi-sport and teaching pavilion for francisco de vitoria university's campus in pozuelo, madrid. following a similar theme found in many of baeza's earlier works, the structure evokes a sense of overall lightness. the building is composed of two rectilinear boxes connected at the lower level by a low-rise structure and roof-top patio. the interior includes a gymnasium, swimming pool, sporting halls, and teaching facilities. this versatility allows the building to accommodate a variety of university functions. despite the building's strong and captivating presence on the university's campus, the design takes surrounding architecture strongly into account. 

the building is composed of two rectilinear boxes connected at the lower level by a low-rise structure 
all images by javier callejas
baeza's design creates a stark relationship between the illuminated sports complex and the concealed teaching spaces — accentuating the contrast between the open and the enclosed. the gymnasium's northern facade is composed mostly of translucent glass, allowing the natural light to enter the space freely, while the southern facade continues the use of white concrete. the continuation of certain materials across all elements of the complex establishes an overall unity throughout the design, as one facet of the structure gracefully flows into another. 

the sports complex was designed with lightness in mind
the linear simplicity of the building evokes a sense of formal restraint. many of the design decisions respond to existing campus architecture. a low strip of transparent glass integrated into the southwestern facade highlights the pedestrian link between the complex and the campus' main square.

the northern facade is composed of translucent glass — allowing the natural light to illuminate the space 
the clean, controlled feel of the facade continues into the design of the interior. the grid of steel beams and trusses, supporting the gymnasium's expansive roof, are painted white to seamlessly integrate the structural systems into the weightlessness of the architecture. 

glass on the south-west facade highlights the pedestrian link between the complex and the campus' main square

the linear simplicity of building evokes a sense of formal restraint

the building is able to accommodate a variety of university functions

a grid of steel beams and trusses, supporting the gymnasium's expansive roof

one element of the structure gracefully flows into another

the structural systems are seamlessly integrated into the weightlessness of the design 

the building includes sports halls, multi-purpose rooms, a gymnasium, swimming pool, physiotherapy, etc
project info:
architect: alberto campo baeza
location: pozuelo de alarcón, madrid
client: universidad francisco de vitoria
function: sports center and classrooms
project: 2012
built: 2017
building area: 9,000 sqm
structure: andrés rubio morán
mechanical engineer: úrculo ingenieros
quantity surveyor: francisco melchor gallego
glass consultant: josé pablo calvo
project managers: francisco navarro, maría lamela, francisco armesto
contractor: clásica urbana
Save
nov 23, 2016
nov 23, 2016
jan 11, 2016
jan 11, 2016
jul 17, 2014
jul 17, 2014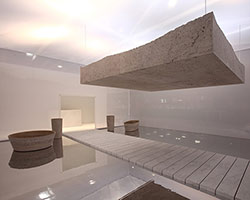 nov 03, 2013
nov 03, 2013
apr 20, 2013
apr 20, 2013
dec 13, 2012
dec 13, 2012
nov 01, 2017
nov 01, 2017
oct 29, 2017
oct 29, 2017
oct 25, 2017
oct 25, 2017
oct 17, 2017
oct 17, 2017
oct 15, 2017
oct 15, 2017
oct 08, 2017
oct 08, 2017