alejandro aravena discusses his curation of the 2016 venice architecture biennale
since 2001, chilean architect alejandro aravena has been executive director of the santiago-based practice elemental. the studio focuses on architecture projects of public interest and social impact, including housing, public space, infrastructure, and transportation. elemental encourages a participatory design process in which the architects work closely with both the public and end user. the firm has also pioneered an approach termed 'incremental housing', where residential designs leave space for residents to complete their houses, enhancing the value of their property, thus raising themselves up to a better standard of living.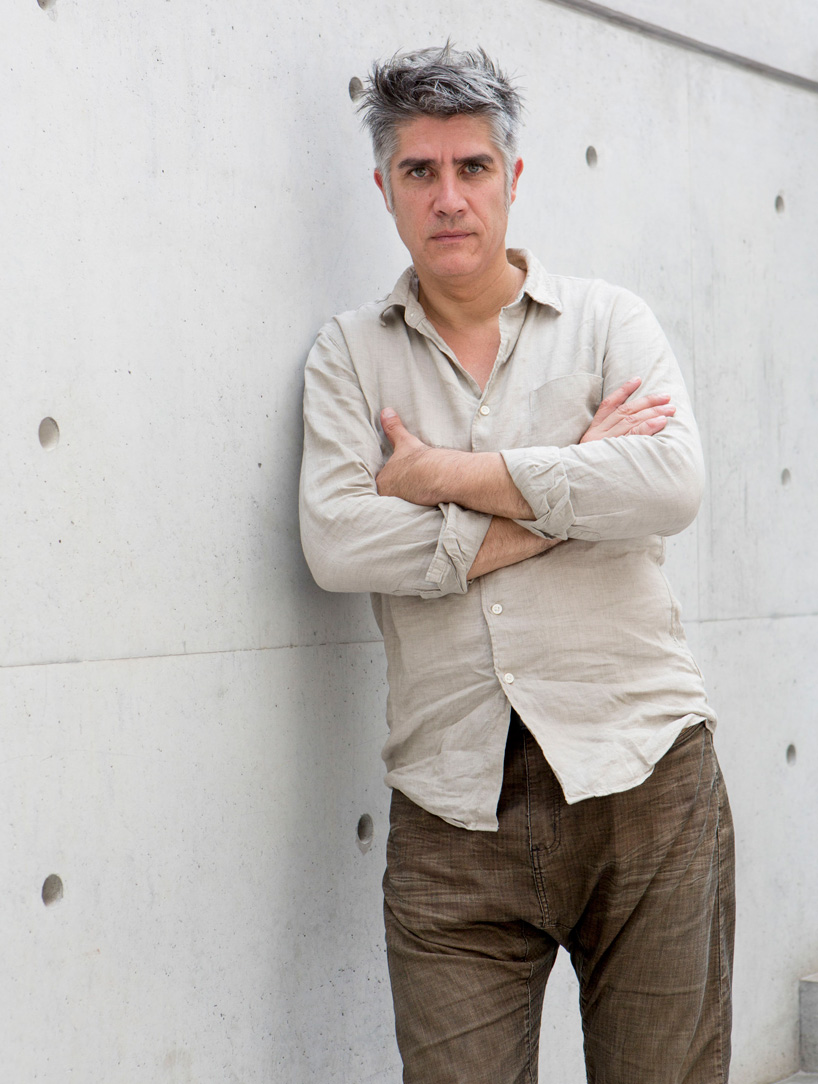 aravena was recently awarded the pritzker prize for architecture
in july 2015, elemental's executive director was selected to curate the 2016 venice architecture biennale, which he entitled 'reporting from the front'. the exhibition, which opened to the public in may 2016, responds to the challenges of migration, inequality, access to sanitation, segregation, inequality, housing shortages, and community participation.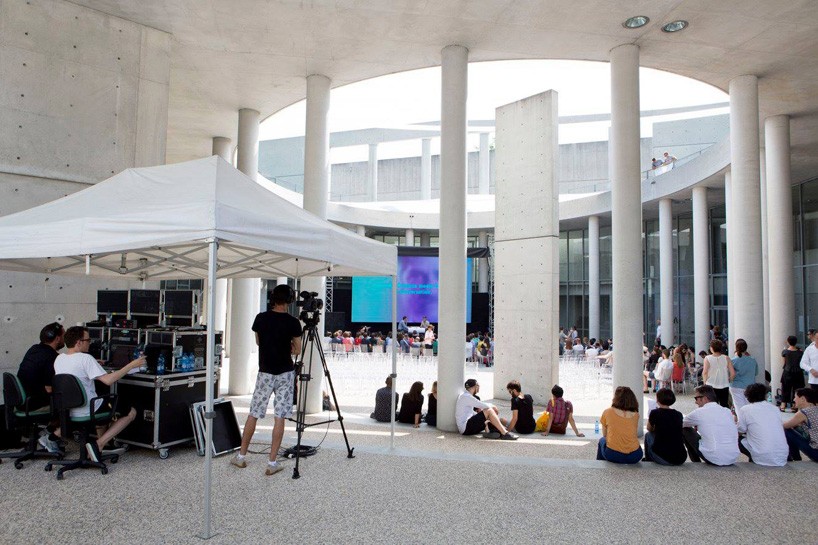 the discussion took place within fabrica research centre's auditorium
as part of fabrica's reunion day for their former design students an engaging conference with him was arranged, where he delivered an earnest speech covering current issues ranging from social housing and the immigration crisis to choice of materials and their locality.
to understand more about aravena's curation of this year's biennale, designboom spoke with the architect who discussed his intentions in further detail. read his answers in full below.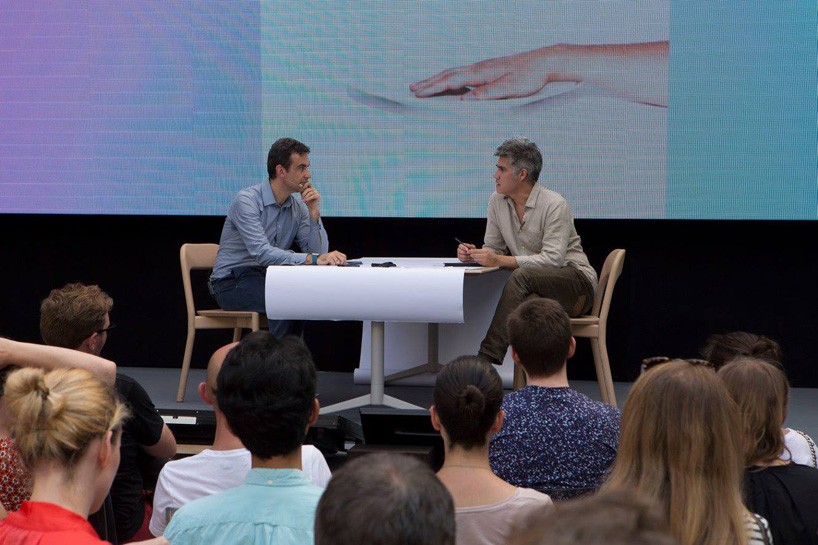 He participated in an engaging discussion that covered various social issues
designboom: now that the biennale has been open for a month, how do you reflect on the event as a whole?
alejandro aravena: I haven't yet. the biennale opened on may 28th, and it was ready for viewing on the 25th of may. but my last day free before going into the interviews, the protocols and everything was the 24th so I haven't seen it finished. the last night that I went through was on the 23rd, so still some things were in plastic covering, some things were still being adjusted — the lights etc. so, to tell the truth, tomorrow will be the first day I will be going through to see it in a finished state. it's not just the physical, pragmatic delusion of having finished here, not to mention the pavilions which I haven't seen yet, but I would say that I'm still too close to the gathering and the opening. I don't want to draw conclusions for at least six months. I will maybe do that exercise in november when it finishes — so I just have the taste of the opening more than a conclusion.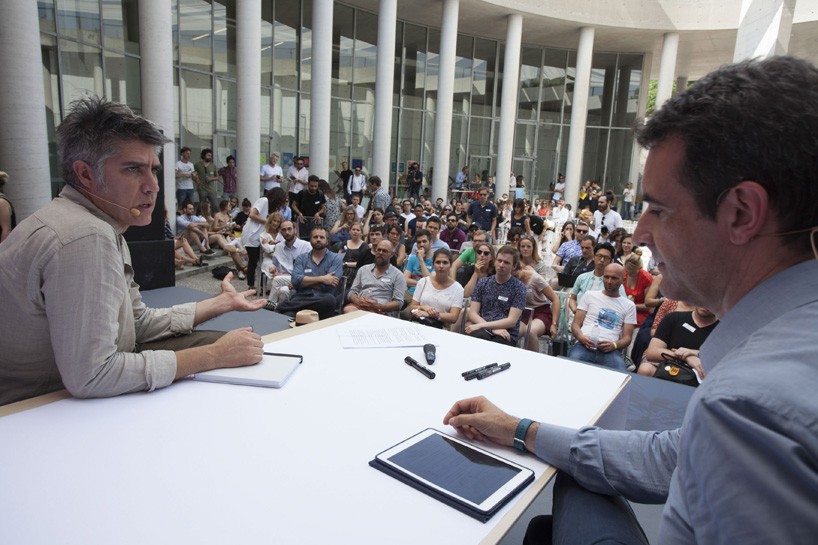 alejandro aravena having discussion for the ex-design students of fabrica
(continued) I'm still too close to the thing: I'm looking at it from inside not with the perspective of your question. from inside, the feeling is that there is still an incredible amount of ideas, effort and money from people who accepted the challenge to share what they discovered while trying to improve the built environment. I still remember, maybe on the 23rd, going to the darsena — where the arsenale is — and looking at the ships coming in and out and the cranes. there were tonnes of material in motion because there was an invitation done by us to different architects. just that fact, I think, is fascinating. the amount of resources mobilized because of an invitation to report from the front. what amazed me was the amount of people willing to share what they had done. it's a mixture of enthusiasm and there is a lot of knowledge from that — so it is somehow coupled and tied. I couldn't have done anything more. it is what it is.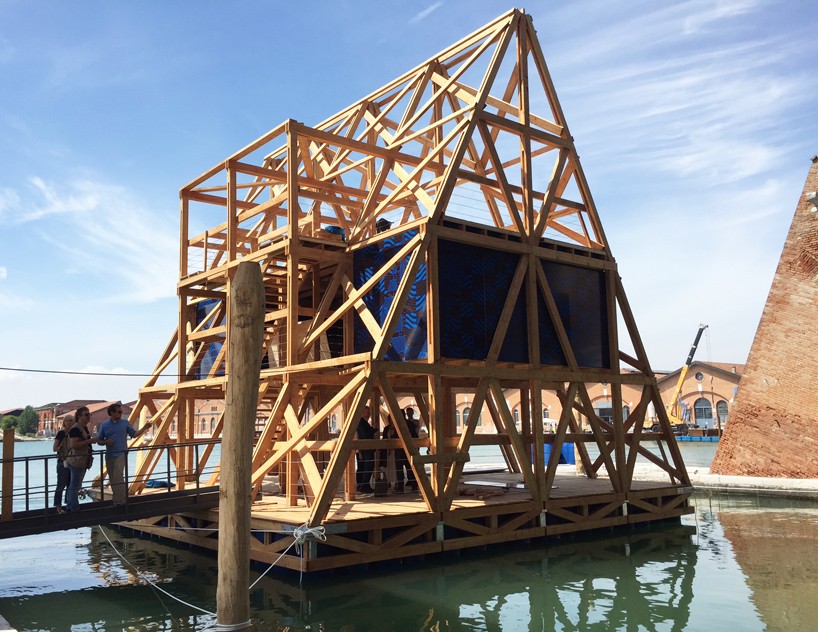 NLÉ was awarded the silver lion at the venice architecture biennale
image © designboom
see more of the project on designboom here
DB: you said before the biennale that you wanted to present architectural 'success stories', do you think that these stories have been clearly conveyed to the public?
AA: I would say so. what we had to redefine was 'how do you define success?' if by success you understand perfection, and when given a set of constraints and a question you provide the ultimate answer. with perfection then that wasn't the success I was meaning. because, the more complex the problem, the more relative the notion of success. success is always compared to 'what would have been if we do nothing?' and this is something we tend to miss while looking at exhibitions or projects. I mean if you are the comfort zone of your desk and just judging by thumbs up or thumbs down what you're looking at without putting yourself in the position of somebody having to do something with a given set of constraint, then judging is rather easy.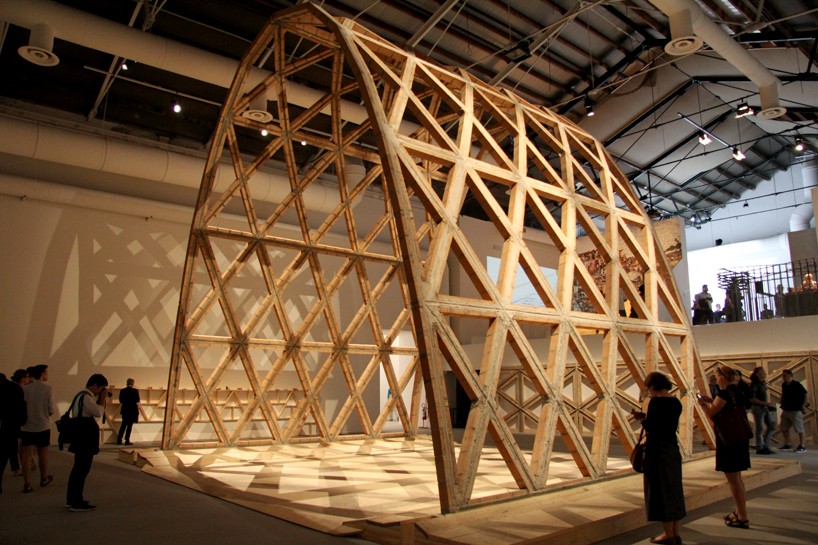 a huge masonry arch was erected by solano benítez in venice
image © designboom
see more of the project on designboom here

(continued) I was at a forum many times saying that even the notion of success of this biennale shouldn't be judged by the quantity of visitors, but by the quality of the visit. not even the quality of the visitor, but the visit. by that I mean put yourself in the position of 'what could have been?' whatever the project was; housing, public space, immigration, waste, whatever it was, if we did nothing or followed business as usual. so when you do that exercise understanding the complexity of the problem then what is shown there may not be perfect, but at least it took the risk of doing a proposal. and then compared to having done nothing, certainly it was an improvement. this is what I think is needed too from the particular side to be able to understand what are the forces at play? what are the constraints? and yet, be able to do a proposal from the decision maker to broaden your gamut of references. maybe when you go there they'll say 'sorry next time because this time it's too complicated' then why not? sure, look at those things. if this guy in the most complicated of environments was able to something, you have no more excuses not to do it differently. and finally, from the end-user point of view. If the demand asks professionals and decision makers to deliver more quality then we're going to have more pressure to go beyond business as usual.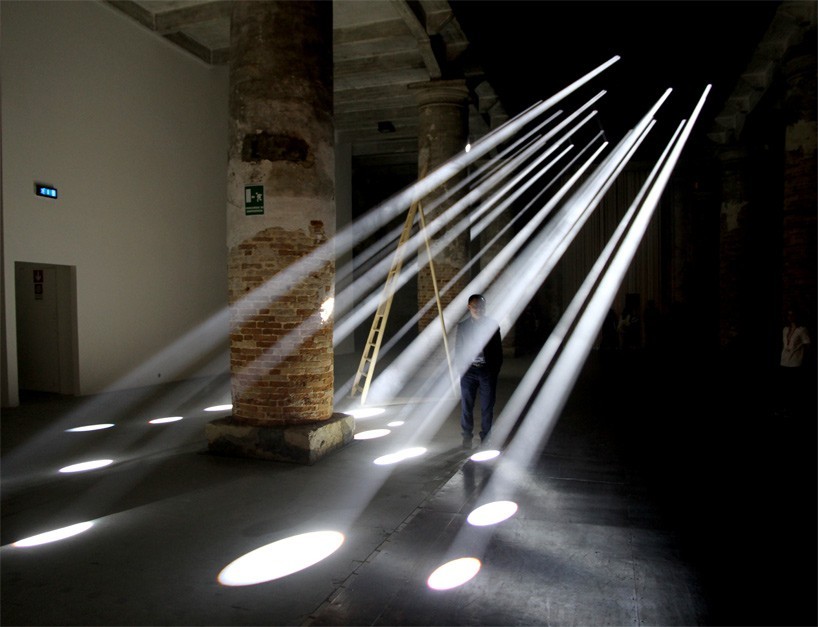 transsolar's dynamic 'lightscapes' installation at the arsenale
image © designboom
see more of the project on designboom here
DB: how can architects and designers more quickly translate their ideas into practical, real world solutions?
AA: the more you understand the constraints then the more you creative you will need to be. the sparser the resources then the more complex the question, and more of a need for inventiveness. if you have too many resources widely created, then you are required to be creative because of the toughness of your circumstances. but that has to be balanced with pertinence; if you have too many resources then what you may be answering may not be pertinent to the question. so how to balance inventiveness and pertinence is a way to go in to the practical. but, without meaning 'practical' just perpetuates what's going on in the current conditions because there is a question that says that wasn't being delivered nowadays is not enough.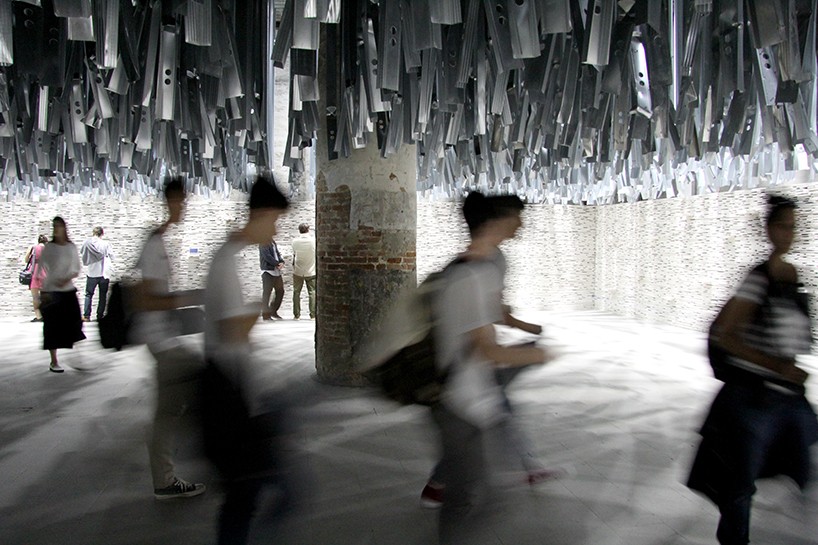 the venice architecture biennale's introductory room
image © designboom
see more of the project on designboom here
(continued) we need a different thing, and different things require a different inventiveness. but if inventiveness doesn't take into account the constraints then it may not be pertinent. if you do not understand that you are required to be creative then you may respond to the circumstances; but do not go beyond business as usual. this is the balance to be able to expand, the questions are new, your answers have to be new, and yet those answers have to be pertinent. this is the balance that I'd say may work as a shortcut to deliver practical, down-to-earth solutions that actually respond to the next steps and not just the current conditions, which would be a failure. in the same way, not to do anything is a failure, to do something which doesn't change the current conditions and doesn't answer the proper question.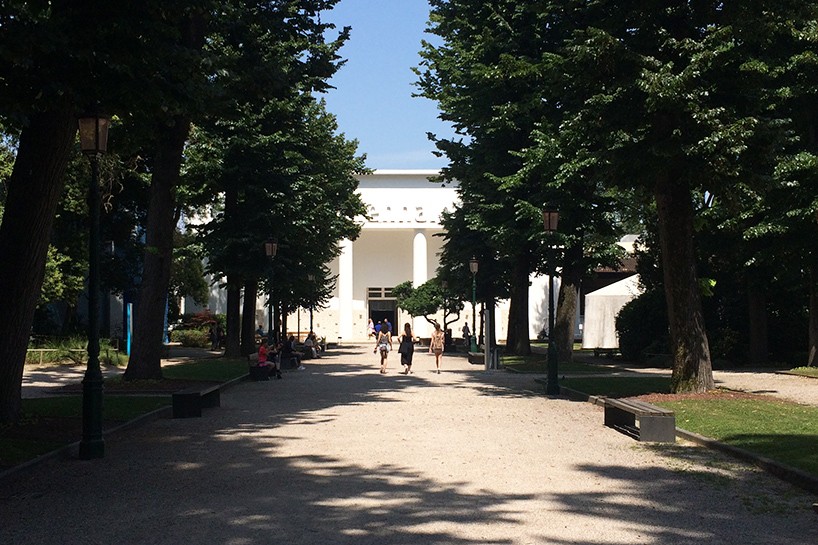 the venice architecture biennale runs until november 27, 2016
image © designboom
Save
Save
Save
Save
Save
Save
Save
Save
Save
Save
Save
Save
Save
Save
Save
martin hislop
I designboom
jun 28, 2016
a diverse digital database that acts as a valuable guide in gaining insight and information about a product directly from the manufacturer, and serves as a rich reference point in developing a project or scheme.
designboom will always be there for you
milan, new york, beijing, tokyo

,
since 1999