'the smile' by alison brooks architects has been presented with the 'display' award at the 2017 world architecture festival. the project was one of the london design festival's landmark projects, and was designed to be inhabited and explored by the public. effectively a beam curving up at both ends, the spectacular, curved, tubular timber structure measured 3.5m high, 4.5m wide, and 34m long. showcasing the structural and spatial potential of cross-laminated american tulipwood, the smile was the first ever 'mega-tube' made with construction-sized panels of hardwood CLT.
at the world architecture festival in berlin, designboom spoke with alison brooks about her involvement in this year's event, why she thinks the public should be involved in discussions about architecture, and being female in a male-dominated field.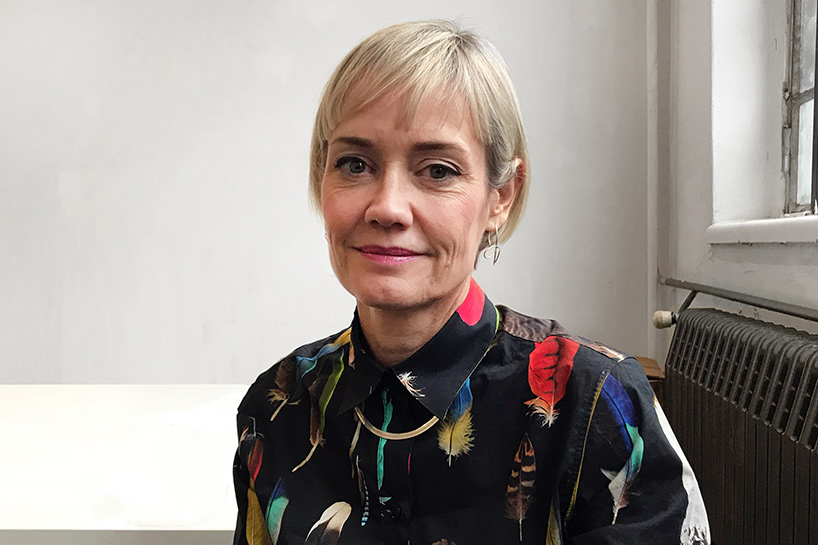 alison brooks spoke with designboom at the 2017 world architecture festival in berlin
image © designboom
designboom (DB): can you start by explaining your involvement in this year's world architecture festival and explain a little about the project that has been nominated?
alison brooks (AB): I'm at the festival this year because my project 'the smile' has been nominated in two categories, 'display architecture' and 'small projects'. 'the smile' was a very special project because it was the landmark project for the london design festival. every two years they build a very special pavilion out of american hardwood. we had to use cross-laminated timber (CLT) in a panel format to create a pavilion that would be a big magnet, and a kind of symbol of the festival for the city — so it was a very open brief, which was great.
the remarkable thing about it, is that it's the first time that CLT and hardwood CLT have been used to create such a significant long span structure. it cantilevers 12 meters in two directions and it's a segment of a 50 meter circle. this giant arch was balanced on its tangent points in chelsea college of art square, next to tate britain. it was kind of a superstructure in timber. for me, it was the chance to make a pavilion that offers a very immersive experience of architecture, because the structure is the material that you see, and the finish is also the structure, it's the enclosure.
you are able to sense the timber doing everything. it's also a very focusing space, a very immersive kind of space. I call it a singularity because it combines geometry, structure, material, and a spatial purity. everybody sort of gravitated towards it, because it was such an unusual piece. it pushed people's understanding of what architecture could be because it was obviously not very familiar as a building. it didn't sit on the ground and it was very sculptural. it created a very memorable and physical experience that was very engaging in terms of its senses.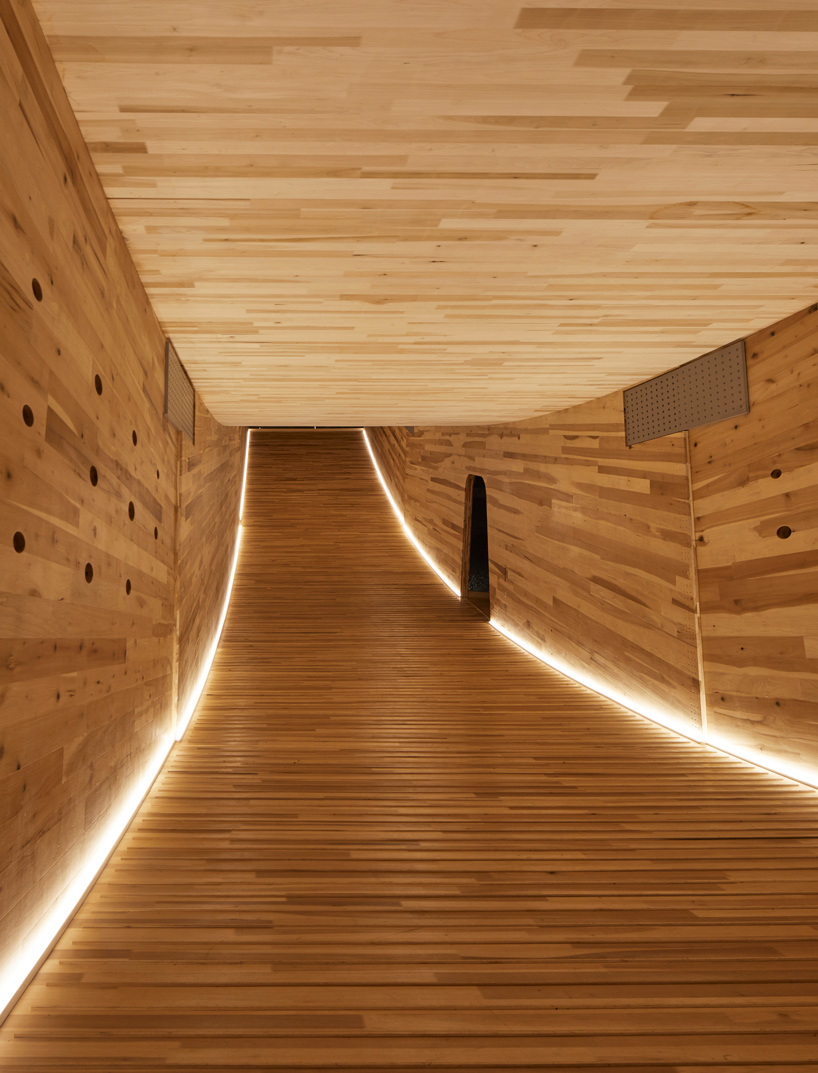 'the smile' was developed in collaboration with the american hardwood export council (AHEC)
DB: did you see people smiling at your 'smile'?
AB: yes, as soon as people would walk in, they would smile because, in a way, it's a very crazy thing. really strong, really big, but also very friendly. it really managed to operate at many different levels. it was really surprising and engaging for young and old people. it wasn't really architecture for architects, but rather a social piece.
DB: why do you think that events like this are important and relevant?
AB: I think these events are important because they help people to understand the potential of architecture. there's still a lot of scope for invention, for art, for beauty, and for playfulness. architects can actually design at many different scales. it doesn't have to be a huge complex building to be memorable. it can be very simple in its program, like a pavilion. it's open to the public so everyone has access and anyone can enjoy it. I think it helps bring the design profession out into the public realm in a way that exhibitions of architecture can't do, where the audience is more limited. this is bringing a very experimental, sculptural piece to a very broad audience.
DB: was the structure temporary or is it still there?
AB: it was temporary. it actually had to be dismantled because the cost of preserving it, and transporting was actually going to be more than the cost of building it. it had to be dismantled and recycled, but timber is a renewable material so it went back to germany to a factory. it's a much better kind of building material to recycle than any other.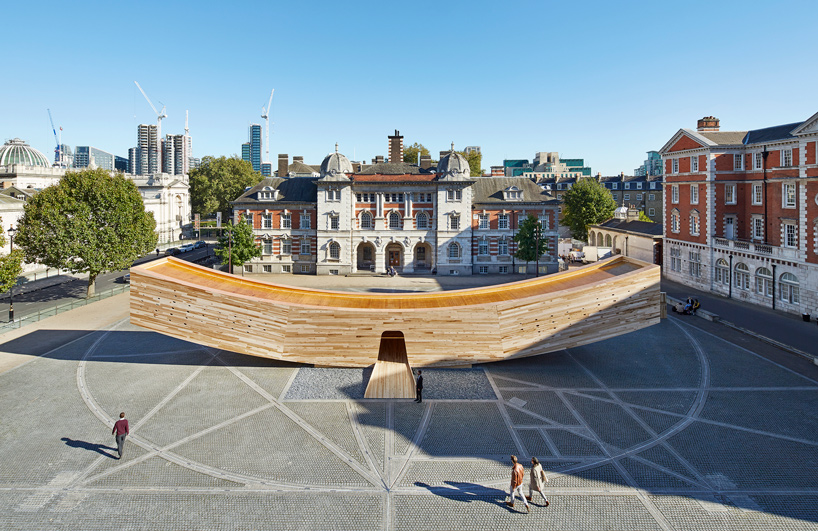 the structure was sited at the chelsea college of art square, next to tate britain
DB: can you tell us about any projects you're currently working on that you're excited about?
AB: I'm excited about all our projects. we're just finishing our exeter college building in oxford. it's a new college quadrangle for a 700 year old college. it's an academic and teaching building, but it also has social learning spaces and an archive, a café, a seminary, and an auditorium as well as 90 student classrooms. it's a very complex brief, but a really fantastic client. building in oxford is always a very challenging, but also fulfilling task because the clients are all investing for the long-term. it was also an opportunity to be quite experimental in terms of the roof forms and materials. we were creating a new identity for exeter college in oxford for the 22nd century because they were founded in the 14th century.
we're also doing a tower and a mixed-use urban block in kings cross, so that's pretty exciting, and another one in north east london for the same developer. we're also doing residential projects in cambridge and oxford and a maggie's center in devon.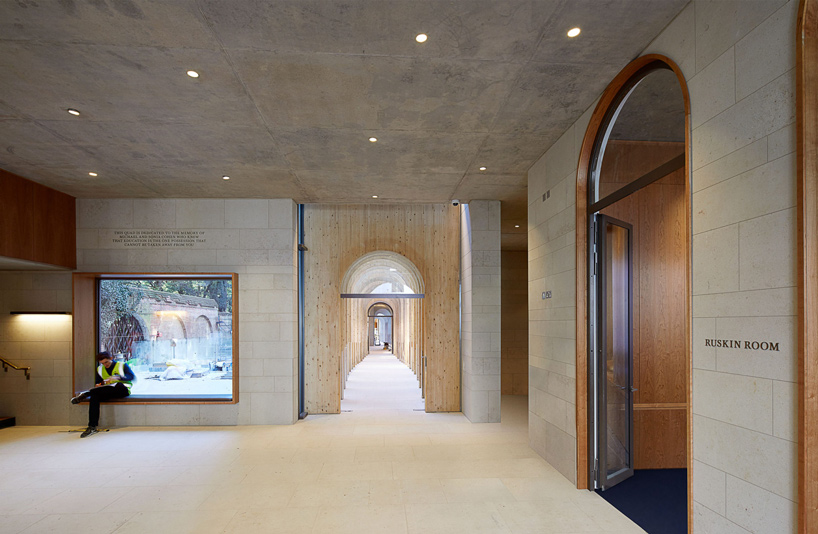 ABA is currently putting the finishing touches to a college building in oxford
image © paul riddle
DB: do you think it's important for the general public to be involved in discussions about architecture?
AB: absolutely. actually I've recently been appointed as one of the advisors for the london mayor's design advocacy panel. my proposal for the post was to actually help the mayor's office set up design hubs in every neighborhood in london — so a virtual platform for every local neighborhood. this would mean that people can go directly to their neighborhood forum and see what developments are being proposed, understand the history, and be able to put forward ideas or suggestions, and complaints obviously.
I think it's about making the processes of regeneration and redevelopment transparent to all citizens of a city or place. they have concerns, experience, and knowledge of the places where they live, that as an outsider, or even the city planners and administrators may not know. in my view that's the only way you can get kind of relevant, active participation from city residents in the development of their neighborhood because london is growing, and all cities are struggling with growth. they are struggling with new developments, and coming up against a lot of resistance, because generally the public is not aware of why things are happening. they are kind of excluded from the creative process. so for me it's about enabling everybody to participate in the design of their city.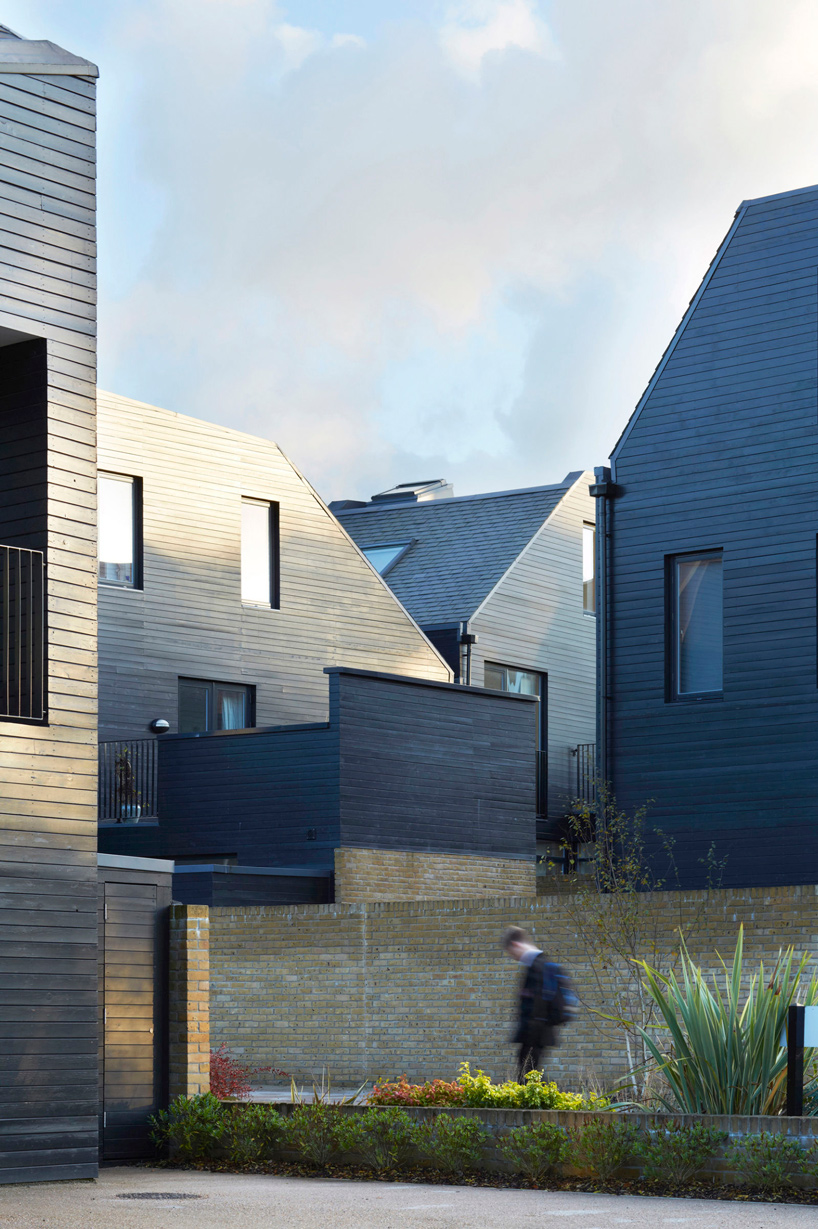 'newhall be' in harlow is an example of brooks' successful residential schemes
image © paul riddle
DB: how do you assess the current state of architecture?
AB: in a certain way, the current state of architecture is very healthy compared to the way it was 25 or 30 years ago when there were these kind of adversarial camps: modernists versus post-modernists. there was a kind of intolerance for different perspectives on architecture. I think generally the standard of design was pretty low 30 years ago. there wasn't really lots of really fantastic architecture being produced around the world.
I think the culture of architecture has changed significantly in the last 30 years, and it's gotten much, much better. but at the same time there's been a shift in clients from actually commissioning architects to deliver the whole building, to just asking architects to deliver the design up to planning — not the construction documents, and not taking responsibility for the detailing and execution and site operations in delivering buildings.
I think this is a very terrible thing, and it means we've relinquished control — along with authorship and the design process that goes into the details of a building. at least 50% of the design of a building is in the detailing, and when you give that away to a contractor you not only give away 50% of the design, you give away expertise and the sense that architects are the masters of their professions. so we find ourselves in a position of weakness because we are not essential to the full process of delivering buildings. I think I'm part of a growing movement of architects who actually insists, as far as we possibly can, that we are appointed to deliver the full documentation and process. this is the really, really difficult side of architecture that we have to claim back so that we are not seen as image makers. the end result of a project that's only been authored up to planning, I don't think you can really claim as your work.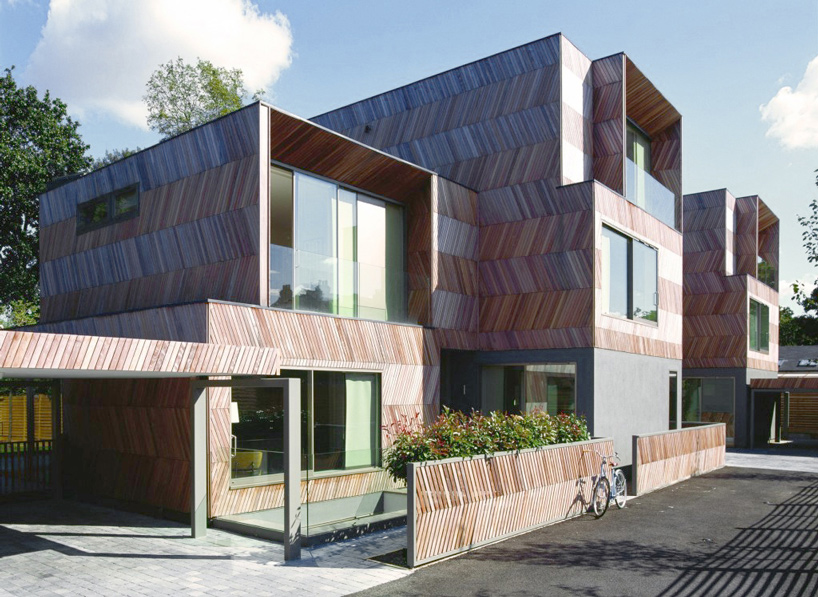 the 'herringbone houses' were completed in 2005
image by cristobal palma
DB: how do you feel about being a female in such a male-dominated field?
AB: I've never thought about it consciously. if you're an architect, what matters is the work that you produce the work that you produce has to stand its ground in the face of the competition. I've basically built my practice on competition work, so it was sort of 'make it or break it' situation by the quality of work.
more recently, as women in architecture campaigns have taken a public position, I've had to acknowledge that I am a woman in architecture and participate in networks acknowledging the work of women in the profession, but I still think that all women architects are architects first, and gender comes later. how you have to perform as a designer, as a businessperson — everyone has obligations outside of the profession.
as I was a foreigner in london (I'm canadian) when I started my practice, I didn't have any networks through my family, or education or even professionally. I had to start from scratch. I studied in canada, and then worked in london for seven years with ron arad before starting my practice, but we didn't really have a london-based clientele. we were doing projects in israel, in germany, some restaurants in london, but I didn't have a professional network because we operated outside of the profession.
so when I actually started my practice, I wanted to fully engage in the profession, and to work on public projects, housing, and urban design. I wanted to bring design to communities and people that don't normally have access to it. so it was about raising the expectation. for example: something as practical as housing. if you treat housing as high design, as cultural infrastructure, then you have to bring the highest standards of design to that subject. even though, 20 years ago, housing was not very popular. now it's much more seen as a really fruitful and interesting field.
I think there's been a really big shift in the profession, some good, and some less good like the economics of building and the drive to specialization where clients are allocating the entire detailing process to contractors. however, I would say generally, it's a much more open and inclusive and pluralistic discipline, that encourages polar opposites in terms of the approach to problems. I think the diversity of the profession has been great overall, but we still have a lot of work to do in terms of our expertise. we do a lot of work to ensure that our projects are serving the public beyond the specific client. we fight for new public squares, for making spaces more generous than our clients could really anticipate. that whole area of our work to society is generally not acknowledged and not understood, and this is why I think architects need to have more of a voice. we have a duty beyond the project to serve the public and that's where the quality of our work will serve society for the long term.


world architecture festival (WAF) is the largest, annual, international, live architectural event. it includes the biggest architectural awards programme in the world, dedicated to celebrating excellence via live presentations to an audience of high-profile delegates and international juries. WAF is a three-day event for architects and interior design professionals to celebrate, learn, exchange, and be inspired. the 2017 world architecture festival comprises 5 key elements: the WAF awards; a thematic conference programme; an exhibition of award entries; sponsor and exhibitor stands; a series of networking/social events, as well as WAF fringe activities. INSIDE world festival of interiors runs alongside WAF, with its own awards and conference programme.
isabel narea
I designboom
nov 17, 2017
a diverse digital database that acts as a valuable guide in gaining insight and information about a product directly from the manufacturer, and serves as a rich reference point in developing a project or scheme.
designboom will always be there for you
milan, new york, beijing, tokyo

,
since 1999