alucobond: officially opened in spring 2017, the marine gateway mixed-use development in south vancouver, canada, is the first major transit-oriented construction integrated with the city's canada line rapid rail system. with the help of perkins+will, keith panel systems co. ltd. (KPS) and PCI developments corp., it was designed to meet the values of smart growth, which focuses on sustainable, mixed-use communities. the result has transformed a one-block former industrial site into a new urban town center, consisting of 820,000 square-feet of space.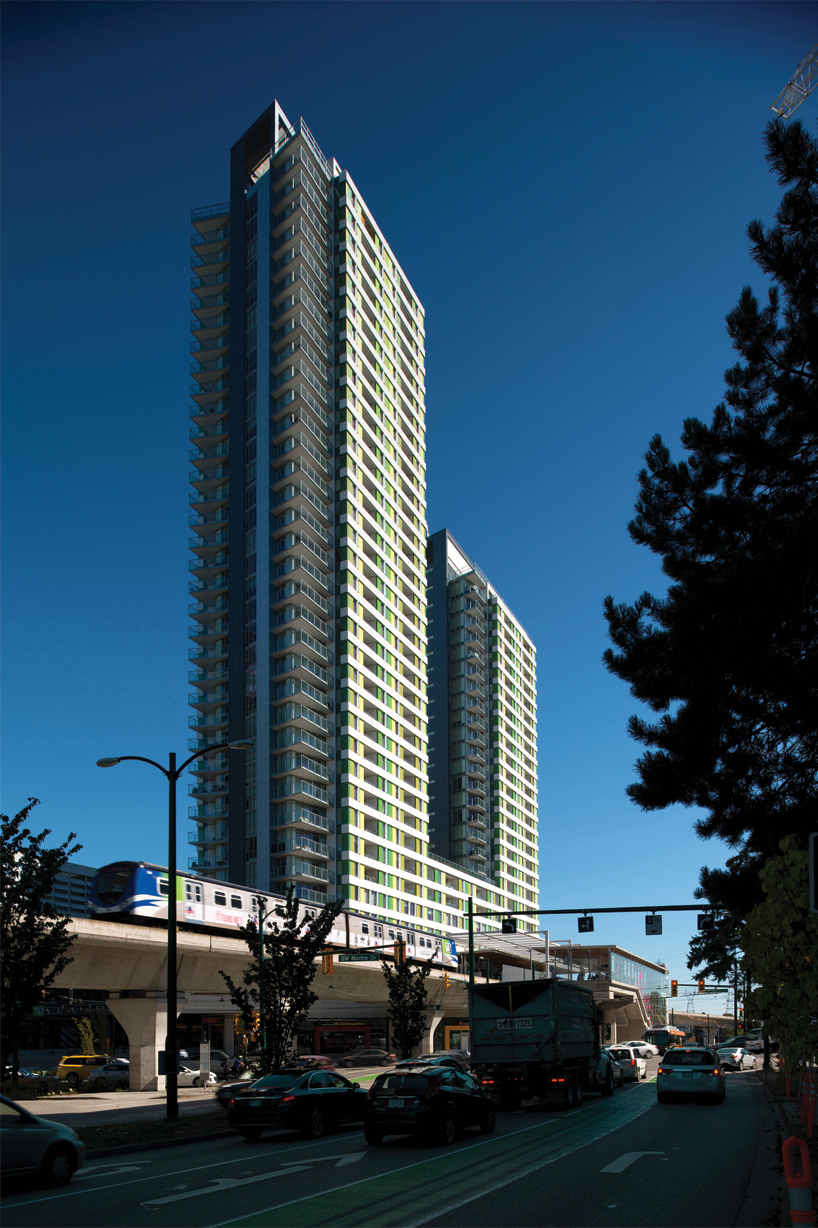 the mixed-use development links the city's canada line rapid rail system with its bus network
all images © mark kempf
costing 372 million CAD, the marine gateway development starts with five stories of underground parking that rise up to a 14-story block of 250,000 square-feet of office and 225,000 square-feet of retail space. within this, shopping and entertainment facilities include an 11-screen movie theater, a fitness center, a supermarket and a landscaped public area, named the 'high street', that is lined with stores and restaurants. above this, the construction features two residential towers – one 25-story tower and one 35-story block – that offer a combined total of 461 market condos and rental apartments.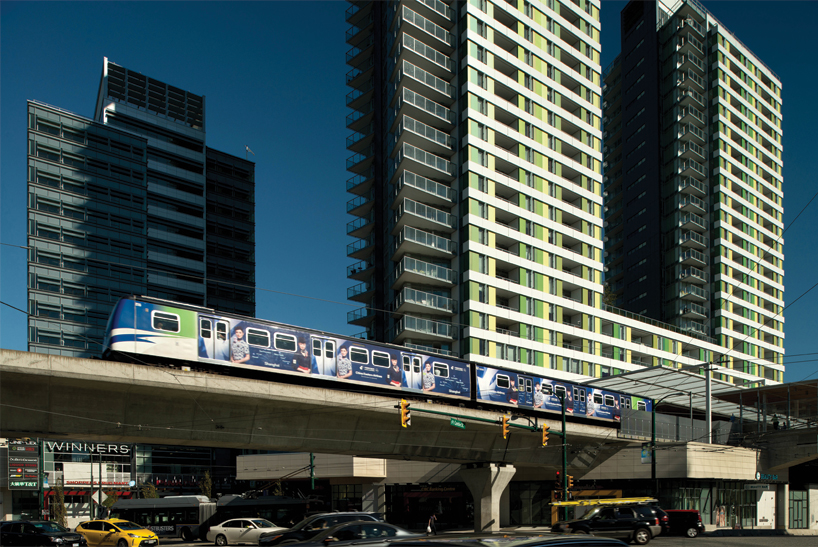 marine gateway has become an urban hub for commuting, shopping, leisure and community living
'PCI's goal for marine gateway was to transform a vacant and underutilized four-plus acre industrial lot into a vibrant, transit-oriented mixed-use town center that combines retail, entertainment, office, residential and transit onsite,' said andrew grant, president, PCI developments corp. 'PCI saw the opportunity to directly integrate with rapid and bus transit, allowing residents, workers, shoppers and visitors to live, work, shop, play and commute all in one location.'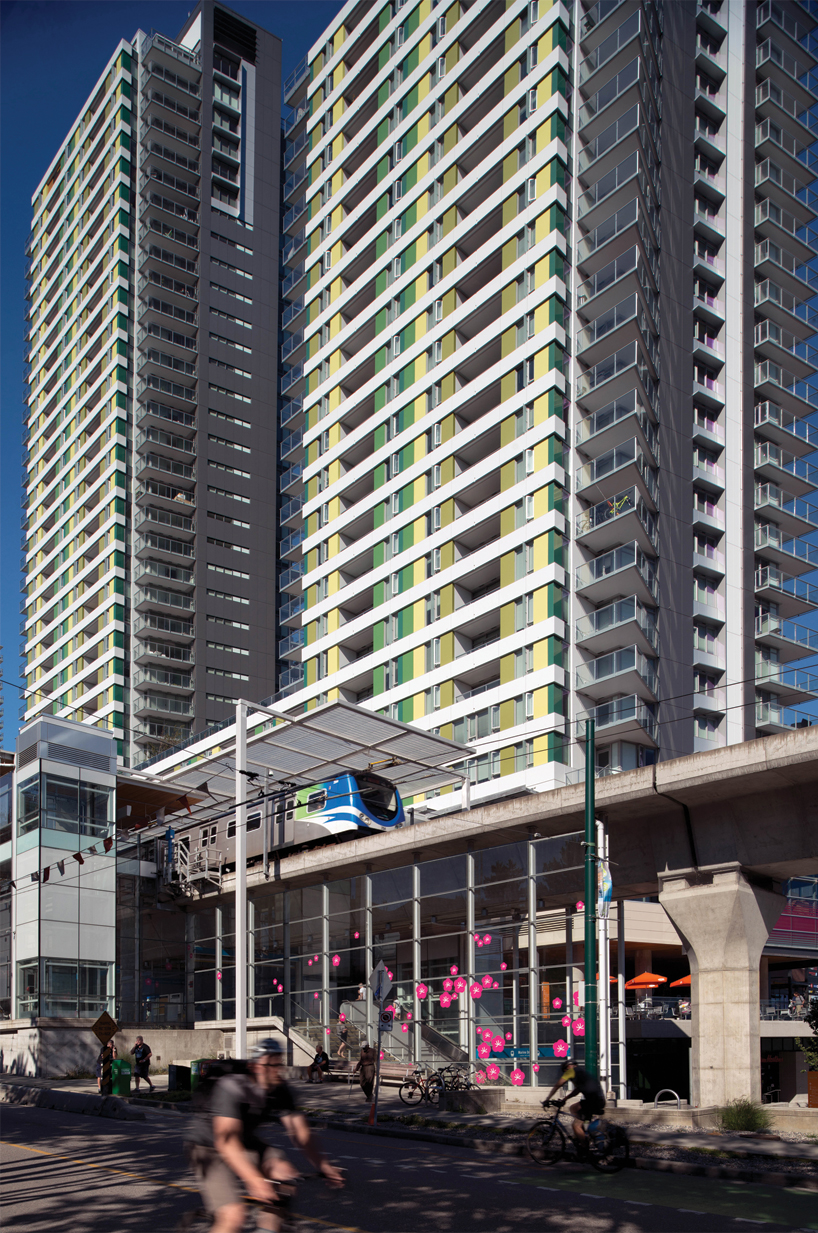 the four custom 'spectra' colors contrast with the bone white cladding
covered in 50% alucobond cladding and 50% glazing – an unusual feature for typical high-rise residential buildings in vancouver – the marine gateway features more than 200,000 square-feet of recyclable 4mm alucobond plus aluminum composite material (ACM) by 3A composites USA. this has been installed as both the exterior cladding of the building, as well as storefront shoppers and as interior wall accents. for the project, the colors selected include bone white, steel city silver, anodic clear mica, red fire, french burgundy, montreal blue and focus black, as well as custom tones of ridgedale silver, yellow flash and mustard yellow.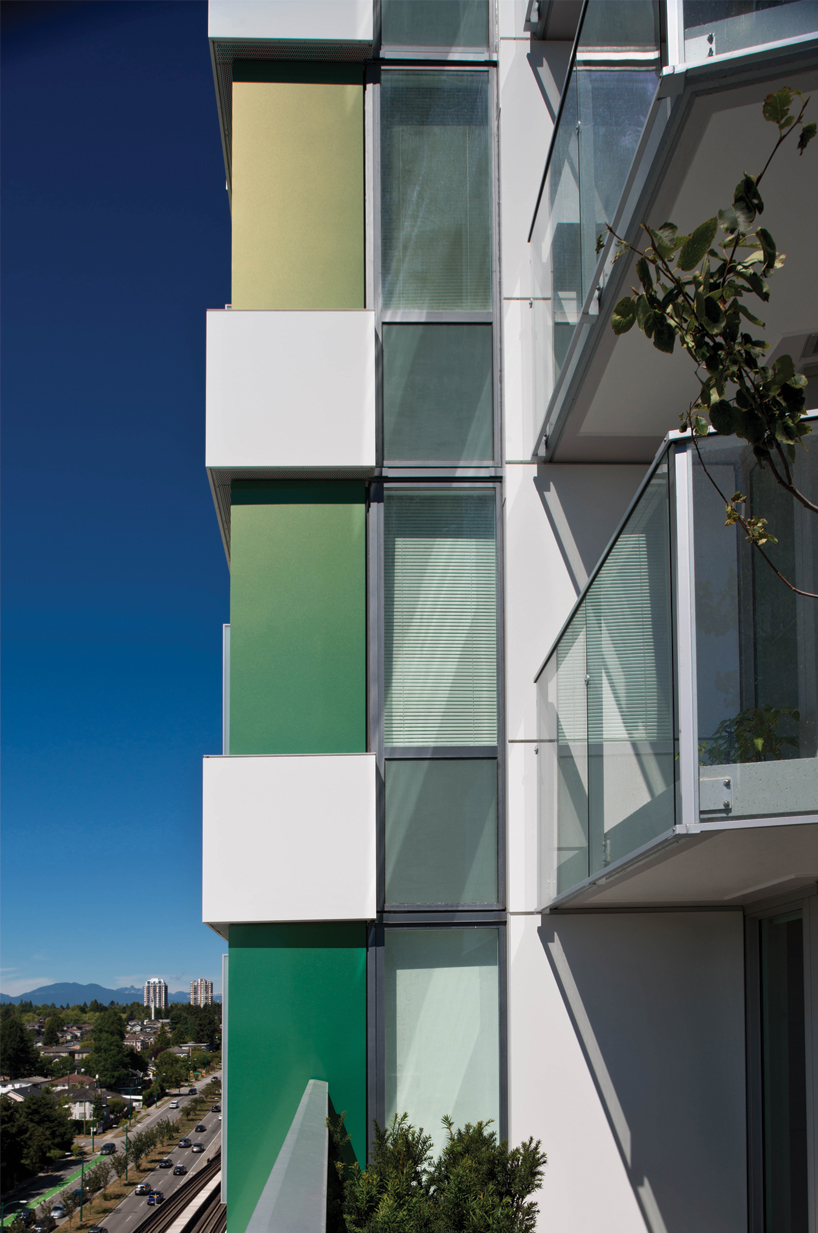 alucobond's 'spectra' material changes tones according to different wavelengths of light
'we wanted to ensure the public realm and architectural elements were well-designed and visually interesting, with a variety of materials, textures and color,' said grant. 'in particular, the distinct use of color on the high-profile residential towers, the retail high street and within the residential lobbies has created a colorful, dynamic and identifiable marine gateway look that is warm and inviting.'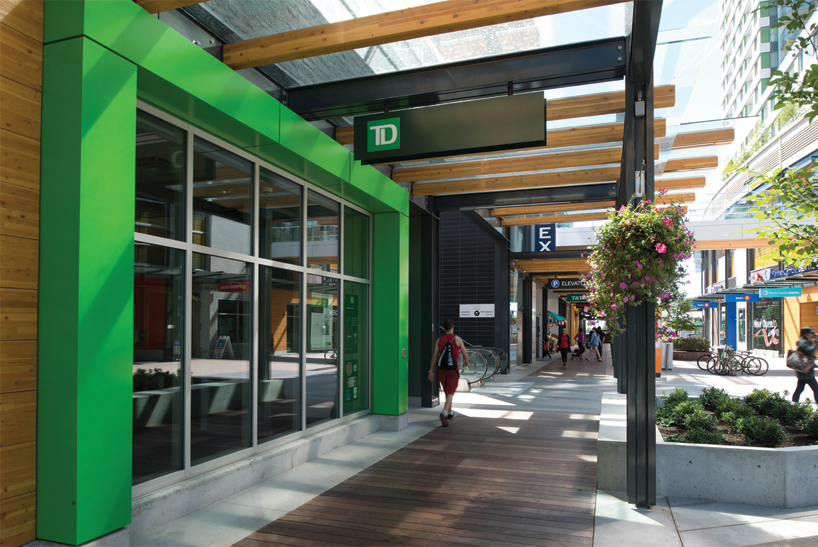 the complex features a 'high street' with stores and restaurants
the mixed-use development enhances four custom shades of green alucobond plus in the 'spectra' color finishing, as developed in close collaboration between perkins+will; alucobond's fabricator and installer, KPS; and 3A composites USA. covering and contrasting alongside the bone white cladding, it provides the residential towers with a unique, color-changing design, which can be installed in two different directions. including 10,000 square feet each of alucobond 'spectra lime zest', 'spectra mossy forest', 'spectra rainforest' and 'spectra springtime', the panels change tones as different wavelengths of light are reflected back to onlookers.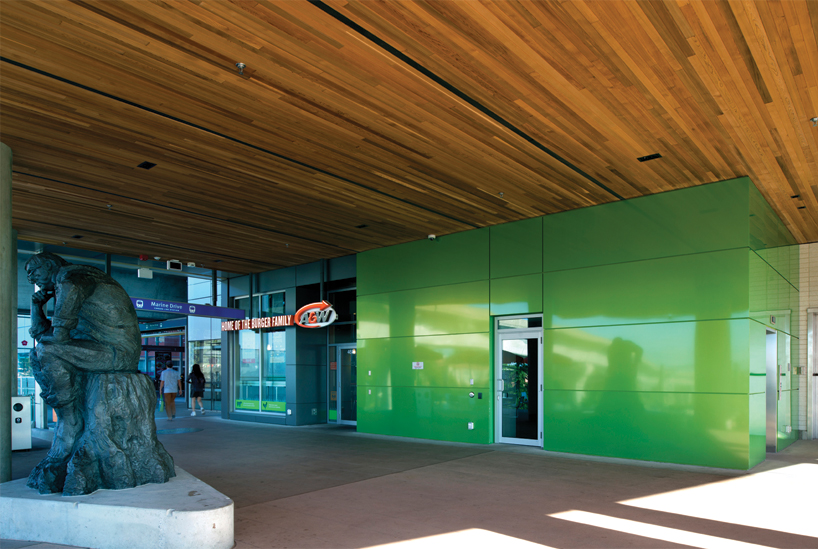 alucobond plus cladding has also been used for shopfronts and interior highlights
initially recommended by KPS as a cost-effective yet striking cladding option, the recyclable alucobond 'spectra' panels contribute to LEED credits – the united states green building council's rating system for evaluating the environmental performance of a building – and is aiming to receive gold certification for the marine gateway. additionally, the project fits within vancouver's goal to be the greenest city in the world by 2020 and leads as an example of encouraging sustainable growth with communities, jobs and families at its center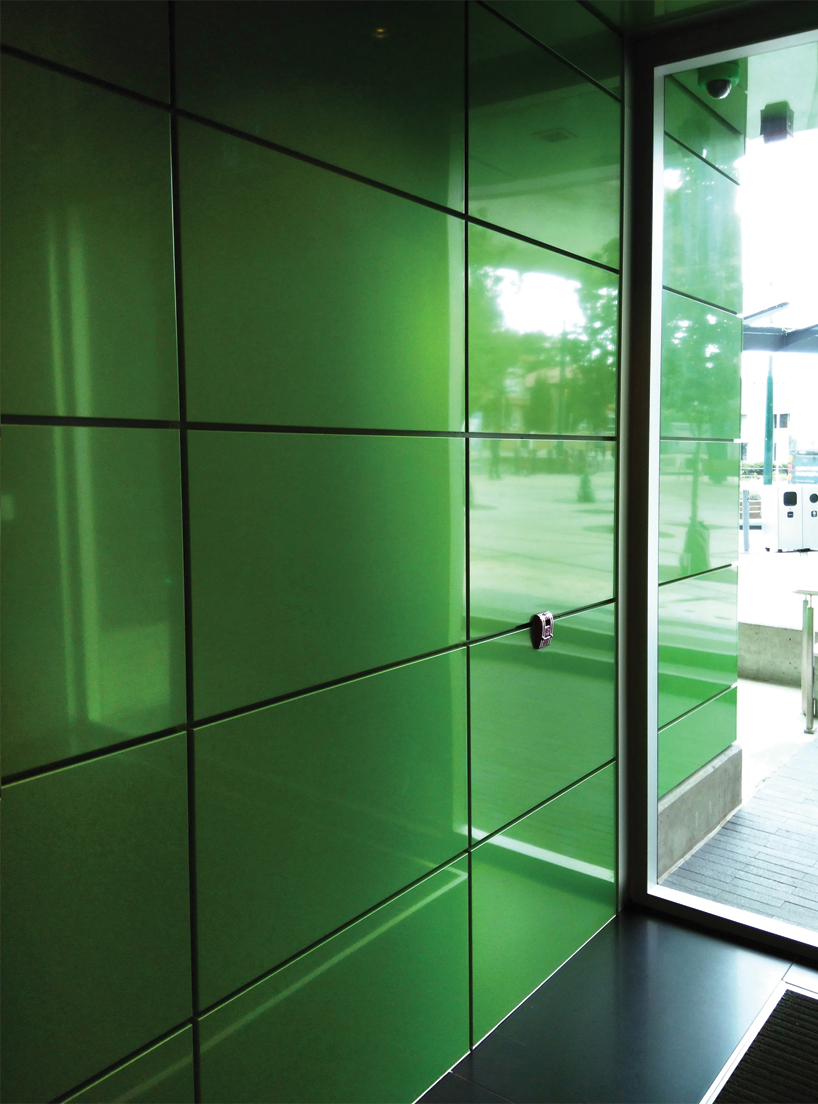 overall, 14 different colors of alucobond have been used in the development
'we wanted a simple, calm palette for the residential towers,' said ryan bragg, principal at perkins+will canada. 'while we originally thought about incorporating painted glass panels, that material was not cost-effective. we did, however, want a fresh feel for the towers and a material that would change in appearance throughout the day. so, we looked at alucobond spectra.'
'we wanted to create a fresh look with rather timely colors,' explained bragg. 'we knew that the spectra would change in a subtle way while providing contrast with the bone white alucobond panels. we always thought that the spectra would appear to change more from a distance rather than close up. but, within residents' units, you can catch the change. …the spectra is a very interesting material. it's been very successful in capturing the look we were trying to achieve.'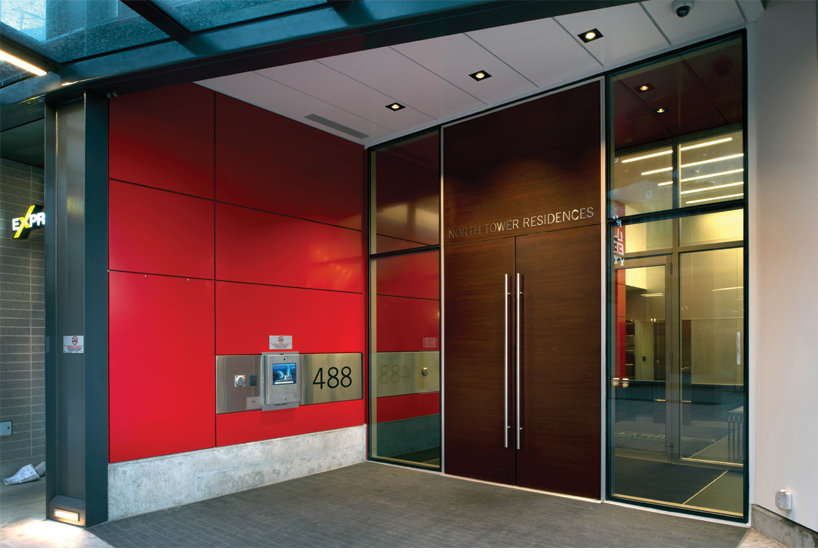 it features more than 200,000 square-feet of 4mm alucobond plus ACM
alucobond will be exhibiting at the american institute of architects (AIA) – orange county convention center, orlando, florida, from april 27th to 29th, 2017 at booth number 3563.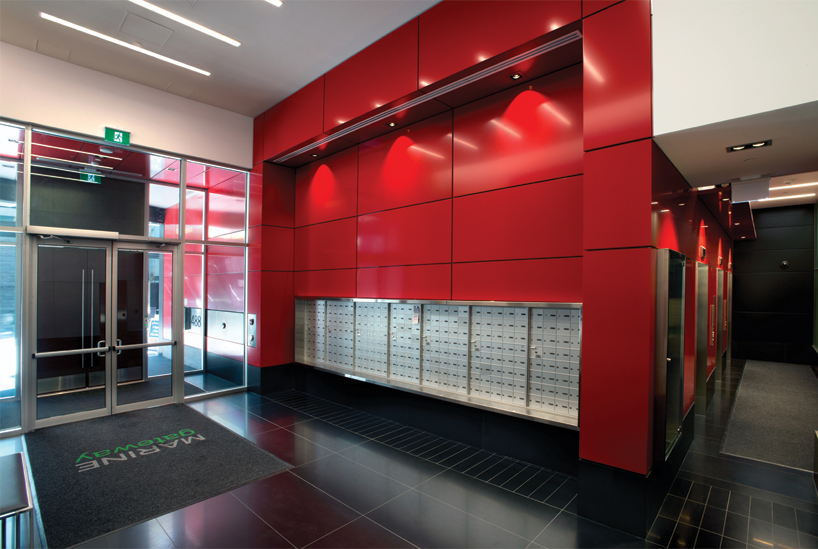 the 'spectra' panels are unique, cost effective and recyclable
oct 10, 2017
oct 10, 2017
aug 29, 2017
aug 29, 2017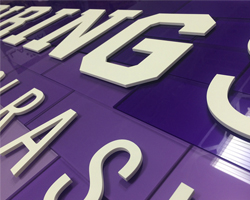 mar 21, 2017
mar 21, 2017
sep 28, 2016
sep 28, 2016
sep 05, 2016
sep 05, 2016
jul 13, 2016
jul 13, 2016
jul 28, 2020
jul 28, 2020
jul 23, 2020
jul 23, 2020
jul 17, 2020
jul 17, 2020
jul 01, 2020
jul 01, 2020
jun 03, 2020
jun 03, 2020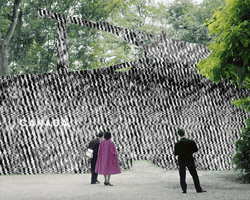 may 26, 2020
may 26, 2020
a diverse digital database that acts as a valuable guide in gaining insight and information about a product directly from the manufacturer, and serves as a rich reference point in developing a project or scheme.