feb 28, 2016
álvaro siza reconnects lisbon's chiado district with carmo terrace
álvaro siza reconnects lisbon's chiado district with carmo terrace
all images courtesy of câmara municipal de lisboa
on august 25th 1988, the portuguese city of lisbon suffered one of the most violent fires in its history. in total, the 'fire of chiado' destroyed 18 buildings, as well as many offices and residential properties. there were two casualties and 73 individuals injured, most of whom were firefighters attempting to contain the raging inferno. it is estimated that about 2,000 people lost their jobs, as commercial activity was significantly reduced. in the aftermath, the city council invited architect álvaro siza vieira to develop a masterplan for the area — a process which began in 1989. some of the most immediate restoration was seen in the replacement of pedestrian routes between baixa and chiado through the implementation metal walkways, preventing the district from becoming completely isolated.

the new terrace joins the ancient convent with the street below
for more than a decade, siza has been leading an extensive restoration that has seen chiado transform into a zone of thriving real estate. the portuguese architect's plan encourages pedestrian routes through the creation of two patios that are within blocks of the main buildings, thus reopening the ancient links between the baixa shelf and its neighboring hills. their presence restricts traffic and car parking through the redesign of public space and the planning of new commercial zones. the revitalization also promotes residential occupation, something that was lacking at the time of the fire.

the configuration creates new public plazas
in order to make the area more accessible, a walkway known as 'the carmo terrace' now connects the redevelopment, joining an ancient convent with the street below. this latest architectural installment creates new public plazas, bringing the area into contact with the church's surroundings, and providing sweeping views over rossio and the rest of lisbon from the raised platform. to ensure that the renovation did not visually disturb the area's history, a survey of traditional paving methods informed the street surfaces, as well as pavements and patios. see designboom's previous coverage of the project here.

the scheme provides sweeping views across the surrounding landscape

the site's original masterplan was presented in 1989

a survey of traditional paving methods informed pavement surfaces

the neighborhood is now a zone of thriving real estate

the project aims to make the entire neighborhood more accessible
sep 24, 2017
sep 24, 2017
oct 03, 2016
oct 03, 2016
jun 02, 2016
jun 02, 2016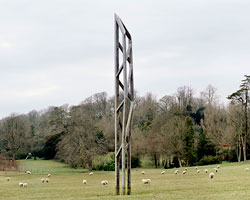 may 01, 2016
may 01, 2016
jan 29, 2016
jan 29, 2016
jul 20, 2014
jul 20, 2014
oct 22, 2017
oct 22, 2017
oct 12, 2017
oct 12, 2017
oct 05, 2017
oct 05, 2017