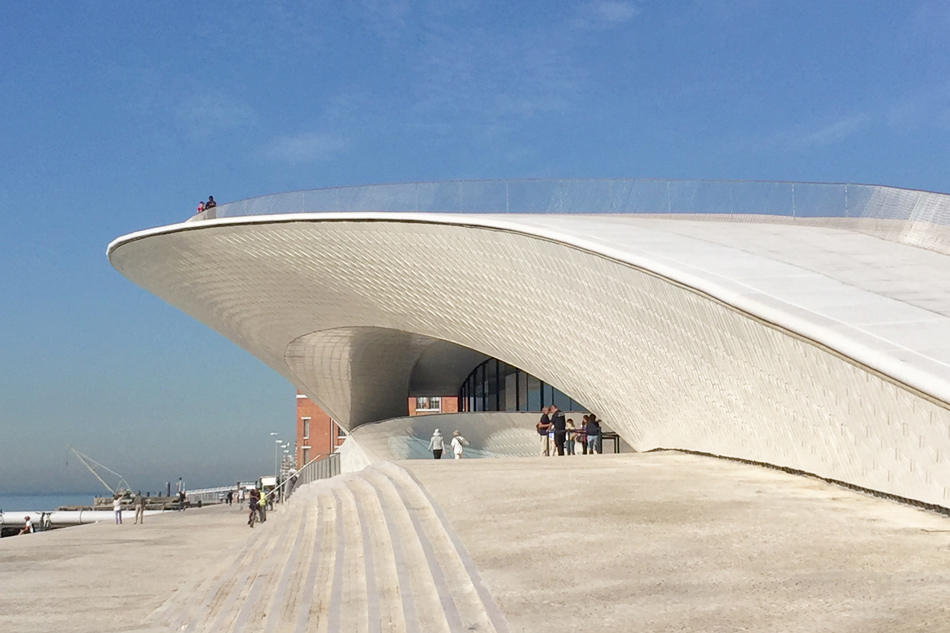 the MAAT museum of art, architecture and technology has opened on the banks of lisbon's tagus river, coinciding with the 2016 lisbon architecture triennale. the institution is housed within two buildings — a new structure, designed by AL_A, amanda levete's london-based practice, and a former power station, which has been newly renovated. at the museum's opening, designboom spoke with AL_A director max arrocet and director of MAAT pedro gadanho — the portuguese architect, curator, professor and writer, who prior to the role, was the curator for architecture at new york's MoMA.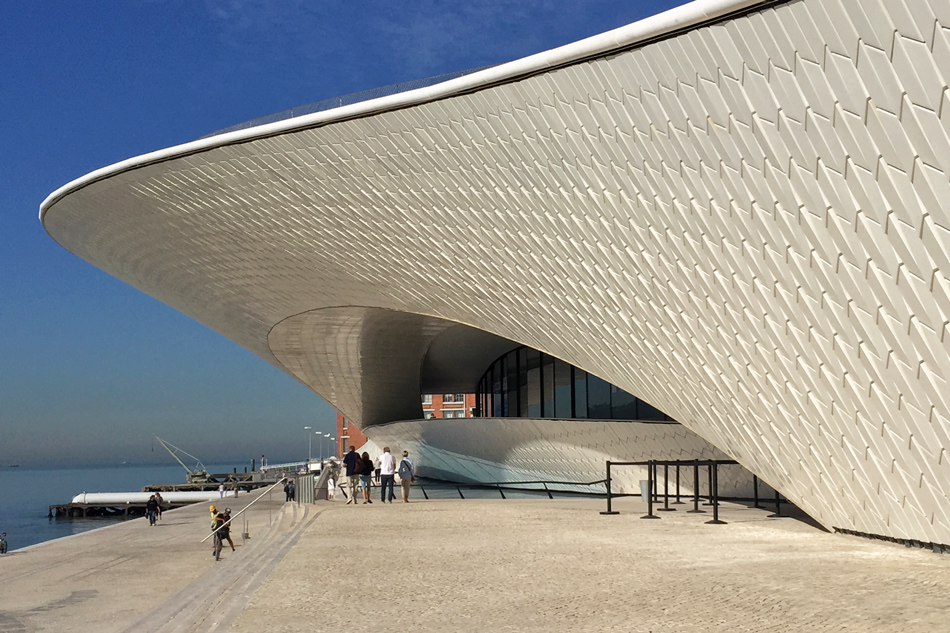 the sinuous building takes the form of an ellipse
image © designboom
MAAT explores contemporary culture through visual arts, new media, architecture, technology, and science. the new building allows visitors to walk over, under, and through the museum complex, with a waterfront promenade leading to an elevated roof terrace. from here, sweeping views are afforded towards the river, the 25 de abril bridge suspension bridge, and the city's christ the king monument. the scheme seeks to restore the historic connection between the city and the water. steps lead down into the river, covered with water at high tide, creating a constantly changing environment. above, an overhanging façade covered in 15,000 3D tiles is a reference to portugal's rich tradition of ceramics.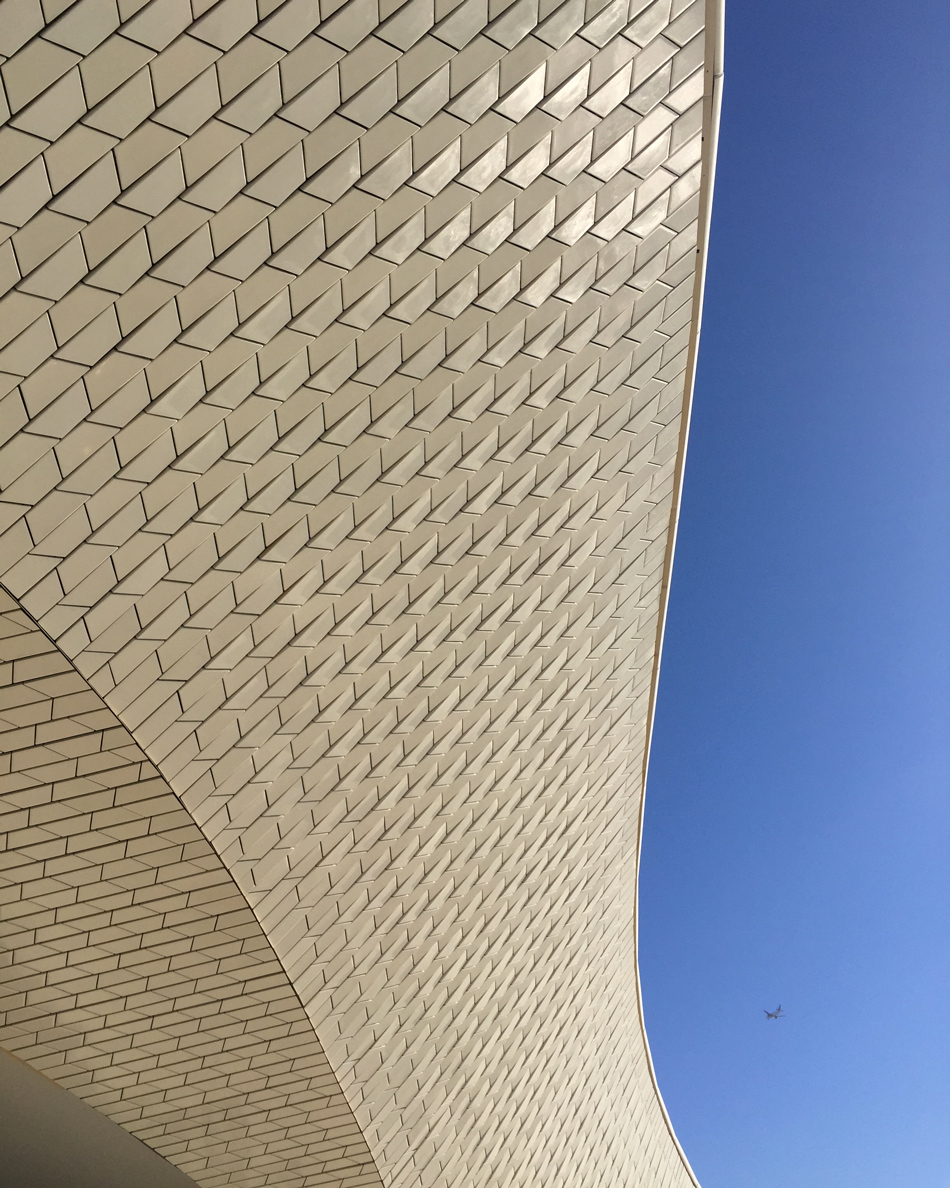 an overhanging façade is clad with ceramic tiles
image © designboom
along with amanda levete, ho-yin ng, and alice dietsch, max arrocet is one of AL_A's four directors. having joined the office in 2007, arrocet was made a director in 2012, and has lead the design of the MAAT. at the museum's opening, designboom spoke with the architect, who explained the project in more detail.

designboom (DB): how did you design a building for such a prominent setting?
max arrocet (MA): it's a unique location that we have. the orientation, towards the river, meant that we want to create a public space. in this case, creating an animated public space links back visually to a part of the city that has been completely disconnected from the river. I think for many people it's going to be the first time that they are able to see the palace.
we never wanted to compete from an architectural point of view with the former power plant — it was very important to have a different language to it. immediately it was intuitive to us that we had to be considerably lower than that building. the fluid movements that you see are because they are responding to the topographic gesture, and the idea that public space goes from outside into inside.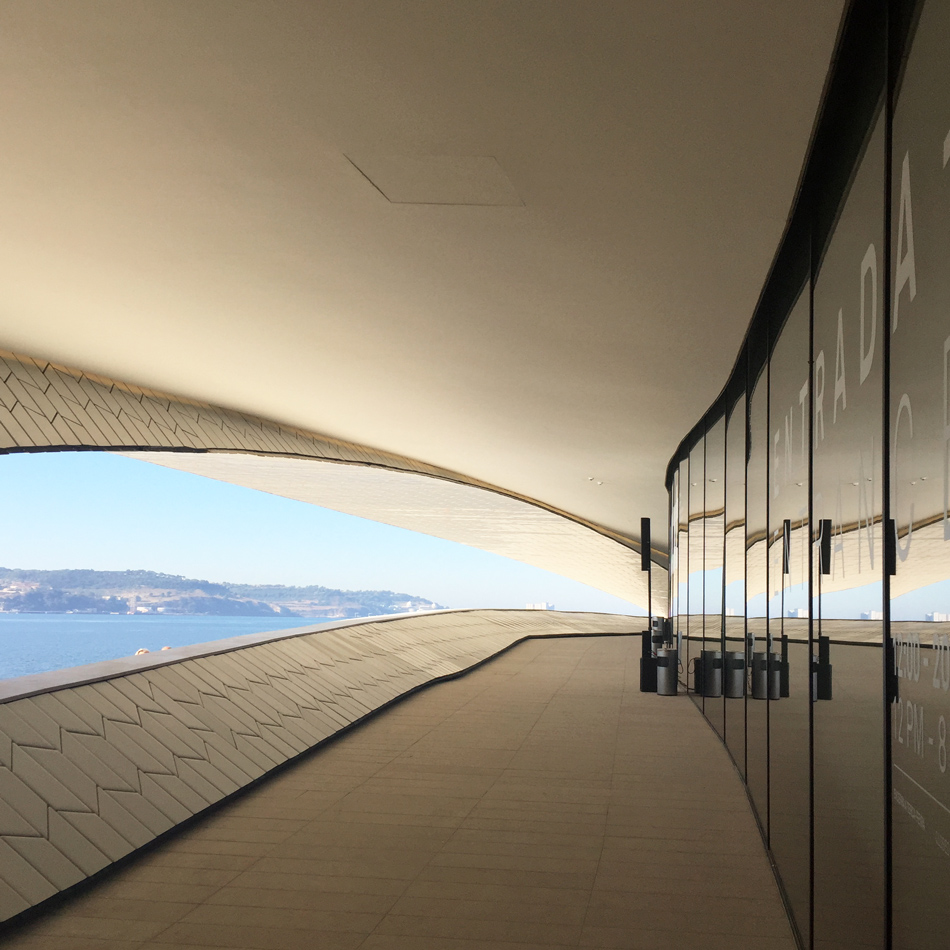 the scheme seeks to restore the historic connection between the city and the water
image © designboom
DB: what was the starting point, in terms of the project's design?
MA: for us, there were two key ideas. number one was that we really wanted to respond to the orientation and location of the site. two, it was evident that this always had to be a building that had a strong connection to public space. there is an evident problem in lisbon, especially in this part of the city, where the river front has been completely disconnected from the city. you can see that there are very few bridges, very few places where you can cross, and one of our key concerns was how to make this a truly public building, because it was the ambition that EDP had, and it was also clear to us that it was the way to go. we are hoping that this space will be fully occupied by locals and by tourists. there are programs to cultivate these spaces. so we have a plug-in area that is for pop-ups where there is water, electricity, connections, and so on. we imagine this to be a real public space. there is also furniture to be installed.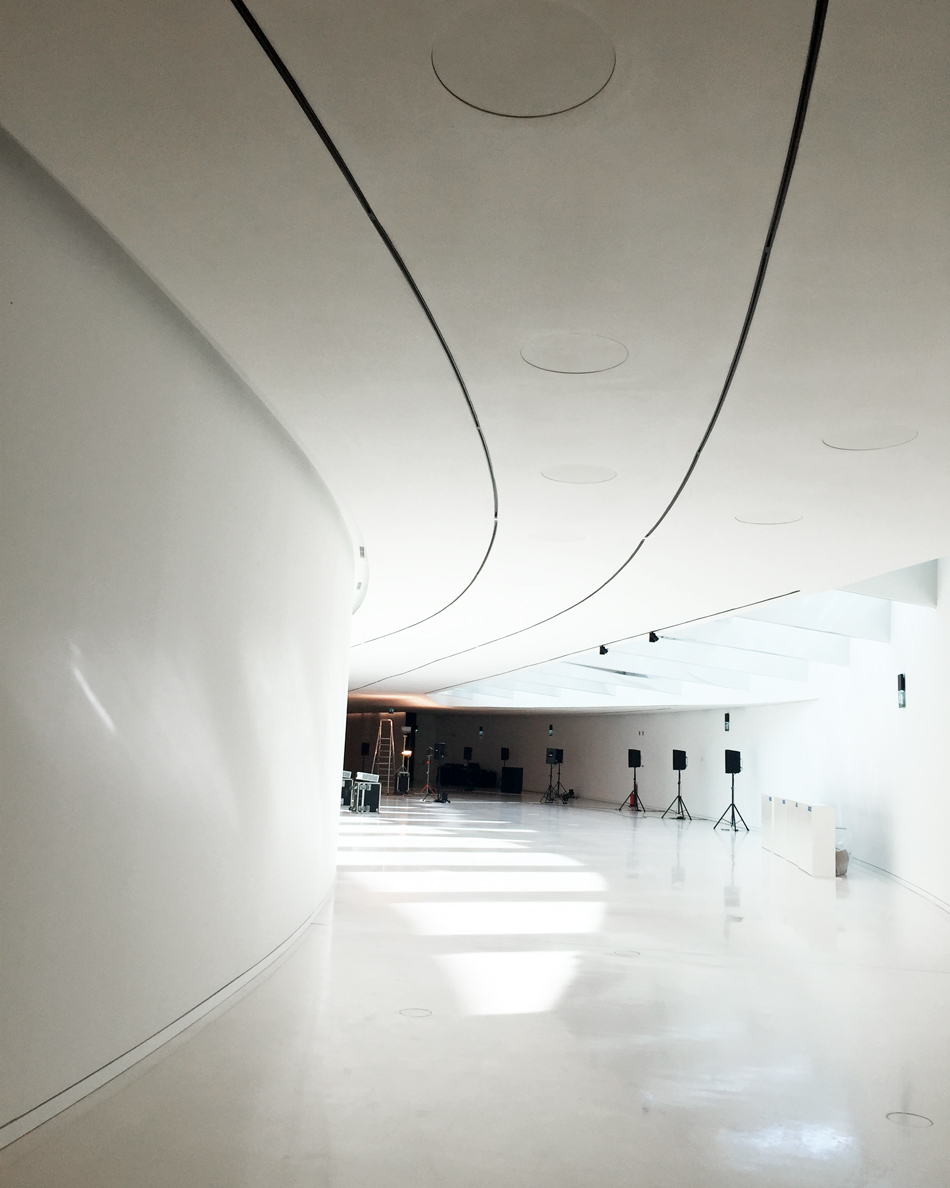 sinuous forms are continued internally
image © designboom
DB: the outer surface of the museum is made of tile. could you elaborate on the choice of material, and the effect it has on the museum?
MA: the first time that we came to see the site, around six years ago, it was november, and the sun was setting. the river turned orange, really golden, and we realized that we were in a location that was nearly south facing where we could have an ever changing sky condition. sometimes it is windy, so the sky changes very quickly. there is also the condition of the river because of the tide, and it just seems to be that there are these subtle differences all the time. for us it was very important to somehow capture that and play with that.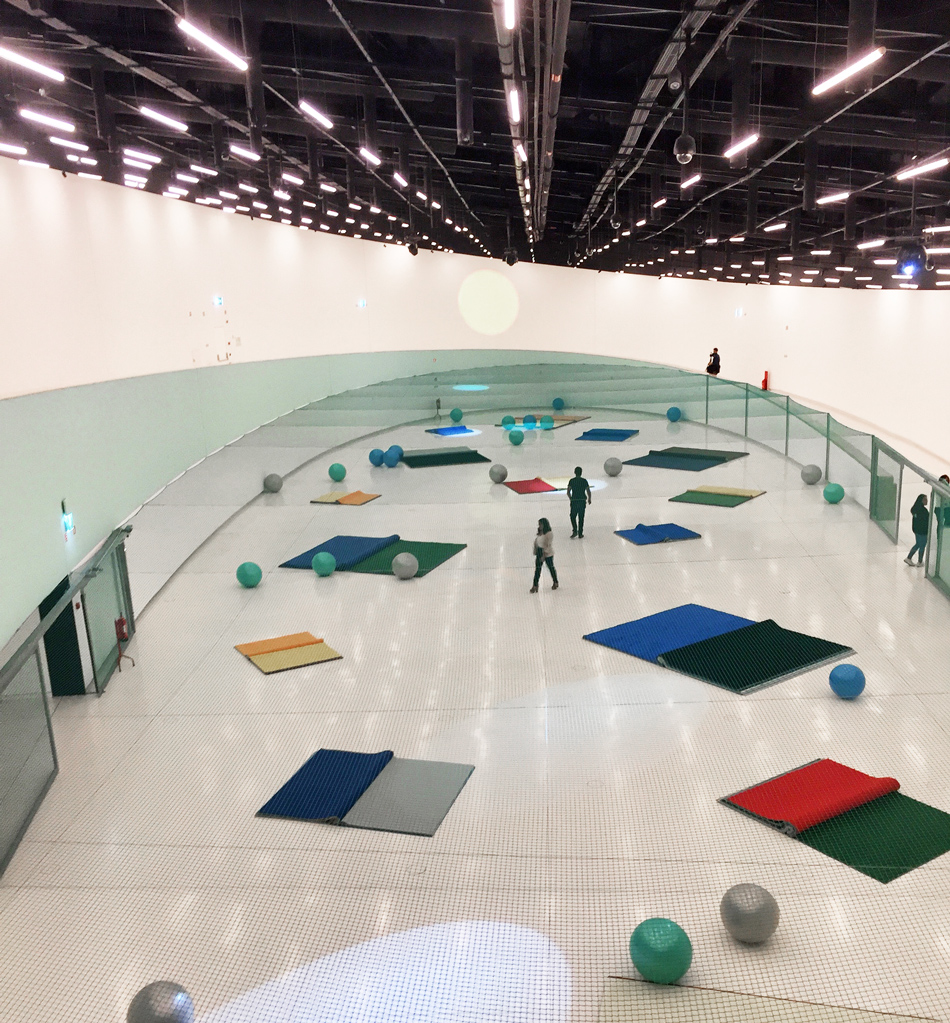 the main exhibition space has been designed to host large scale installations
image © designboom
MA (continued): the design process wasn't quite linear, but once we realized that the right choice of material was ceramic we developed a modulation system and a tile system that would allow us somehow to mimic what the water was doing. it is based on a hexagonal grid, which is then split in half. then with the ruled surface of the façade it's allowed to dislocate. because we have these three dimensional tiles, it actually reflects the light, not just from the sky, but also sometimes it reflects what's happening on the water. the change of the sun allows different kinds of shadows and, as the day progresses, the appearance of the building changes.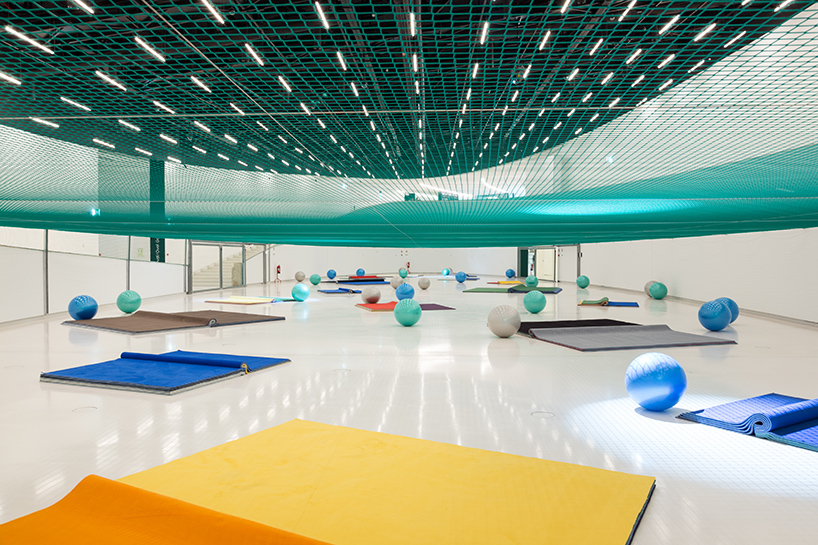 the first exhibition is by french artist dominique gonzales-foerster
image © bruno lopes
DB: are the tiles custom made?
MA: yes, the tiles are custom made. we designed them with a company called cumella, who are based in barcelona. they are a third generation family-run business, who have been doing all the restoration work for gaudí. the family were the people who originally worked with gaudí. they are real craftsmen and they really know their craft extremely well. we took nearly four years to develop it.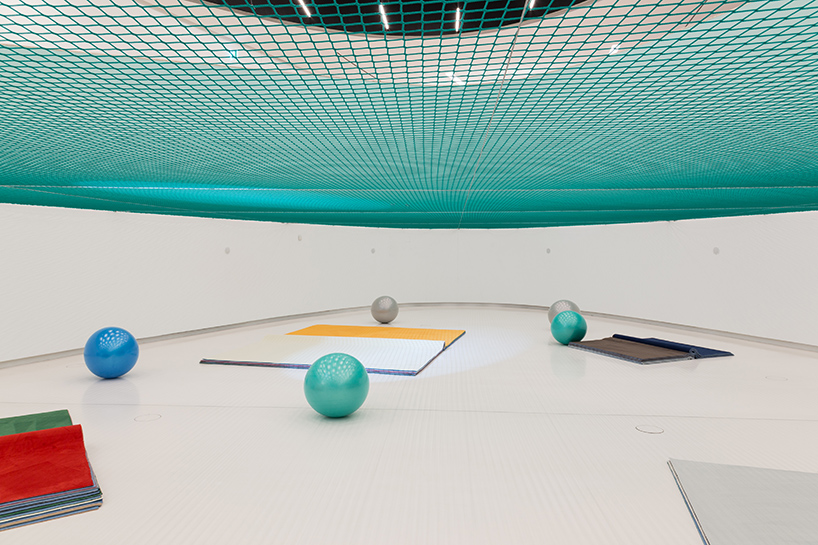 image © bruno lopes
DB: how have the tiles been applied?
MA: it's not the traditional way because of the condition and the geometry. because of existing building regulations it was evident that we had to go for a mechanically fixed solution. we worked with a company that already had experience in mechanically fixing three dimensional ceramic tiles, and also the type of clay used was extremely important. there are very harsh weather conditions here, so we had to study the clay and the temperature that it had to go in the kiln. everything was nearly a four year process. now they're fixed, there is sufficient movement with the overall geometry of the façade and with the layout. it nearly looks like it should be moving with the sun's position.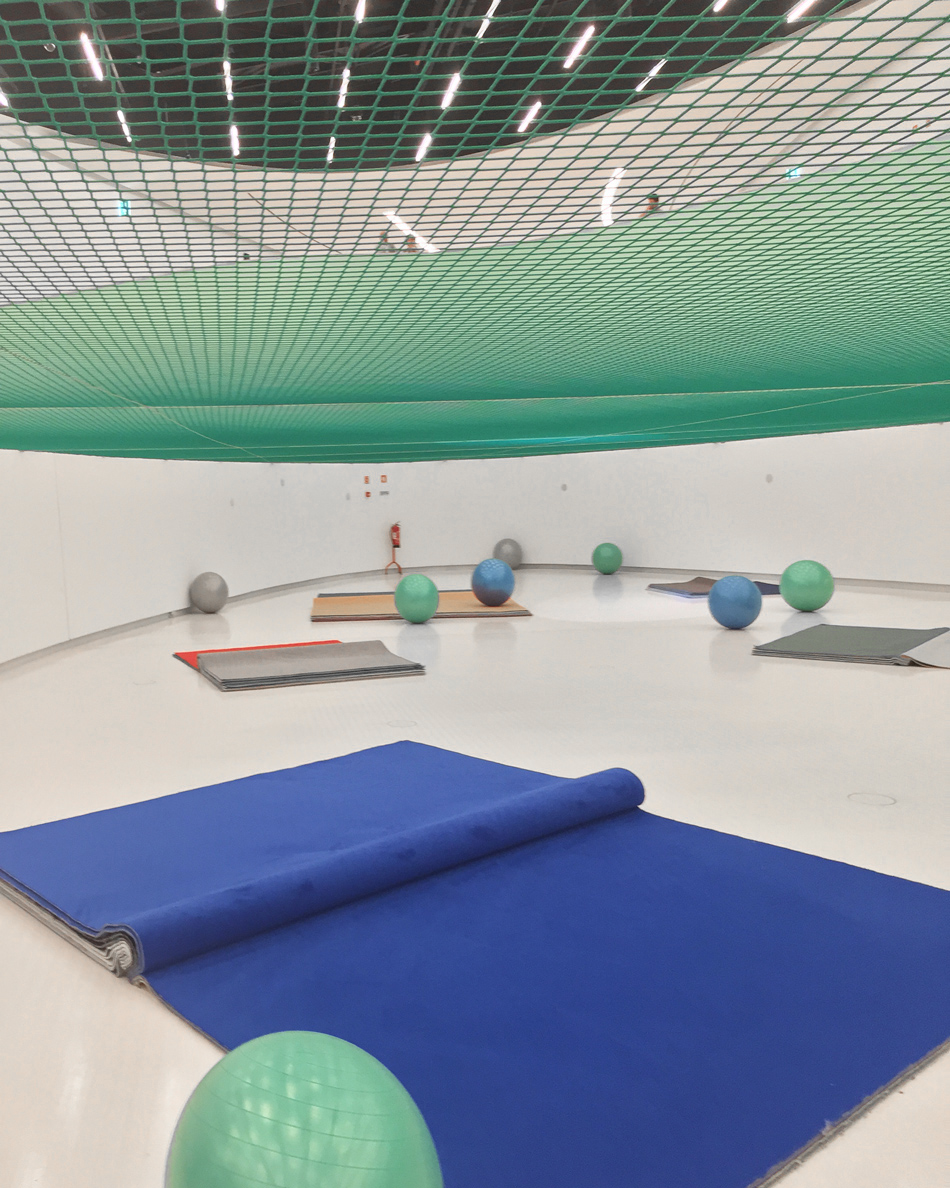 image © designboom
DB: yes, yesterday it looked different than today…
MA: completely different. and when it's cloudy it will be different again. hopefully you'll have the opportunity to come in winter and see the sun set, it's really spectacular.
DB: can you talk about the main exhibition space, how difficult was it to build without columns?
MA: yes it was, luckily we worked with a local firm called afa consult. they are fantastic engineers and we really worked as a team from the very beginning. the elliptical shape was critical for several reasons. we thought the ellipse was very interesting, it has a center but it also has a focus point. so it gives us a variety of configurations. secondly, it would also allow full accessibility, because the ramp had to be very long. we have a lift, but we wanted a place that would be fully accessible by everyone, without the use of a lift. thirdly, the shape of the ellipse is actually a very stable structure, considering that this is a seismic area.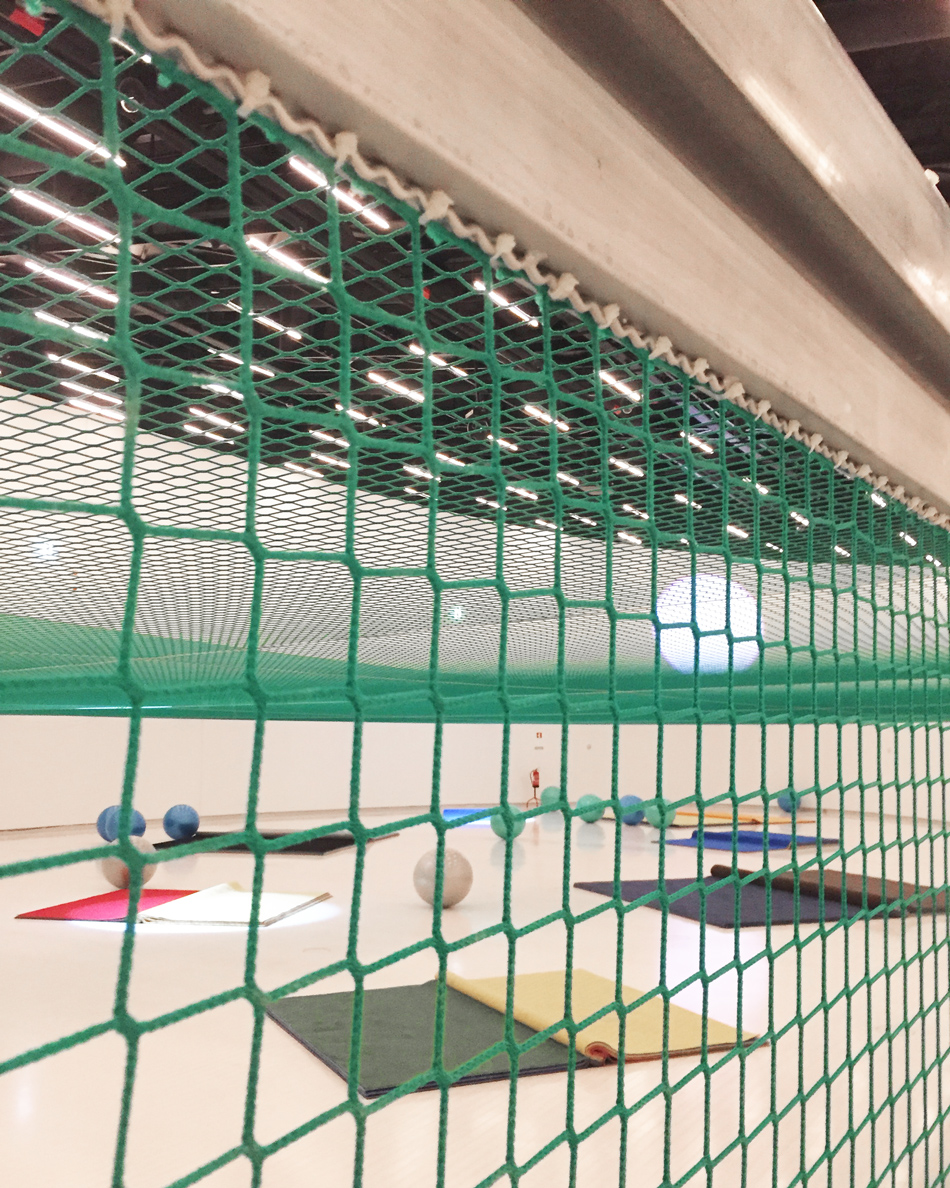 the column-free space measures 70 meters by 40 meters
image © designboom
MA (continued): we had the opportunity to do a fully technical ceiling, like a theater, so people can change or add more lights without necessarily having to be within that space. of course then we have a massive cantilever which is only made possible by an inclined arch, which then ties all the way back to that kind of elliptical structure. so all the elements work together. it took us a really a very time to figure that out. it was what unlocked the whole project for us, from a technical point of view.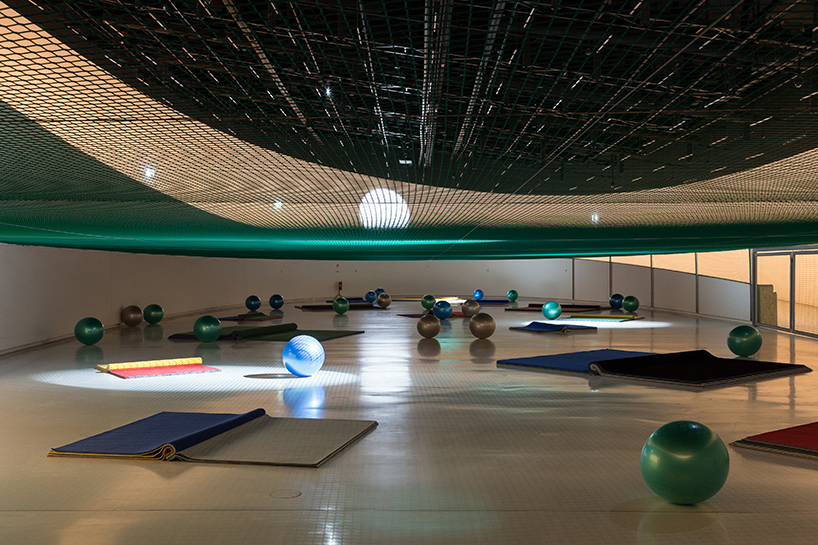 image © bruno lopes
pedro gadanho is a portuguese architect, curator, professor and writer, who was appointed director of the MAAT in 2015. prior to the role, gadanho was the curator for contemporary architecture at new york's MoMA. read his thoughts on the museum's opening below.
designboom: can you talk about how the program was curated for the museum's opening?
pedro gadanho: I knew already that we would be facing some very interesting challenges in terms of this place, so I studied to conceive a program that would be complementary. it's not like an A program or a B program, it's a program of exhibitions that really work together, using the different venues. they take advantage of the specific nature and spatial quality of both buildings, because the refurbishment of the large power station creates conditions for exhibitions that would not make sense here (in the new structure). what you'll see there (inside the converted power station) is a rearrangement of large space about 1,200 square meters, divided into two galleries. one that will allow us to show a collection of portuguese art since 1968. it's a collection that has many paintings, many pieces of photography and things that demand a more traditional space — a white cube space, if you want. there is also another bigger space, a gallery of about 650 square meters which will accommodate traveling exhibitions.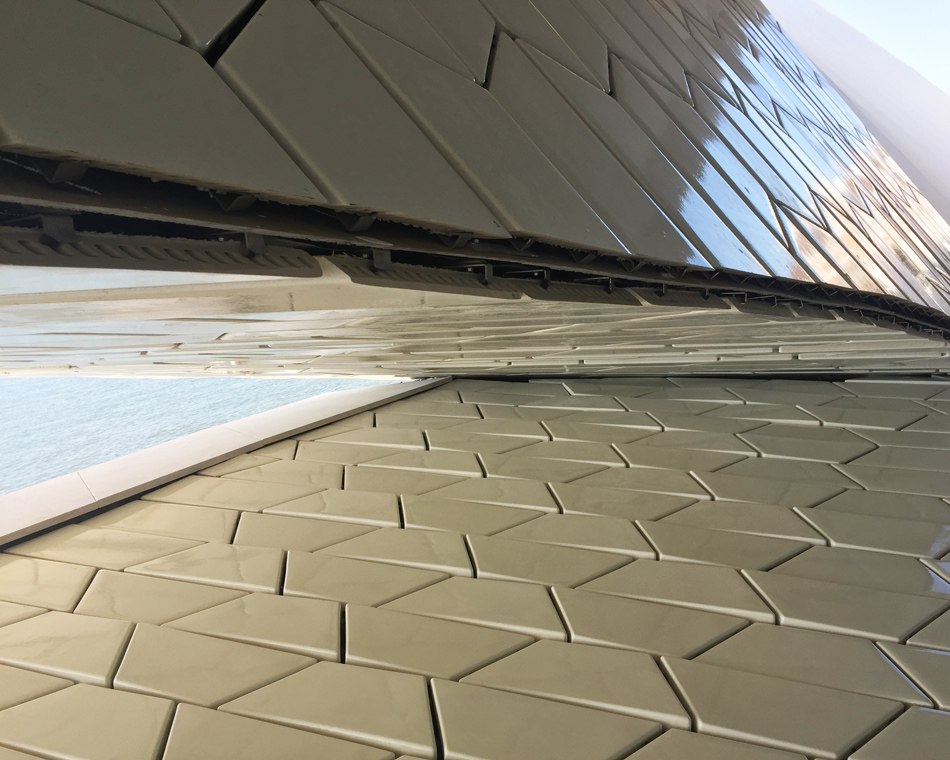 custom made tiles took nearly four years to develop
image © designboom
DB: how important is it to be able to host important traveling exhibitions?
PG: this is a notion that was very important because in lisbon people haven't seen for the last 15/20 years any of the exhibitions that have traveled around europe in between different institutions. going from the tate, to a museum in germany, then to a museum in italy — allowing many different people to see exhibitions that are very demanding in terms of research and content. we have already received an exhibition organized by the vitra museum and now we opened yesterday the eames show that comes from the barbican. we'll continue to receive other shows that we think are important, for a pedagogical reason and also for an economical reason. not everybody in portugal can travel and go to london and see an exhibition, so we're bringing the exhibitions here.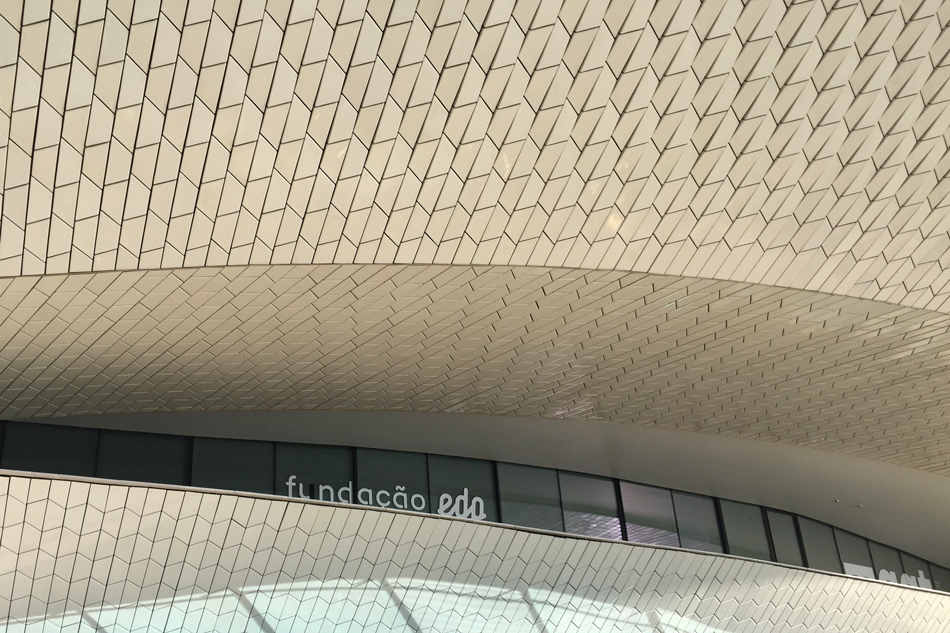 the building has been designed to change appearance depending on climatic conditions
image © designboom
DB: how was has the large exhibition space been designed to host these exhibitions?
PG: you have a large span area this is quite amazing because it's 70 meters by 40 meters — without any columns — one space that you see immediately as you arrive into the museum. this is a demanding space. I think only artists that have a sensibility to space, and have worked with large scale installations can really dominate this space in a certain sense. it wouldn't make sense to have partitions to organize paintings on show. so therefore this is a space that will always be used with site specific installations by invited artists, normally international artists that will cater for an audience that is coming to lisbon with the tourist boom that is happening in the city.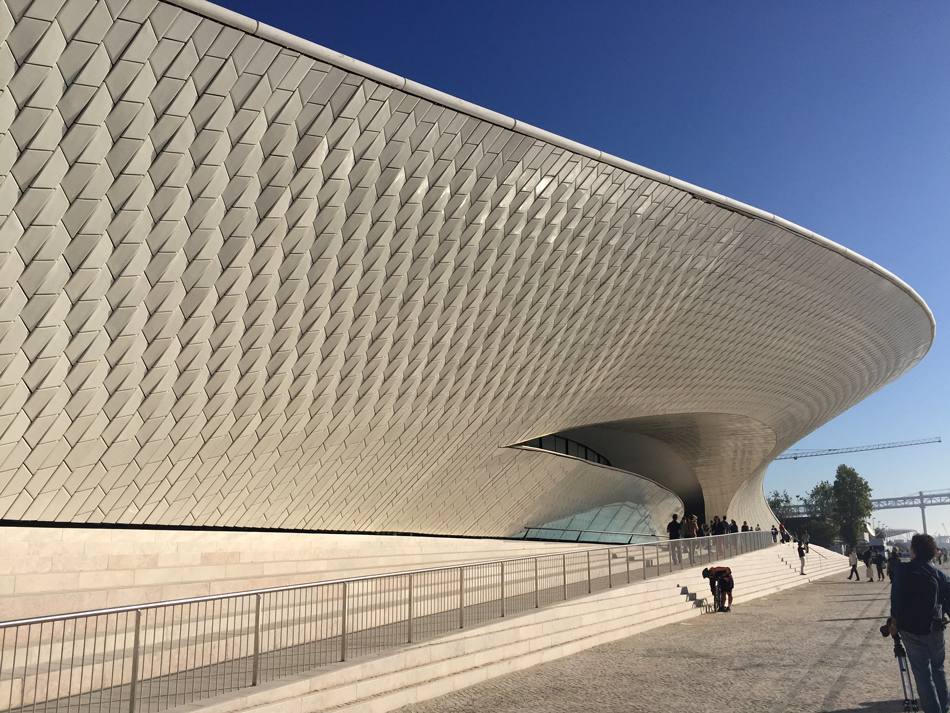 the design team wanted the museum to be as accessible as possible
image © designboom
DB: how does the museum plan to reach out to tourists?
PG: mostly it's people that come on a city break, not the cruise ships as you would think, but city breaks. they come for two or three days. they are coming from london, from paris, from frankfurt, from milan, from rome, from madrid. they spend a few days and they want to go to a restaurant, they want to go to the beach, they want to walk around the city, and, if possible, they want to visit a museum. therefore it would have to be a museum that caters for their knowledge in terms of contemporary art and global names that now are known by quite a large audience. so dominique gonzalez-foerster was for us a very important choice. one that obviously has related to the architecture world for many years and delivers that relationship and intersection between art and architecture which is also the theme for our museum.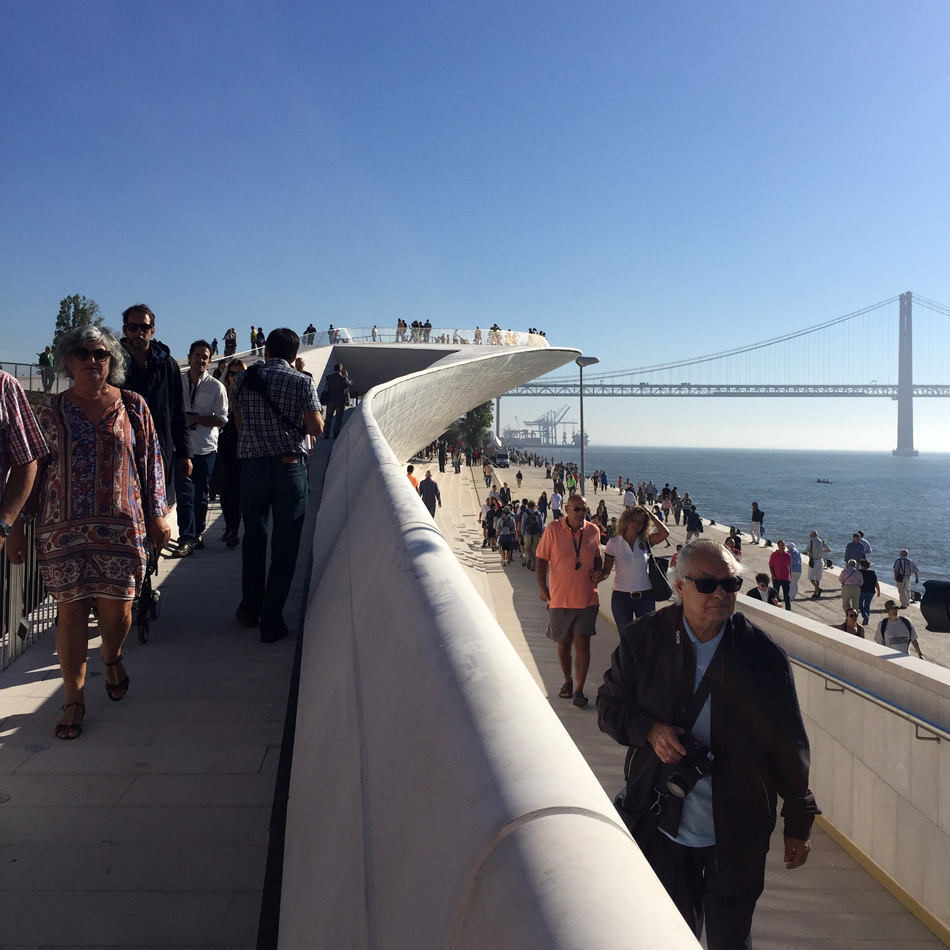 visitors are able to enjoy elevated views from on top of the museum building
image © designboom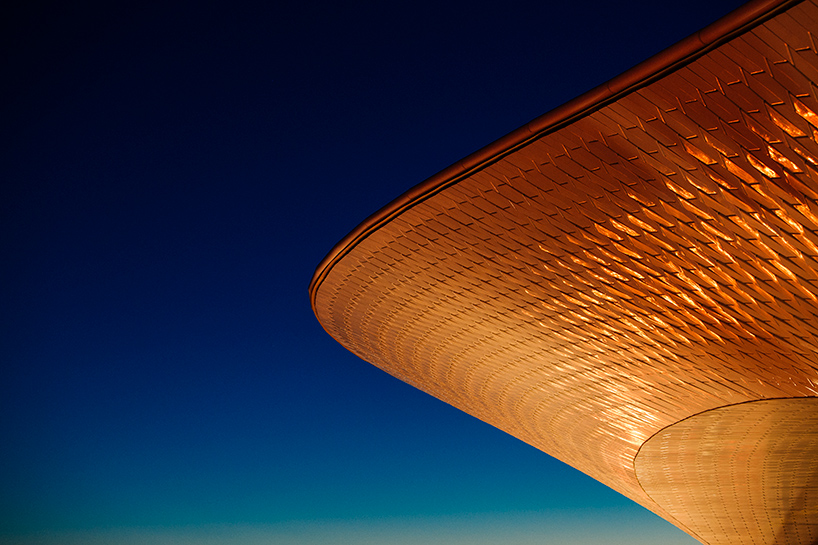 image © paulo coelho, courtesy EDP foundation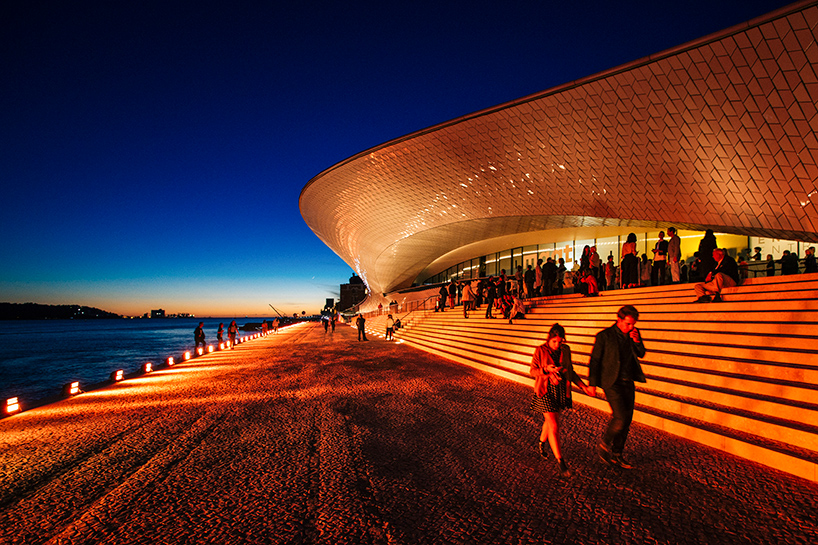 image © paulo coelho, courtesy EDP foundation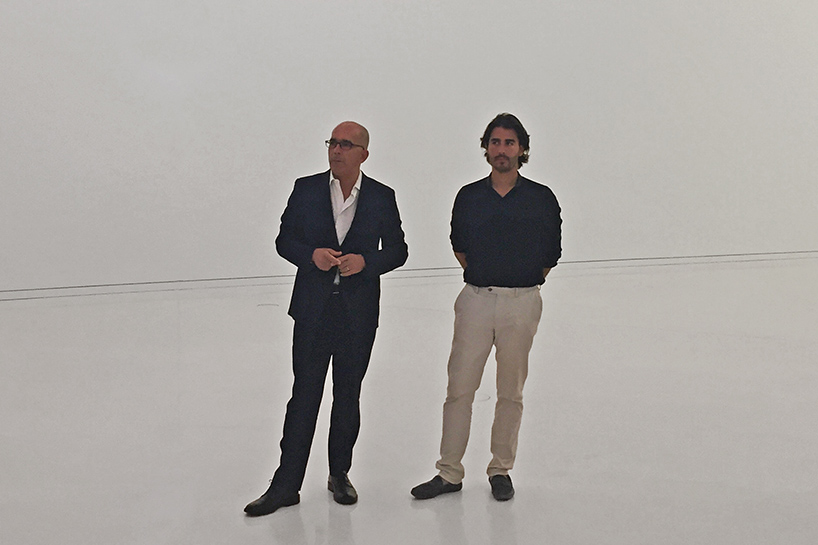 MAAT director pedro gadanho (left) and AL_A director max arrocet (right)
image © designboom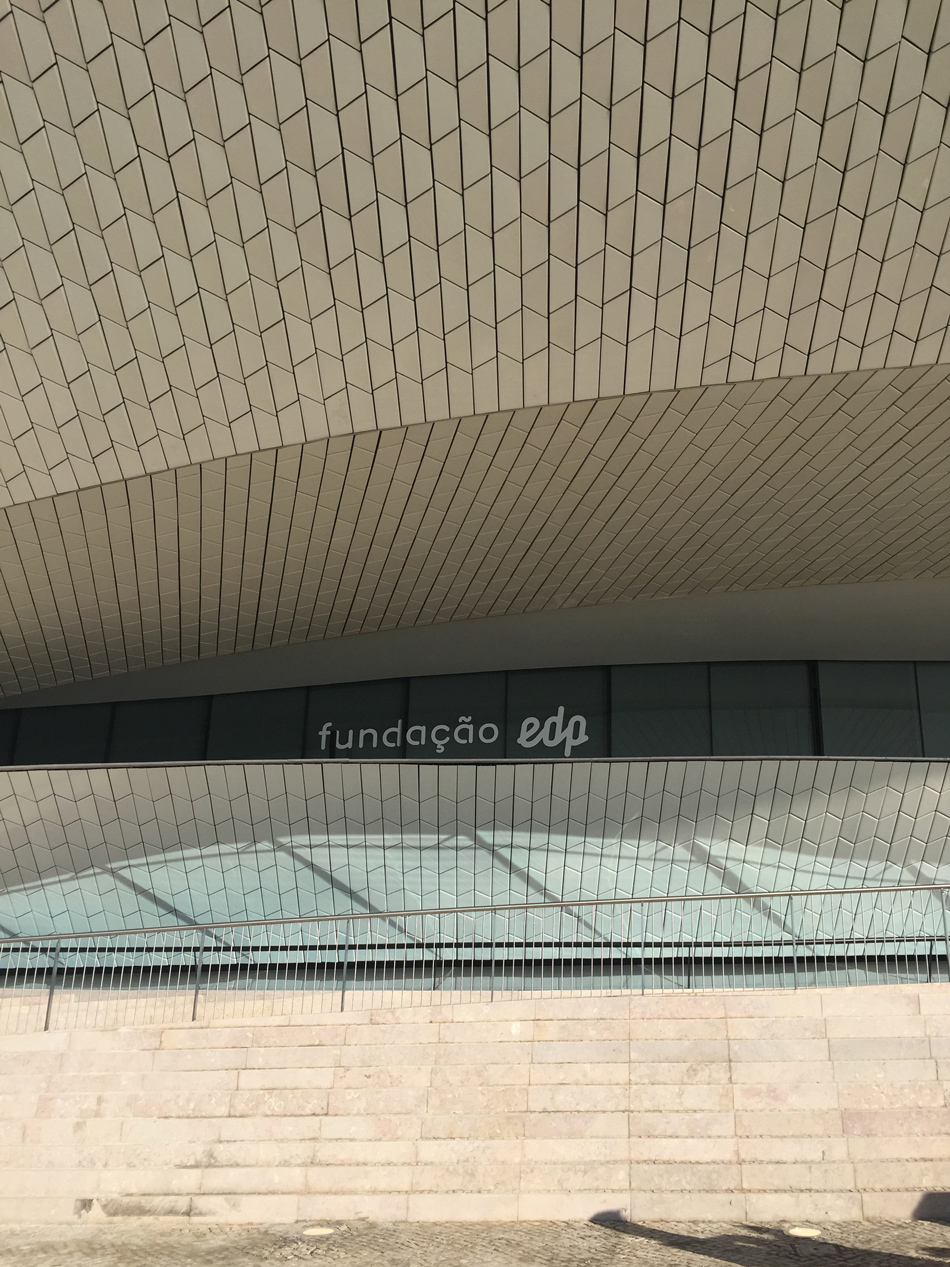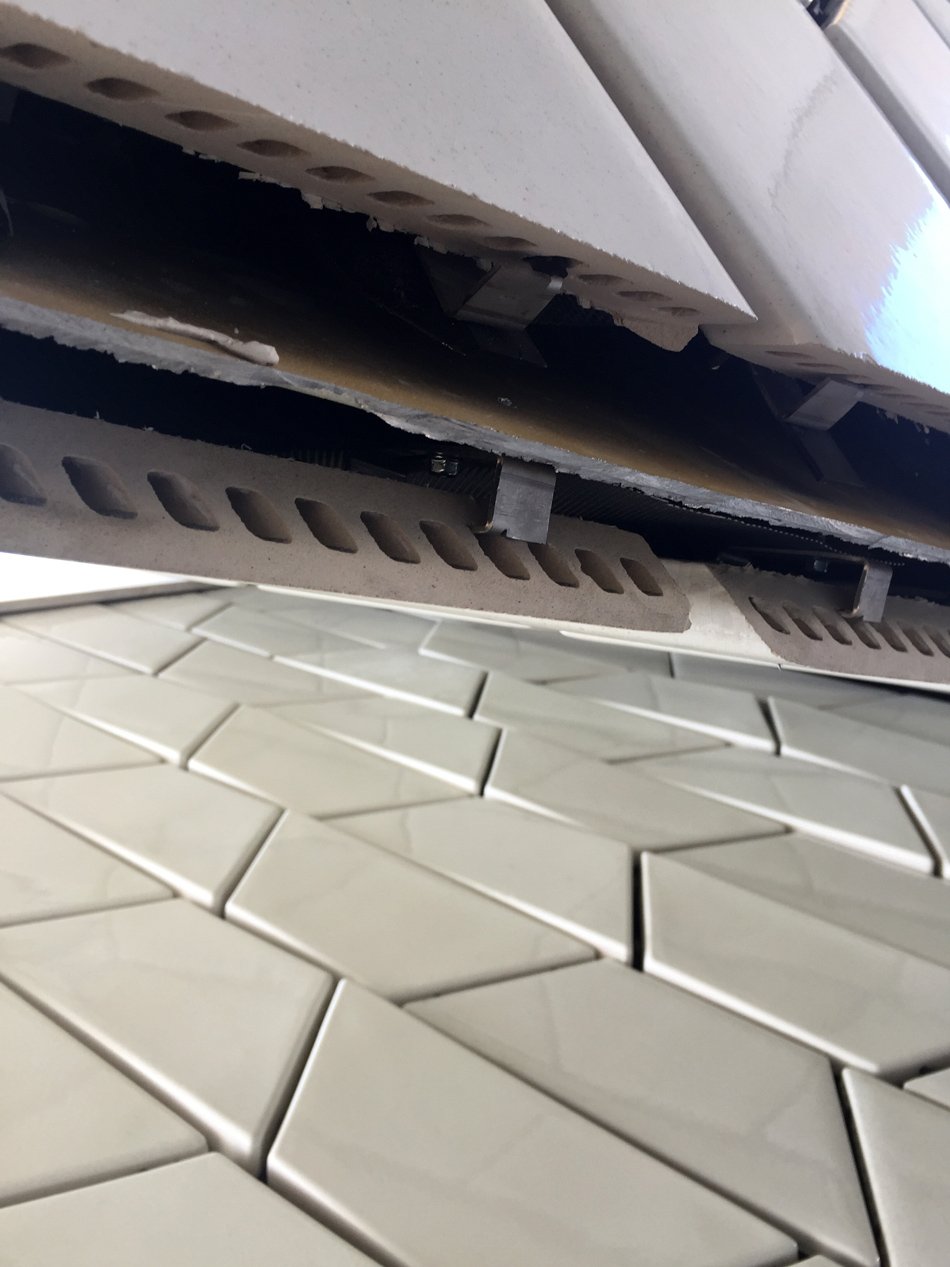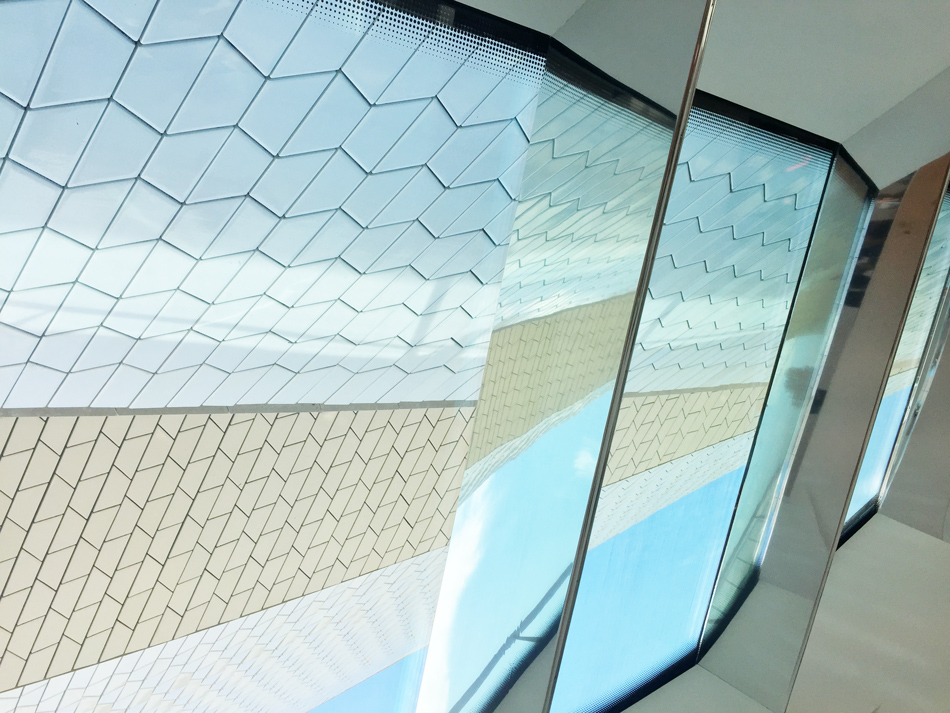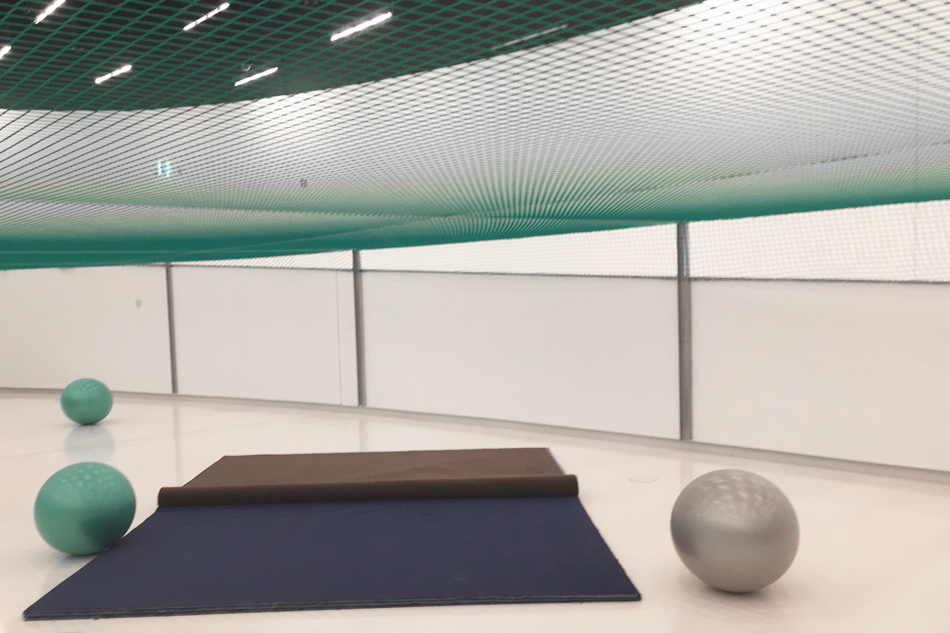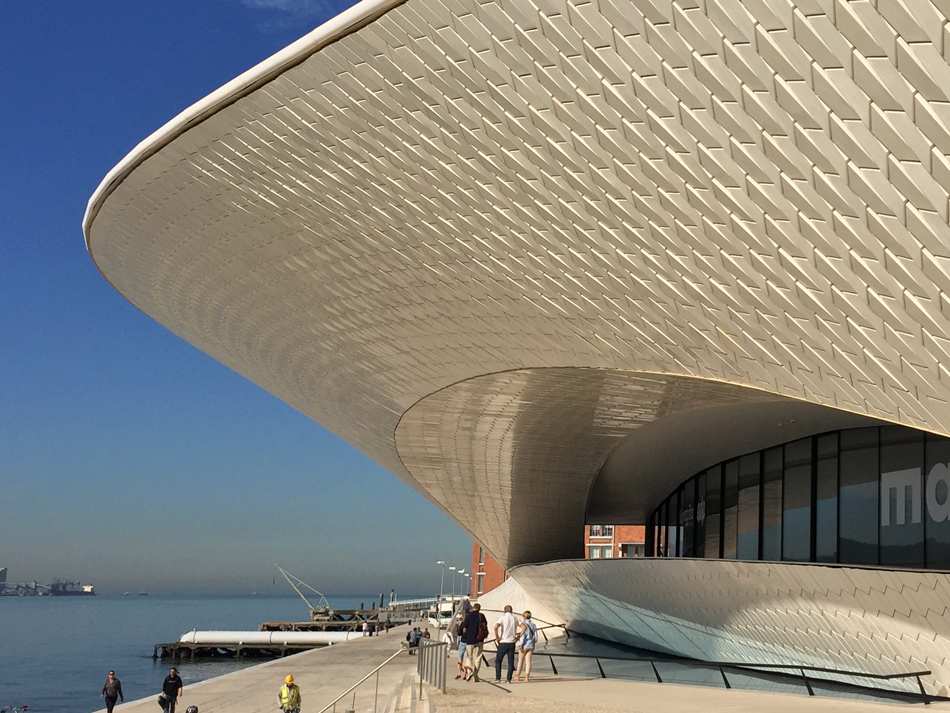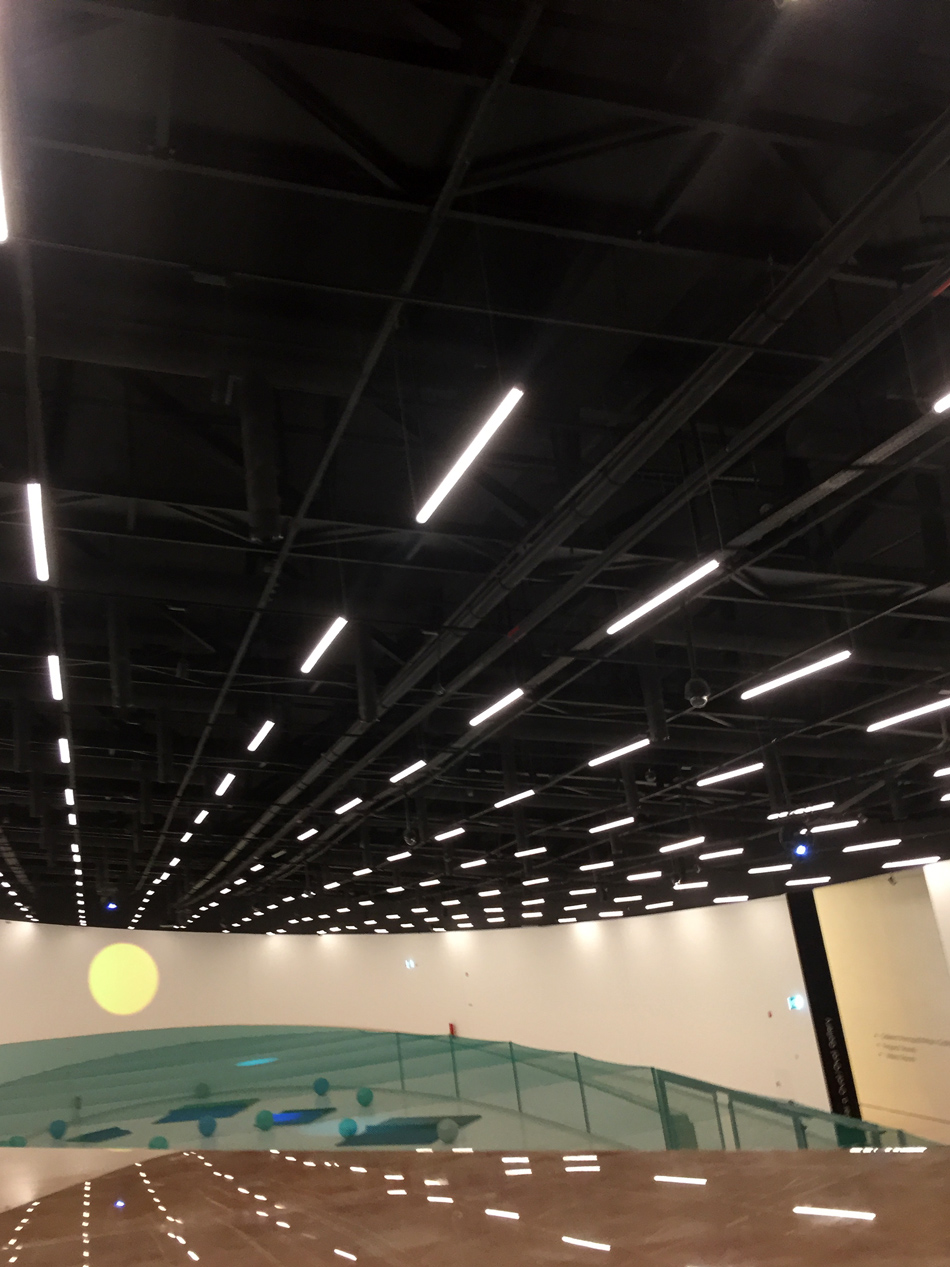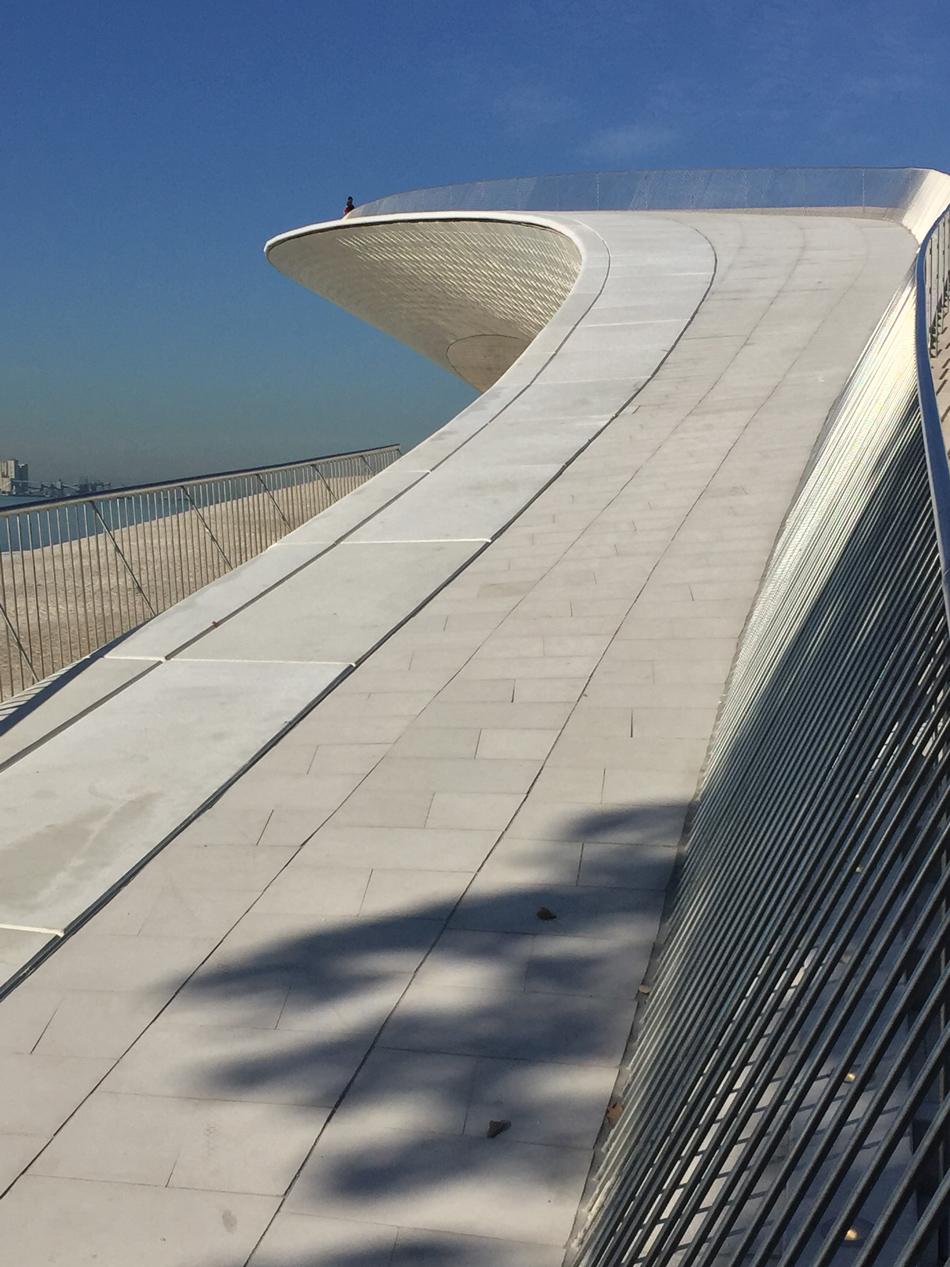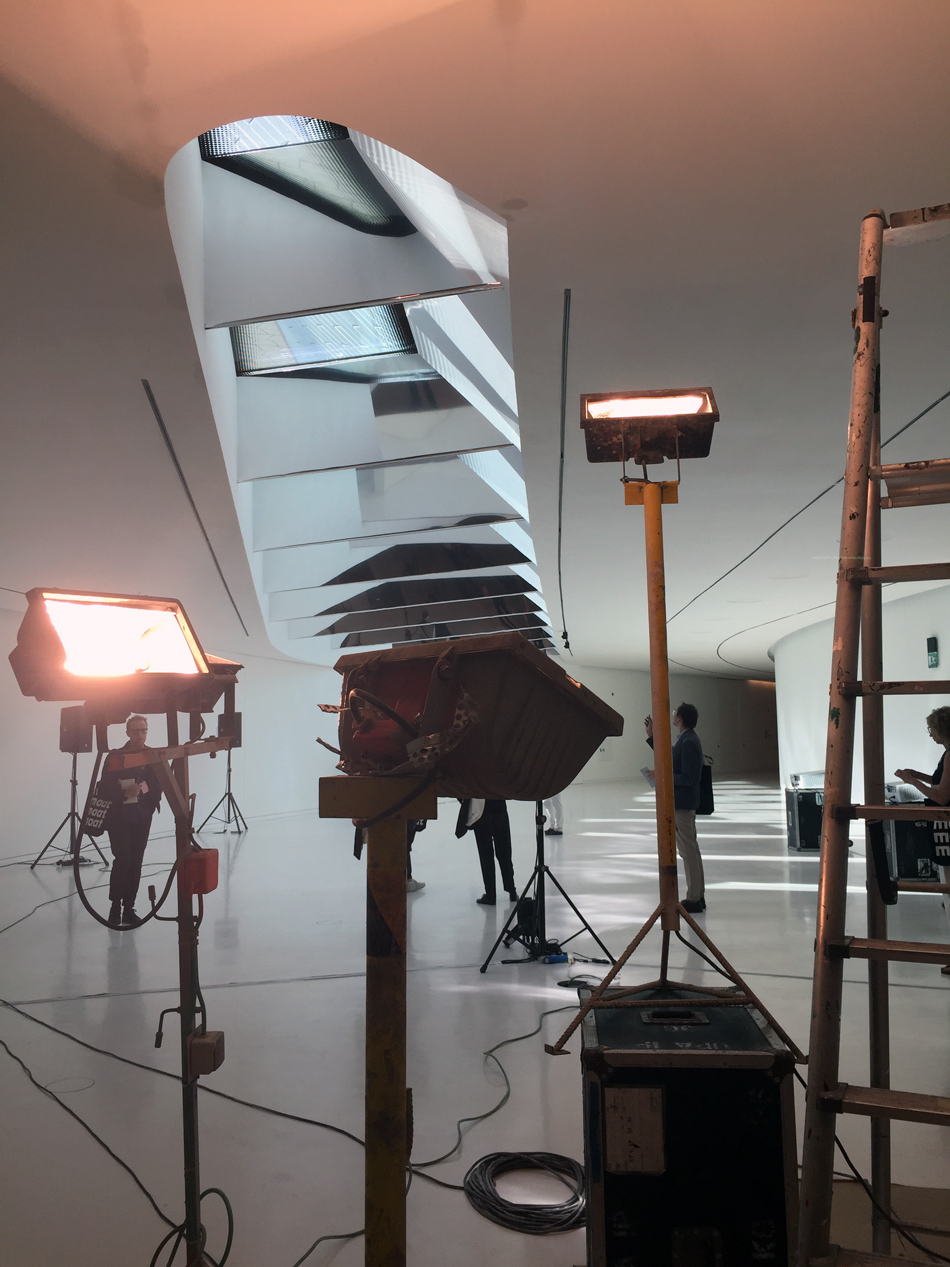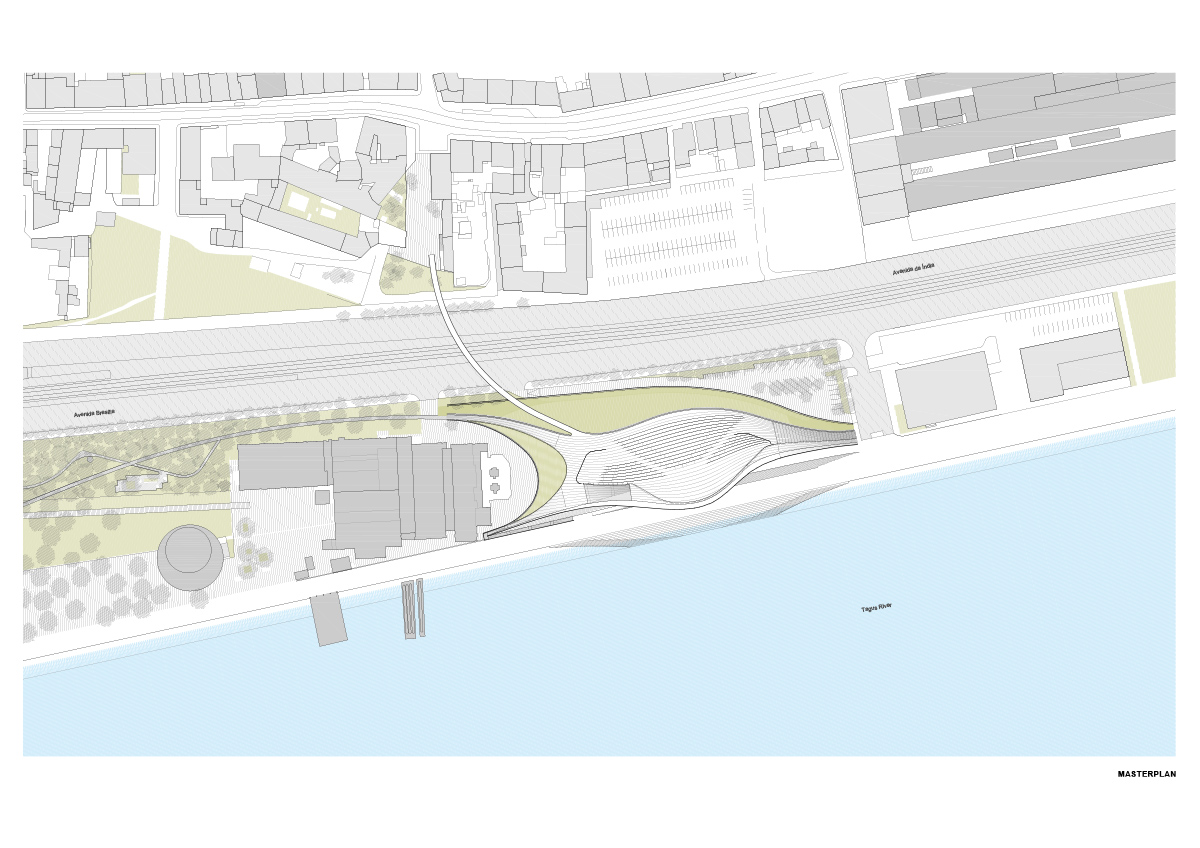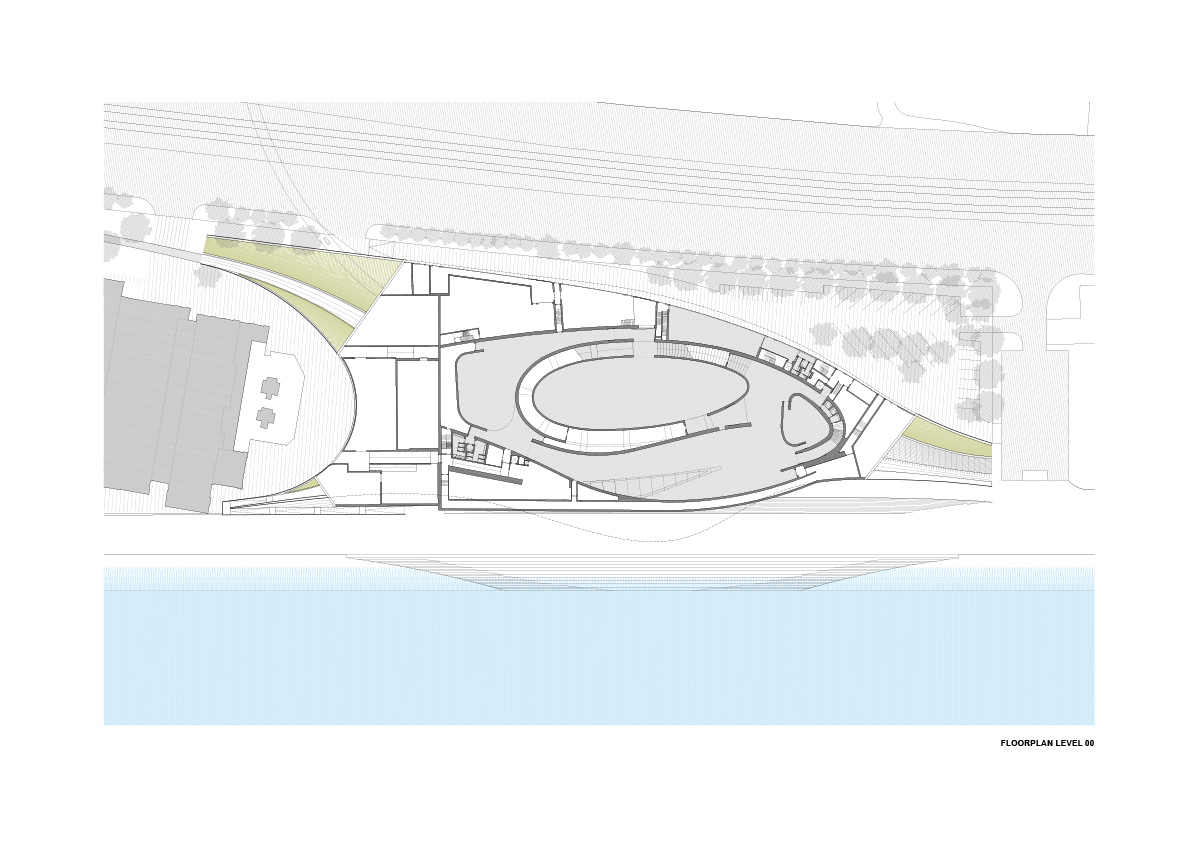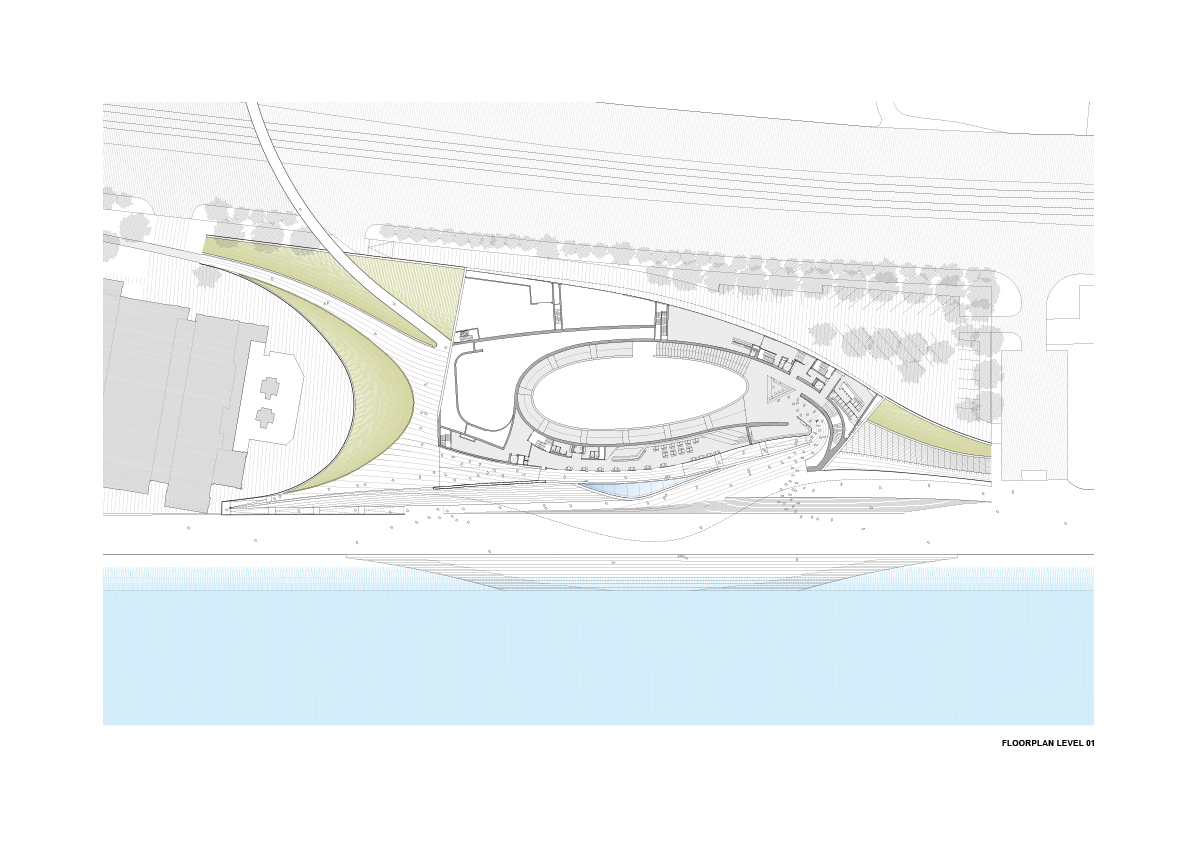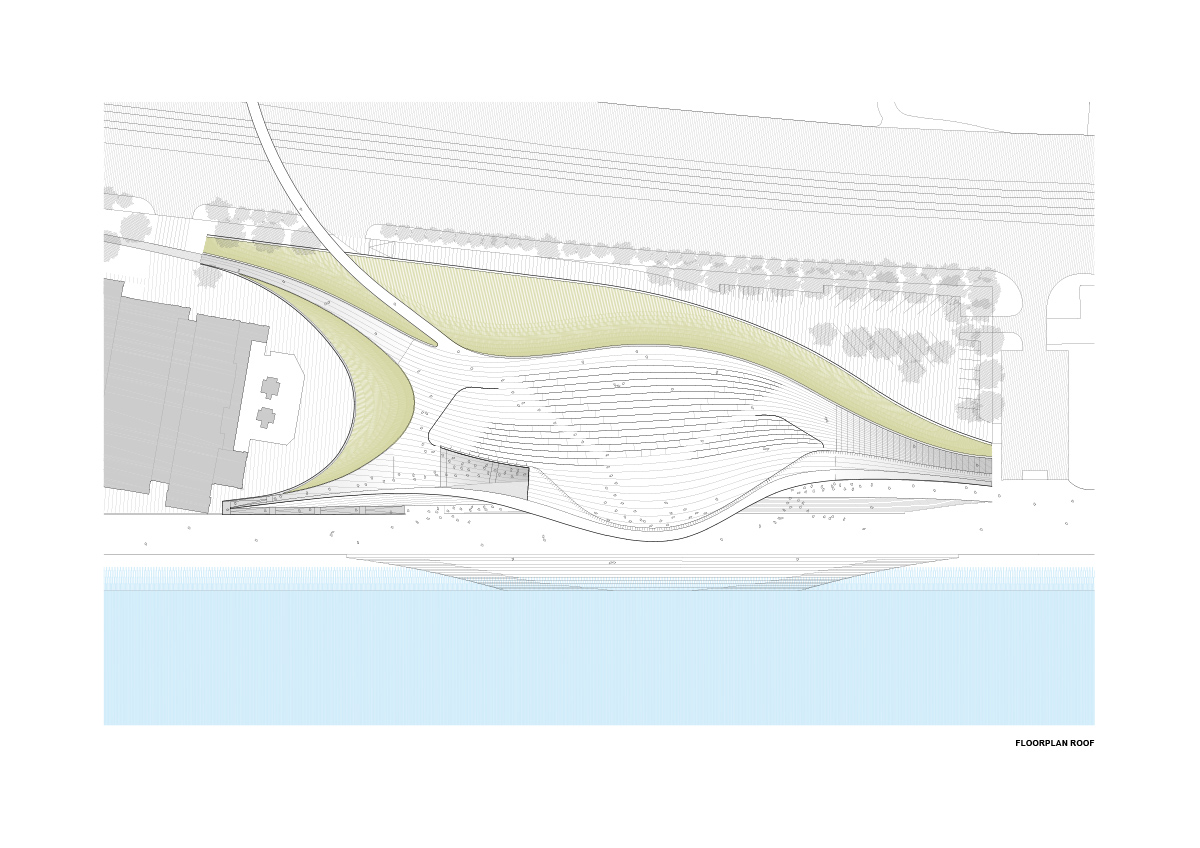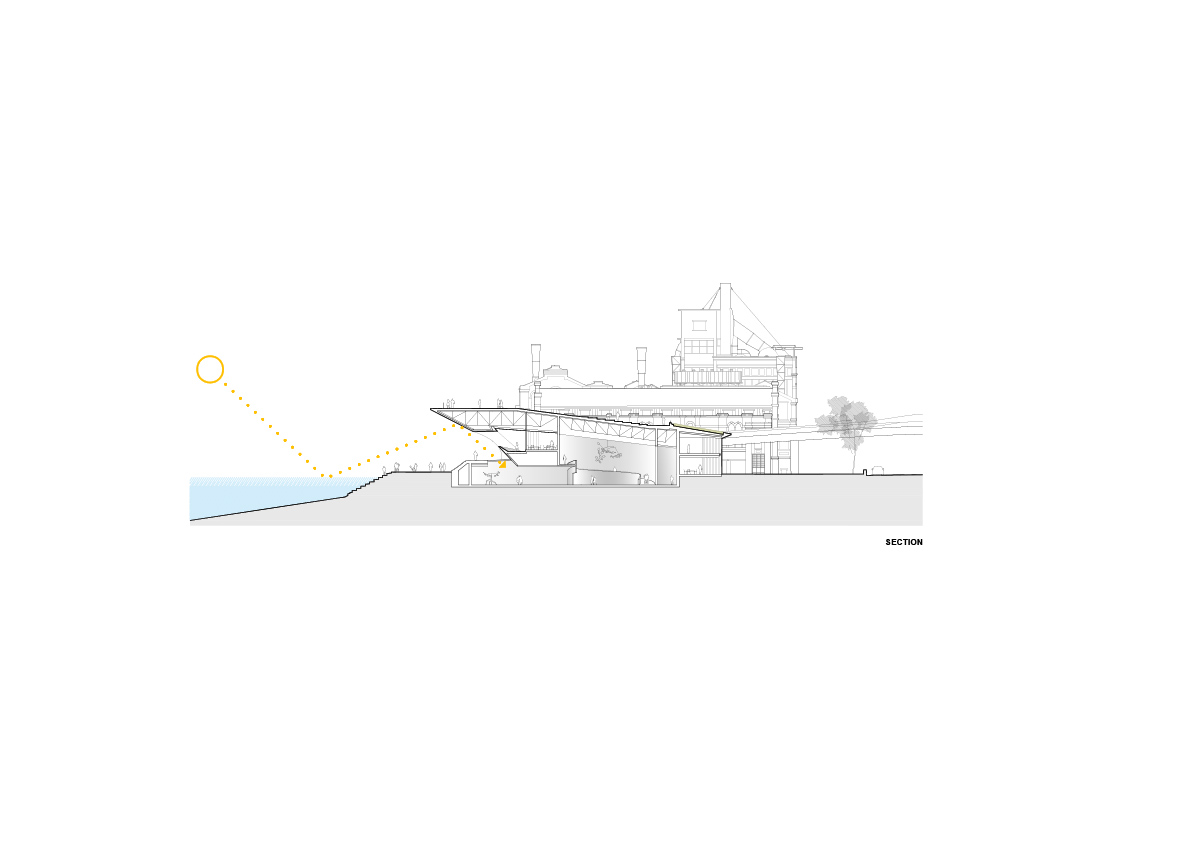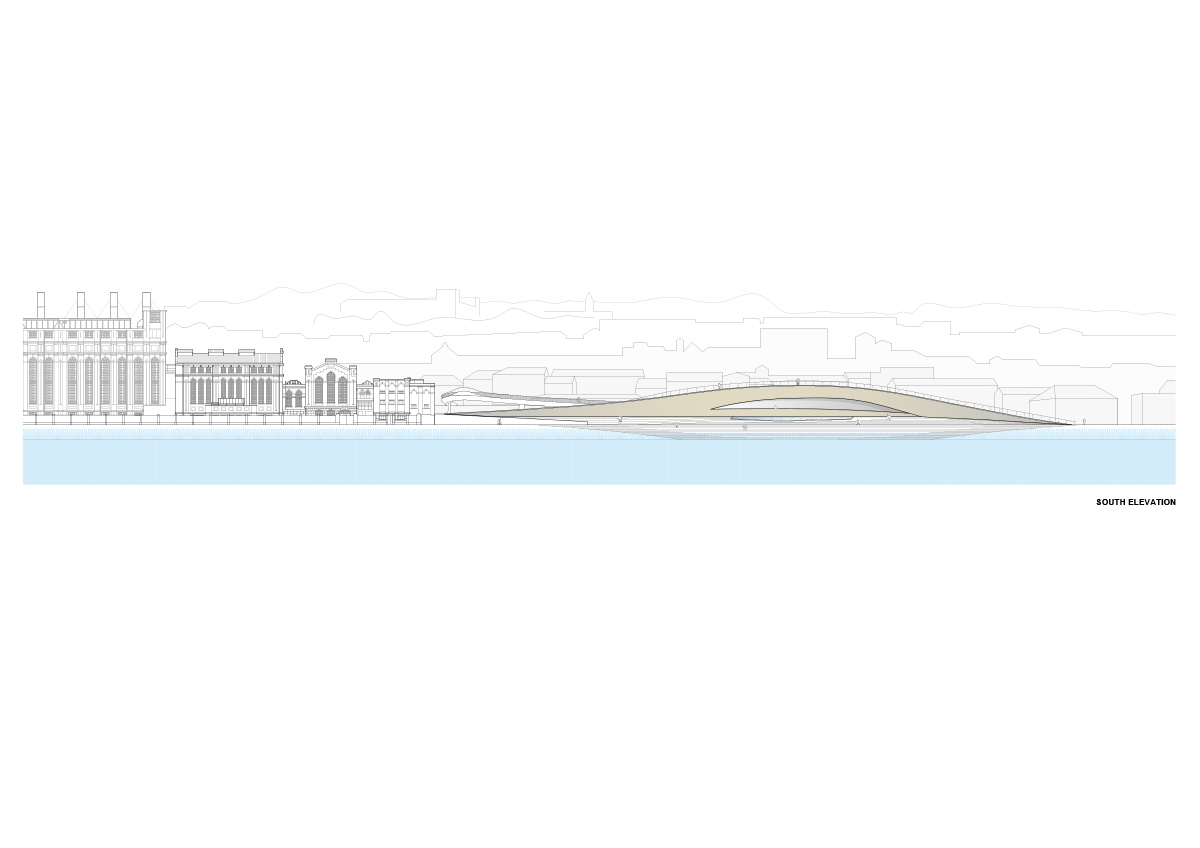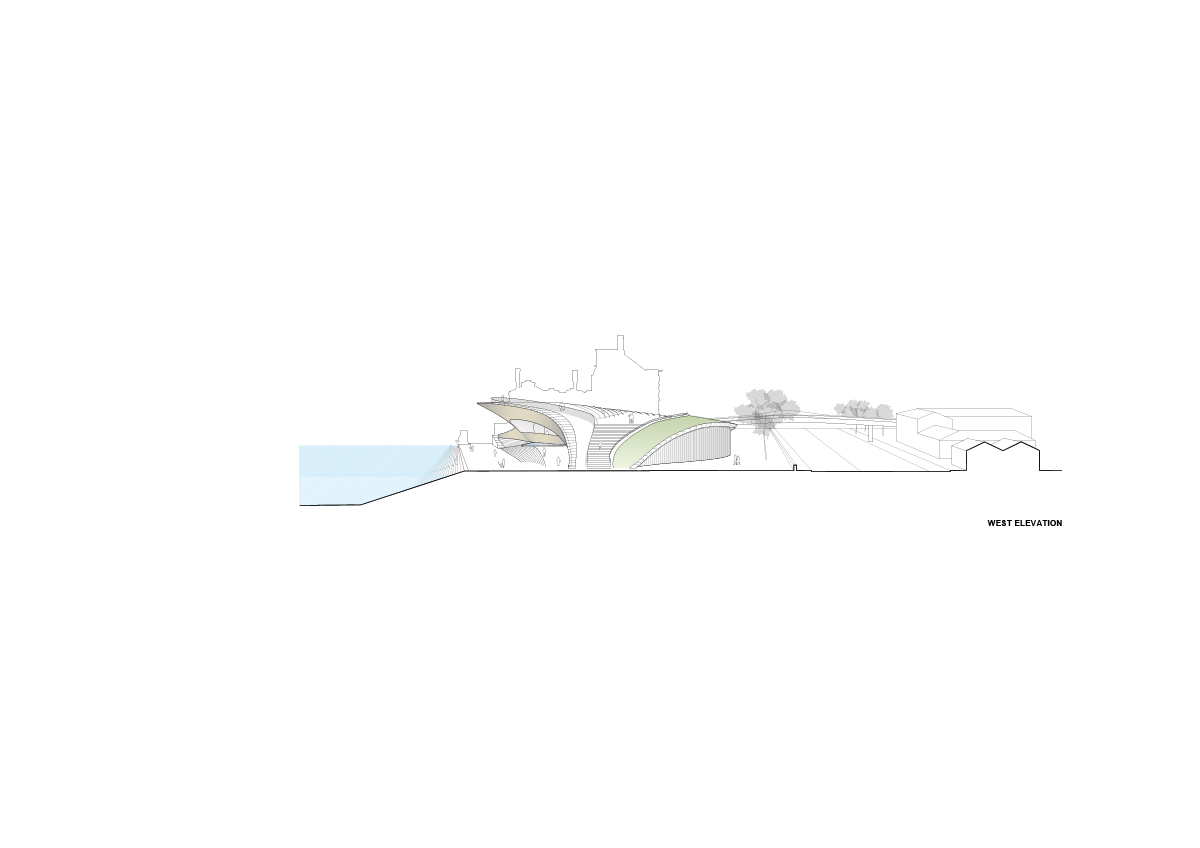 project info:
client: fundacao EDP
architect: AL_A
principal: amanda levete
project director: maximiliano arrocet
team: fernando ruiz barberan, mirta bilos, alex
bulygin, grace chan, sara ortiz cortijo, alice dietsch, ciriaco castro diez, yoo jin kim, ilina kroushovski, michael levy, cristina revilla madrigal, stanislaw mlynski, ho-yin ng, giulio pellizzon, raffael petrovic, chloe piper, filippo previtali, arya safavi, maria alvarez-santullano, joe shepherd, paula vega, konstantinos zaverdinos
local architect: aires mateus e associados
civil, structural & building services engineering; lighting: afaconsult
landscape: vladimir djurovic landscape architecture
restaurant and shop lighting: SEAM design
site supervision; project management: technoplana
LEED consultant: edificios saudaveis
main contractor: alves ribeiro
sub-contractors: ceramica cumella – ceramic facade fabrication disset – ceramic facade installation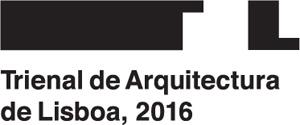 since its creation in 2007, the lisbon architecture triennale (LAT) has fostered knowledge and exchange about contemporary architecture by creating a dialogue open to professionals and the general public alike.
'the form of form', LAT's fourth edition curated by the late diogo seixas lopes and andré tavares, will take place from october 5th – december 11th, 2016. as the title suggests, 'FORM' itself will be a main object of exploration, understood both in its role as a universal means of communication within and outside the discipline of architecture, as well as in its power to radically influence the functioning and the development of cities. LAT will investigate interactions and struggles that materialize in the place where architecture is materially built, drawing attention to the role of technologies and rhetoric on the form architecture takes, and on the impact the built environment is able to have on society and in people's lives.
between the participants, renowned practitioners coming from architecture, design and the visual arts contribute to a multidisciplinary and critical discourse. LAT's programme – including 4 main exhibitions, 7 satellites, 3 awards, 1 competition, 1 international conference, 14 associated projects, and much more – will lead the audience in an in-depth exploration of lisbon's urban landscape, allowing visitors to experience unexpected places, tracing new paths in the city and its surroundings.
designboom is an official media partner of the 2016 lisbon architecture triennale. see our ongoing coverage of the event here.
Save
Save
Save
Save
Save
Save
Save
Save
Save
Save
Save
Save
Save
Save
Save
Save
Save
Save
Save
Save
Save
Save
Save
Save
Save
Save
Save
Save
Save
Save
Save
Save
Save
Save
Save
philip stevens
I designboom
oct 07, 2016
KEEP UP WITH OUR DAILY AND WEEKLY NEWSLETTERS
a diverse digital database that acts as a valuable guide in gaining insight and information about a product directly from the manufacturer, and serves as a rich reference point in developing a project or scheme.
designboom will always be there for you
milan, new york, beijing, tokyo

,
since 1999