mirroring the silhouette of the alps in the distance, 'house in savièse' is a newly built family home. constructed on an inconspicuous and irregular plot of land along the left bank of the river rhone in switzerland, the project explores the use of concrete as the primary material manifested in the property's structure. the walls of raw concrete were shaped by metallic formwork which reveals an unexpectedly worn and damaged timber lining, giving texture to the surfaces throughout.

all images © nicolas sedlatchek
in comparison to its tradition neighbors detached villas, the firm in charge – anako architecture – took a contemporary approach seeking to depart from the limitations and aesthetics of the site and local architecture. in turn, the scheme captures and enhances the intrinsic qualities of the plot, forming a sculptural and monolithic volume of exposed concrete. these walls create a border and define the façade –like a protective fortress– and the entrance pronounced by a hollowed cover.
following the gentle incline of the slope, the interior features three interconnected half-levels bisected by patios. despite the monolithic appearance, the carefully positioned apertures and the internal courtyards provide plenty of light and views of the surrounding crisp landscape. the internal courtyards act as gardens and boundaries between the inside and the outside are blurred due to the large panels of glass. the concrete parapets of the patios were positioned between each half-level to create a geometrical outline to precisely frame the mountain line.

the south-facing orientation benefits from uninterrupted views of the alps and natural sunlight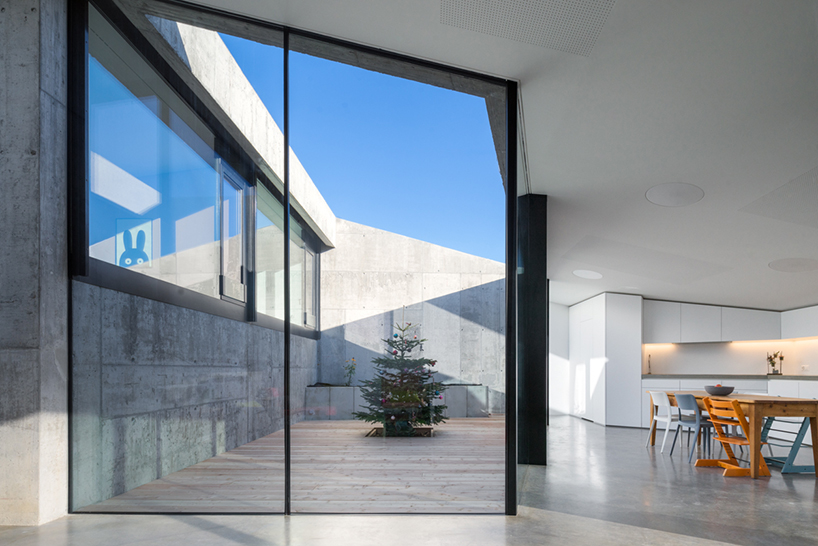 the use of concrete as the primary material is explored in the property's structure, space, shadow and light

there are three half-levels separated by patios

despite the monolithic exterior, the interiors are bathed in natural light from the inner patios

the interior wraps around the courtyards which simultaneously serve as gardens

anako architecture took a contemporary and completely approach to its traditional neighbors

random assembly of different sized formwork gives the surface of the concrete expressions depending on light 

the building follows the dip of the ground

a gravel roof is punctuated by the three courtyards and serves as a fifth façade that adopts a cut-out geometry 
Save
Save
oct 03, 2017
oct 03, 2017
sep 21, 2017
sep 21, 2017
sep 19, 2017
sep 19, 2017
aug 24, 2017
aug 24, 2017
aug 01, 2017
aug 01, 2017
jul 04, 2017
jul 04, 2017