nov 19, 2012
andrew maynard architects: HOUSE house, melbourne
'HOUSE house' by andrew maynard architects, melbourne, australiaimage © peter bennetts
an extended melbourne family owning two neighboring houses in dire need of a restoration and addition led to the clever re-design by local practice andrew maynard architects. the solution is simple and effective, join the two mirrored residences through a shared pivot point, with a backyard that is capable of transforming into one cohesive park.
street-side facade, with original entrance on the axis on the perpendicular streetimage © peter bennetts
in breaking from typical australian homes with low roof lines and expansive footprints, this new typology introduces the strategies implemented in higher density contexts, creating slender taller structures with light flooding in from the roof and opening more space for the garden. the addition is a contemporary cedar-clad volume with several windows of varying sizes and a small children's rendition of a house painted black meeting the street to discourage graffiti artists from tagging the wall.
approachimage © peter bennetts
the interior exposes black steel elements as the primary frame structure, a spiral staircase and mesh corridors. the original brick of the existing buildings are left exposed creating a more industrial feel with decisive injections of warm wood planks for the siding and flooring accented through the glow from the skylight. the separate masses contain their own private areas and share the main living functions in the new addition.
backyards with a retractable dividing wallimage © peter bennetts
shared added space with exposed steel membersimage © peter bennetts
wooden interior in the new kitchen and dining areaimage © peter bennetts
image © peter bennetts
spiral stairs leads to the upper floorsimage © peter bennetts
light filled stairwell with the existing brick walls exposedimage © peter bennetts
black mesh landings allow light to seep throughimage © peter bennetts
renovated rooms in the additionimage © peter bennetts
image © peter bennetts
floor plan / level 0
floor plan / level 1
section
section
section
elevation
elevation
design strategies
jul 07, 2017
jul 07, 2017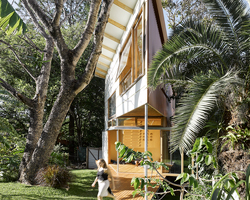 jun 28, 2017
jun 28, 2017
jun 26, 2017
jun 26, 2017
apr 10, 2017
apr 10, 2017
feb 06, 2017
feb 06, 2017
feb 20, 2016
feb 20, 2016