aug 22, 2016
HAT is a compact concrete dwelling in tokyo by apollo architects
apollo architects and associates has completed a three-storey concrete home in a densely populated residential neighborhood of tokyo, japan. designed for a couple in their 50s, the client required a large enough dwelling that would allow them to live with a parent. concrete was chosen to protect against potential natural disasters, providing high resistance to fire and earthquakes. the relatively small plot size has resulted in a compact residence that maximizes its available space.

the uppermost level contains the primary living accommodation
all images by masao nishikawa
titled 'HAT' in response to its distinctive roof canopy, apollo architects' design is situated at the end of a blind alley. the building comprises of three storeys, with two floors above ground and a basement. the parent's room is located at the subterranean level, located by the entrance to the property. the couple's sleeping quarters are found above, flanked by two offices.

the home's interior offers abundant natural light thanks to an atrium
the uppermost level contains primary living accommodation with a kitchen, dining area, and lounge. here, wooden rafters have been used in place of concrete, creating a contrast between the two materials. although it appears closed from the outside, the home's interior offers abundant natural light thanks to an atrium that rises through the structure. the architects sought to create a secure and protective dwelling that shields its occupants from its surroundings.

wooden rafters have been used in place of concrete

staircase leading to the upper level of the dwelling

the couple's sleeping quarters are flanked by two private offices

concrete has been used to protect against the threat of fire and earthquakes

the parent's room is located at the subterranean level

the timber rafters illuminated at night

an atrium pierces the entirety of the structure

the entrance to the compact dwelling

the property is situated at the end of a blind alley

floor plans (click for larger version)

sections
project info:
location: shinjuku, tokyo, japan
completed: june 2016
use: private housing
structure: reinforced-concrete and wood
site area: 66.95 sqm
total floor area: 78.68 sqm (40.87 sqm/1f, 39.34 sqm/2f, 39.34 sqm/2f)
design period: october 2012 – december 2014
construction period: february 2015 – may 2016
architecture: satoshi kurosaki / apollo architects & associates
structural engineer: nomura structure (nomura motoi)
mechanical engineer: naoki matsumoto
lighting design: sirius lighting office
photography: masao nishikawa
Save
Save
Save
Save
Save
Save
Save
Save
Save
Save
Save
Save
Save
Save
Save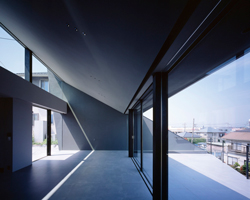 oct 08, 2017
oct 08, 2017
sep 24, 2017
sep 24, 2017
may 24, 2017
may 24, 2017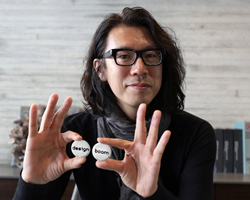 apr 30, 2017
apr 30, 2017
mar 14, 2017
mar 14, 2017
mar 30, 2016
mar 30, 2016
nov 02, 2017
nov 02, 2017
nov 01, 2017
nov 01, 2017