mar 30, 2016
APOLLO architects conceals home and art gallery within stacked volumes
APOLLO architects conceals home and art gallery within stacked volumes
all images © masao nishikawa
tokyo based firm apollo architects & associates have completed their latest mixed-use project consisting of a residence and a contemporary art gallery space. sited in obu city in the aichi prefecture, the building is made up of three stacked volumes. the hybrid scheme features a podium on the 1st floor level composed of reinforced concrete and glazing. as the upper levels increase in size, the steel siding material changes color to establish its differentiation, while providing a distinct character from its proportion with a sense of floating in the space.

the ground floor is marked by a glazing to allow views into the gallery
the cantilevered second levels hold the living areas with the external positioning forming a garage space underneath for two cars. meanwhile, the ground floor features a fully glazed façade to invite views into the gallery from the street. the floor of this gallery has been purposely lowered as a semi-underground sunken space, while a concrete partition prevents direct daylight, allowing visitors appreciate the art via reflected light on the ceiling.

the kitchen, lounge and dining area sits in the second floor volume
access is through a separate staircase which takes the residents directly into the second floor. a monochromatic color scheme has been used to establish simplicity and allow the home to be converted into an extension of the gallery below. with the communal spaces hosted in the second floor, the top volume hosts the bedroom and private programs which are lit by skylights positioned above the balcony and staircases.
the color palette of the house consists of muted greys
natural light streams through the skylights located above the staircases

the gallery is composed of concrete

the space itself has been left slightly sunken from street level
the top level has access to a private terrace area
the delicate staircase weaves up the upper levels
the ground floor hosts a private gallery to display the client's art collection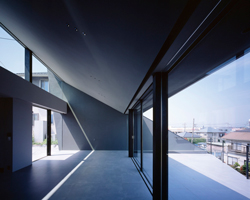 oct 08, 2017
oct 08, 2017
sep 24, 2017
sep 24, 2017
may 24, 2017
may 24, 2017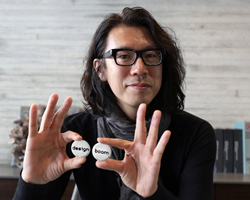 apr 30, 2017
apr 30, 2017
mar 14, 2017
mar 14, 2017
aug 22, 2016
aug 22, 2016
nov 02, 2017
nov 02, 2017
nov 01, 2017
nov 01, 2017