apollo architects and associates have developed 'grid house' by integrating the client's meticulously curated collection of artwork and furniture into the architecture. in turn, this has formed a dwelling that expresses individuality without being overly busy while encompassing museum-like qualities throughout.

all images © masao nishikawa
the property is located in japan, the neighborhood is quiet therefore apollo architects proposed a reinforced concrete structure with a low-profile that would also follow a non-intrusive aesthetic like its context. similar to the exterior, the interior follows a muted, monochromatic color scheme that serves as a neutral background to highlight the artwork on display.
a grid like ceiling in concrete sits above the family room, this coffered ceiling is divided into a 1.2-meter-square lattice, referencing the architecture in temples and sukiya-style structures, also seen in traditional tea houses. at the same time, natural light streams through the clerestory windows that run on the north and south sides but is partially blocked by the eaves that extend out – giving the building a lightness and floating character. in addition to serving its structural purpose of supporting the weight of the roof, the latticed ceiling turns the dwelling itself into a piece of minimalist artwork.
the floorplan has been designed to be straightforward; the lounge at the center that frames the adjacent courtyard, while on the bedrooms occupy the wings on the opposite site. a symmetry is established that is seen more in 'western' architecture including the integration of steps and a private courtyard on only one side.
project info:
date of completion: december 2016
principal use: private housing
structure: reinforced-concrete
site area: 308.81m2
total floor area: 126.44m2
design period: july 2013 – december2016
construction period: december 2015 – december 2016
structural engineer: masaki structure laboratory (kenta masaki)
mechanical engineer: naoki matsumoto
lighting design: sirius lighting office
exterior finish: exposed concrete
floor: tile flooring
wall: exposed concrete
ceiling: exposed concrete
lighting: LED
Save
Save
Save
Save
Save
Save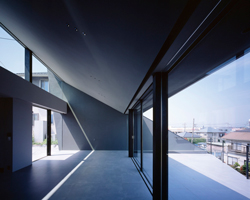 oct 08, 2017
oct 08, 2017
sep 24, 2017
sep 24, 2017
may 24, 2017
may 24, 2017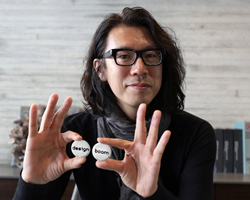 apr 30, 2017
apr 30, 2017
aug 22, 2016
aug 22, 2016
mar 30, 2016
mar 30, 2016
nov 02, 2017
nov 02, 2017
nov 01, 2017
nov 01, 2017
oct 28, 2017
oct 28, 2017
oct 27, 2017
oct 27, 2017
oct 25, 2017
oct 25, 2017