aug 03, 2015
apollo architects forms garage with an overhang in minimalistic grigio house in tokyo
apollo architects forms garage with an overhang in minimalistic grigio house in tokyo
photography by masao nishikawa
shaped around the client's love for their cars and art collection, 'grigio house' by apollo architects and associates is one of the japanese firm's latest residential projects located in a tranquil neighborhood in tokyo. the home is accessed through a discreet entrance located on the side, adjacent to the sheltered parking area created by the overhang of the structure. minimalistic in form, a simple bronze-tinted window has been placed at the top corner of the house, illuminating the second floor living, kitchen and dining area. the exposed concrete materiality has been continued throughout the interior where a L-shaped floorplan establishes the three-levels of naturally lit spaces, with an open courtyard at the core. 

the inner courtyard illuminates the simple interiors with natural light
the basement area is dedicated to the clients' daughter where the space is designed to evoke a feeling of a café or library atmosphere. meanwhile a sculptural, cantilevering staircase connects the whole property together, with the master bedroom located on the first floor. as for the interior design, the refined furnishings all match the minimalistic nature of the whole home, providing a backdrop for the vibrant artwork by japanese artist mika ninagawa–enhancing the muted grey space with splashes of primary color.

the symbolic tree view from the picture window creates a borrowed scenery

a staircase made of cantilevering treads connects the home together

the living room with "acid bloom 2003" by mika ninagawa

the living, dining and kitchen space on the upper floor

all the spaces look out into the courtyard

the vibrant colors of the artwork stands out among the grey interiors

a muted color palette has been used

the overhang dedicated to the owner's cars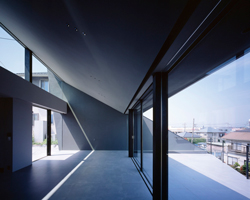 oct 08, 2017
oct 08, 2017
sep 24, 2017
sep 24, 2017
may 24, 2017
may 24, 2017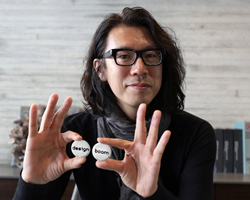 apr 30, 2017
apr 30, 2017
mar 14, 2017
mar 14, 2017
aug 22, 2016
aug 22, 2016
nov 02, 2017
nov 02, 2017
nov 01, 2017
nov 01, 2017