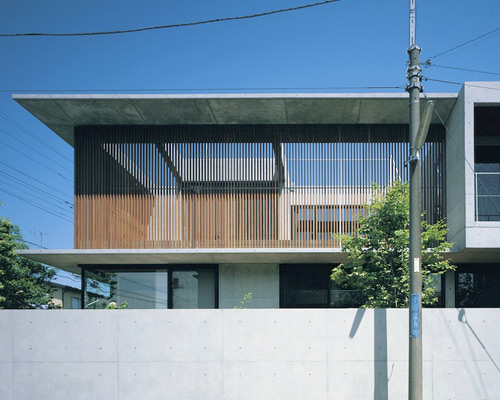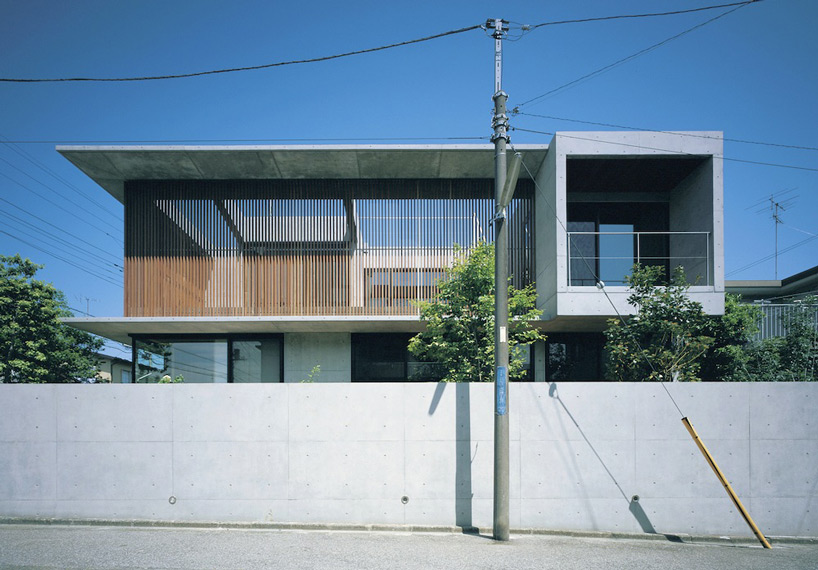 aug 01, 2014
apollo architects screens foo house from street in japan
apollo architects screens foo house from street in japan
photo by masao nishikawa
all images courtesy of apollo architects & associates
'foo', designed by apollo architects & associates, is a two-family residence located in yokohama, japan. situated on a corner lot, a primary aim of the scheme is to create privacy from the street. the house is composed of an exposed concrete structure and surrounded by tranquil outdoor garden spaces. an upper level patio is screened by vertical slats of serangan batu wood. thin floor slabs extend beyond the screen, in order to shade the façades and express the building's composition. on either end of the building, at the same height, framed rectangular volumes open outward to create elevated views of the context.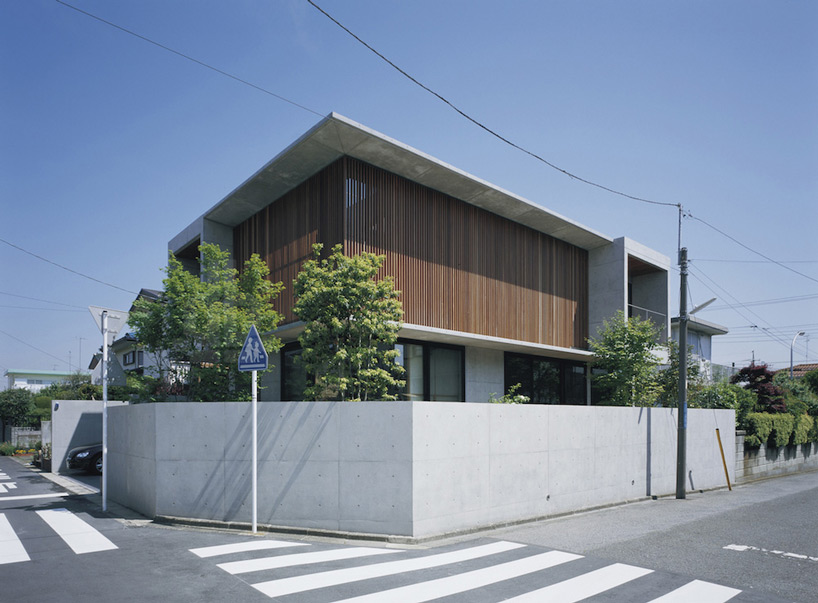 the upper level patio is screened by vertical slats of serangan batu wood
photo by masao nishikawa
an elongated outdoor space is situated along the front of the house, with privacy provided by a concrete wall wrapping the corner lot property. the residence is comprised of a shared kitchen, living, and dining areas, as well as a common 'japanese room' and study. two separate bedrooms are placed on either level, and a kids room on the upper floor. an outdoor balcony is accessible from the upper bedroom and the children's room, and accesses a roof deck via an exterior staircase. these exterior spaces serve as a common oasis for the two families, and provide views of the residential context.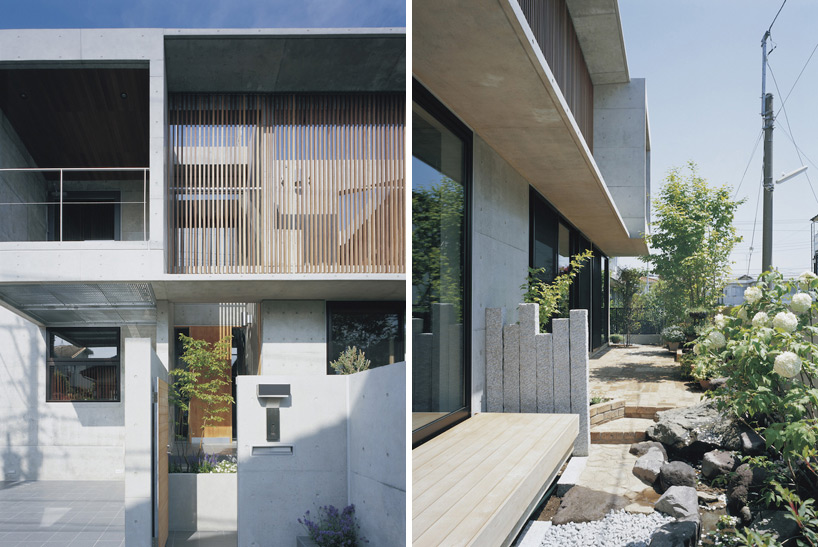 an outdoor garden wraps the edge of the site, bound by the structure and a concrete wall
photos by masao nishikawa
in contrast to the closed off nature of the building's façade, the interior spaces are spatially open, to allow for spontaneous interaction between the two families. a variety of finish materials contrast the monolithic concrete structure, including teak wood on the ceilings and floors, as well as walnut fixtures and oak tables and chairs.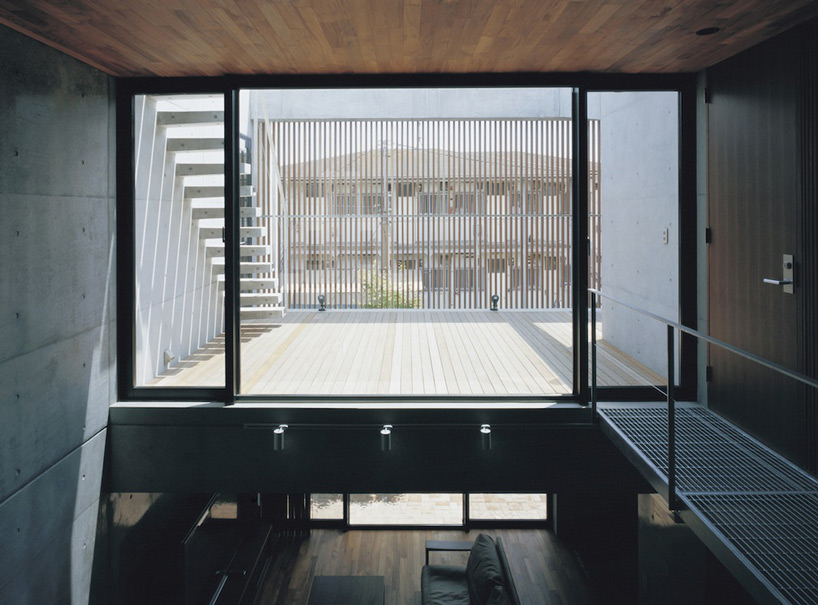 an exterior stair accesses the roof level
photo by masao nishikawa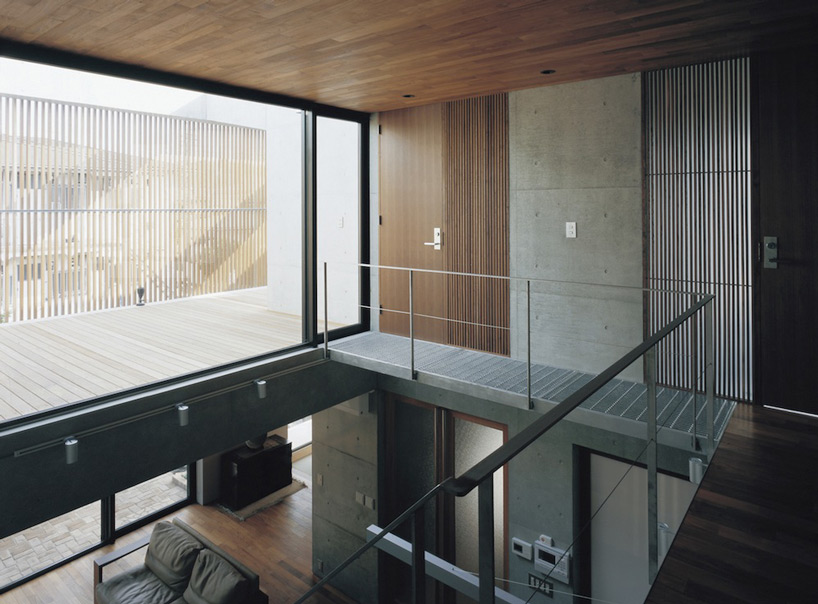 a double-height central space allows for spontaneous interaction between the two families
photo by masao nishikawa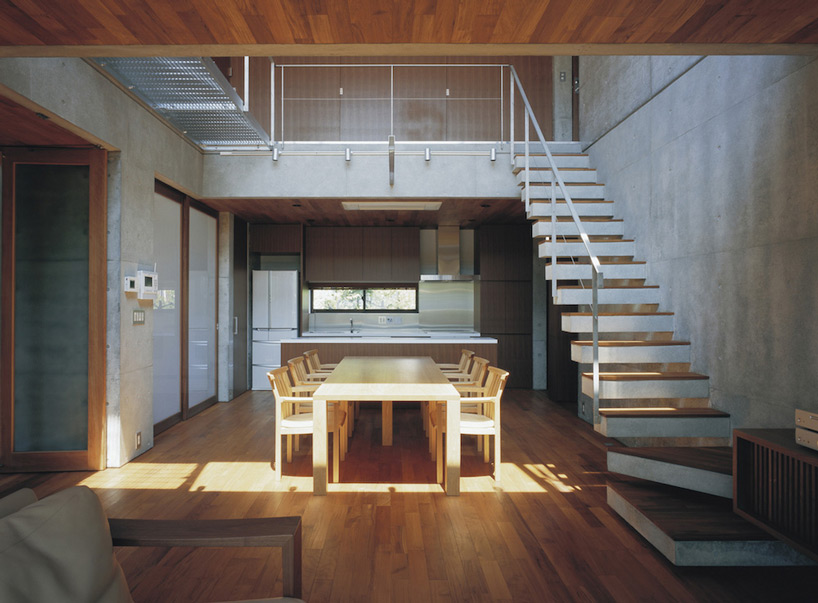 the two families share the living, kitchen, and dining area
photo by masao nishikawa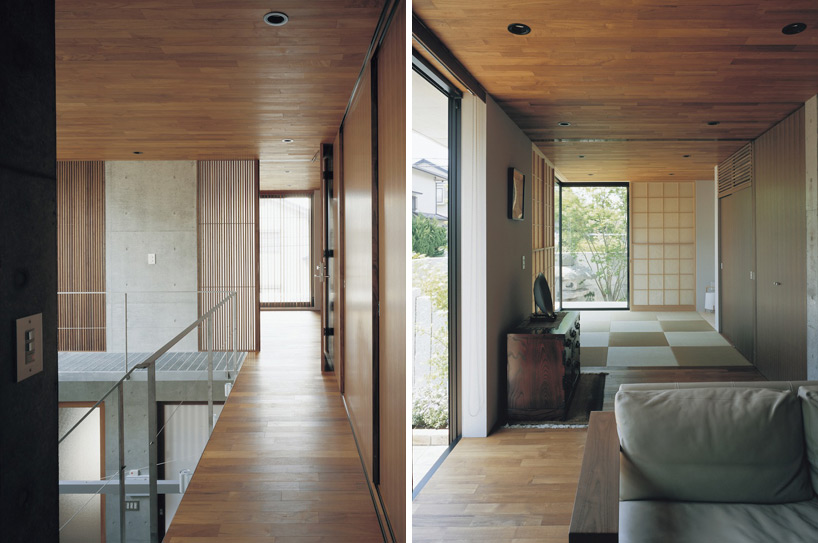 a variety of wood finishes contrast the exposed concrete structure
photos by masao nishikawa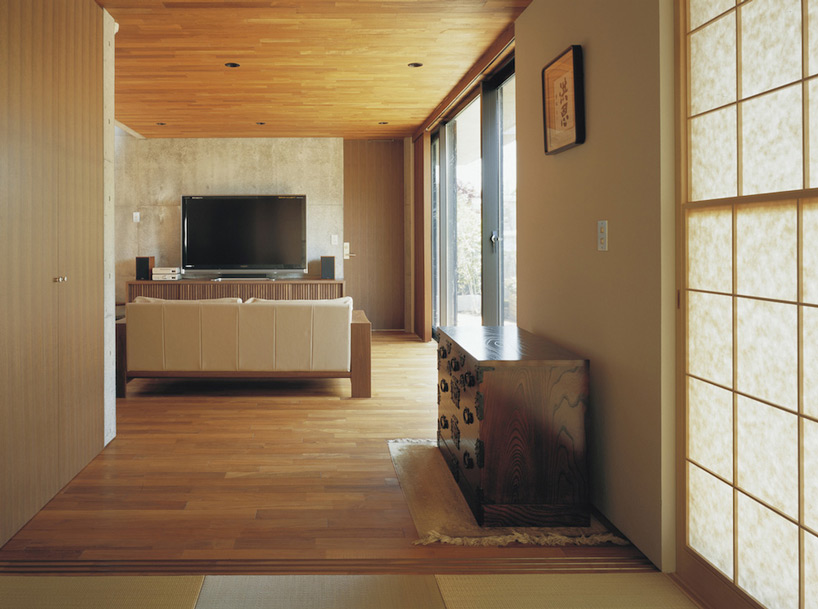 photo by masao nishikawa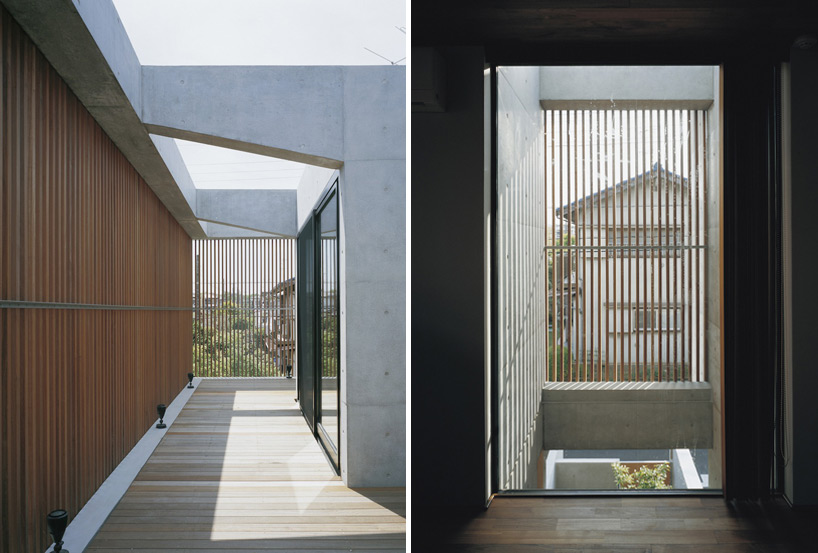 an upper level patio wraps the street facing corner
photos by masao nishikawa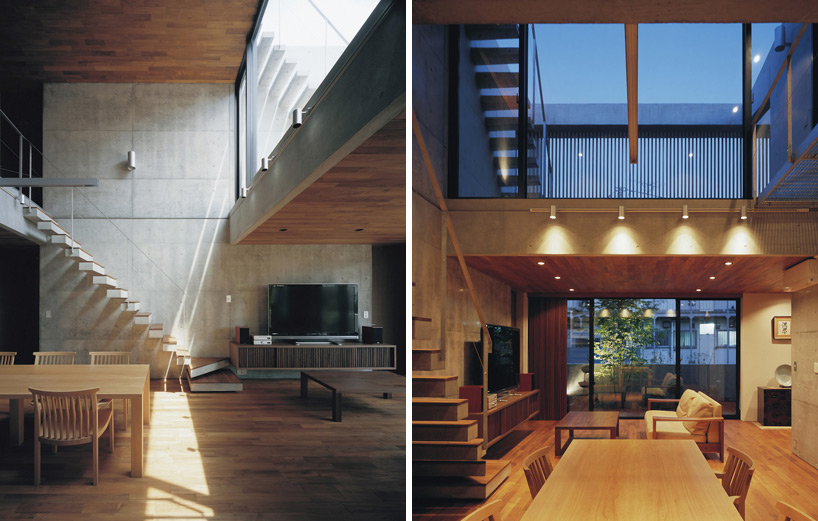 the interior features open and airy spaces
photos by masao nishikawa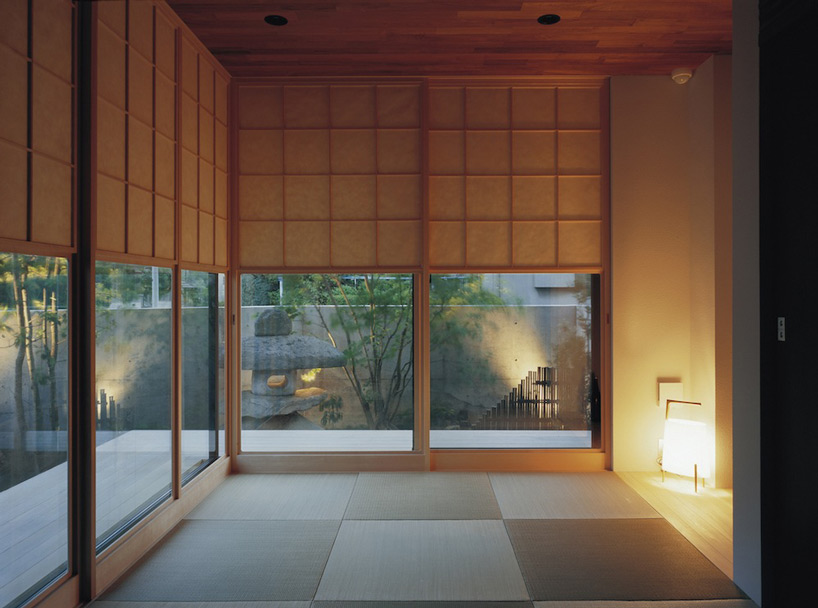 sliding glass doors link the 'japanese room' with the garden
photos by masao nishikawa
project info:
location: yokohama city, kanagawa, japan
date of completion: february 2007
structure: reinforced concrete
site area: 241.87 sqm
building area: 120.57 sqm
total floor area: 190.45 sqm (1f,113.40 sqm/2f, 77.05 sqm)
architecture: satoshi kurosaki / apollo architects & associates
structure engineers: masaki structure (kenta masaki)
facility engineers: shimada architects (zenei shimada)
construction: JP home
photography: masao nishikawa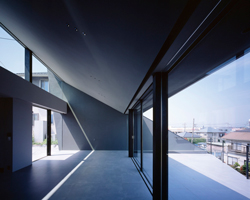 oct 08, 2017
oct 08, 2017
sep 24, 2017
sep 24, 2017
may 24, 2017
may 24, 2017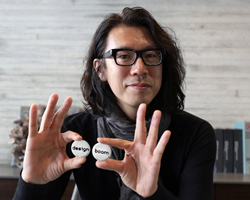 apr 30, 2017
apr 30, 2017
mar 14, 2017
mar 14, 2017
aug 22, 2016
aug 22, 2016