archi-union has used prefab robotic timber construction and 3D-printing techniques to complete 'venue B', one of the main buildings for the 2018 world artificial intelligence conference (WAIC), in just 100 days. located next to the vibrant waterfront of xuhui riverside in the heart of shanghai, the 8,885-square-meter space represents a green systematic solution for digital construction, realized through a simple form, pragmatic construction, cyborg ingenuity (man-machine cooperation) and a fully prefabricated structure system.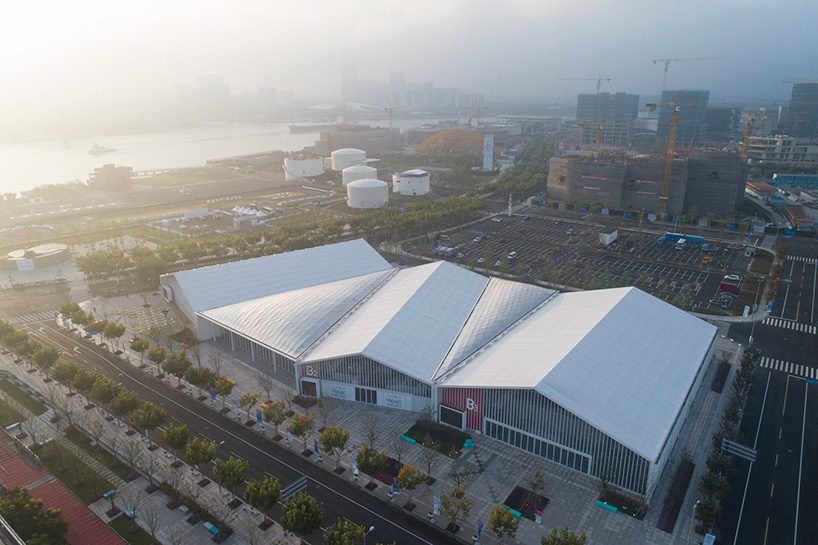 all images by fangfang tian
'venue B' is situated next to the west bund art center, as well as other cultural spaces such as the west bund art museum by david chipperfield, the tank shanghai art park, and SANAA's brand new office space. responding to the spatial planning of the riverside network, archi-union organically divided the building into three main parts, according to different functions, such as future exhibitions, summits, and forums. an overall white tone connects it to the language of the surrounding public buildings, while its rather simple, 'restrained' form outlines the unique contemporary art atmosphere of the west coast of shanghai.
a shared urban green space with shelter and semi-openings welcomes guests through two triangular park entrances — the result of the twist of the three main buildings of the venue. after stepping through the garden, visitors can immediately feel the warmth of the timber structure which blends harmoniously with the overall white palette. when the two public spaces are fully opened, they become a pocket park within the city fabric, while when they are semi-opened, they indicate the circulation and stitch together the three main volumes buffering internal traffic. both courtyards are covered with a digital prefabricated timber vaulted roof, in which the larger one has a span of 40 meters and its structural thickness is only about 0.5 meters, marking it the most economical inter-supported steel-wood roof in the world.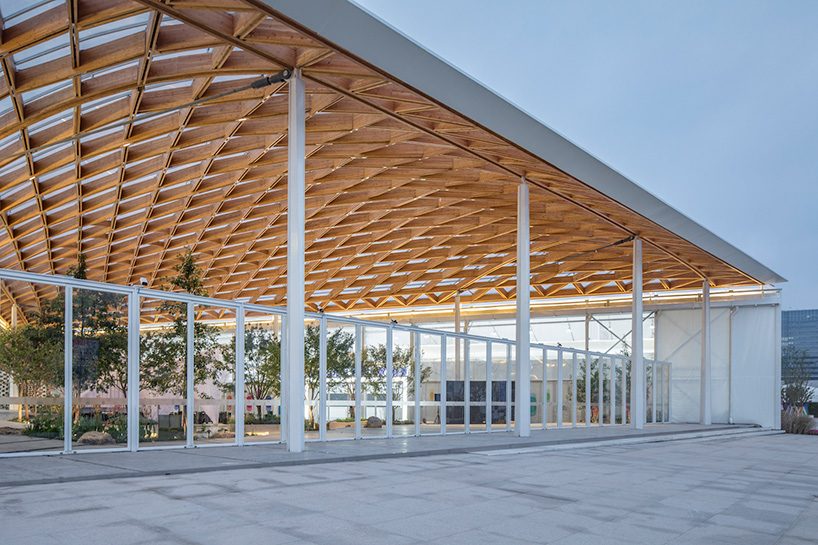 the main building uses a prefabricated light aluminum truss system, which allows for accurate construction and bears the lightest unit weight from all known materials. considering the need of rapid construction, the building model and façade treatments employ conventional products, while the main façade features a refined cross-steel keel system and a semi-concealed polycarbonate curtain wall that create a translucent spatial texture, elegantly transforming and filtering the urban space into the exhibition space. the main entrance is slightly retracted and the extension of the roof is used to form a gateway for the entrance gallery, indicating the openings of the main façade.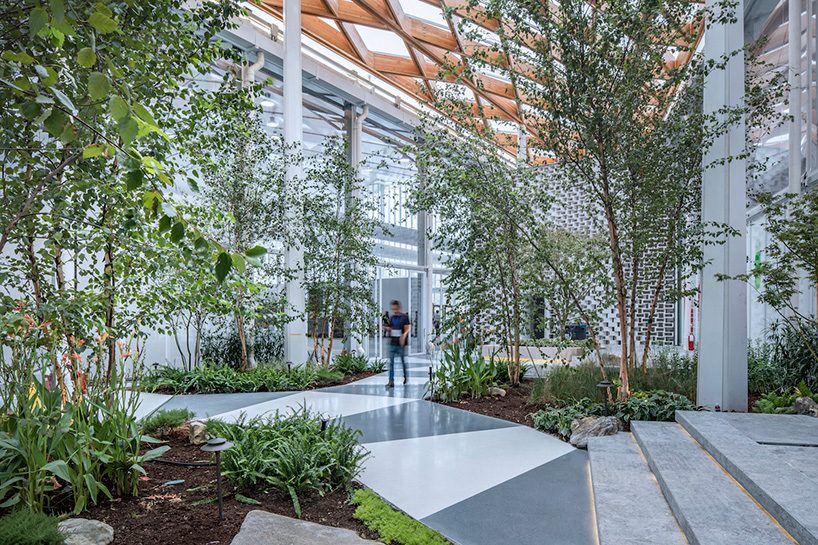 the overall arch of the structure is balanced by the lateral arrangement of the steel trusses and is further reinforced at the three corners. all beam heads are optimized in a parametric manner and such data is then used to guide the digital fabrication for milling and boring, while the joints feature a standardized hollow aluminum structure that further reduces roof weight while facilitating prefabrication and on-site construction. on-site construction for the 2,000 sqm timber shell took only 29 days.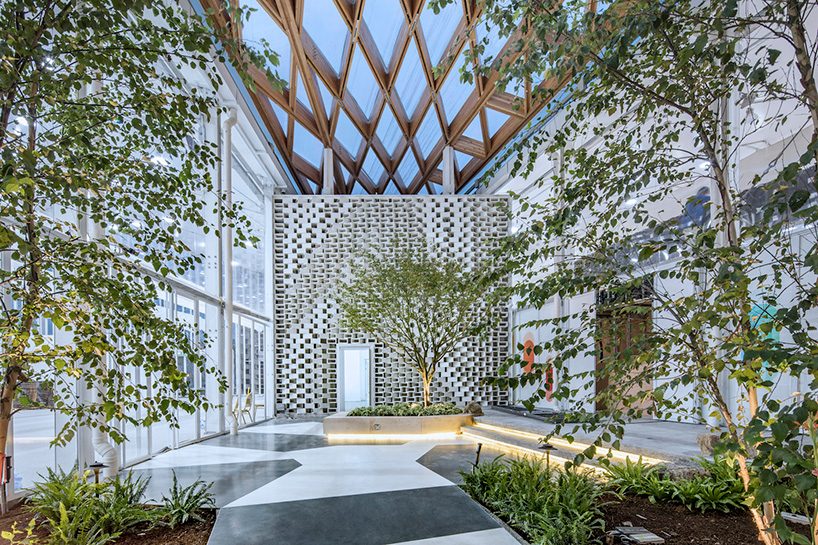 in addition to the main structure, archi-union designed a 120 sqm translucent 3D-printed coffee pavilion within the large garden along with nearly 50 seats to form a space for rest, communication and tea breaks during the summit. on top of that, at the front of venue B the architects have placed the elytra filament pavilion, a black and white structure designed and constructed by the team from the university of stuttgart's institute for computational design (ICD) and the institute of building structures and structural design (ITKE).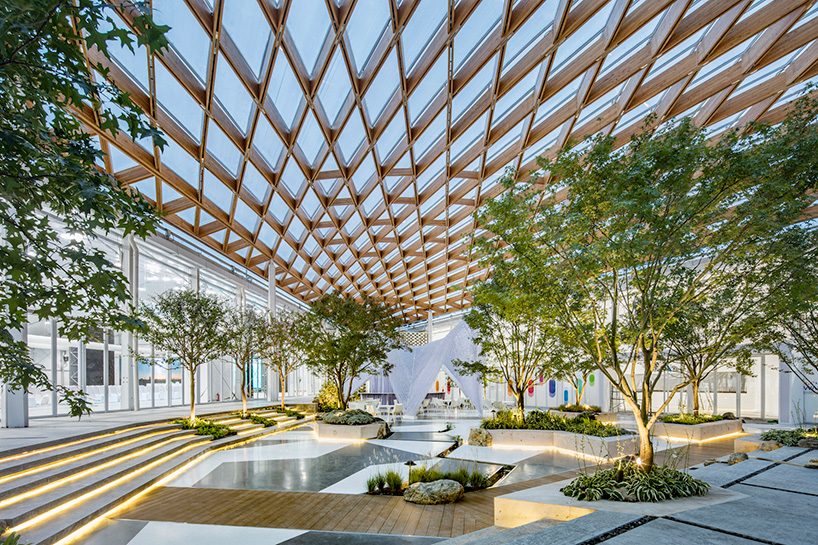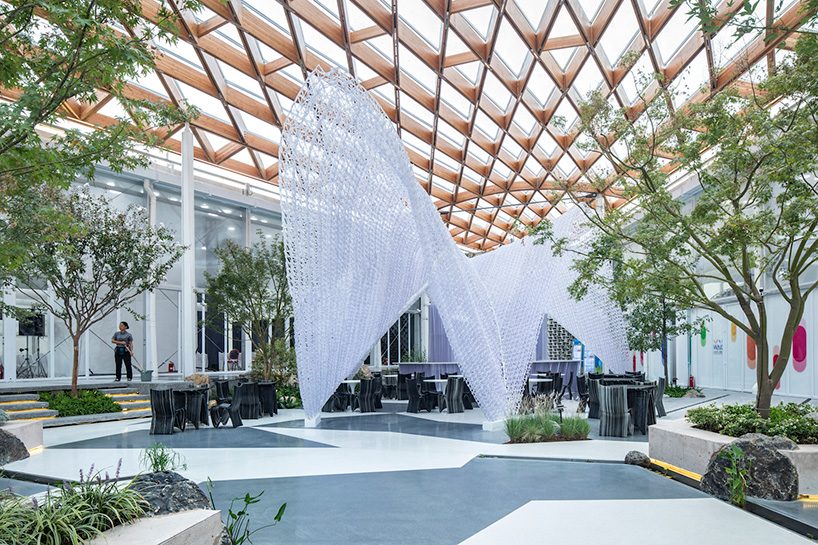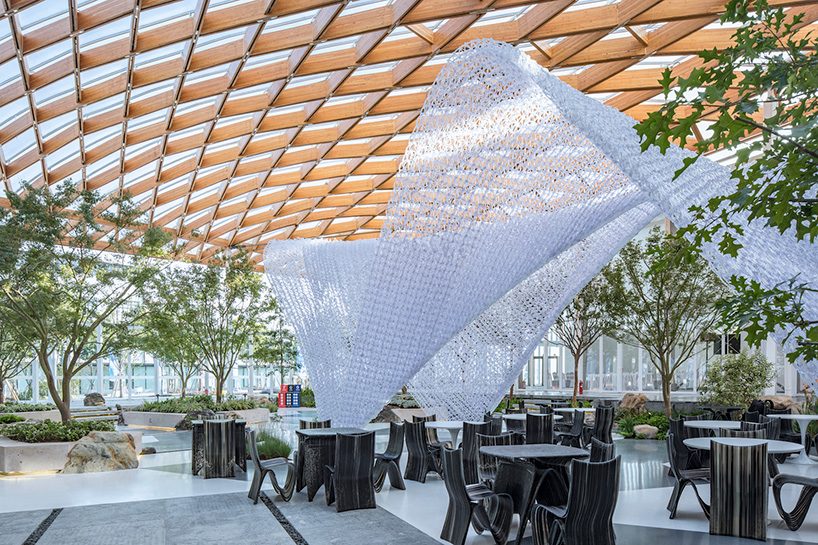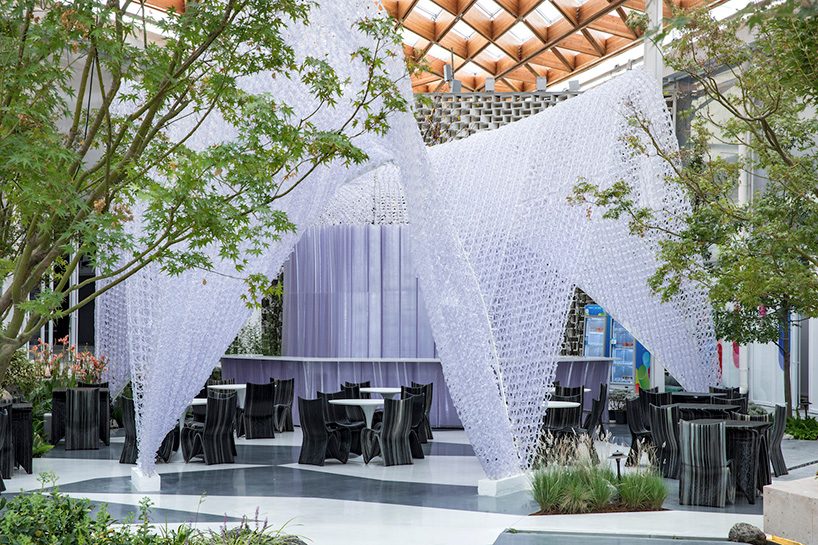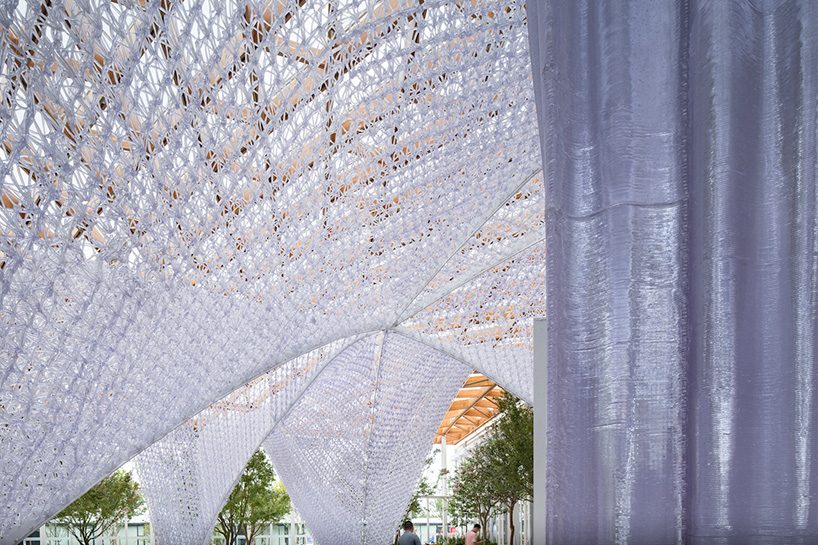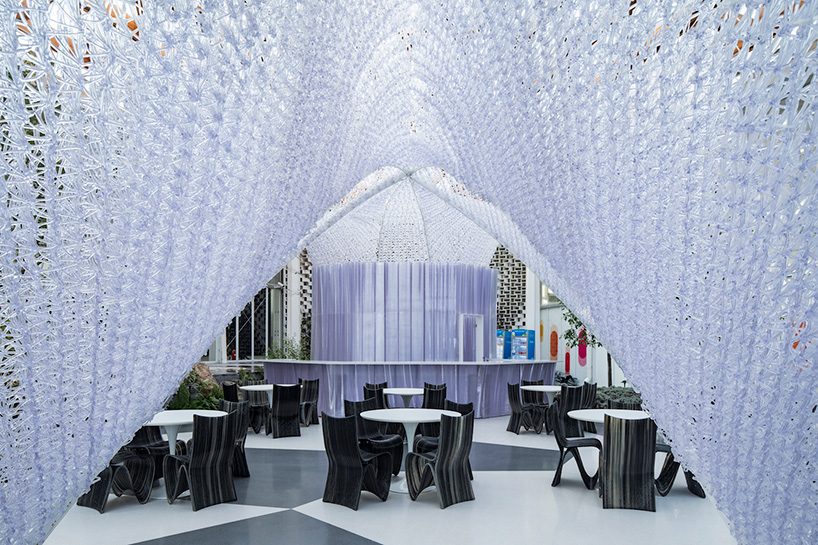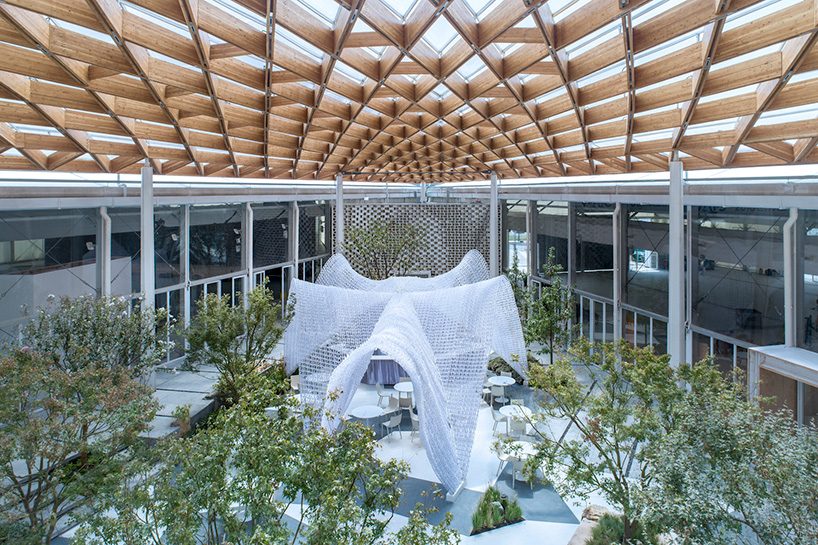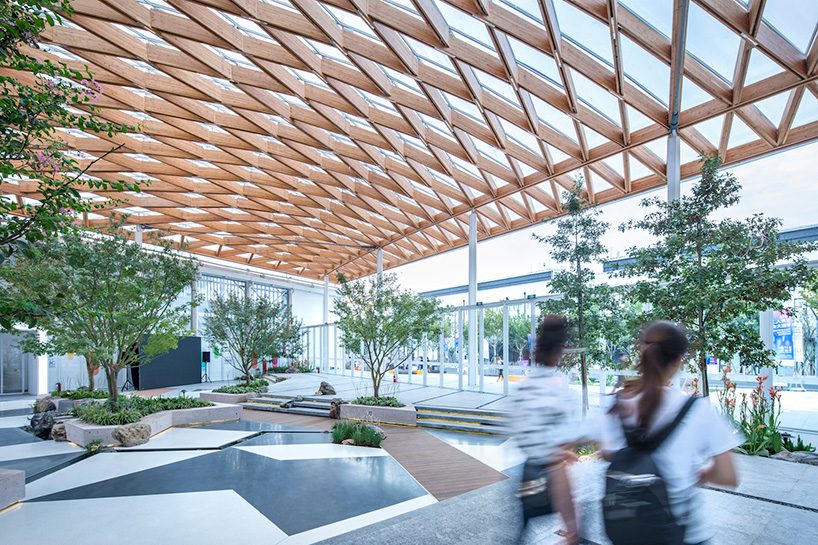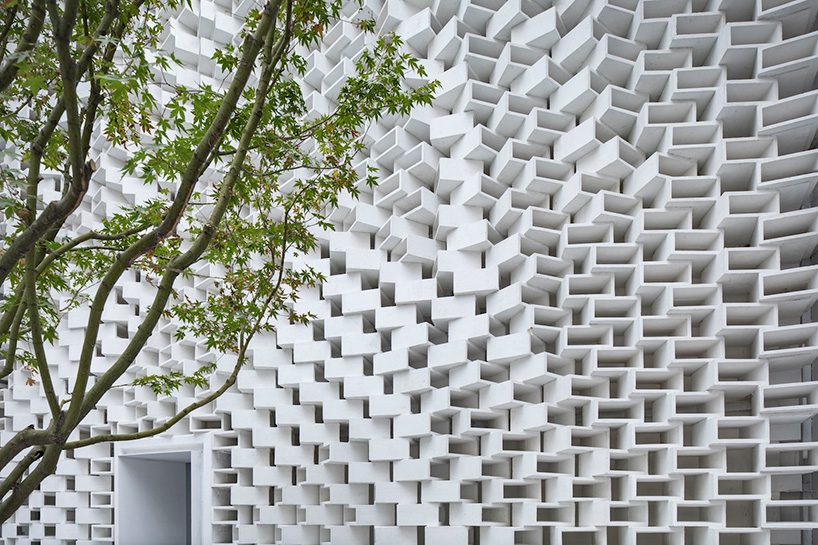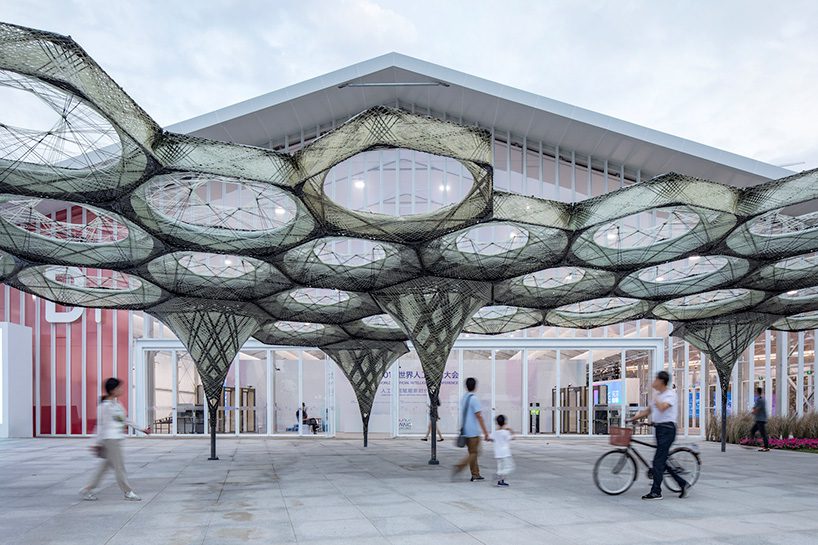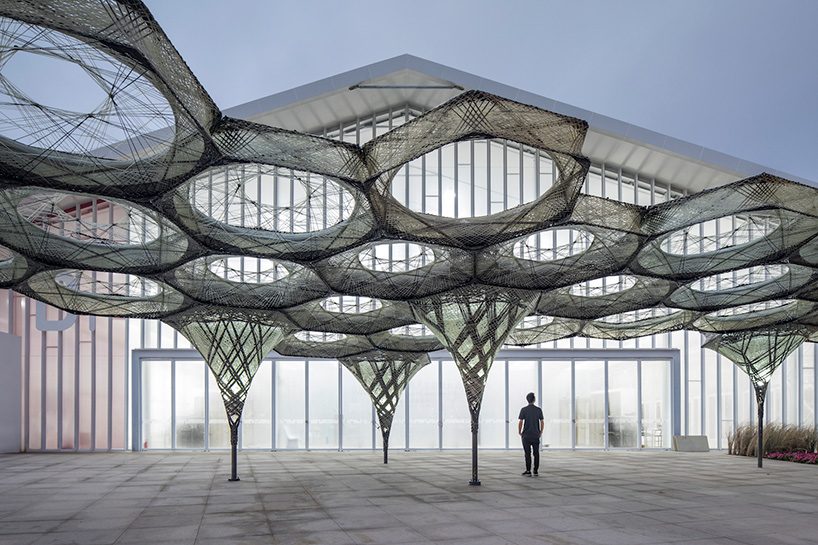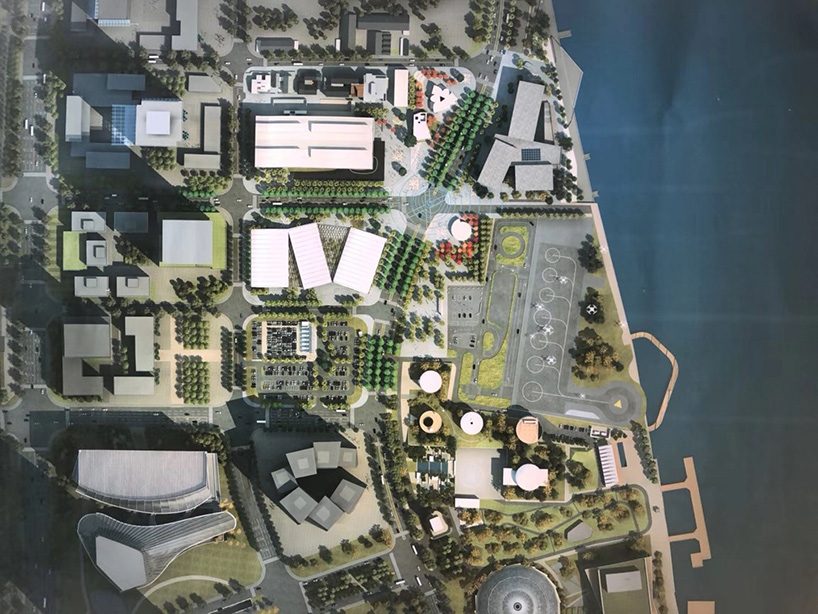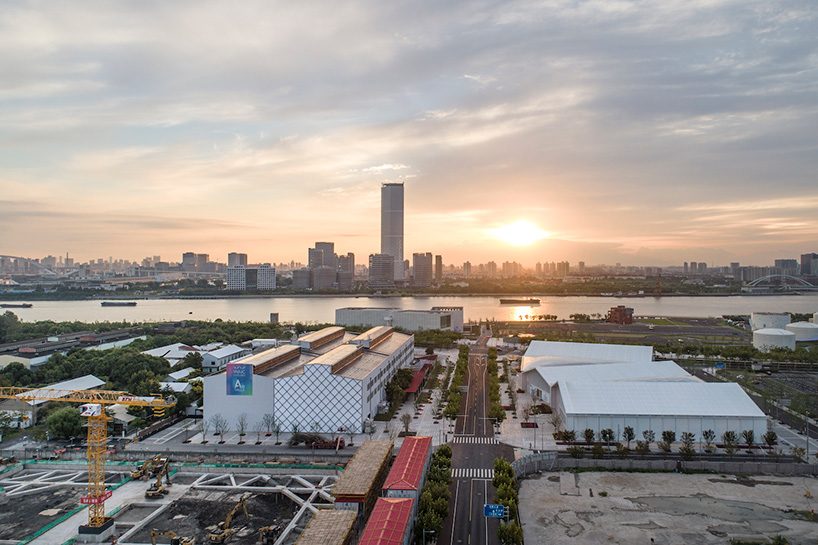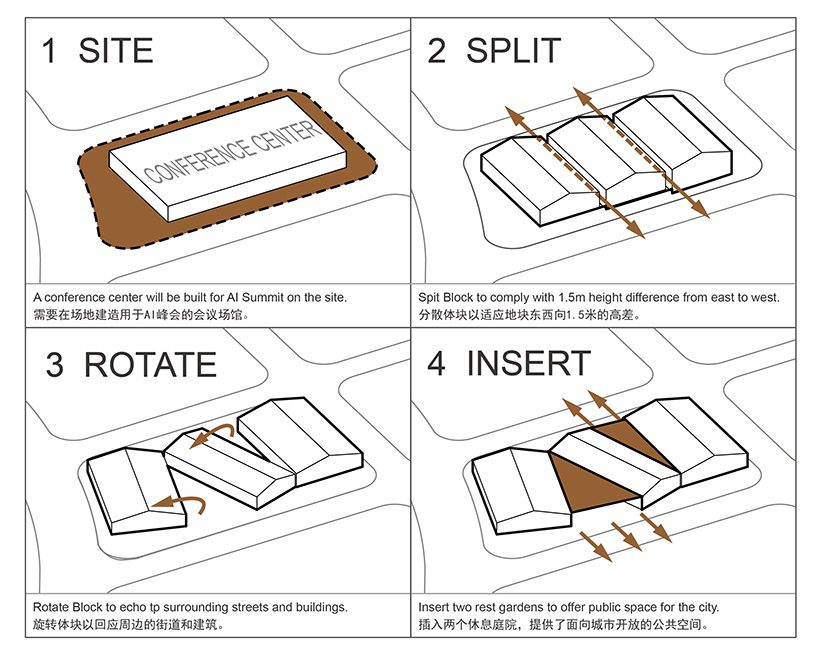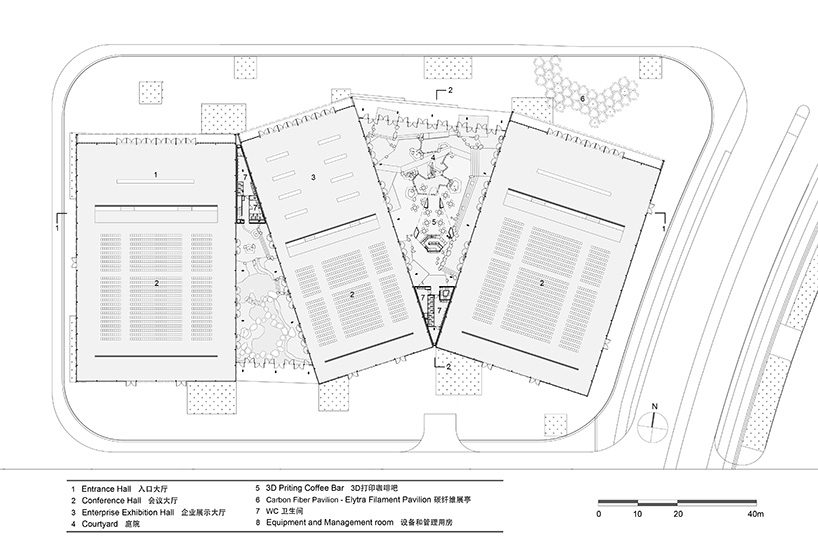 project info:
project: west bund world ai conference venue B
location: longtengdadao road , xuhui district, shanghai china
developer: shanghai west bund development group co., ltd.
design: archi-union architecture design co., ltd.
contractor: hongrun construction group co., ltd.
digital fabrication: fab-union architectural technology and digital fabrication co., ltd.
landscape: shanghai ecog garden co., ltd.
floor area: 8,885 sqm
principal architect: philip f. yuan
design team, architecture: alex han, jinxi jin, lei lin, jinyu huang, xiao zhang
3D robotic printed pavilion design: ce li, chun xu, sijie gao, zhenxiang huang
interior: fuzi he, jingyan tang
structural engineer: zhun zhang, junchao shen, tao huang, rui wang
mep: ying yu, yong wang, dawei wei
digital fabrication: wen zhang, xuwei wang, yong peng, liming zhang, ce li, zhimin wan, chun xu, sijie gao, zhenxiang huang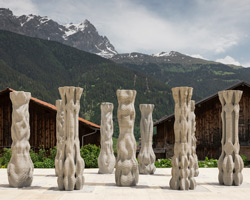 jul 15, 2019
jul 15, 2019
jul 08, 2019
jul 08, 2019
jun 28, 2019
jun 28, 2019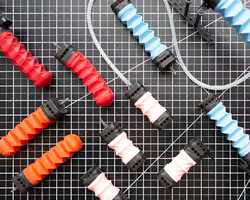 jun 28, 2019
jun 28, 2019
may 16, 2019
may 16, 2019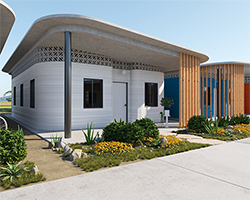 may 10, 2019
may 10, 2019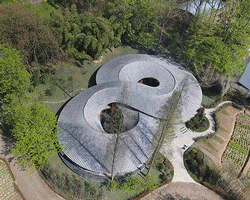 oct 07, 2018
oct 07, 2018
may 31, 2018
may 31, 2018
may 02, 2018
may 02, 2018
jul 18, 2019
jul 18, 2019
jul 18, 2019
jul 18, 2019
jul 17, 2019
jul 17, 2019
jul 09, 2019
jul 09, 2019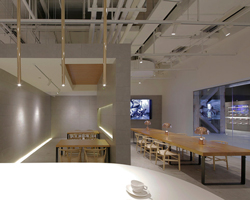 jun 26, 2019
jun 26, 2019
jun 23, 2019
jun 23, 2019
a diverse digital database that acts as a valuable guide in gaining insight and information about a product directly from the manufacturer, and serves as a rich reference point in developing a project or scheme.