nov 07, 2012
architecture for dogs curated by kenya hara
'pointed t' by hara design institute for a japanese terrier as part of the 'architecture for dogs' project by kenya hara image © hiroshi yoda
designboom met with torafu architects in tokyo to discuss their design for a jack russel terrier called the 'wanmock' created as part of  japanese art director and designer kenya hara's project 'architecture for dogs'. the 'wanmock' is a re-envisioned hammock for the most deserving customer – man's best friend. based on the philosophy of DIY, the firm wanted to develop a design that celebrates raw materials such as wood and cardboard. hara has commissioned structures from 11 renowned architects and designers for the venture including konstantin grcic, atelier bow-wow, shigeru ban and kazuyo sejima. the heavy-weight designers having conceived custom-built homes for their canine clients – each tailored specific to a particular breed of dog – designboom will followup on these projects as they unfold.
'paramount' by konstantin grcic image © hiroshi yoda
hara himself worked with the teacup poodle for his piece, using the fact he noticed how much time dogs spend looking up at their masters as impetus for the concept and decided to hoist the fleecy pet to a more human level – literally. hara focused on integrating height into his interpretation by featuring steps the poodle is able to use to be closer to its owner. going live in one month is the project's website architecturefordogs.com, where dog-owners will be able to download blueprints of each design, as well as instructions and videos demonstrating customization. hara sees the project as an opportunity to explore architecture in a different way that can evolve into something that will perhaps one day feed the company's own practice. 
kazuyo sejima's design for the bichon frise image © hiroshi yoda
'papillon' by shigeru ban image © hiroshi yoda
kengo kuma's structure for a pug is made up of interlocking geometric pieces image © hiroshi yoda
hiroshi naito's 'dog cooler' was designed for a spitz image © hiroshi yoda
'wanmock' by torafu architects for a jack russell terrier image © hiroshi yoda
sou fujimoto's interpretation of a home for a boston terrier which doubles as storage image © hiroshi yoda
(L) 'architecture for dogs' concept by atelier bow-wow for a dachshund  (R) kenya hara's design for a teacup poodle to 'elevate the dog to human level' set design by bryn bowen at the magnet agency image © sebastian mader
a four-wheeled mobile home for a shiba by toyo ito image © hiroshi yoda
jan 04, 2013
jan 04, 2013
dec 16, 2012
dec 16, 2012
dec 16, 2012
dec 16, 2012
jun 20, 2016
jun 20, 2016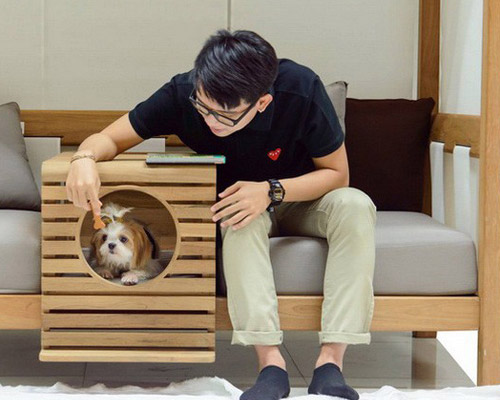 jan 25, 2016
jan 25, 2016
sep 23, 2015
sep 23, 2015
jun 15, 2016
jun 15, 2016
may 28, 2016
may 28, 2016
nov 09, 2015
nov 09, 2015
mar 08, 2016
mar 08, 2016
oct 08, 2015
oct 08, 2015
may 14, 2014
may 14, 2014