archtober 2023: new york's annual festival returns
The thirteenth-annual Archtober, New York City's month-long tribute to architecture and design, is kicking off from October 1st to the 31st, 2023. The city is set to open its doors with a diverse lineup of events celebrating the built environment and the creative minds behind it. For the first time, the platform has introduced a 2023 theme, 'Bridging Divides,' which hopes to 'reflect a profound commitment to fostering inclusivity, innovation, and a deeper understanding of the interconnectedness between individuals, communities, and the spaces they inhabit.'
As a media partner of Archtober, designboom rounds up the must-see events and exhibitions where visitors can explore the city's built landscape, meet the industry's leading experts, and discover the creative scene which has shaped the iconic streets and skyline.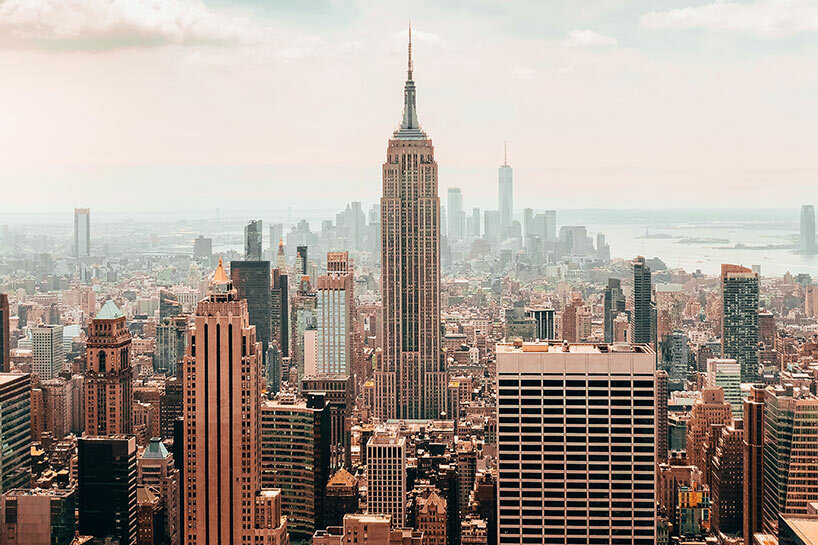 image © Christian Ladewig
Archtober unites over one hundred partner institutions nationwide, and across the world, to honor New York City's architectural heritage through a range of events from tours, lectures, education programs, and professional development opportunities. Running from October 1st to 31st, the series kicks off at the Powerhouse Arts events space in Gowanus, Brooklyn, designed by Herzog & de Meuron and PBDW Architects, and concludes with the newly completed Louis Armstrong Center by Caples Jefferson Architects at 34-56 107th St Queens. See the complete Building of the Day calendar to plan your month of exploring the city during Archtober!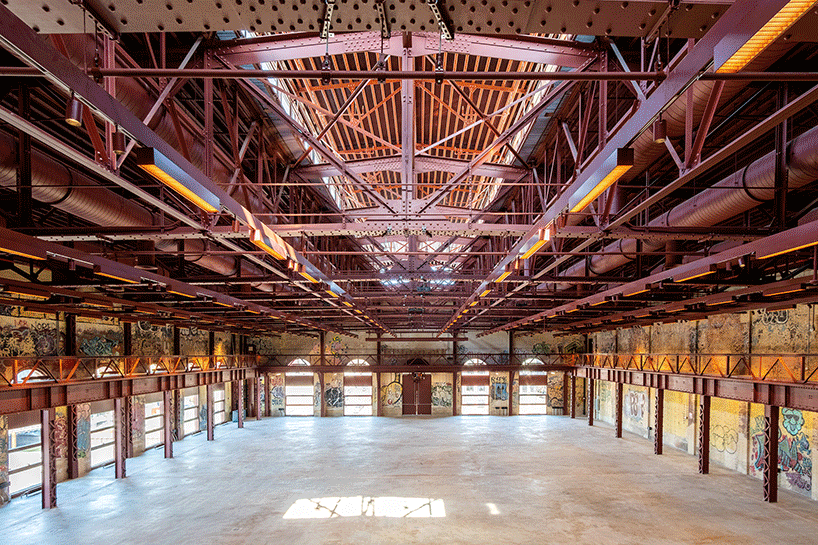 (in order) Powerhouse Arts, 550 Madison Avenue Garden, Pier 26 at Hudson River Park, Louis Armstrong Center
nycxdesign presents 2023 design pavilion
From October 12th — 18th, NYCxDESIGN is set to unveil the annual Design Pavilion, continuing its tradition of showcasing immersive installations. While the 2022 pavilion took shape with design by CLB Architects, this year's edition of the Design Pavilion will showcase three innovative installations from diverse creative minds, exploring themes such as materiality, sustainability, social justice, and more. Among these installations, Bamboo Cloud and Public Display in the Meatpacking District's Gansevoort Plaza will serve as urban sanctuaries for pedestrians, offering temporary spaces for community engagement, meaningful dialogues, and personal contemplation. The third exhibit, titled I Was Here, will feature a digital art projection on the World Trade Center Podium, making a poignant statement about the nation's history of slavery and the wish for reconciliation with past wounds.
Bamboo Cloud and Public Display — Open 11am-9pm Daily, October 12-18, at Gansevoort Plaza
I Was Here — Open 7pm-9pm Daily, October 12-18, at The Podium at One World Trade Center
Stay tuned for an in-depth exploration of the three installations of this 2023 Design Pavilion during Archtober!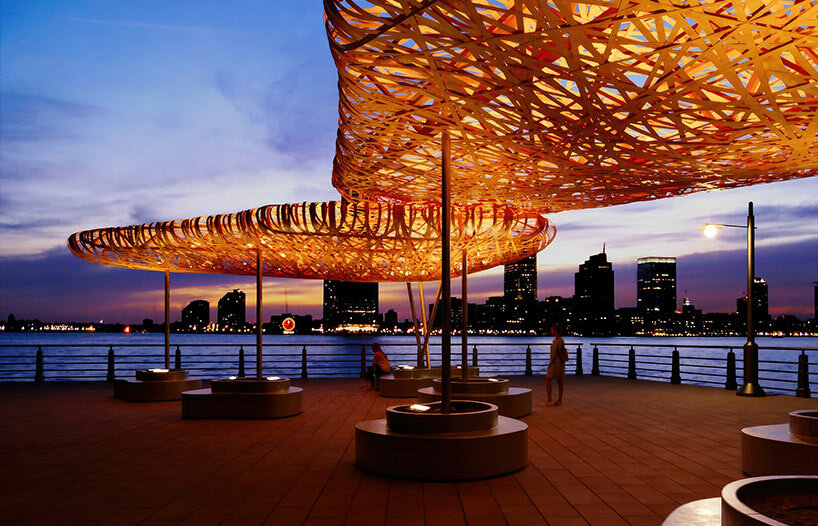 Bamboo Cloud, open October 12th — 18th at Gansevoort Plaza
Architecture & Design Film Festival
The Architecture & Design Film Festival is making its 15th annual debut in New York, offering design-minded New Yorkers the first opportunity to view a thoughtfully curated selection of films. These films cover a wide range of topics, including modernism, utopia, sustainability, and the role of women in architecture. Each screening will be joined by short films and discussions with filmmakers and leaders from the fields of design, architecture, real estate, and art. For the first time ever, the ADFF will be hosted at the iconic Village East by Angelika theater from October 12th through 14th before traveling to other North American cities including Toronto, Vancouver, and Chicago.
One notable screening will be the film 'Veins,' which follows the Portuguese marble along its journey to New York, and its installation into the facade of the recently finished Perelman Performing Arts Center at the World Trade Center (see designboom's coverage here). Viewers can look forward to an interactive Q&A session with Joshua Ramus, the lead architect and Founding Principal of REX. Visit the festival's website to explore the full film schedule and the lineup of speakers!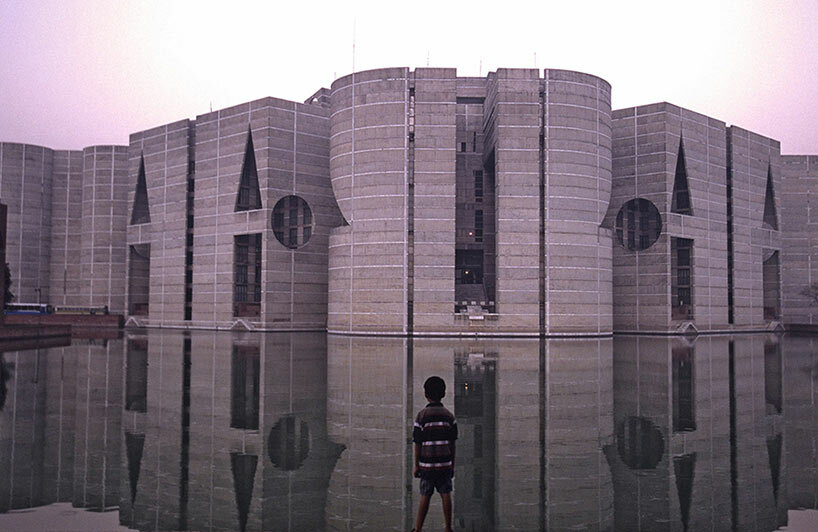 still from 'My Architect,' 2003, directed by Nathaniel Kahn
'Staging Future Worlds: The Architectural Visions of László Rajk' is a groundbreaking exhibition, co-curated by Andi Soos and Isi Litke, and hosted by Valerie Goodman Gallery. It showcases the unconventional and poetic architectural creations of Hungarian architect László Rajk (1949-2019). Rajk's body of work, which includes drawings, maquettes, set designs, installations, and essays, challenges traditional notions of architecture and the boundaries of the profession. Rooted in the neo-avant-garde movement, his work draws from Russian constructivism and reflects his political activism. The exhibition delves into the origins of Rajk's unique style, highlighting his connections to the Russian avant-garde and his exploration of visionary architecture through digital drawings in the 1980s. It places his work in the context of contemporaries in the Eastern Bloc who were also influenced by Constructivism and Suprematism.
The exhibition will be on view at the Valerie Goodman Gallery on 315 E 91st Street, New York, NY from October 6th until October 31st, 2023.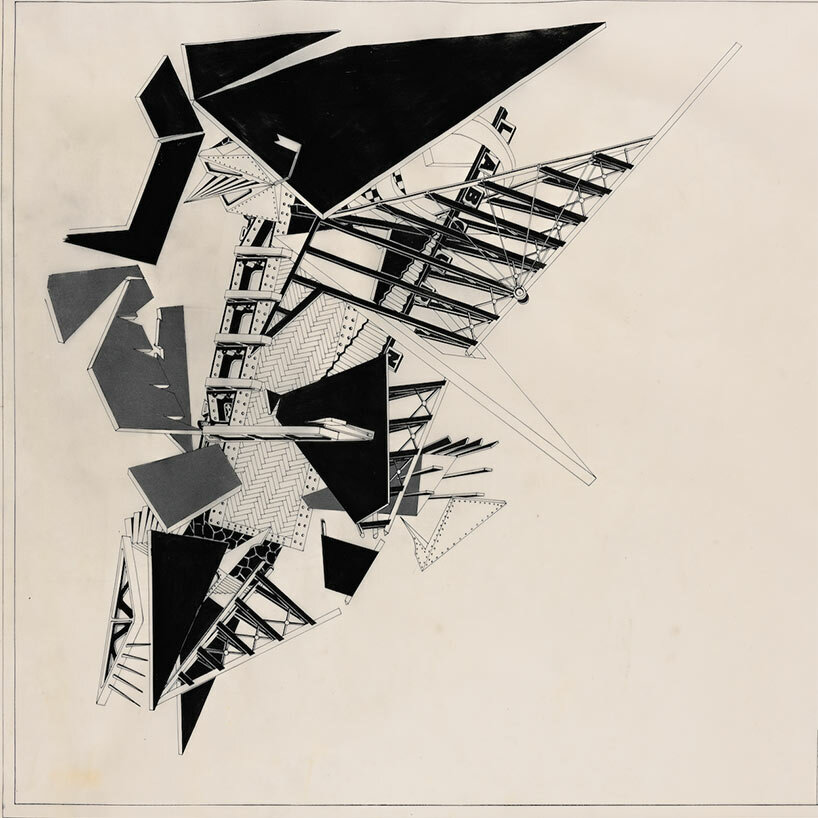 Gábor Bachman, Miklós Haraszti, György Konrád, László Rajk. Bulwark of Resistance: Striker's House. 1985
'Emerging Ecologies: Architecture and the Rise of Environmentalism' is an exhibition showcasing architects' projects in the United States from the 1930s to the 1990s that addressed ecological and environmental concerns. It includes over 150 works, using models, photos, diagrams, and sketches along with archival materials like posters and articles to present innovative and bold architectural projects that grappled with the relationship between built and natural environments.
The exhibition also features newly commissioned audio recordings by contemporary architects, including Mae-ling Lokko, Jeanne Gang, Meredith Gaglio, Charlotte Malterre-Barthes, Amy Chester, Carolyn Dry, and Emilio Ambasz, discussing how architects today can combat climate change. Ultimately, 'Emerging Ecologies' highlights projects from the past that predicted ecological challenges like overpopulation, resource depletion, and pollution, offering insights and solutions for the future. The exhibition will be on view at the Museum of Modern Art (MoMA) from September 17th, 2023 until January 20th, 2024.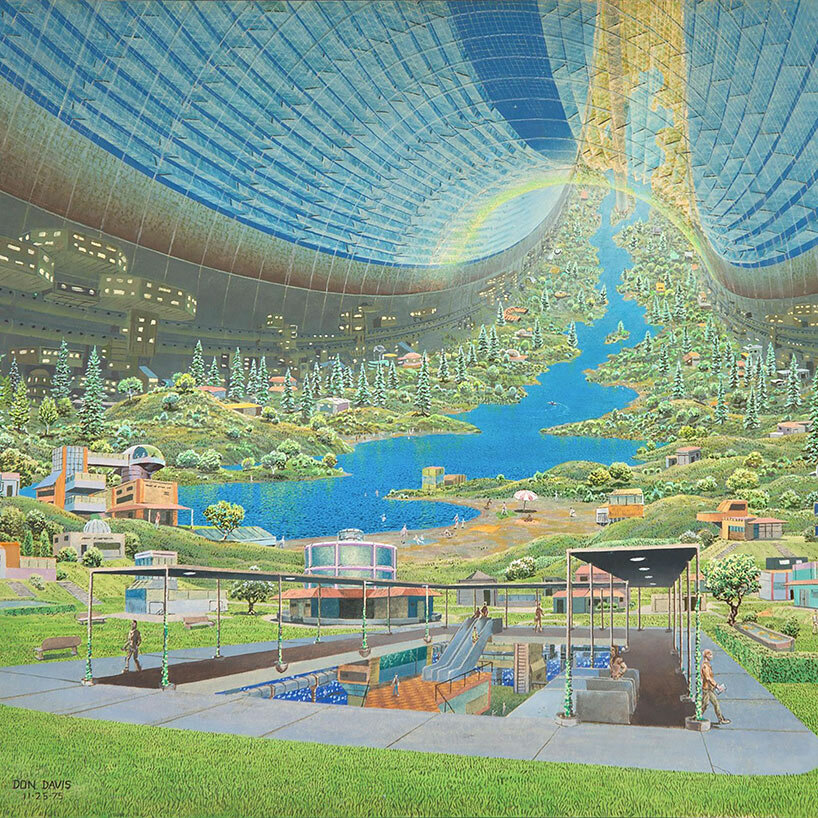 Don Davis. Stanford torus interior view. 1975. Acrylic on board, 17 × 22″ (43.1 × 55.9 cm). Commissioned by NASA for Richard D. Johnson and Charles Holbrow, eds., Space Settlements: A Design Study (Washington, DC: NASA Scientific and Technical Information Office, 1977). Illustration never used. Collection Don Davis
The upcoming 'T' Space exhibition will showcase the architectural drawings of Giuliano Fiorenzoli. Originally from Florence, the Italian architect collaborated with various innovative design studios in his home country before eventually becoming a tenured professor at Pratt Institute and practicing architecture in New York City. Fiorenzoli's early works played a pivotal role in the emergence of the Radical Architecture movement in Italy during the late 1960s and 70s. He co-founded ZZIGGURRAT, an atelier known for generating experimental proposals that challenged the prevailing rationalism and functionalism associated with 20th-century modernism. This curated collection of drawings and models will offer a glimpse into many of Fiorenzoli's most remarkable architectural achievements throughout his career.
The exhibition will be on view from October 15th through November 19th at a new extension of the Steven Holl-founded 'T' Space Archive building located at 60 Round Lake Road, Rhinebeck, New York — find tickets here.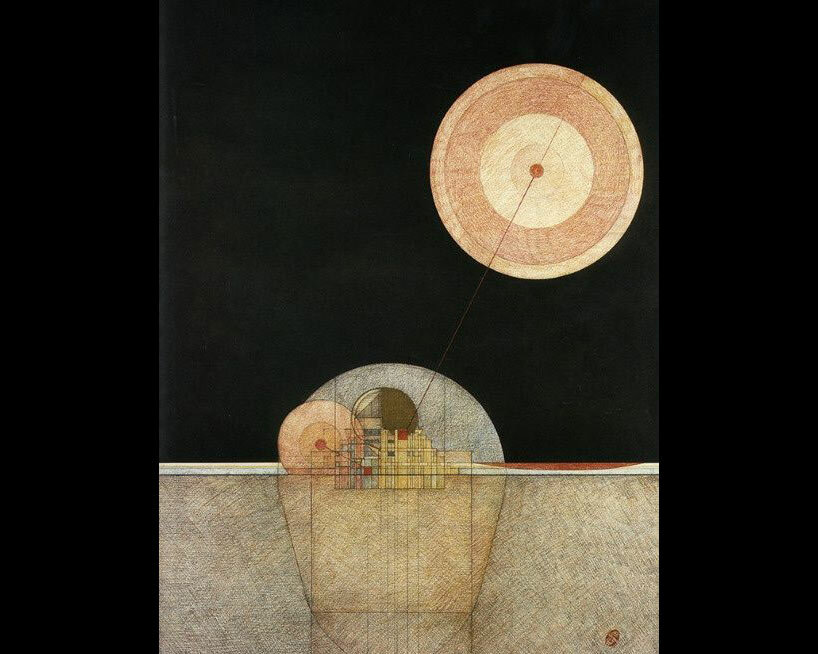 Giuliano Fiorenzoli, Image of the Home, 1978
'Ettore Spalletti: Parole di colore' has been curated for the new pavilion created by Fondazione Ettore Spalletti and Alberto Salvadori, in collaboration with architect Alberto Campo Baeza. Five works by Spalletti are showcased in an isotropic room constructed as a perfect cube. In this unique space, each wall is penetrated by a single square window. Positioned at varying heights and angles, these windows allow beams of light to enter the isotropic gallery in distinct ways, changing with each passing hour. The exhibition highlights three substantial monochromatic wall pieces, all created in 2009 using a special ritualistically layered coloring technique. These pieces are juxtaposed with a 2019-made sculpture consisting of a column constructed from a painted wooden frame, while an artwork from 1981 made of black lacquered wood is embedded into one of the walls.
The show will be on display at Magazzino Italian Art, 2700 Route 9 Cold Spring, New York from September 14th, 2023 until January 8th, 2024.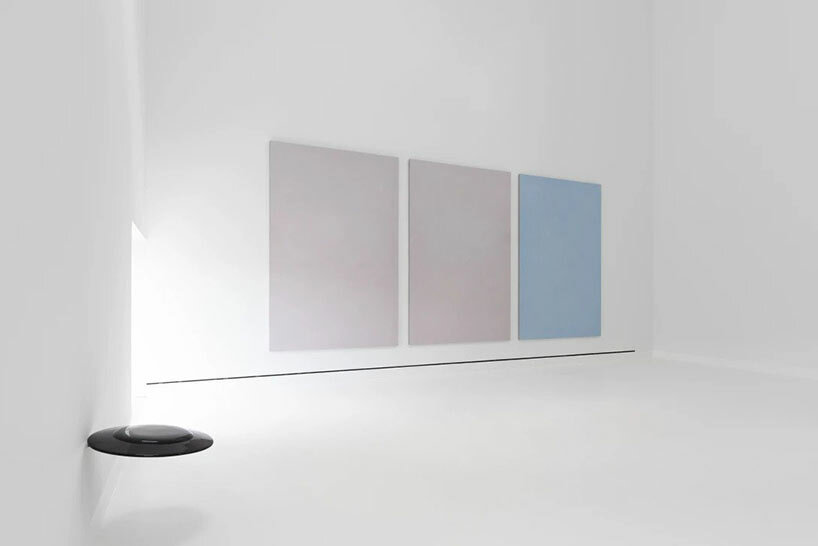 Ettore Spalletti: Parole di colore
The exhibition 'Generation Proxima' explores emerging environmental practices in Portuguese architecture, showcasing seven firms addressing environmental challenges while emphasizing community, social engagement, and resource efficiency. These architects use innovative ecological materials, construction methods, and climate justice considerations, ushering in a necessary environmental transformation, echoing Portugal's historical architectural principles. The exhibition is based on Pedro Gadanho's book, 'Climax Change! How Architecture Must Transform in the Age of Ecological Emergency,' which delves into the impact of the environmental crisis on architecture.
The exhibition is curated by Pedro Gadanho, with featured firms includingArtéria, Colectivo Warehouse, Gorvell, Nuno Pimenta, Oficina Pedrez, OODA, Ponto Atelier. Visit 'Generation Proxima' at the Center for Architecture at 536 LaGuardia Place, New York, NY from October 2nd, 2023 until April 23rd, 2024.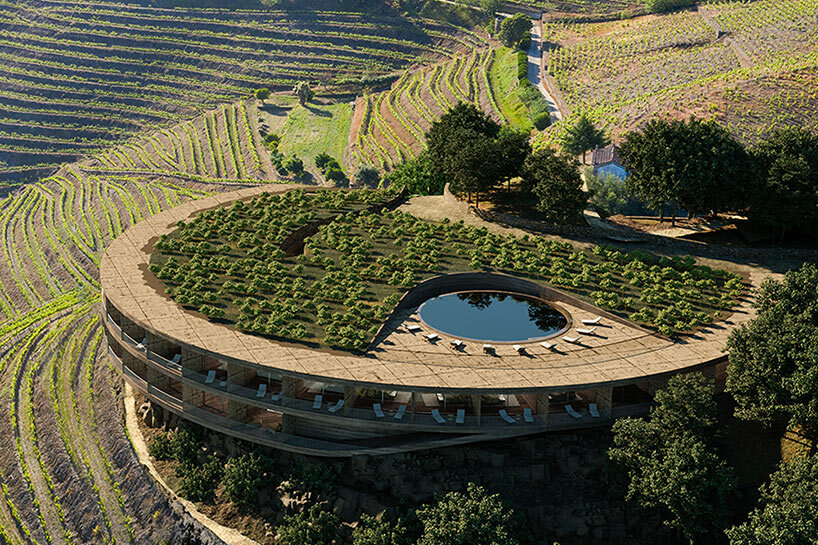 Douro Hotel & Winery, OODA Architecture. Image Credit: Fusão
The Indigenous Society of Architecture, Planning, and Design (ISAPD) is the parent organization of the former Indigenous Scholars of Architecture, Planning, and Design at Yale. This program, a part of the Alignments in the Indigenous Design Process series, is a collaboration between the Center for Architecture + Archtober. It explores how Indigenous people have historically designed structures harmonizing with nature and the cosmos, emphasizing our interconnectedness with the environment. The series showcases various design methods incorporating natural and artificial elements into Indigenous spatial design.
Nonhuman Futures (Part I, 10/03): Suzanne Kite, a performance artist, visual artist, and composer, discusses the spatial relationships between humans and non-human entities in her installation and design work.
An Otomí Leader and Indigenous Reclamation (Part II, 10/17): This lecture tells the story of a young Otomí leader's resistance against the Mexican government, who transformed a previously assimilationist building into a hub for Indigenous communities. It highlights the importance of recognizing spaces of resistance in architectural history and their role in empowering Indigenous voices. Speaker: Tania Gutiérrez-Monroy, Assistant Professor at the University of British Columbia.
Indigenous Architecture Days: To Leave and Return (Part III, 10/25): Examining the history of the Mount Pleasant Indian Industrial Boarding School on Saginaw Chippewa Indian Tribe land, this lecture explores efforts to repurpose the site with Anishinaabe cultural practices. Slow Built Studio has collaborated with the Tribe to create a living memorial and space for Indigenous life, art, and language. Speaker: Christian Hart Nakarado, Assistant Professor at Wesleyan University; Founder of Slow Built Studio.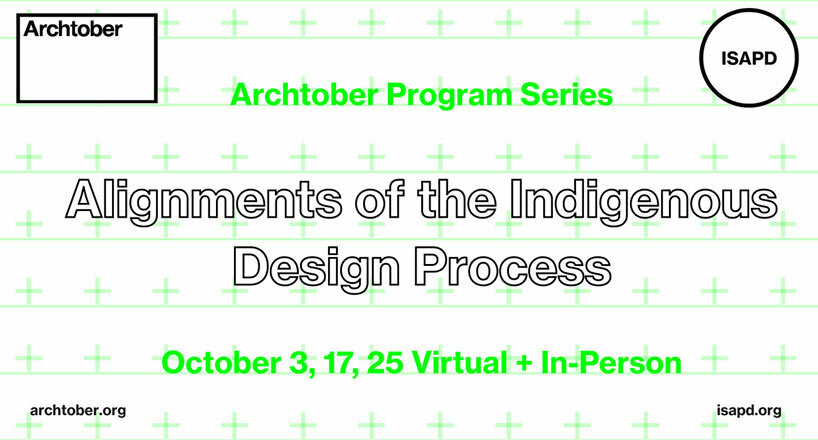 Created with a focus on those who are visually impaired or have limited vision, this guide employs the voices of New Yorkers and uses precise and evocative language to depict the dramatic architecture of the Frank Lloyd Wright-designed museum and the sensory journey of navigating it. The narration for this guide is provided by actors Marilee Talkington, BD Wong, Bobby Cannavale, Jeremy Pope, Maggie Gyllenhaal, alongside Bishop Chantel Wright, yoga instructor Azuri Jenkins, and Guggenheim staff member Karen Bergman. It was conceived as a special offering to the city of New York.
While listeners can find the sensory guide on Guggenheim's website, it is also accessible through the Guggenheim's Digital Guide, part of the Bloomberg Connects app, which can be downloaded on the Apple App Store or Google Play Store.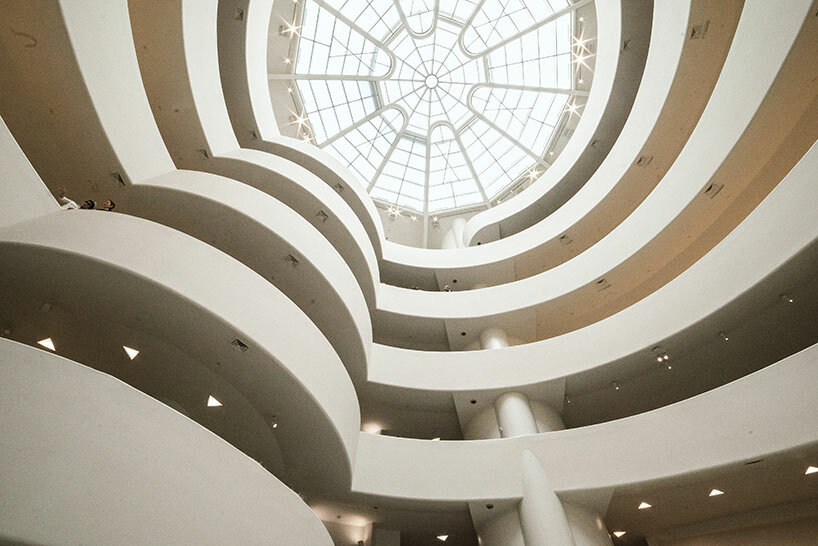 image © David Emrich
Also on view at the Center for Architecture, Janna Ireland's photography exhibition, 'Architectural Legacy of Paul Revere Williams in Nevada,' highlights the significant role played by architect Paul R. Williams (1894-1980) in Nevada's architectural history. Williams, the first licensed African American architect in the western U.S. and the inaugural Black member of the American Institute of Architects, earned the moniker 'Architect to the Stars' for clients like Frank Sinatra and Cary Grant. Despite his renown for iconic Los Angeles structures like the Beverly Hills Hotel and LAX Airport, his contributions in Nevada often go unnoticed. In 2017, 40 years after his death, he became the first Black recipient of the AIA Gold Medal.
Janna Ireland's involvement began in 2016 when she was invited by architect Barbara Bestor, Executive Director of the Julius Shulman Institute in Los Angeles, to photograph Williams' Southern California designs. Unlike conventional architectural photography, Ireland's photos focus on unique architectural elements and the viewer's experience. In 2021, she was named a Peter E. Pool Research Fellow at the Center for Art + Environment at the Nevada Museum of Art, supporting her study of Williams' work in Nevada, including residences, commercial properties, and religious institutions.
This exhibition is on view at the Center for Architecture at 536 LaGuardia Place, New York, NY and was organized by the Nevada Museum of Art.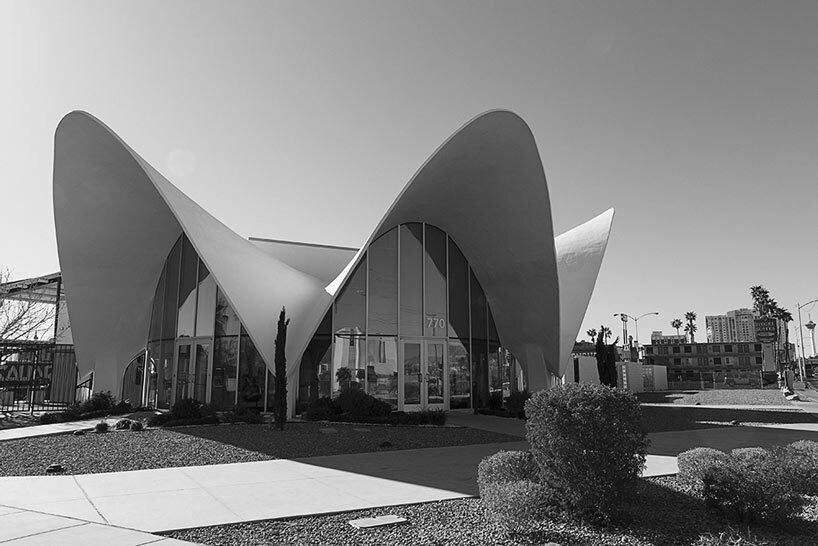 Janna Ireland, Paul Revere Williams' La Concha Motel, Las Vegas, Nevada, 1961, 2022, pigment print. Photo: Courtesy of the artist, with permission from The Neon Museum, Las Vegas
KEEP UP WITH OUR DAILY AND WEEKLY NEWSLETTERS
a diverse digital database that acts as a valuable guide in gaining insight and information about a product directly from the manufacturer, and serves as a rich reference point in developing a project or scheme.
designboom will always be there for you
milan, new york, beijing, tokyo

,
since 1999