the revolutionary lumiflex floor from the german manufacturer ASB glassfloor transforms floor and wall surfaces of any size into heavy-duty, multifunctional monitors, and with them opens up new aesthetic and communicative avenues.
it was in 1965 that horst babinsky founded an interior design company to present his vision of modular aluminium system components (ASB) to the world. it wasn't long before architects and interior designers were queuing up for his new product 'trelement', and a few years later he developed the eponymous ASB method for the construction of buildings. ASB would also become known and ultimately become a world market leader in squash, through its revolutionary developments and innovations, such as the first ASB systemcourt, sliding side walls and one-way vision glass walls for squash courts.
today, his son christof babinsky runs their innovative, medium-sized company and is currently in the process of conquering the world of architecture with ASB glassfloor, a further development of his father's invention. roughly ten years after the market launch of ASB glassfloor, a new dimension in glass flooring has appeared before our eyes: ASB lumiflex turns the entire floor into a multifunctional monitor – an enormous advertising space, a training partner with live tracking system, an extraordinary shopping experience or the solution to your individual architectural project.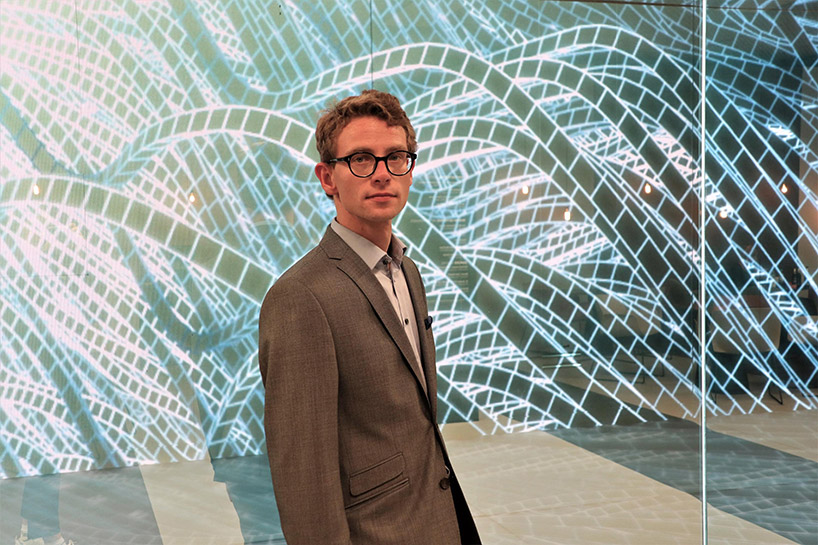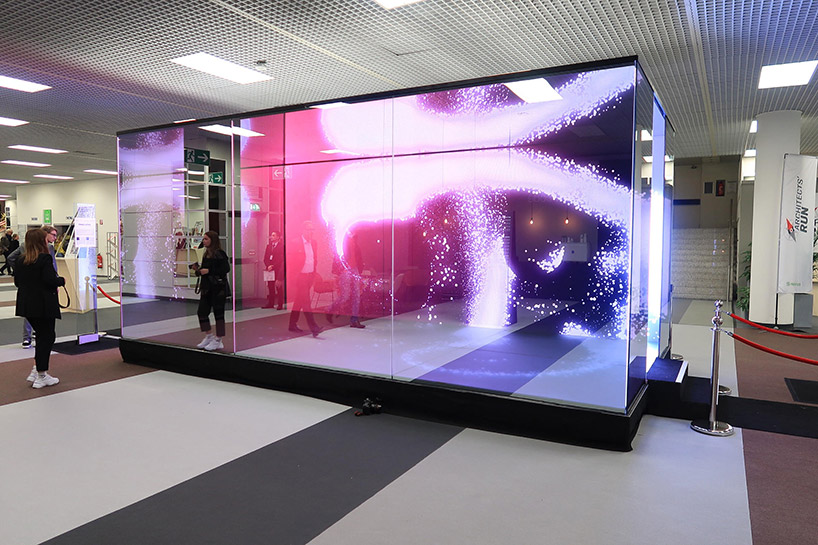 more than just a floor. ASB glassfloor also has a name in the art scene. the deeplumen installation by managing director christof babinsky (above) in cooperation with the artist marc gumpinger is an example of the range of services offered by lumiflex
up to now, the floor beneath our feet has been a neglected medium in terms of content presentation. with the lumiflex glass floor from ASB, companies, event or trade fair organisers now have an eye-catching tool with which they can open up a completely new presentation area. the extremely robust and easy-care glass floor, equipped with an LED video surface, is perfectly suited to turn sports events, trade fairs or events into multimedia experiences – and it is also available as a rental solution. perfection goes deep into the details: the pre-configured elements can be dismantled into individual modules, assembled, dismantled and transported or permanently installed for individual architectural solutions. the system is immediately ready for use via plug & play, and the floor quickly becomes a multifunctional monitor for any type of content, such as commercials or training units. the ASB glassfloor is so robust that it is also ideal for outdoor use – a great advantage for any event organiser.
events however are not the only domain where ASB lumiflex's shows it powers. in the area of retail, plein sport became the first to fit out several of its fashion stores with the ASB lumiflex video floor. since then, the shopping experience is accompanied not just by this new visual experience, but also a feeling of comfort underfoot, an additional benefit offered by lumiflex's elastic floor. so no signs of fatigue then; neither from the customers who feel themselves as on a catwalk, nor from the video floor itself which feels the touch of easily millions of footsteps everyday.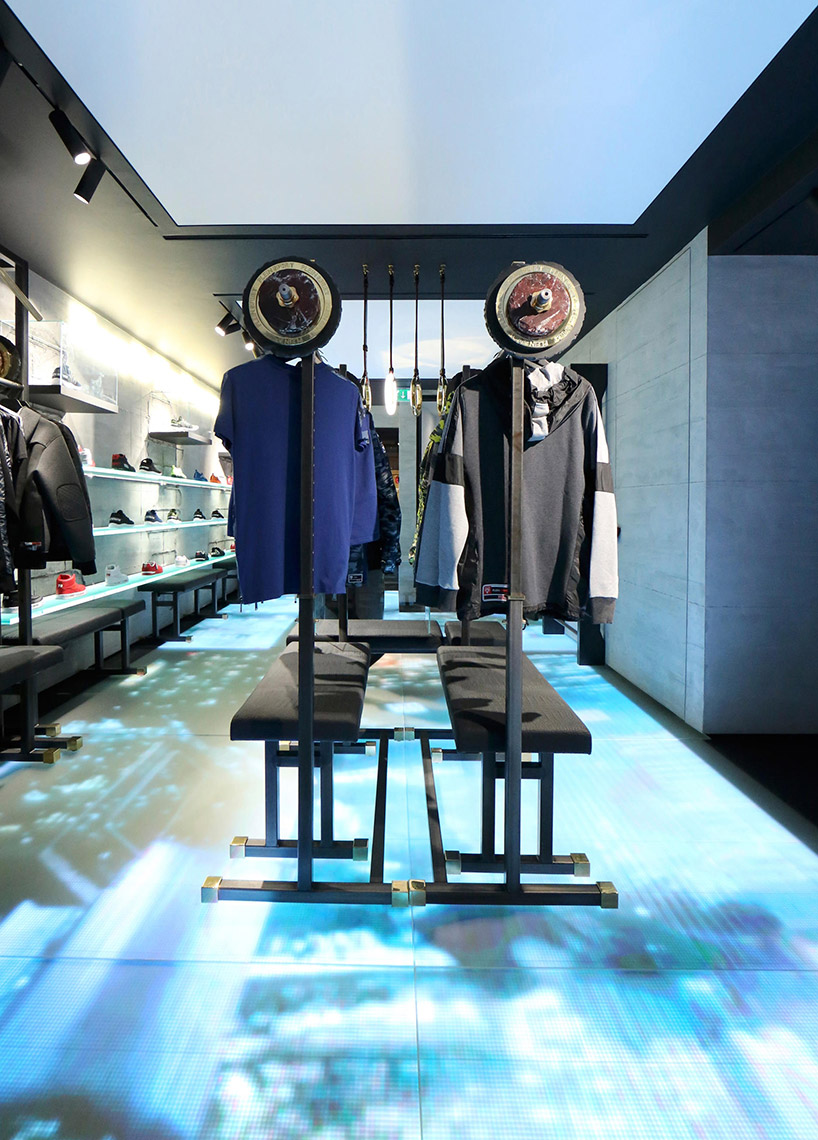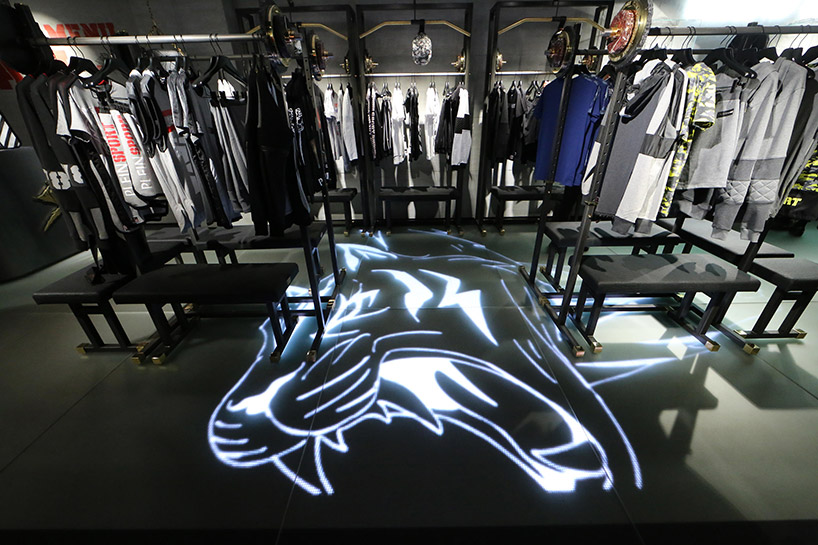 every step of the way. shopping today is much more than just shopping. fashion labels like plein sport rely on the magic of ASB glassfloor's lumiflex in their brand stores, which lets visitors float above the ground
employees and visitors to the new microsoft campus in dublin are welcomed in a very special and eye-catching way. a digital lake with a digital waterfall consisting of thousands of LEDs gives this spacious atrium a futuristic touch. the imaginary water surface is made of patented glass, equipped with LED video elements that harmonize harmoniously with the architecture of RKD Architects.
in the course of the realization of the lake – in an 80 square metre area of the atrium of this star-shaped building, ASB glassfloor was also asked to consider a solution for a four-storey 'waterfall'. this represented a great challenge, where not only their expertise, but also the spirit of innovation came to the fore once again: the falling water effect was created by laser projection across a vertical space of almost four and a half metres using a transparent balustrade. this unique art installation, achieved using innovative technology, creates a major wow effect and offers the company exciting options for events and presentations.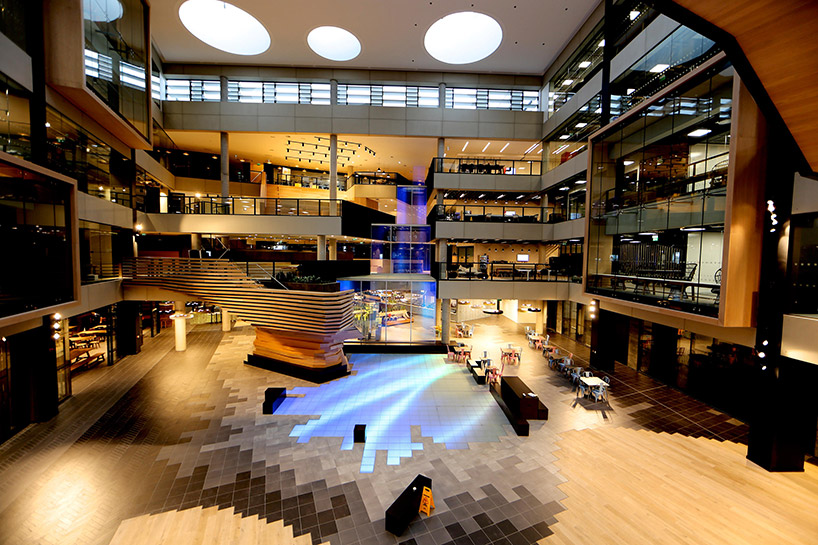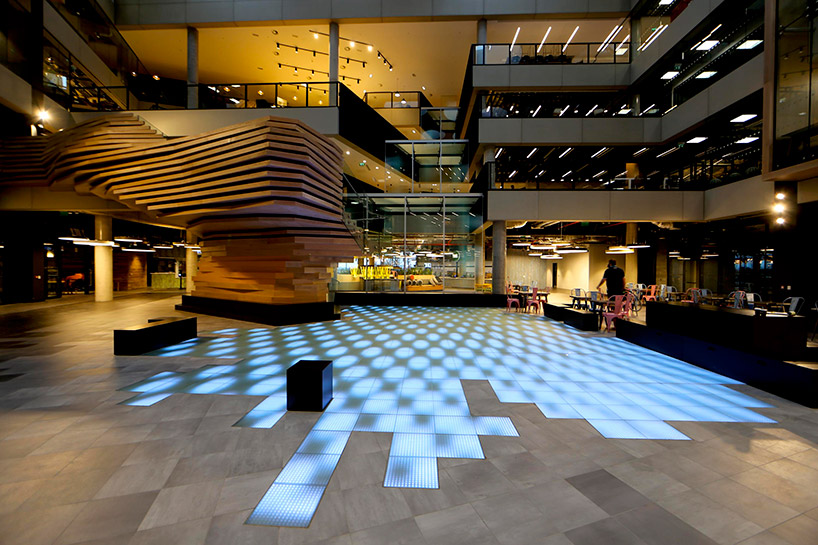 eye-catching. in the atrium of the microsoft campus in dublin, you can't help but be amazed: a digital waterfall plunges down over four floors into a digital lake – a masterful accomplishment by ASB glassfloor
ASB lumiflex's cooperation with the french company pooloop allows it to showcase yet another of its potential applications, namely in swimming pools, fountains, saunas, turkish baths and spa areas. whether it's video clips or just photos, one thing is for sure: even in strong sunlight, your images will perfectly visible. the exclusive, patented glass system from ASB glassfloor thus allows for a very special swimming experience, as well as a wide range of design options for the interior and exterior fittings of all swimming and wellness areas.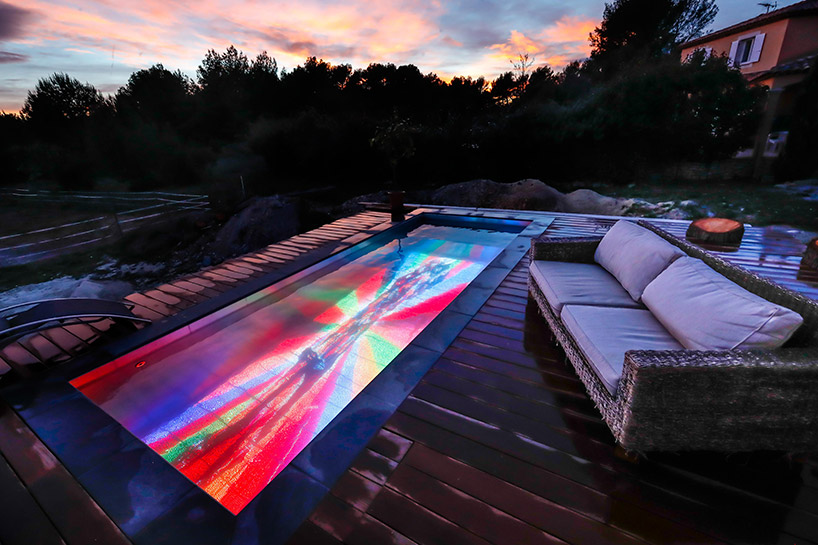 cool at the pool. even in the water, ASB lumiflex stays afloat. in collaboration with pooloop, this incredible video floor is ready to go in the wet too – anywhere from the pool to the steam bath
guest feature by barbara jahn-rösel / architonic
jun 03, 2020
jun 03, 2020
jun 02, 2020
jun 02, 2020
jun 02, 2020
jun 02, 2020
jun 01, 2020
jun 01, 2020
jun 01, 2020
jun 01, 2020
a diverse digital database that acts as a valuable guide in gaining insight and information about a product directly from the manufacturer, and serves as a rich reference point in developing a project or scheme.