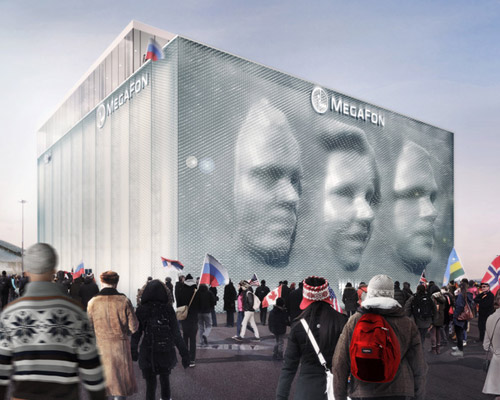 jan 12, 2014
asif khan gives a new megaface to the sochi winter olympics
'megaface' by asif khan and iart, sochi, russia
image courtesy of asif khan
the 2014 winter olympic games in sochi will find itself home to russian telecom operator megafon's mechanical 'mount-rushmore' of a pavilion staring at curious audiences from around the world. designed by london-based architect asif khan, the unique and highly technical facade will be displaying, in 3d, a constantly morphing portraits of actual spectators' faces, with a technology developed by iart. essentially scaling up the same concept as one of the pintoys that were made popular in the 90's, the kinetic interactive wall combines modern design and state-of-the-art processes to create a spectacle unlike any seen before. megaface is capable of displaying three blown-up impressions at a time, each six by eight meters, with 10,000 telescopic cylinders arranged in a trigonal pattern that can reach a depth of 2 meters. each pin contains an rgb LED light at the end that will illuminate through the thin veil draped over the entire facade. each face will be displayed for 20 seconds, displaying an estimated 170,000 faces during the games so if you would like to stare at an eight-meter reflection of yourself it's as easy as visiting one of iart's digital photo booths set up around the structure.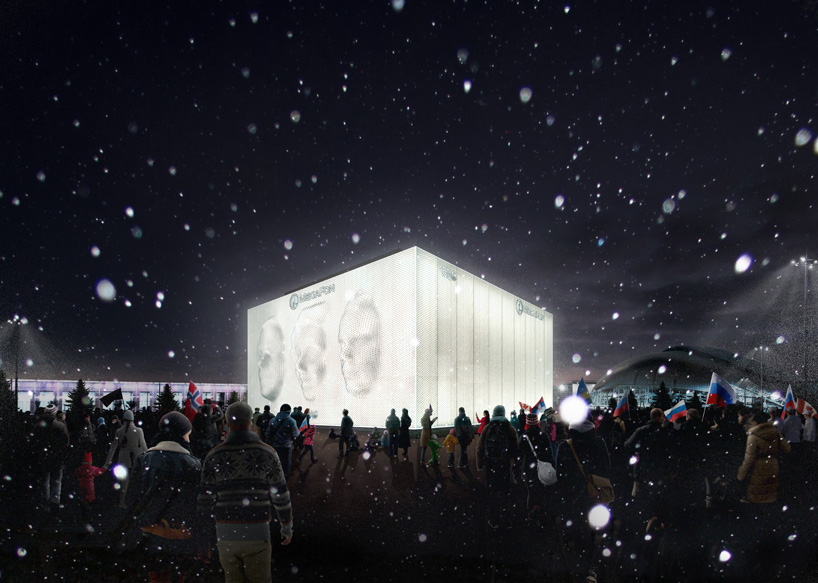 night view rendering
image courtesy of asif khan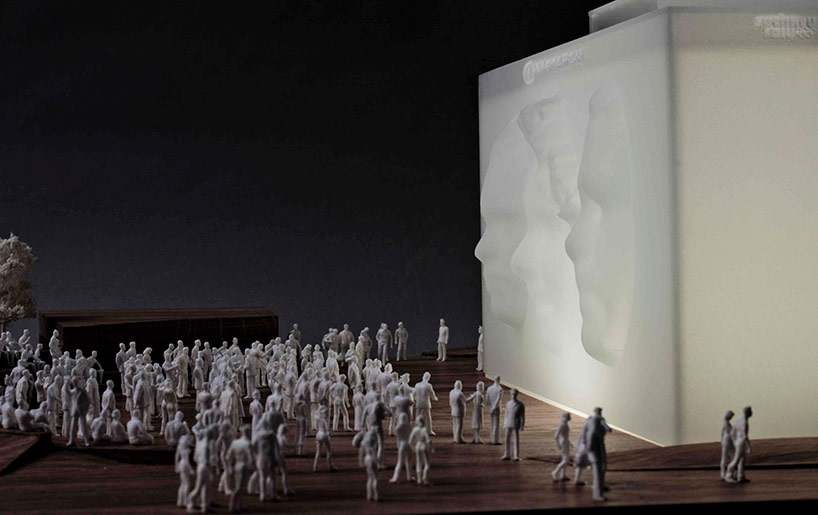 model
image © iart
ceo of iart valentin spiess talks about the process of developing the new technology and applying it to a revolutionary design:
how did this project come about?
'in december 2012 asif khan called to tell me about an architectural competition for the russian telecom operator megafon for the winter olympic games in sochi. asif had the idea of a facade capable of displaying human faces and asked if i would help. it sounded like an exciting challenge, so of course i agreed. only afterwards it became clear that the facade was supposed to show faces in the third dimension, thus had to be able to change shape and to do so approximately every fifteen seconds! a real challenge.'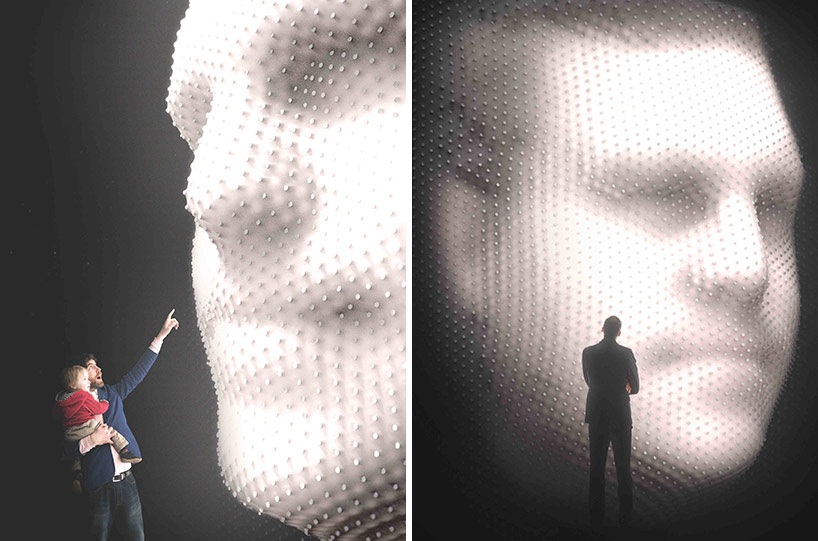 image © iart
the actuators are arranged in a trigonal pattern. why?
'we have examined how organic forms – in our case the human face – can best be displayed with only a reduced amount of pixels. an orthogonal system would be obvious, as it is used for monitors or computer screens. this is advantageous in particular for i art displaying geometric forms such as lines or fonts. however, in the area of a three dimensional modelling of organic forms a trigonal structure is more suitable, because it makes three-dimensional forms appear natural and flowing even with only a small amount of pixels.'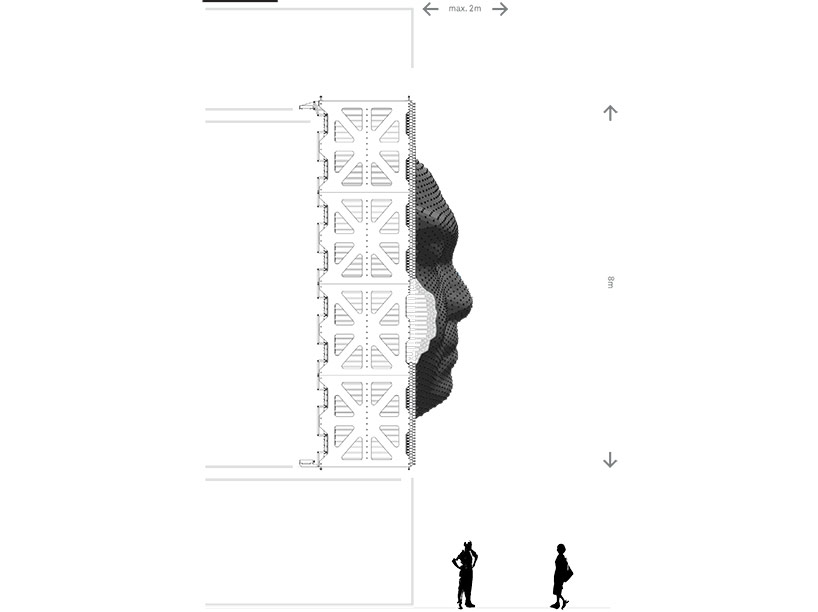 section
image © iart
after winning the competition, you only had one year to finish the façade. how were you able to realise the project in such a short amount of time?
'time was a challenge from the very beginning. we had a tough time management and were lucky that our customer shared an understanding of the complexity of such a project and was prepared to go along with all the necessary steps. in addition, we implemented our agile work method that minimised risks with short work steps, yet at the same time fostered creative and innovative processes and interdisciplinary collaboration. it allowed us to anticipate problems and risks more easily, but also to include new ideas at any point in time. this approach made it possible for us to cope with the complexity of the project and to realise it in the available time.'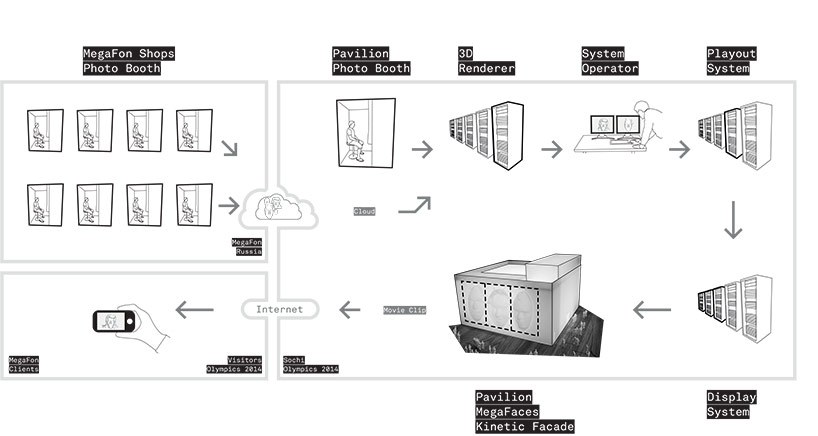 entire system
image © iart
how did you respond to the difficulty that the client could not imagine how the finished project would look like?
'there was a regular exchange between the architect asif khan, the client and us to advance the design process together. moreover, based on our design drafts we generated good, accurate and physically correct simulations and mock-ups to make i art sure that our ideas could be realised. very early in the process we built 3d models that simulated faces and the changing display in real time, for example to solve the question of the resolution. we also built a 1:1 mock-up of a face, which was static, but demonstrated the original size of a face. it was a very elaborate model, yet it gave the client the necessary feeling of security that we were going in the right direction.'
project info:
client: megafon
opening: 7 february 2014
project partners: asif khan, axis winter
exhibition duration: winter olympics 7–23 february 2014; paralympics 7-16 march 2014
project duration links: 1 year
jul 23, 2020
jul 23, 2020
feb 10, 2020
feb 10, 2020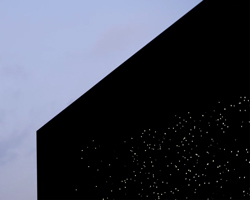 feb 07, 2018
feb 07, 2018
nov 23, 2017
nov 23, 2017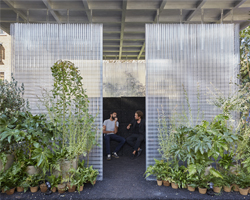 oct 13, 2016
oct 13, 2016
sep 15, 2016
sep 15, 2016
feb 06, 2014
feb 06, 2014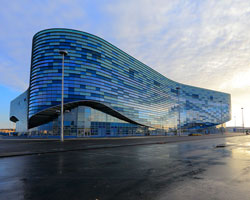 feb 04, 2014
feb 04, 2014
jan 31, 2014
jan 31, 2014
a diverse digital database that acts as a valuable guide in gaining insight and information about a product directly from the manufacturer, and serves as a rich reference point in developing a project or scheme.