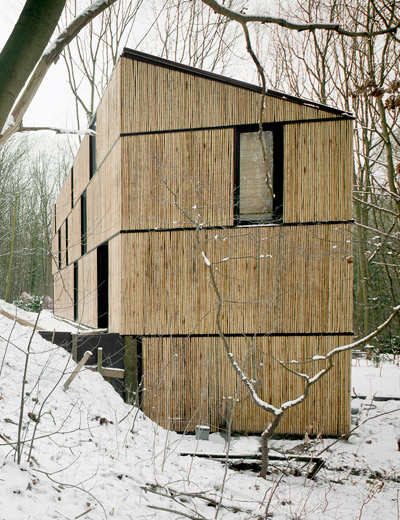 dec 20, 2012
bamboo clad house in rotselaar by AST 77
'house in rotselaar' by AST 77, rotselaar, belgium image © steven massart all images courtesy of AST 77
designboom first published the 'house in rotselaar' by belgian practice AST 77 on august 19th, 2012, and has since received images of the completed interior which we are featuring in this article (see original publication here). the updated project uses simple color treatments and exposed oriented strand board (OSB) panels to add character to the spaces and cut down on the amount of excess material. the stepped sequence of levels are visually connected through a diagonal sight-line, making the interior feel much larger than it is while still maintaining individual programmatic elements.
the dwelling is nestled within a forested plot in rotselaar, belgium. the 26.3 meter long by 4.5 meter wide footprint is an open volume which navigates
a steep grade. the exterior is clad with bamboo poles framed with black steel structural elements. the facade treatment attempts to recede into the
context of tree trunks. strategically placed windows offer outward views and increase the passive solar gain, ventilation and natural daylight levels.
taking the place of a previously existing bungalow and extension, the architects recycled the retaining wall in the hillside to inform the direction of the house,
rather than orienting it towards the street as would be traditionally done. the residence heralds almost all possible strategies to comply with low-energy standards.
rain catchment on the roof transports the water to the basement level which contains filtration and recycling equipment and the heat pump.
radiant floor heating and ample use of insulation and ventilation along with locally-sourced unfinished materials adds to the sustainable nature of the project.
a walkthrough of the house and some brief words from the architect (audio in belgian)
video © AST 77
image © steven massart
image © steven massart
image © steven massart
image © steven massart
image © steven massart
images © steven massart
images © steven massart
images © steven massart
original interiorimage © steven massart
original kitchenimage © steven massart
original living roomimage © steven massart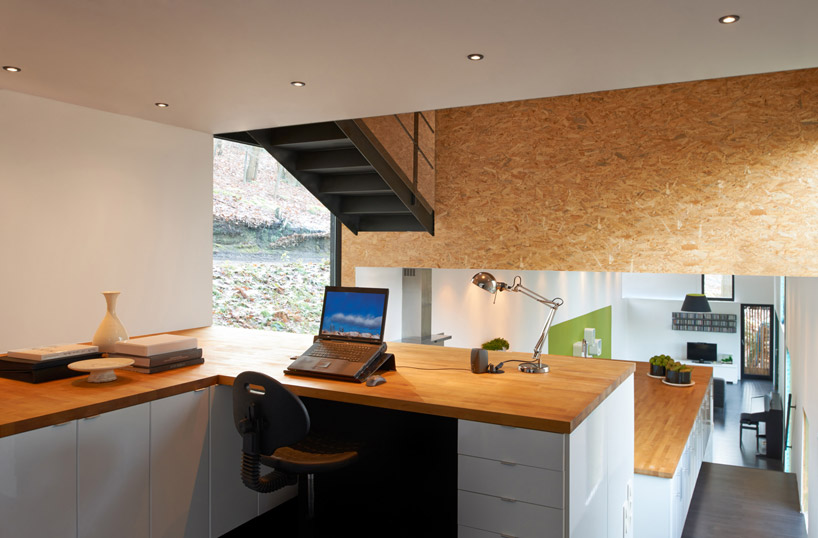 stepped interior contains the work area above the kitchen overlooking the living roomimage © steven massart
(left) work desk(right) kitchen areaimage © steven massart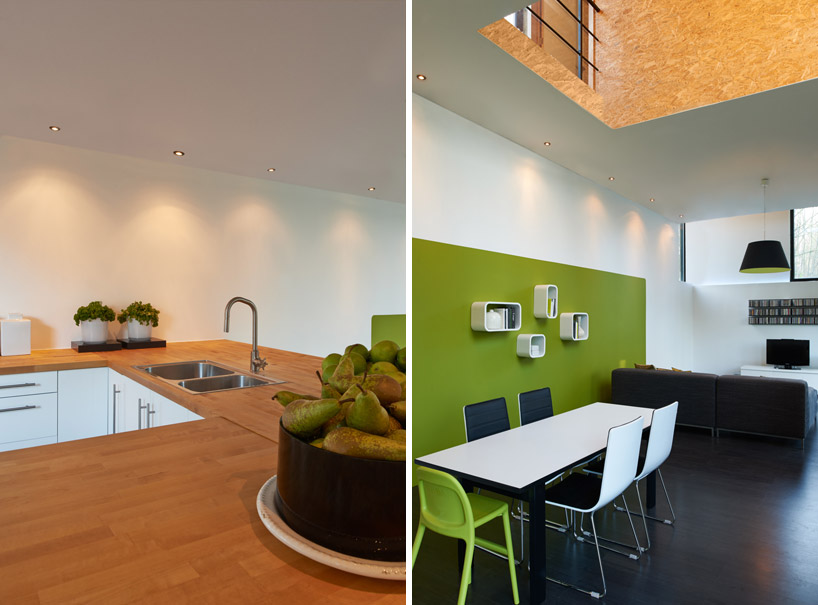 (left) kitchen counter(right) dining areaimage © steven massart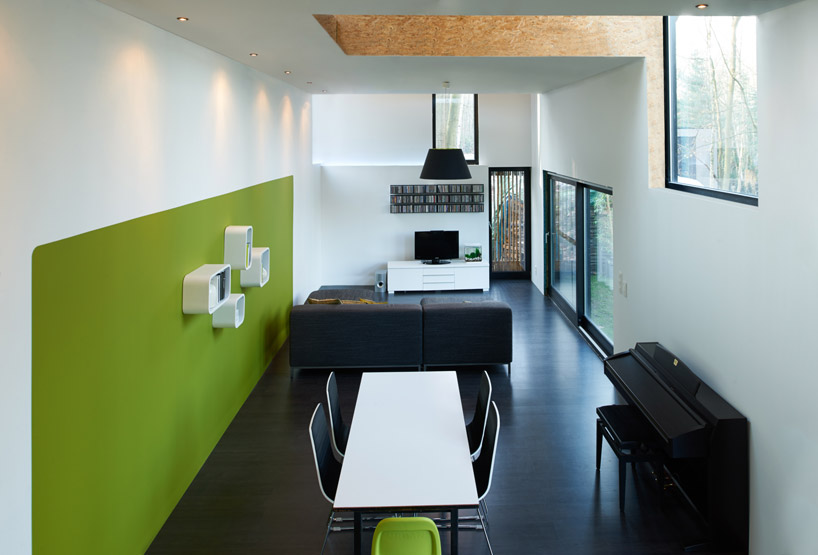 dining and living roomimage © steven massart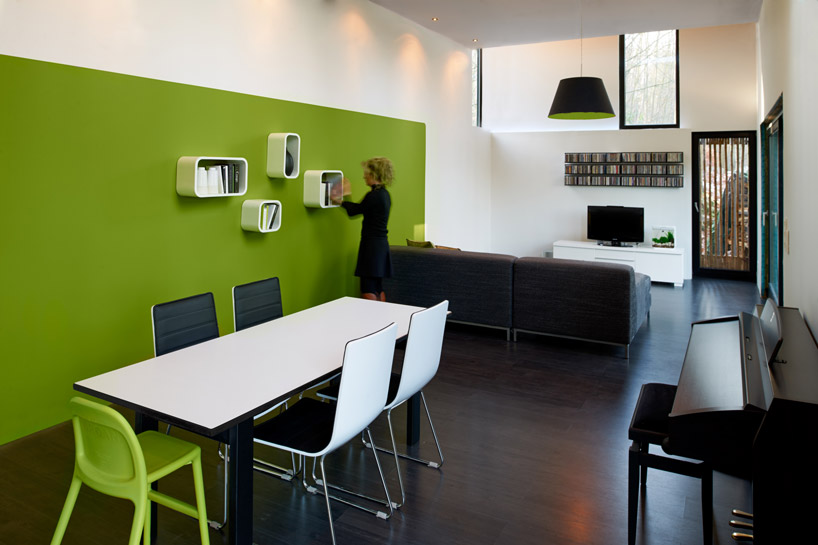 use of color and simple furnishings add character to the spaceimage © steven massart
living room areaimage © steven massart
wall shelvingimage © steven massart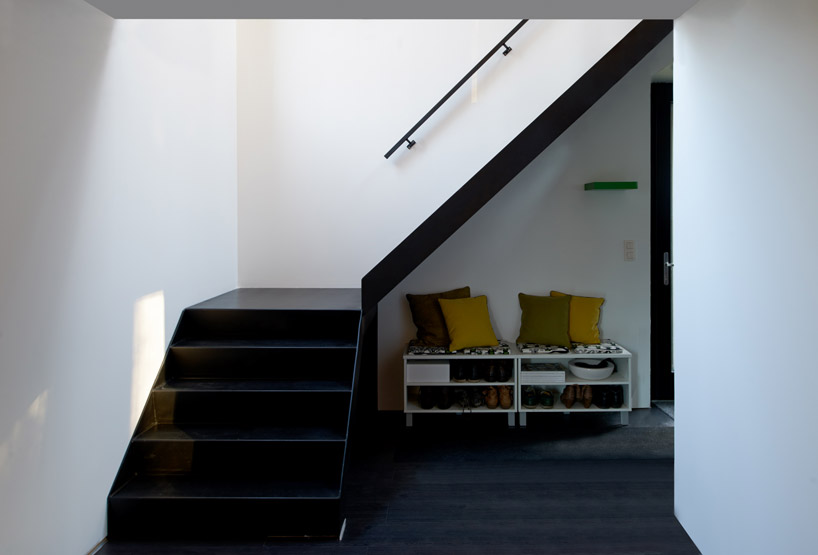 stairs to the second levelimage © steven massart
oriented strand board interior with exposed systems reduce material use and wasteimage © steven massart
elevation
elevation
elevation
elevation
project info:
description: low energy bamboo housename client: thijs – peetersconstruction year: 2010 – 2011surface area: 1060 m2built area: 118 m2living surface: 260 m2energy level: e 40materials: timber frame constructionwalls: bamboo – bamboe fencingwindows: wooden – kwadro – 1,0 wm²kroof: steel plated – finn roofheating: floor heating – climasolutionsheat pump: daikinarchitect: arch.- ing. peter van impeengineer: arch.- ing. peter van impe, ir. arch. bart gullentopssafety coordinator: 2b-safeenergy consultant: 2b-safecontractors: kris hermans, bamboo fencing, climasolutions, carl deckers, makke dakwerken, kwadro ramen, dirk andries fremosia parket, toca