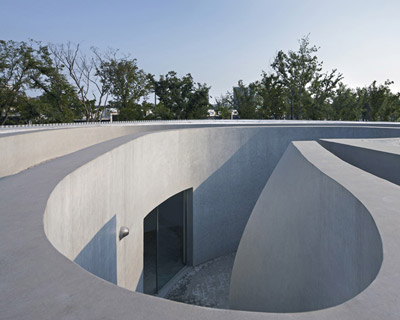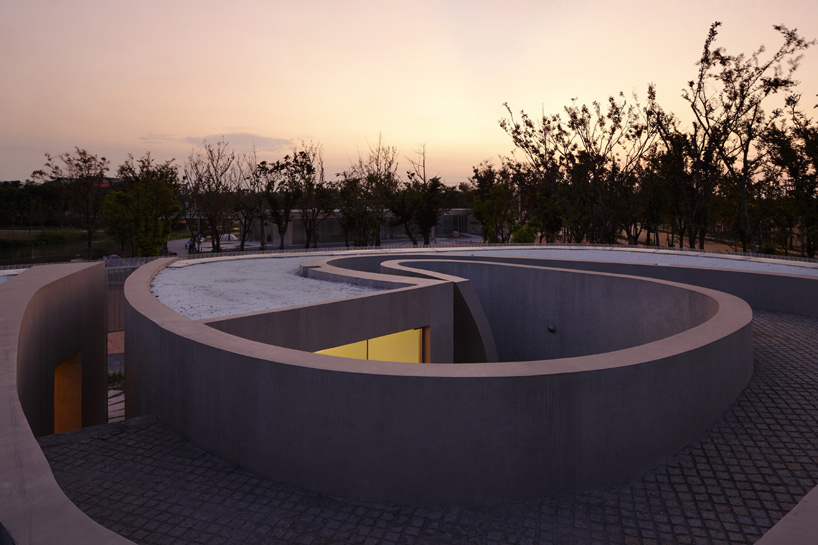 feb 17, 2013
atelier deshaus: spiral galleries in shanghai
'spiral gallery I+II' by atelier deshaus, shanghai, chinaimage © shu heiall images courtesy of atelier deshaus
the 'spiral galleries', designed by chinese firm atelier deshaus, are bisected by a threshold of circulation. reflecting the principles of the yin and yang, the opposing pavilions exhibit unique characteristics that provide different experiences and still hold a strong communication with each other.
the 'spiral gallery I,' located further inland is composed of two spiraling concrete ribbons resting on the ground plane delineating a sequence that compresses and opens the space, bringing the visitor into an introspective environment protected by the curving walls. from the site, the structure seems a simple form, flat and solid, sitting heavily on the site. the user is brought to the roof plane, where the plan below is immediately made clear as they make their way across the helical contours until a series of stone steps submerges them into the central courtyard, slicing cyclical pathways of negative space into the mass.
bird's eye view of both galleriesimage © yao li
the interior functions – kitchen, gallery area, studio, mechanical room, bathroom, and storage area – are organized in the positive space, wrapping around the exterior path of circulation bringing the visitor to unravel their journey to the very point where they started. radially-designed wooden ceiling purlins mark the rhythm of passage, extending sight lines out towards the outer transparent facade and the surrounding landscape.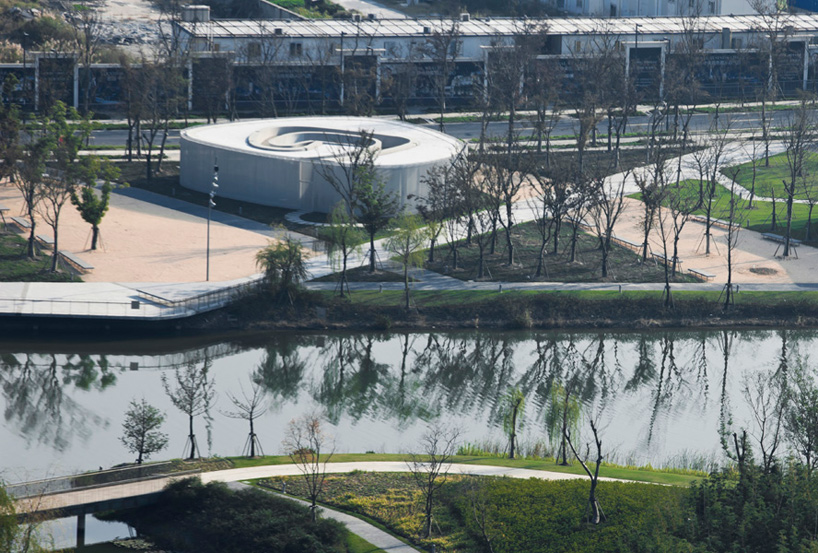 bird's eye view of spiral gallery Iimage © yao li
'spiral gallery II' creates a more extroverted ambiance. where the first gallery is about the journey into a solid mass, the second is about an open structure elevated into the air, displaying its character from the exterior. a glass display is rested upon a concrete base slightly below grade. the user is first brought down into a half-subterranean courtyard that penetrates to the center of the pavilion so that the enclosed structure wraps around it. a series of open and closed spaces are experienced in cycles as the user is forced to weave in and out of the gallery. the section below ground contains a glass wall exposing the lower floor to the central courtyard, with a solid concrete wall concealing the second storey. the exact inverse occurs on the program above ground, as the outer envelope is entirely made of transparent glass and thin columns allowing views over the site, and the interior wall facing the courtyard becomes solid.
approach on a natural pebble path in a wooded areaimage © zhang siye
image © yao li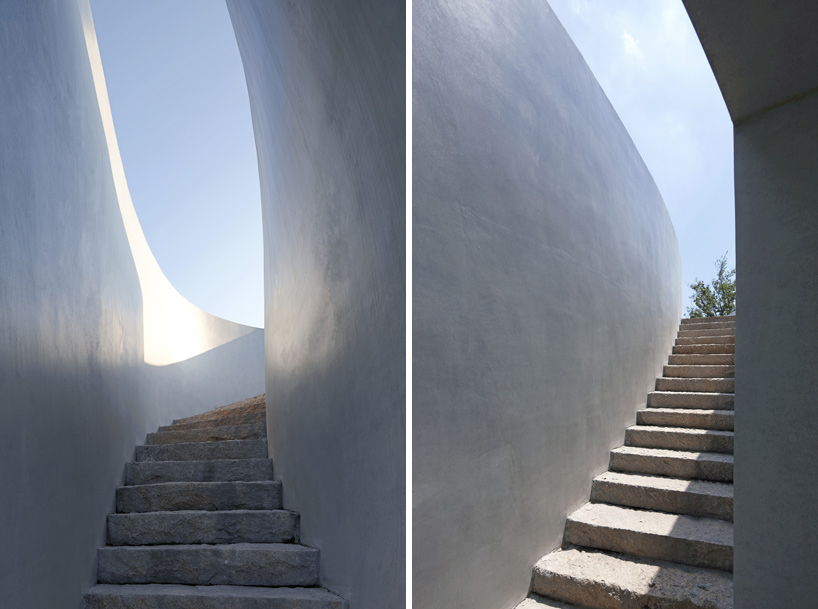 stone stairs leading to the rooftopimages © shu he
thick vertical walls curve fluidly around the siteimage © shu he
view into the courtyard from the rooftop walkwayimage © shu he
bending concrete wall compresses space before opening to the courtyardleft image © shu heright image © yao li
(left) view into the internal spaceimage © pan lingfei(right) view from the internal spaceimage © yao li
entrance into the gallery space from the center of the projectimage © yao li
gallery space screened by thin louversimage © shu he
view of spiral gallery II from the waterimage © su shengliang
image © shu he
image © shu he
view from the walkwayimage © shu he
exterior stairs leading to the central courtyardimage © shu he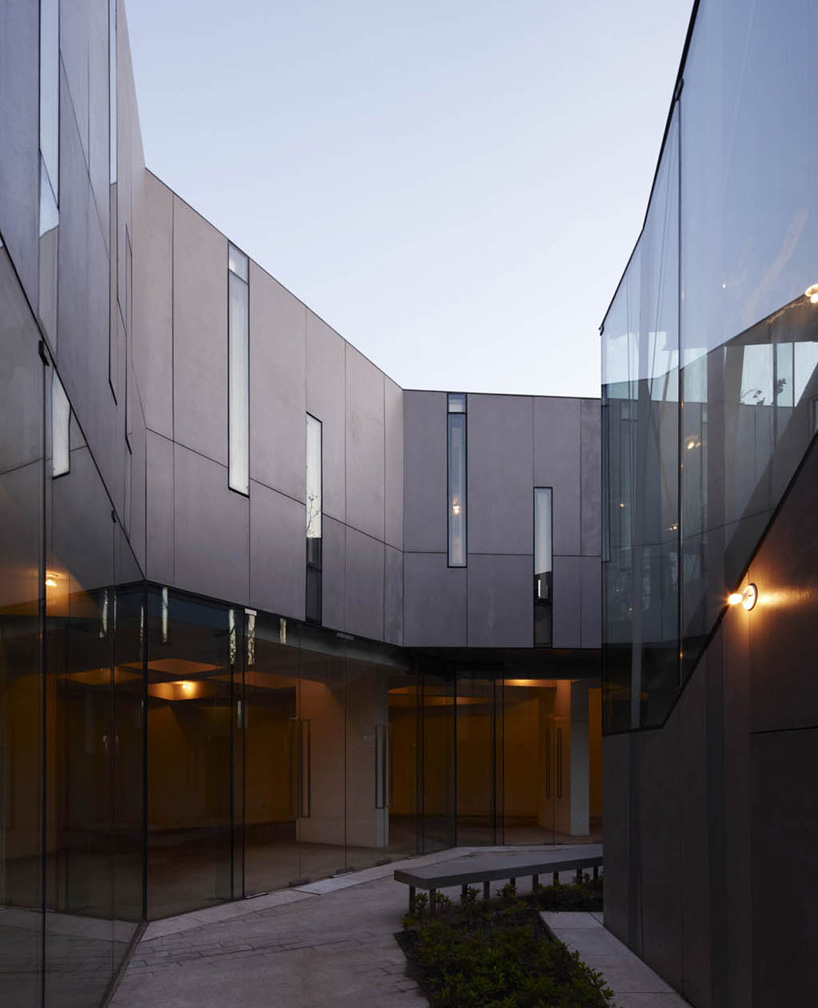 internal courtyardimage © shu he
upper galleryimage © su shengliang
internal stairs to the upstairs gallery spaceimage © su shengliang
site plan
floor plan / level +1 : spiral gallery I
roof purlins : spiral gallery I
section: spiral gallery I
section: spiral gallery I
axonometric view : spiral gallery I
floor plan / level 0 : spiral gallery II
floor plan / level +1 : spiral gallery II
section: spiral gallery II
aug 19, 2017
aug 19, 2017
aug 17, 2017
aug 17, 2017
aug 12, 2017
aug 12, 2017
jan 17, 2017
jan 17, 2017
aug 10, 2016
aug 10, 2016
jul 04, 2016
jul 04, 2016