feb 20, 2016
austin maynard architects expands melbourne terrace with light-filled 'alfred' addition
austin maynard architects expands melbourne terrace with light-filled 'alfred' addition
all images by tess kelly
in melbourne, austin maynard architects has completed 'alfred house', the reconfiguration of an existing two-storey terrace that previously had little relationship with its context. the plot backs onto a wide alley, a common configuration in many australian suburbs. these areas have traditionally been considered problematic, owing to concerns regarding privacy. however, the architects decided to embrace the laneway, building on the boundary and opening the rear doors in order to extend the property and allow light and air to enter.

the internal layout was reconfigured to include an internal garden and living accommodation
a lean-to roof was removed, with the layout reconfigured to include an internal garden, a kitchen, living space, a bathroom, and a garage for the client's prized motorbike. a mezzanine level also contains a small office. 'rather than placing the addition directly on the rear of the house, we moved it back to the boundary laneway,' explain the architects. 'in doing so we essentially turned the dodgy little lightwell that you find in most terrace houses, into an entire garden. with a backyard you have to choose to go outside, whereas here you don't have to make that decision, the walls easily fold away to activate the space in a more natural way.'

the kitchen is articulated around an internal courtyard
in comparison to the laneway, the internal floor level has been dropped to a depth of 600 millimeters. this results in more generously proportioned living spaces, and also serves to reduce the height of the building. more subtle details have also been considered, such as the way the kitchen doors come together without the use of a central column, and the use of perforated steel to filter daylight. other features add bold splashes of color, such as the street art by order 55 which adorns the original rear façade.

doors come together without the use of a central column
from an environmental standpoint, north-facing glass and a perforated metal awning enables passive solar gain. all windows are double glazed with thermal separated frames. a large water tank has been buried within the courtyard, and all roof water is captured and reused for flushing toilets and irrigation. white roofs reduce urban heat sink, while the building's partial submersion reduces surface area and stabilizes the internal temperature.

street art by order 55 adorns the original rear façade

the garden as been internalized, flooding the extension with natural daylight

the canary yellow bathroom at the rear of the extension

the internal floor level has been lowered to a depth of 600 millimeters

a mezzanine level contains a small office

the rear doors that border the laneway have been opened in order to extend the property

see more projects by austin maynard architects on designboom here
project info:
architect: 
austin maynard architects
project team: andrew maynard, mark austin
site / floor area: 142 sqm site / 155 sqm floor area
completed: december 2015
builder: TCM building group
engineer: hive engineering
landscape architects: bush projects
artist (wall mural): seb humphreys – order 55
planning consultant: hansen partnership
building surveyor: code compliance
photography: tess kelly, fraser marsden
aug 11, 2017
aug 11, 2017
jul 07, 2017
jul 07, 2017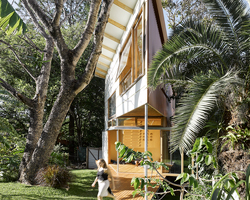 jun 28, 2017
jun 28, 2017
aug 11, 2017
aug 11, 2017
apr 10, 2017
apr 10, 2017
feb 06, 2017
feb 06, 2017