in melbourne, australia, austin maynard architects has completed an adaptable multi-generational home clad with patterns of slate. the brief called for a dwelling that the client's family could live in for at least 25 years — adapting to their children's requirements and accommodating the family's grandparents in the near future. the client asked for a practical low maintenance house, surrounded by gardens and water features.

all images by peter bennetts
in order to prevent the relatively large home from dominating the street, austin maynard architects deliberately broke down the project's mass. named 'charles', the house is formed from a series of connected volumes, each clad in their own slate pattern. 'two sections of these forms are lined with bridges and ponds that run out to the garden,' explain the architects. 'the external slate cladding flows through inside in certain areas, which reinforces the separation further.'

the adaptable multi-generational home is a series of connected volumes
local building regulations stated that any new home be clad with stone. in response, the design team sought to reference some of the neighborhood's historic residences. 'we loved the lichen covered slate roofs on many of these old edwardian, federation and victorian homes and were keen to respond to and connect with this rich material history, without copying or creating a pastiche of the past,' says austin maynard architects. all of the patterns used on the various façades are patterns recommended by contractors who previously worked on some of melbourne's most important heritage buildings.

each part of the dwelling is clad with different patterns of slate
internally, the home has been designed to be as flexible as possible. at ground level, the living room can become a student den — or even an apartment for a grandparent, with its own bathroom and wheelchair access. upstairs, the children's bedrooms open up to each other, onto hallways, as well as the living area including the study. all spaces can be opened up or isolated according to their functional requirements.

local building regulations stated that any new home be clad with stone
reinforcing the sense of openness found throughout the design, all living spaces receive direct sunlight. rethinking the suburban backyard, the garden runs from the street to a school sports field at the rear of the site, creating a continuous green strip. from an environmental perspective, the dwelling's sustainability features include: double stud walls, bulk insulation, solar array, water collection, double glazing, and adjustable sun shading.

the house is surrounded by gardens and water features

internally, the home has been designed to be as flexible as possible

a visible void is created between two of the volumes

the use of slate is also continued internally

carefully positioned windows ensure both daylight and privacy

the dwelling's sustainability features include water collection and adjustable sun shading

'charles house' is located in melbourne's upmarket suburb of kew
project info:
architect: austin maynard architects
project team:
 andrew maynard, mark austin, kathryne houchin
site area: 720 sqm
floor area: 348 sqm
builder: overend constructions
engineer: hive consultants
garden furniture: tait
landscape designers: bush projects
slate contractors: slate roof service company melbourne
photographer: peter bennetts
Save
aug 11, 2017
aug 11, 2017
jul 07, 2017
jul 07, 2017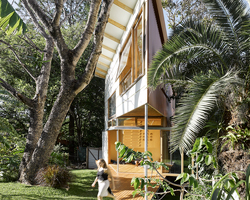 jun 28, 2017
jun 28, 2017
aug 11, 2017
aug 11, 2017
feb 06, 2017
feb 06, 2017
feb 20, 2016
feb 20, 2016