in order to provide ocean views, austin maynard architects has added an elevated dwelling to a small beach house in australia. located in the seaside town of lorne, victoria, the clients desired sweeping vistas, without damaging their current building. the answer was 'dorman house', a finely crafted timber box, independently constructed over the existing property. the new structure will naturally weather over time, becoming a more coherent part of the landscape.

all images by peter bennetts
austin maynard architects positioned the elevated extension on top of industrial-looking posts and beams. the new dwelling comprises a kitchen, dining, and living room, all accessed via a spiral staircase. carefully detailed throughout, the interior of the addition is lined with silvertop ash and responds to the coastal region's seasonal changes throughout the day. importantly, the space avoids visually dominating the original shack.

beneath the new living space, a usable area is created without adding mass
beneath the new living space, a usable area is created without adding mass. 'we have lined the space with polycarbonate, to allow an abundance of filtered light to fill the room,' explain the architects. 'though the old kitchen was transformed into a second bathroom and laundry, the original beach house remains mostly unchanged. it was tidied up and repainted so that the charm and character of the post-war shack was retained.'

the new structure provides sweeping ocean views
from environmental standpoint, most of the glass faces north, while all windows are double glazed with thermally separated frames. meanwhile, the old timber decking was recycled and re-used internally. a large water tank is used to flush toilets and water the garden.

a spiral staircase leads to the elevated extension
however, according to the architects, the most sustainable factor was retaining the existing shack. 'it is irrelevant how sustainable you make a new house if you knock down an existing structure,' says the team. 'even if you have a 9 star home, the carbon debt in the demolished house takes many decades to repay.'

the interior of the addition is lined with silvertop ash

the dwelling comprises a kitchen, dining, and living room

polycarbonate allows an abundance of filtered light to enter the downstairs room

the residence is located in the seaside town of lorne, victoria

the original beach house remains mostly unchanged

most of the glass faces north, while all windows are double glazed

the dwelling is sited on top of industrial-looking posts and beams
project info:
architect: austin maynard architects
project team:
 andrew maynard, mark austin, natalie miles
site area: 484 sqm
existing: 67 sqm
addition: 59 sqm (35 sqm ground + 24 sqm first)
total area: 126 sqm
completion date: december 2015
builder: spence construction
engineer: robin bliem & associates
photography: peter bennetts
Save
Save
Save
Save
Save
Save
Save
Save
Save
Save
aug 11, 2017
aug 11, 2017
jul 07, 2017
jul 07, 2017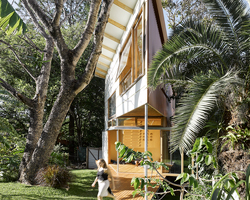 jun 28, 2017
jun 28, 2017
aug 11, 2017
aug 11, 2017
apr 10, 2017
apr 10, 2017
feb 20, 2016
feb 20, 2016