the rapidly developing hernesaari quarter of helsinki has recently inaugurated a public sauna along the finnish coastline, titled loyly and designed by local studio avanto architects. the project spearheads the reactivation of the formerly industrial zone as one of the first structures completed within a larger urban plan aimed to accommodate increased tourism and community facilities. having passed through several clients and design phases, the sauna reinforces one of the country's longest standing traditions within a structure that interprets its function with contemporary design. a restaurant, terrace, and rooftop deck/amphitheater accompany the sauna to provide programmatic versatility.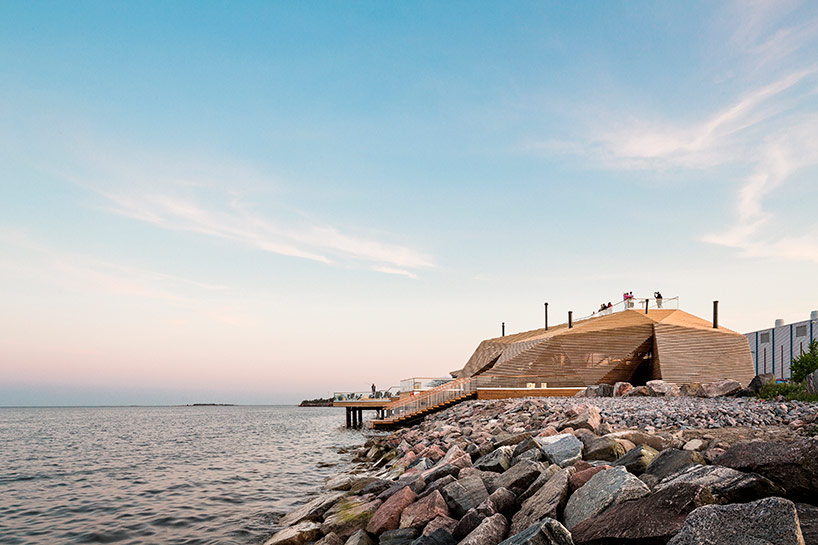 the sauna keeps a low profile along the coastline
image © kuvio
in keeping with local materials and traditions, wood has taken center stage in the avanto architects' design. the overall envelope is composed of faceted triangular planes created from the careful milling of over 4,000 pinewood planks forming a sort of large scale venetian blind screening system. chipping away at the unused corners of what would otherwise be a typical cubic form allows the shape to grow gradually out of the ground, minimizing its visual disturbance on the surrounding city/sea-scape. the contoured facade also transitions into deeper steps that form stairs and an outdoor amphitheater on the rooftop, serving as structural cover, circulation, and gathering space.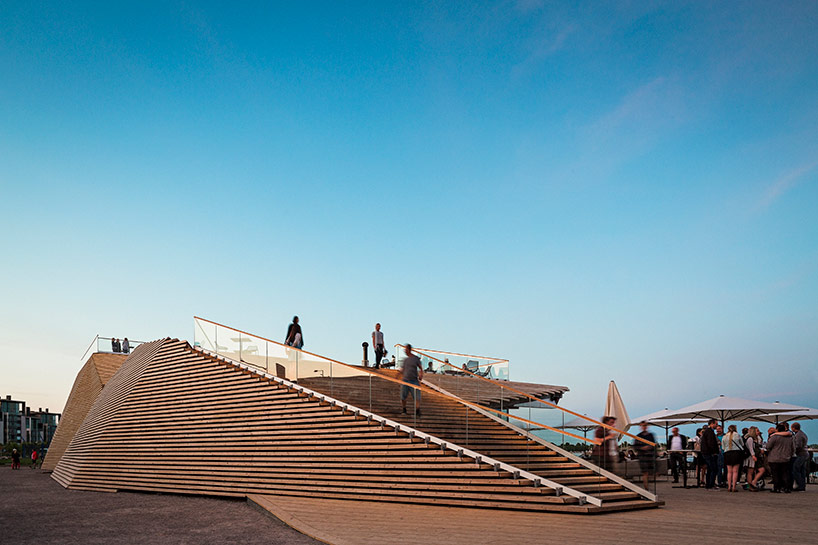 the faceted construction extends onto the ground forming stairs and gathering spaces
image © kuvio
the outer screen is structurally independent of the interior spaces, supported by a steel structure integrating brackets to hold each individual timber plank. within the louvered wooden shell charred pinewood buildings with glass walls provide acclimatized spaces for the saunas. the two structural systems provide privacy without obstructing views and help create a filter for direct sunlight and control interior temperatures. a palette of rich textures and dark colors make up the interior architecture, fostering a relaxing and warm environment. dark concrete, light birch wood, and charred pine comprise the men's, women's, and shared bathing facilities. the exterior wooden skin screens the bathers from the exterior while still allowing views onto the ocean.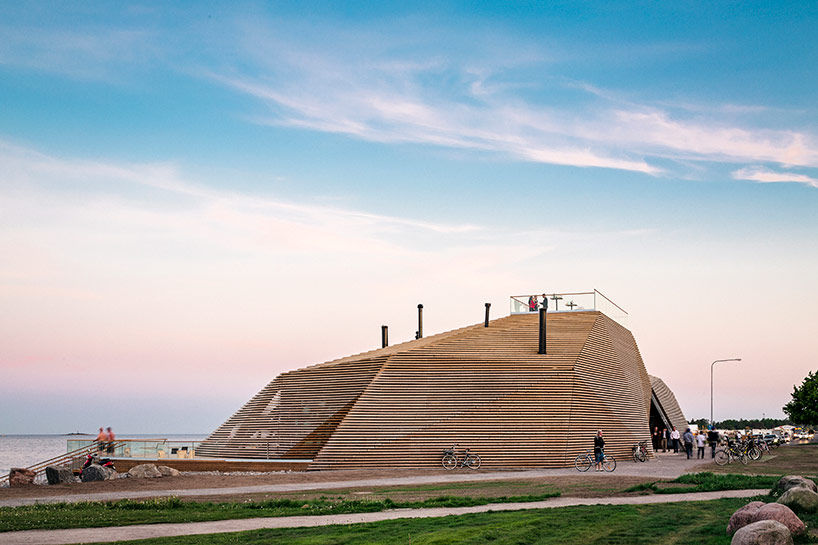 the wooden structure fits into the finnish cityscape
image © kuvio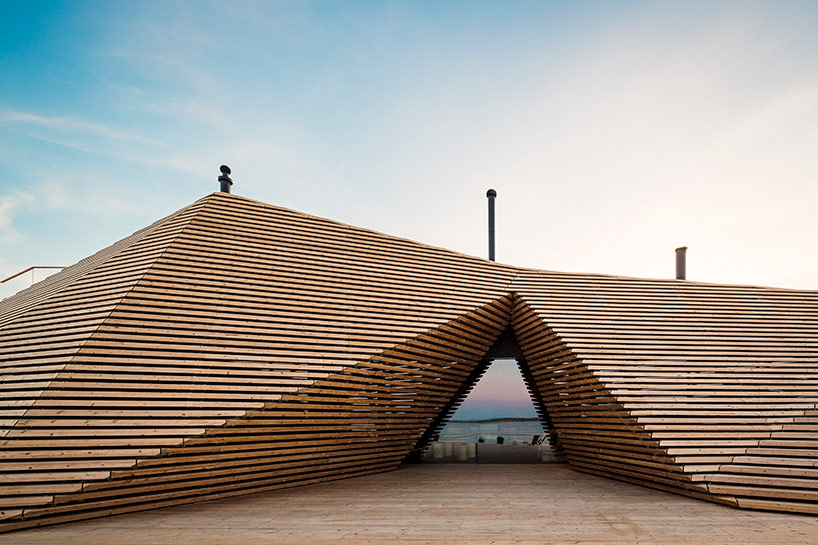 image © kuvio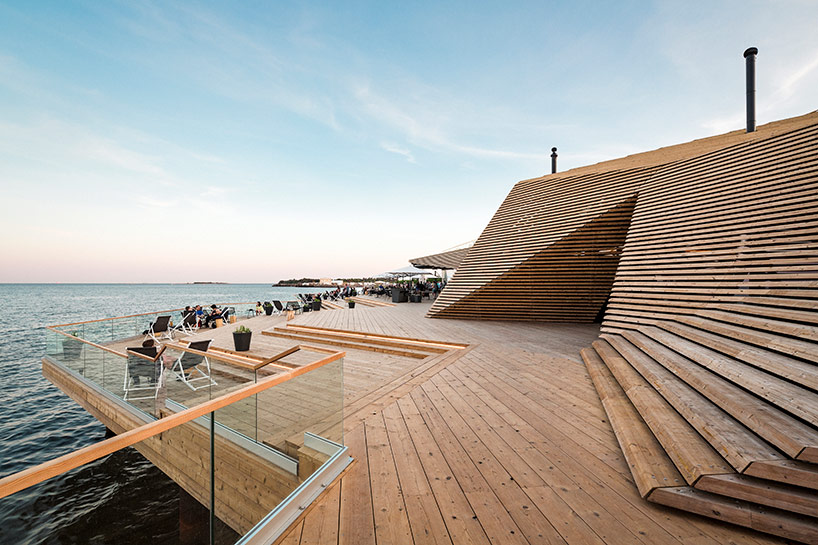 along water's edge, a stepped terrace accommodates up to 300 guests
image © kuvio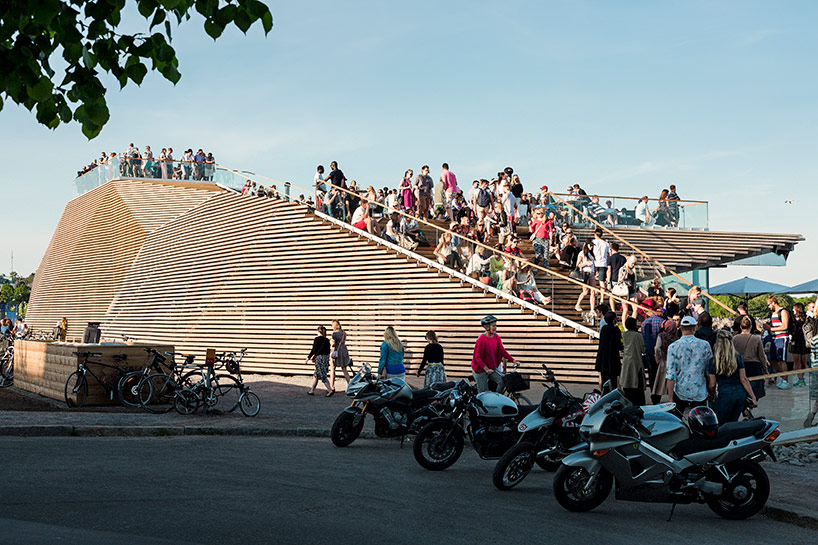 the structure serves as a public space in addition to the sauna and restaurant
image © kuvio

image © kuvio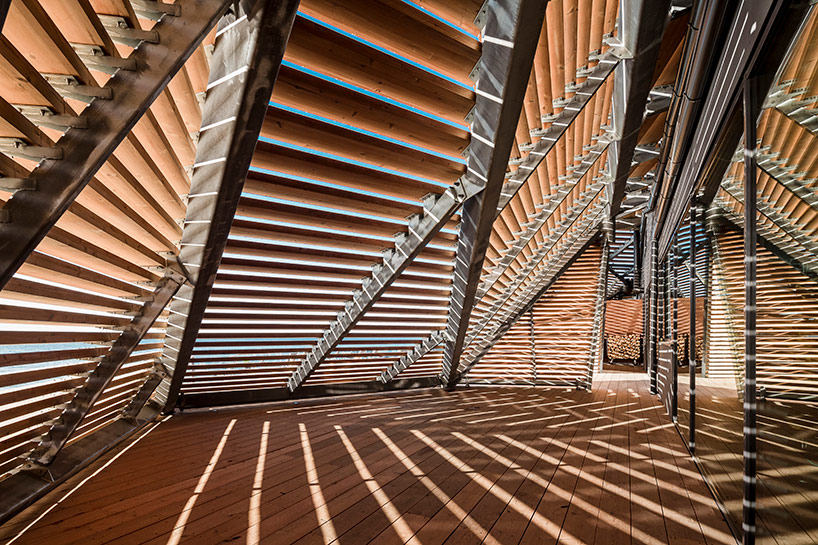 under the louvered skin system, exposed steel and planks cast linear shadows onto the sauna structure
image © kuvio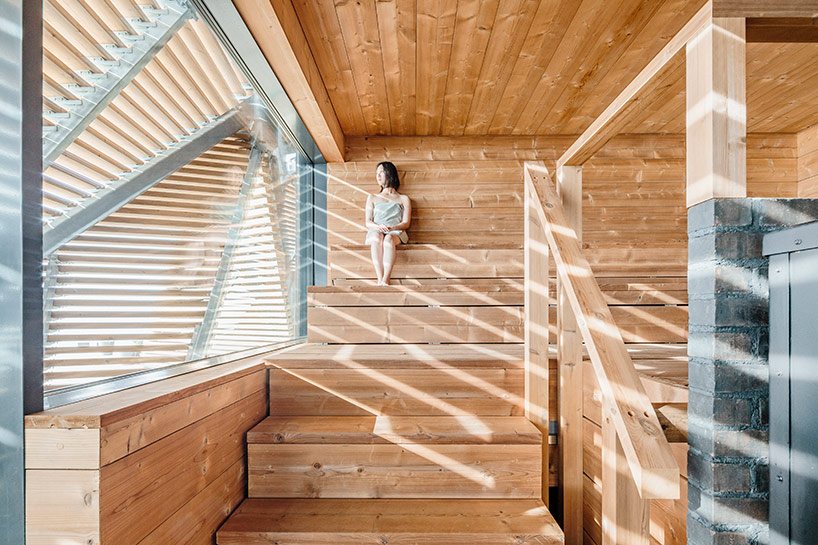 birch wood rooms enclose soft tranquil environments
image © kuvio

black concrete and natural wood elements establish a soft mood
image © kuvio

charred pine offers a darker atmosphere
image © kuvio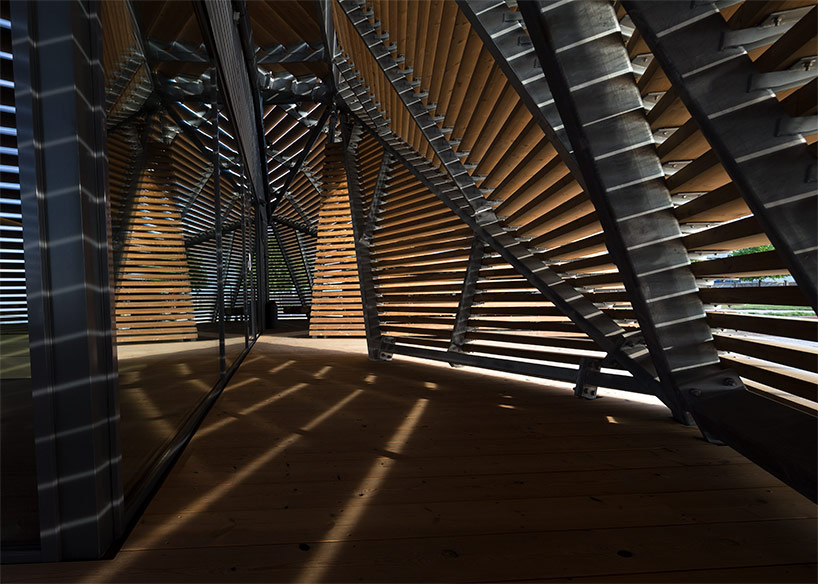 exterior circulation screens the private sauna areas
image © archmospheres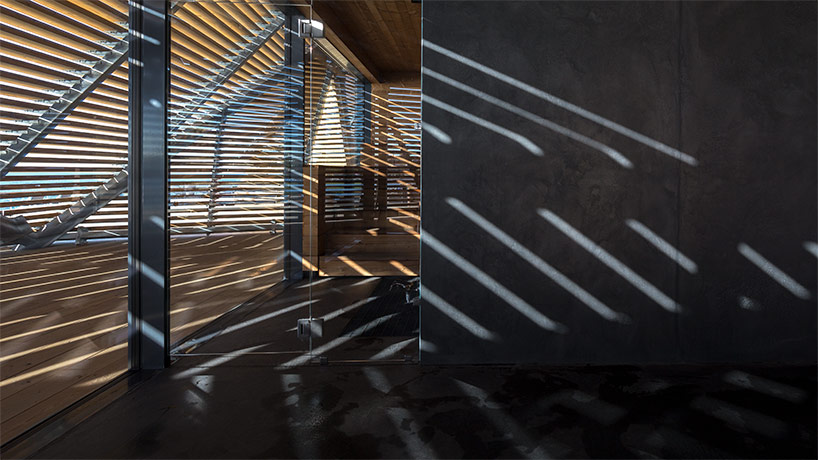 image © archmospheres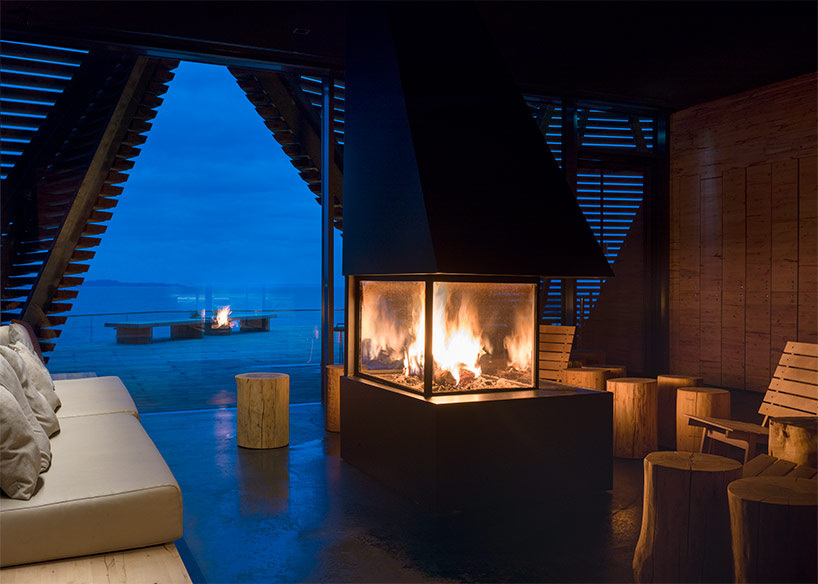 lounge areas overlook the water providing sheltered spaces for the public
image © archmospheres

image © archmospheres

the facilities offer separate men's and women's bathing areas as well as a shared bathing space
image © archmospheres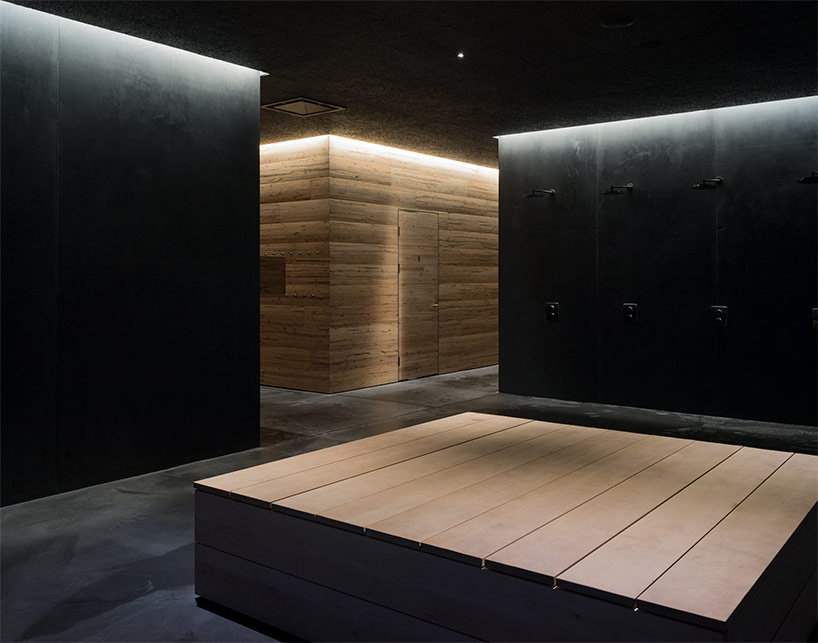 image © archmospheres

image © archmospheres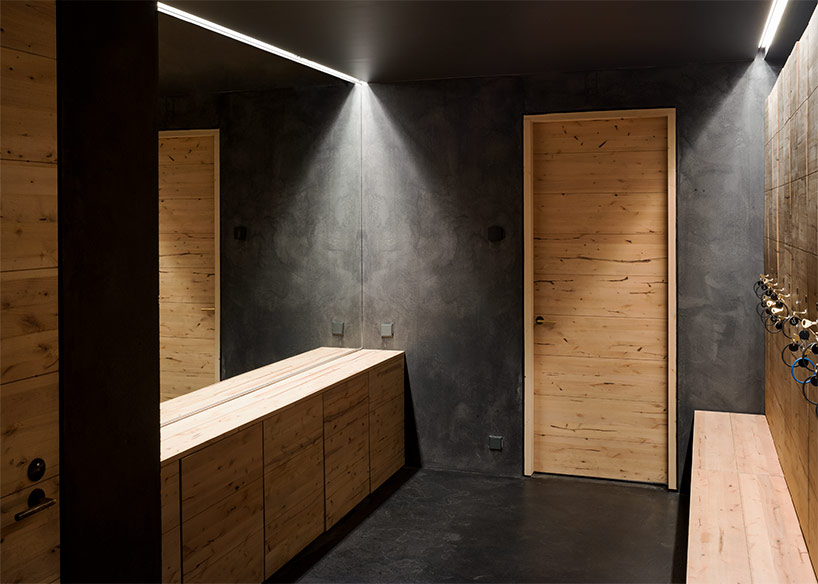 image © mikko ryhänen / joanna laajisto creative studio
project info:
building type: public sauna
location: hernesaarenranta 4, helsinki, finland
design and completion: 2011 – 2016
construction: 2015- 2016
gross area: 1071 sqm (without covered space under the cloak)
terrace area: 1510 m2 + roof terrace 249m2 + look out terrace 58 m2
capacity: restaurant 150, terrace 300, sauna up to 96    
total cost: ~6m €
client: antero vartia and jasper pääkkönen, kidvekkeli oy
operator: royal restaurants
project management: qtio oy
architects: avanto architects ltd / ville hara and anu puustinen, architects safa
assistants: antti westerlund, architect; safa hiroko mori, architect; laura nenonen, student of architecture; xiaowen xu, student of architecture
interior architect: joanna laajisto creative studio / joanna laajisto (restaurant, terrace  furniture, sauna lounge interior design)
structural design: ramboll finland oy / hans wilkman, teemu nyyssönen
photographers: kuvio, archmospheres, mikko ryhänen
Save
Save
Save
Save
Save
Save
Save
Save
Save
jun 05, 2017
jun 05, 2017
feb 02, 2017
feb 02, 2017
jan 24, 2017
jan 24, 2017
saunas
(27 articles)
jun 07, 2017
jun 07, 2017
jun 05, 2017
jun 05, 2017
may 22, 2017
may 22, 2017