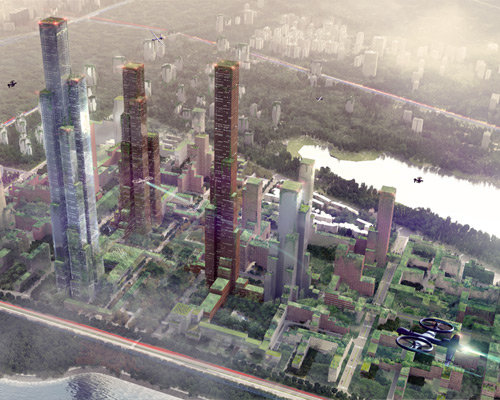 oct 14, 2014
eroded urbanism proposal for mega-city in shenzen bay by AZPML
eroded urbanism proposal for mega-city in shenzen bay by AZPML
all images courtesy of AZPML
as contemporary market forces continue to increase population and infrastructural growth of cities, new urban models have arisen which envision improved arrangements and expressions for these immense concentrations of human activity. as a part of this dialogue, the shenzhen bay super city competition has been held to prompt forward thinking ideas for a vertically-oriented and hyper-dense master plan. for the contest, architecture office AZPML has proposed 'eroded urbanism' as a prototype for flexible metropolitan development, which integrates – rather than excludes – various commercial, residential, cultural, and environmental forces.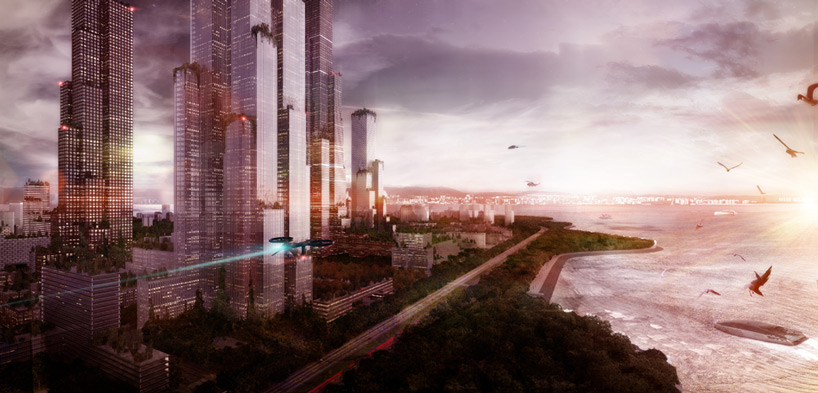 the proposal imagines an interconnected and vegetation-covered network of buildings
the proposal is based on an orthogonal grid occupied as a flexible container, able to accommodate any type of programmatic use, scale, or density. the result is a pixelated landscape of a monolithic and interconnected building structures covered in vegetation. AZPML, led by principals alejandro zaera-polo and maider llaguno, explains that it is, 'generating the city as a sequence of squares, containers of public space rather than lines of flow. the traditional correlation between urban form and traffic grid is no longer necessary in the new hyper-dense new urban conditions of global downtowns.'
'the proposal exists at the middle-ground between top-down comprehensive master planning and bottom-up, site-specific development. it creates a new, cohesive and varied whole capable of shifting use and performance based on evolving, often unpredictable market turns.'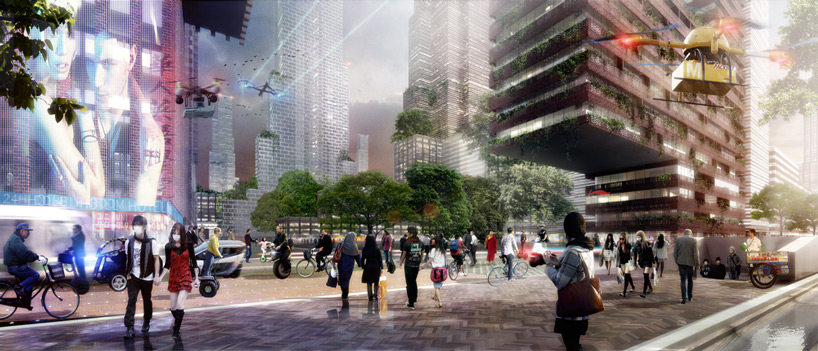 the scheme envisions limited car travel, to allow for a pedestrian-centric ground plane
in reference to natural systems and material formation, the shenzhen bay mega-city's masses emerge from, 'the conflict between the solid-state structure of the city and the vectors and flows that cross it: vehicles, people, water, air are the agents that carve the solid-state form into a new form or the urban.' the model envisions diminished automobile usage and that all parking be placed underground, while adequate public transport via buses and trains provide all necessary circulation beyond pedestrian travel.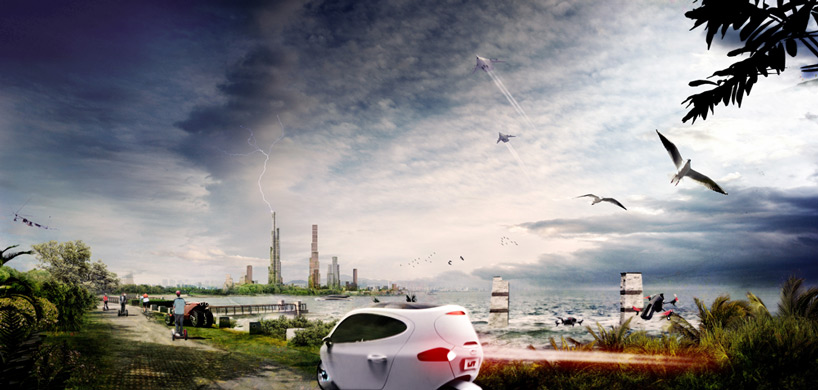 the towers emerge from the vegetated landscape
the imagined building prototypes, existing as an example within the flexible system, pay close attention to providing plentiful ventilation and daylight to interior spaces. in addition, the arrangement configures a network of urban squares, as opposed to linear streets.
'this continuous fabric can be deployed in a variety of scales to create organizations ranging from blocks to districts. The 16m floor depth will guarantee both natural ventilation, daylight and the viability of occupation, both for commercial or residential uses. this structure is comprehensive of a variety of architectural typologies, including the courtyard block, the slab and the cruciform tower, the 'T and 'L' towers…'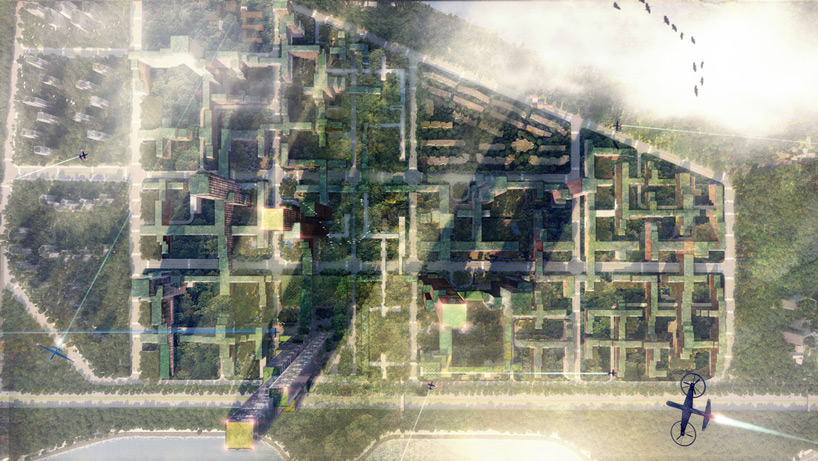 the vegetated aesthetic expresses an integration of nature and urbanity
the hyper-dense urban scheme embodies a super-green approach, both in terms of ecological and aesthetic sensibilities. the team recognizes environmental downfalls of current metropolitan models, such as heat island effect, rainwater catchment, and lack of vegetated spaces.
'vertical walls will be surrendered to creepers and planters, which will create even more CO2 absorption, but also water collection. trees will be planted selectively, using models of airflow in order to control undesirable downdrafts and reduce wind speeds. they will also provide a green canopy to protect pedestrians from direct solar radiation.'
'but perhaps the most important function of the green will be aesthetic: it will express the notion of the future city being integrated with nature. the city will never be completely rid of it: our play with abundant and contingent vegetation seeks a lineage to the picturesque, which will convey this continuity between the urban and the natural.'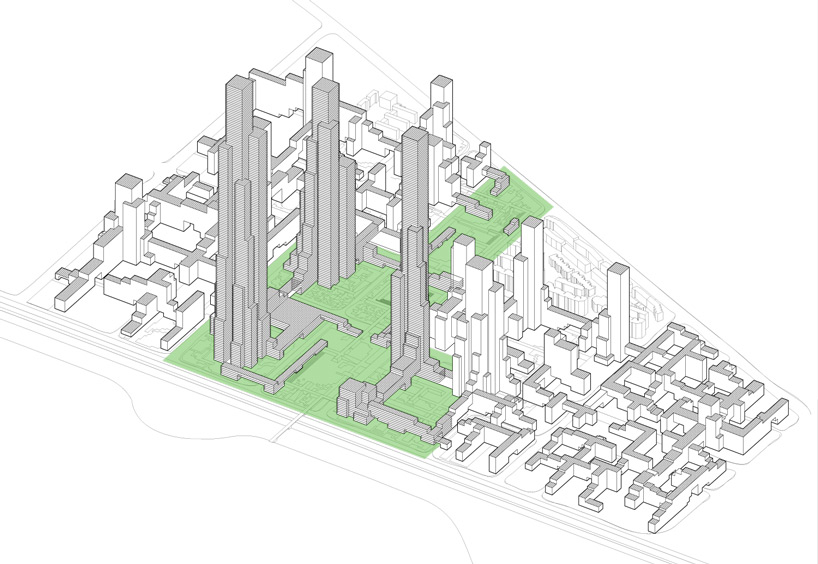 axonometric view of the mega-city, with major towers highlighted in gray and park area in green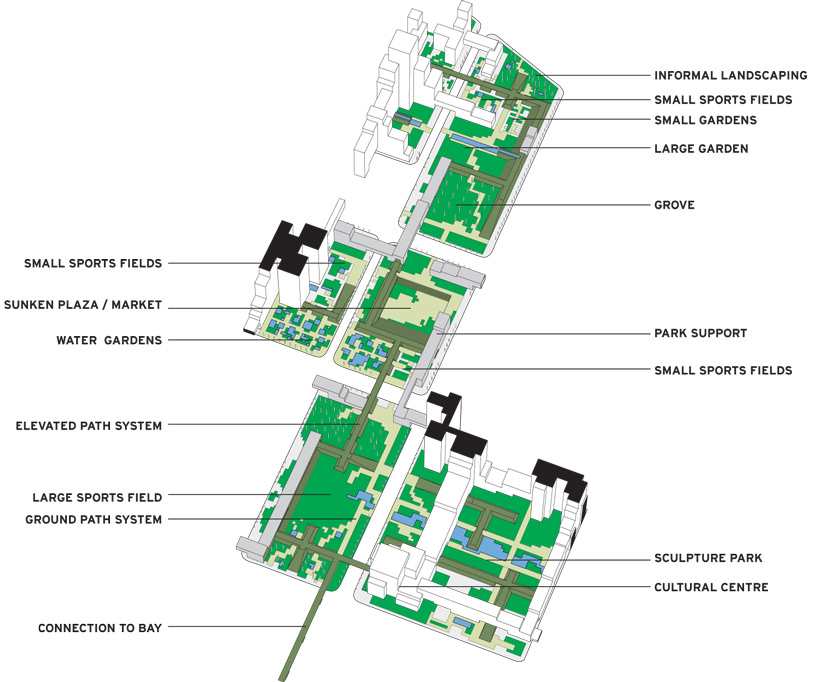 axonometric diagram of park area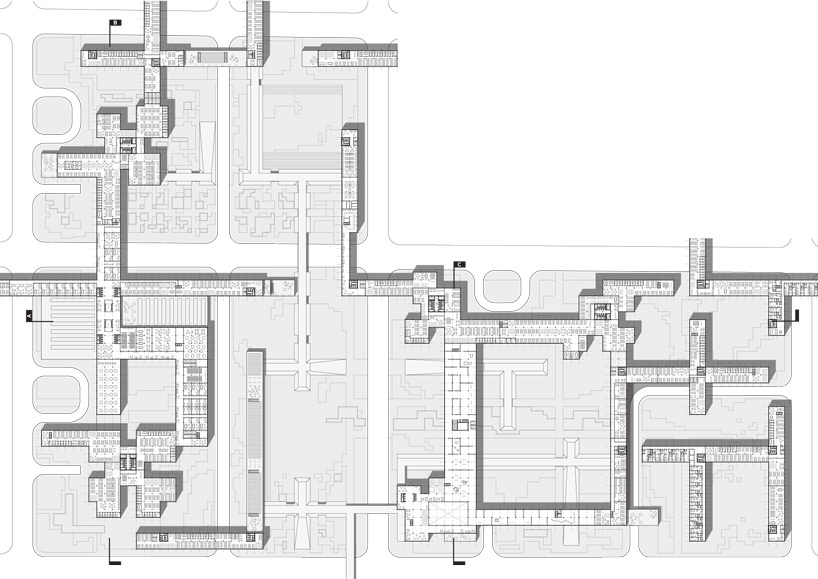 floor plan / podium level
see designboom's coverage of the shenzen bay super city competition's winning proposal here.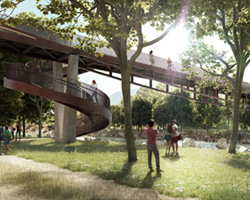 nov 25, 2016
nov 25, 2016
jul 29, 2016
jul 29, 2016
mar 22, 2016
mar 22, 2016
feb 07, 2016
feb 07, 2016
jan 19, 2016
jan 19, 2016
nov 09, 2015
nov 09, 2015
dec 18, 2014
dec 18, 2014
sep 15, 2014
sep 15, 2014
aug 26, 2014
aug 26, 2014
a diverse digital database that acts as a valuable guide in gaining insight and information about a product directly from the manufacturer, and serves as a rich reference point in developing a project or scheme.