AZURE magazine all images courtesy AZURE
continuing with our feature series on some of the world's most well-produced print magazines, we focus on toronto-based publication, AZURE magazine. as canada's leading periodical specializing in covering the fields of architecture and design, the 25 year old magazine has grown and evolved as a reputable source of inspiration and news to an international readership.
designboom talked to editor-in-chief nelda rodger on AZURE's early days, editorial integrity, and what's in store for readers in 2011.
designboom: how did AZURE start?
nelda rodger, editor-in-chief AZURE: AZURE was started in 1985 by me and my partner sergio sgaramella. sergio and design share a birthplace: milano, where we first met. after moving to toronto, canada, we began the magazine without really thinking too hard about what we were getting into. back then, practically no one in this part of the world knew what a designer did or what they might be useful for and, if they thought that engineers designed most buildings, they wouldn't have been too far wrong. the word 'designer' was irrevocably bound to the word 'jeans'. designer jeans (think sergio valente, if you can cast back that far) – that's as deep into mainstream consciousness as design had penetrated. as you can imagine, publishing a design magazine was a bit of an uphill battle. we've come a long way, baby. although spray-on jeans are back with a vengeance, there is a much better understanding and appreciation now for design and architecture and this has been beneficial for AZURE and the design community in general.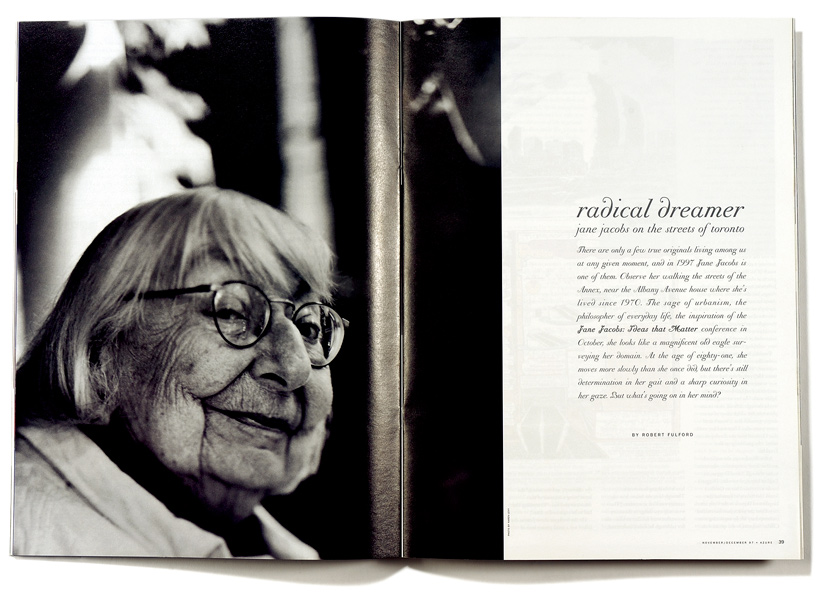 a feature on urban activist jane jacobs in the november/december 1997 issue
db: what are some key differences between AZURE and other design publications? AZURE: AZURE is a hybrid – the stories we publish are meant for a mainly professional audience, however we make every effort to appeal to readers who may not work in design but are passionate about it. our coverage is multi-disciplinary – including architecture, landscape architecture, urbanism, interiors, furniture, product design and graphics. our scope is international and our perspective is distinctly north american. (we are headquartered in toronto, a multi-cultural city formerly known as new york's stand-in and now for dishing up great ethnic food of all kinds. it's where jane jacobs moved to after writing 'the life and death of great american cities' and where richard florida is hiding out.)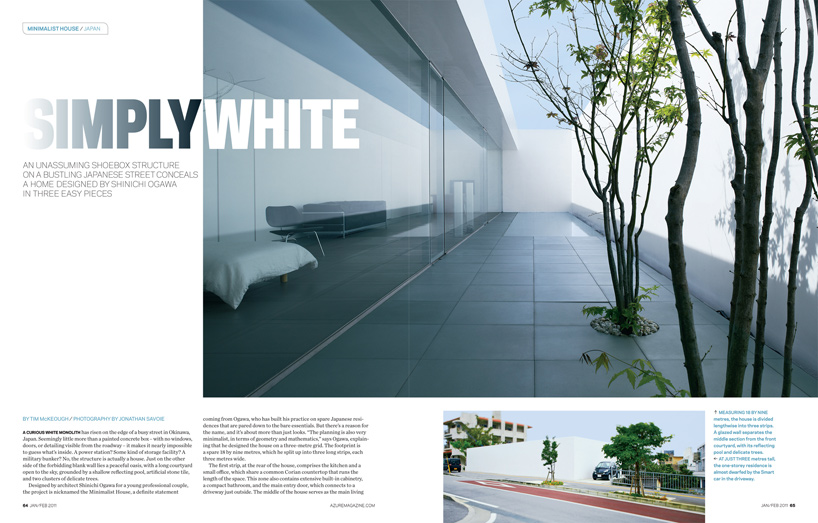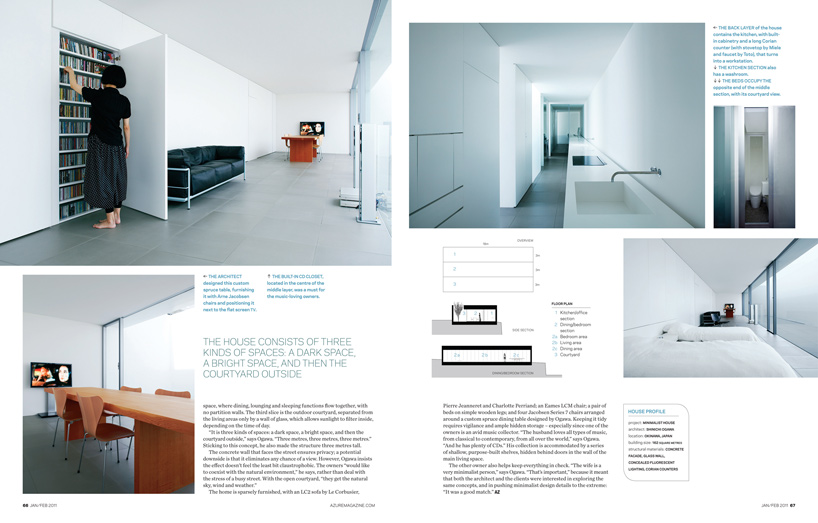 shinichi ogawa's 'minimalist house' in the new january/february 2011 issue to see our coverage of the project, click here
I'd say that these things make AZURE quite unique, but it's how we do what we do that really distinguishes us. with our recent redesign (with the september 2010 issue we launched a completely new look) we changed our tagline to include curiosity. our curiosity takes us to some surprising places and it also stands for the fresh, in-depth approach we've been delivering for years. at a time when the content of many magazines is buttressing the message from the sponsors, AZURE stands out for, among other things, its editorial integrity.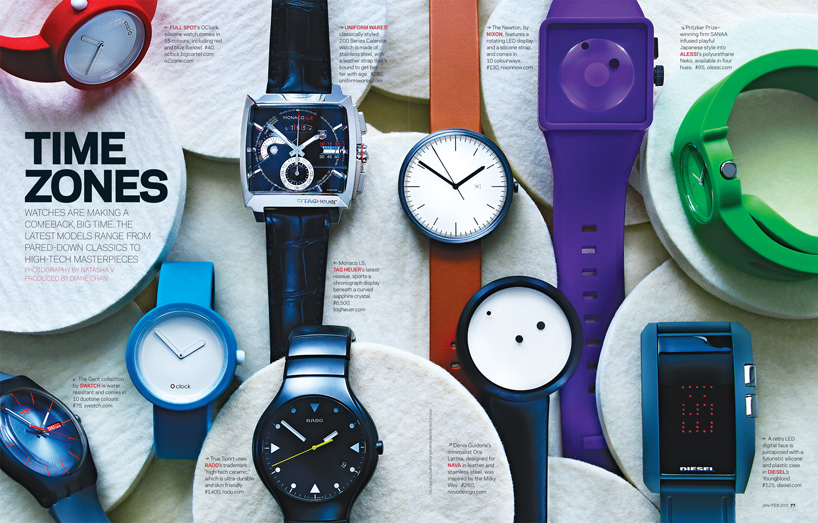 from the new january/february 2011 issue
db: how do you know who your readers are and what they would like to see in each issue? how is each issue put together, thematically? how much advance preparation time is required to conduct this?
AZURE: we conduct regular reader surveys in which we ask our readers what they think about our content and whether there's too much of one thing or too little of another. that's the traditional method magazines use to get a sense of what the reader wants. lately we've been getting direct feedback through our website, where the 'hits' tell you when you've nailed it. as for who they are, we ask them and most of them tell us. AZURE's subscribers are about 80% architecture and design pros and the rest are a mix of the visually intrigued, stylaholics…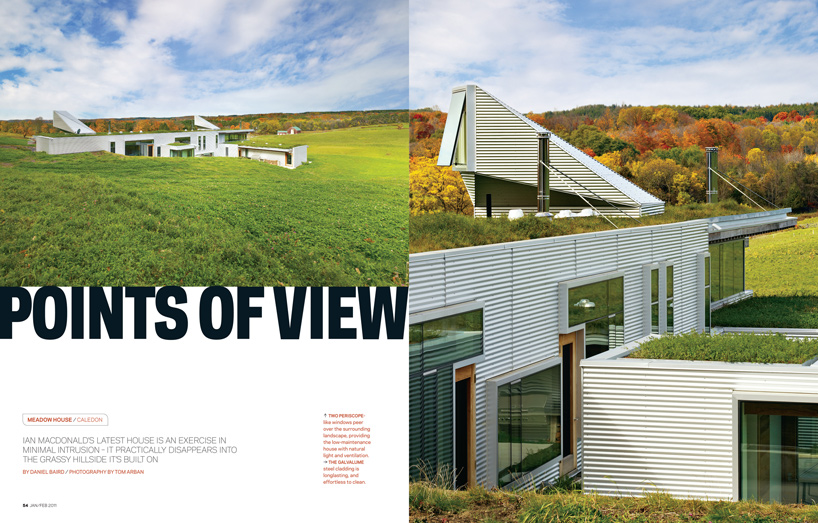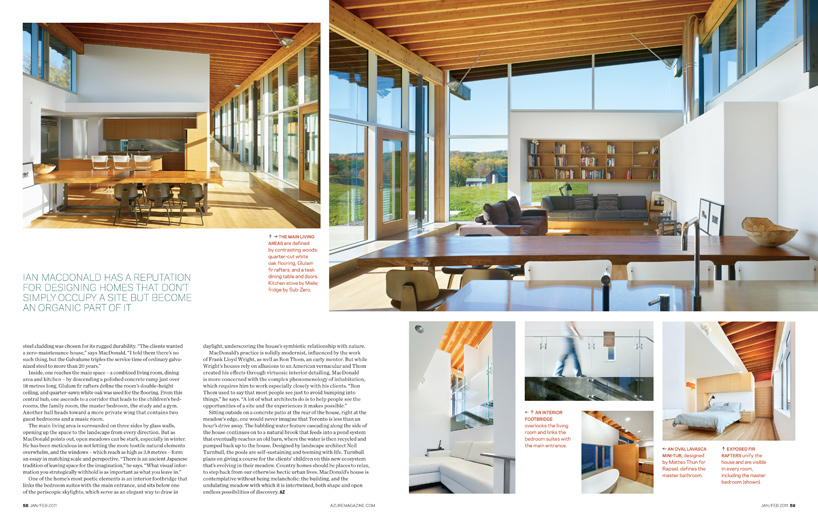 'meadow house' by ian macdonald in the january/feburary 2011 issue
every year in early september, we release an editorial calendar that describes the coming year in broad strokes. our themes emerge organically – for example, last may, we did an issue focused on food and design, with stores on urban farming and how design is underwriting creative 'grow-ops', everything from earth containers to chicken coops. we'd been aware for some time that food was a hot topic and decided in early december to make it our focus for may. we normally work on three issues at a time – while one's in the oven, we are stirring another on the stove and ordering up the ingredients for a third.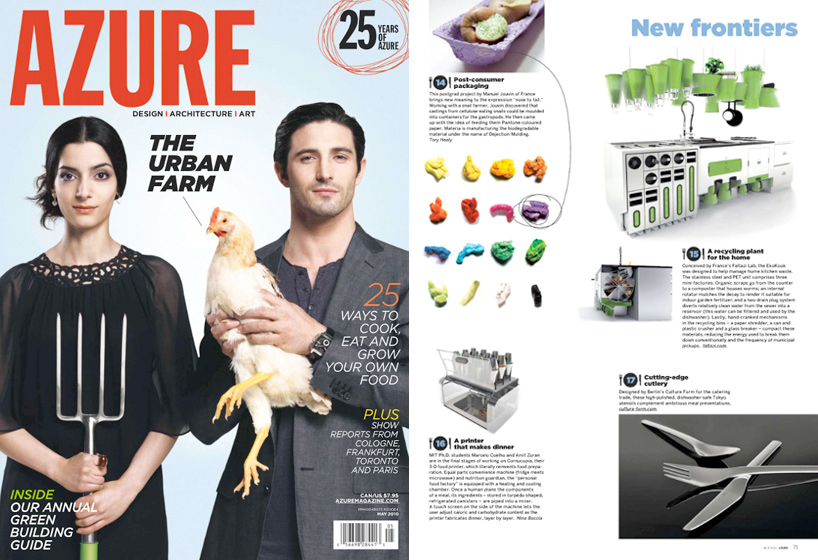 (left) cover of the may 2010 issue focusing on food and design (right) from the issue: highlighting a collection of innovative designs items revolving around food and sustainability
db: how do you ensure that AZURE's content is always fresh?
AZURE: that's easy – we make sure that we get our information and inspiration from the freshest sources: the architects and the designers themselves. but our editors don't just talk the talk, they also walk the walk, meaning that they are on the ground at pretty much all the important international trade shows.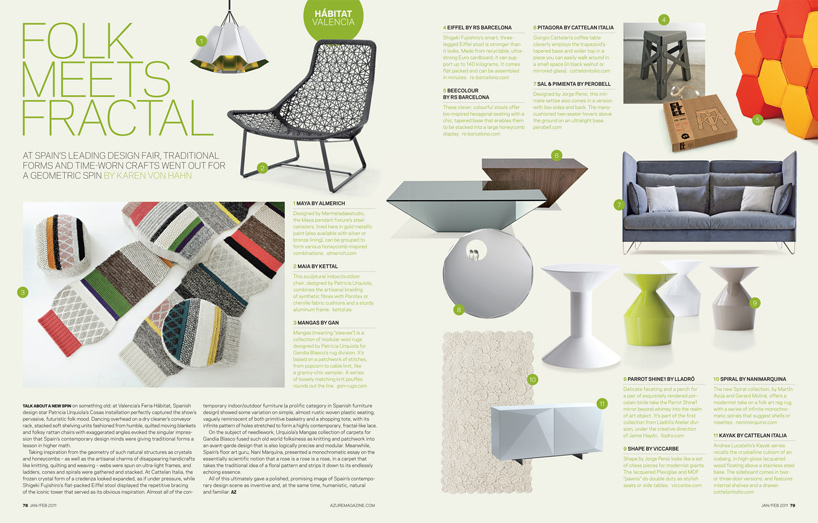 coverage of habitat valencia in the january/february issue 2011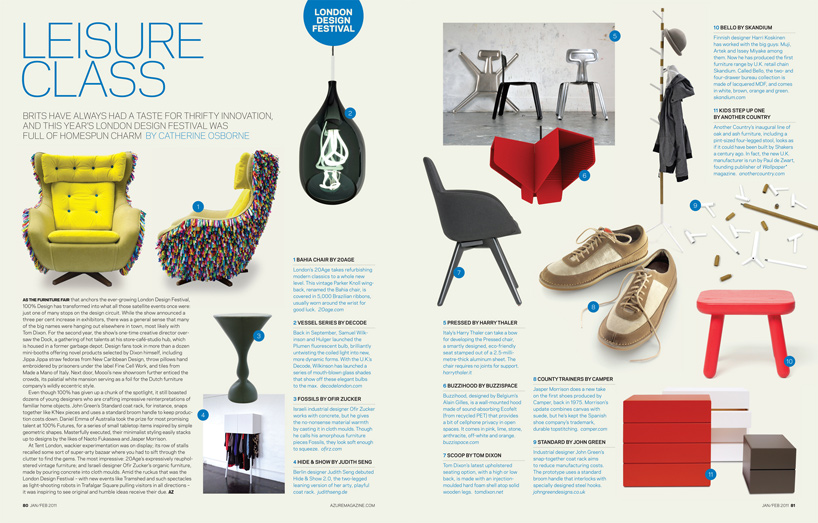 coverage of the 2010 london design festival in the january/february issue 2011
db: being a design magazine, the aesthetics of the publication – from font to layout, kerning to cover – is very important. what style would you say AZURE is? has it evolved in the last 25 years? AZURE: AZURE has evolved tremendously over the years. I'd say that the current look of the magazine is modern and direct. a magazine that has been publishing for 25 years has lived through several graphic movements and the pages of AZURE have reflected these in a way similar to how the collections of a fashion designer reflect prevailing trends (the same currents influence all creatives). the perspective and philosophy remains the same, but the tone of the times comes through in the look and feel.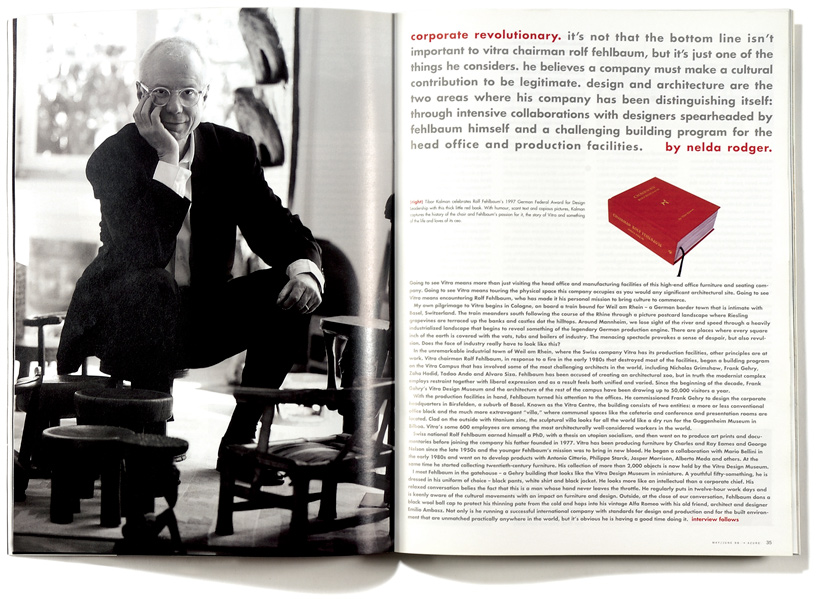 chairman of vitra rolf felhbaum in the may/june 1998 issue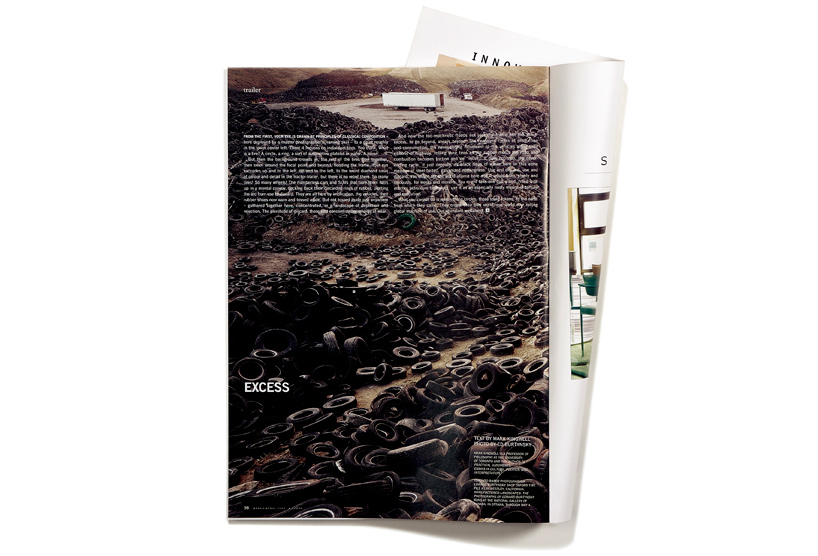 'trailer' page with an image by edward burtynsky from the march/april 2003 issue
AZURE has had five logos since we began publishing in 1985 – we went through three of them in the first eight years (what were we thinking?) and for the following 17 years we sported an elegant logo designed for us by concrete design communications. that was the most difficult part of our recent redesign – saying goodbye to the logo we were still in love with. but all things considered, we've been very happy with our decisions and have received a ton of feedback that confirms we made the right choice. our new logo, also designed by toronto-based concrete design, is bold and has lots of personality and it suits the attitude of confidence and engagement that the magazine is taking into the future.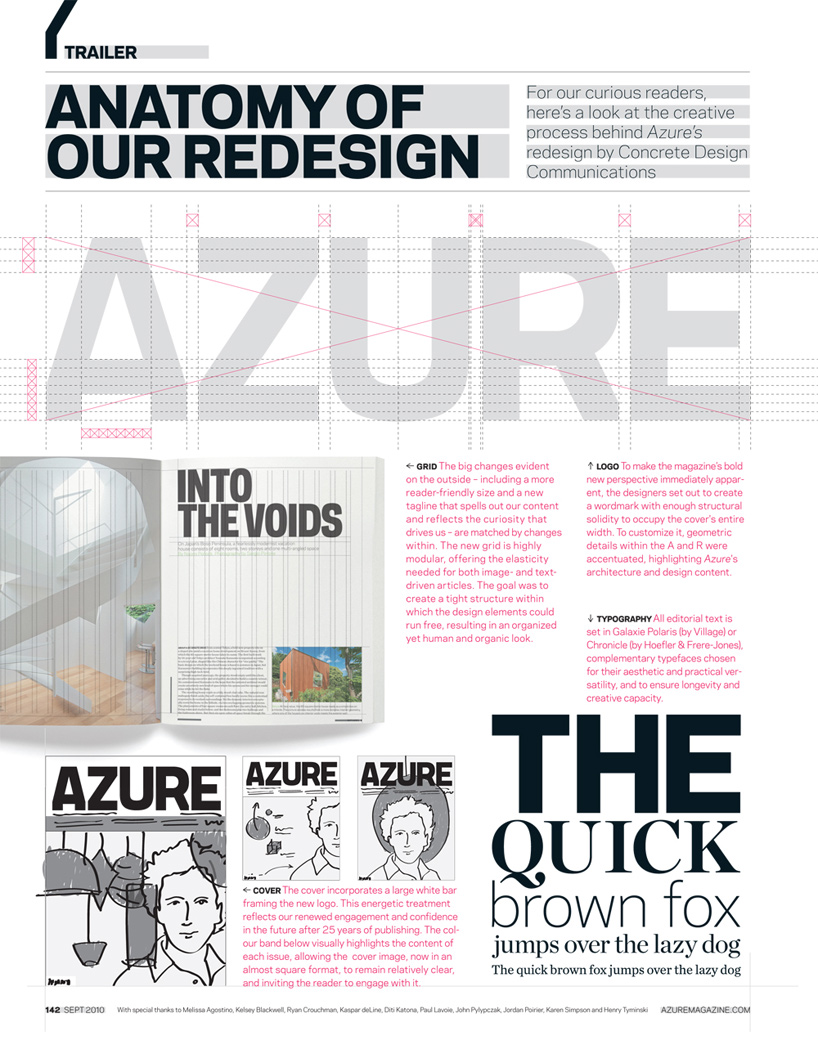 the magazine's design changes in the september 2010 issue
we also changed the size of the magazine to make it more reader friendly. for a north american publication, it's still oversized – which allows us to give the great visuals we are known for room to breathe – but it feels comfortable in the hands and is a pleasure to hold. inside we made other changes to help readers navigate the content and to allow them to 'dip into' stories when they are stretched for time. the new design is bold and engaging, helping us to communicate the enthusiasm and energy we feel for the subject matter. but it also knows when to be restrained and elegant, so as not to detract from the stories themselves.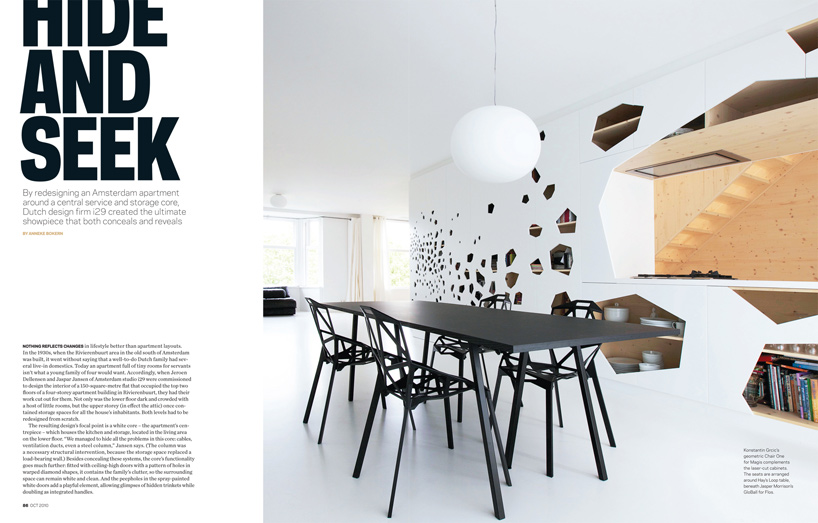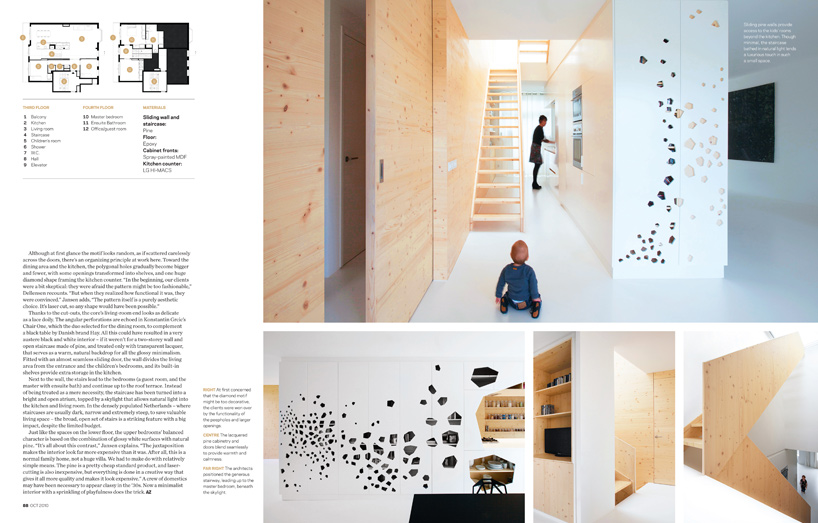 amterdam-based i29's 'home 07' in the october 2010 issue
db: many magazines these days are making the transition from print to online. what kind of measures (from publishing strategies to content) are you taking to keep AZURE relevant and competitive?
AZURE: okay, if you are asking me if I think print is dead, the answer is no. I believe that magazines like AZURE will continue to exist in a print format beacuse they supply a wonderfully tangible way to engage with content that has a strong visual emphasis. so we will continue to put lots of effort into making the magazine as beautiful and meaningful as we can. at the same time we are intensifying our digital efforts. in 2011 we are redesigning our website and launching our own digital app for the magazine – which has been available since spring in a digital format through zinio. the digital version has allowed us to deliver our message to readers in parts of the world that are difficult for us to reach with print and it's surprised even us with its popularity.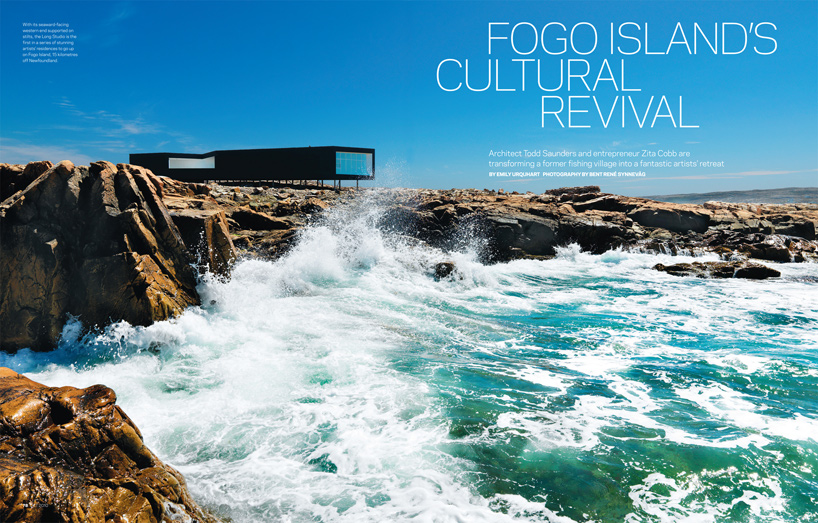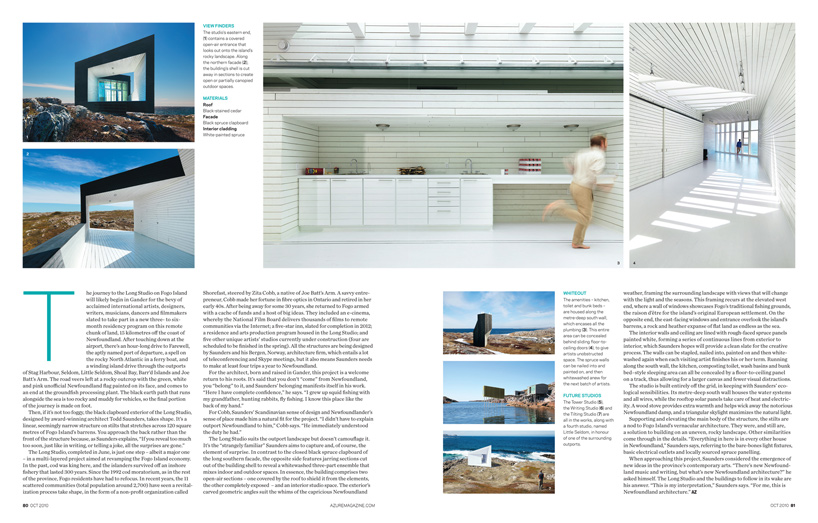 'long studio', an artist studio on fargo island as featured in the october 2010 issue see our coverage of the studios here
db: what is the future of AZURE?
AZURE: AZURE is one of a handful of influential design magazine produced around the world. we reach an audience that is also pretty influential – they are responsible for the look and feel of much of the world around us, and they often have a taste-setting role in our society. as a niche publication with an overlapping appeal to a consumer audience, we are focused on growing and maintaining this vertical audience and are not aiming for mass readership. after many years of delivering a high-quality magazine with rigorous standards with regard to editorial content, graphic design and production values, we've achieved a reputation for excellence and authority. in 2011, we are launching the AZ awards, an international competition celebrating excellence in architecture and design for work by professionals and students completed by the end of last year. submissions opened on january 1, and the deadline is march 1, 2011. we've been registering participants since early october and we've received interest from all over the planet. these new awards and the digital directions that we are exploring make this the most exciting time for the magazine that I have seen in 25 years.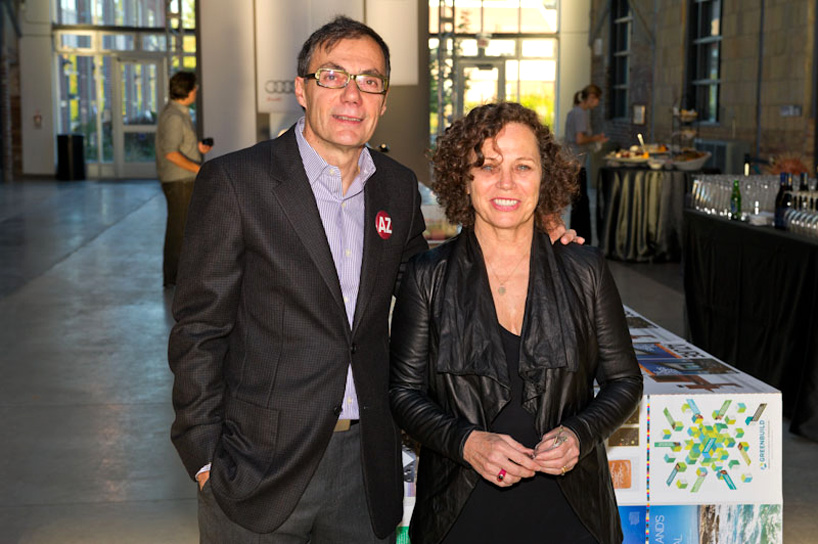 editor-in-chief nelda rodger with publisher sergio sgaramella at AZURE's 25th anniversary party
a diverse digital database that acts as a valuable guide in gaining insight and information about a product directly from the manufacturer, and serves as a rich reference point in developing a project or scheme.
designboom will always be there for you
milan, new york, beijing, tokyo

,
since 1999