aug 22, 2011
ball nogues studio: yucca crater
'yucca crater' by ball nogues studio in the mojave desert, california image © allison porterfield
los angeles based practice ball nogues studio is in the process of completing 'yucca crater', an interactive installation for the high desert test sites initiative located near the joshua tree national park, california, USA. idealized as an oasis for travelers of the vast and arid mojave desert, this project merges the theory of earthwork art with a man made structure. standing at 24 feet tall, the shell's exposed wooden framework will serve as a ladder for climbing into and out of the vessel. the interior is lined with rock climbing holds allowing visitors to access a pool filled with 8 feet of water. the contents will be heated with solar power and pumped through a wind turbine, utilizing the readily available local resources.
wooden framework image © allison porterfield
the fundamental elements of the fabrication will derive from another project completed by the studio, talus dome. a mound covered with stainless steel spheres currently sited along a freeway in edmonton, alberta, canada, will be dismantled and repurposed for yucca crater. an inversion of its earlier existence, the container will be transported to its desert destination promoting ecologically minded and waste free construction.
overall framework image © allison porterfield
(left) vessel framework with scale model (right) opposite side of vessel images © allison porterfield
top of yucca crater image © allison porterfield
detail of connections image © allison porterfield
assembling the structure image © allison porterfield
base of framework image © allison porterfield
cnc router cutting steel plates for connections image © allison porterfield
cutting wood with cnc router image courtesy ball nogues studio
completed structure within the mojave desert image courtesy ball nogues studio
section image courtesy ball nogues studio
model image courtesy ball nogues studio
stainless steel spheres from talus dome image courtesy ball nogues studio
talus dome located in edmonton, alberta, canada image courtesy ball nogues studio
video courtesy of devin mcnulty

ball nogues speaking about yucca crater
video by julianne weiss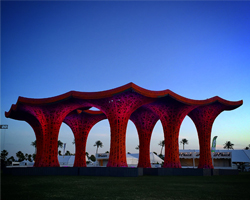 apr 02, 2017
apr 02, 2017
apr 20, 2015
apr 20, 2015
nov 11, 2014
nov 11, 2014