nov 17, 2009
bamboo greenhouse
the BGH bamboo greenhouse by nobuhiro hirai and hirohide kobayashiand of kyoto university, toshiharu nakagawa of nakagawa bamboo workshop won the japan good design award 09. this bamboo greenhouse has been proposed and constructed in response to the need for a greenhouse in raising and managing plants, through a joint development project applying the hydroponics method of growing crops using no soil.
model of the bamboo greenhouse inside the japan good design award 09 exhibition image © designboom
its bamboo structure utilizes connector design and the attributes of the materials themselves to achieve a simple structure that anybody can build on their own, with no need for any special skills or materials.
detail of model image © designboom
it also secures sufficient green house space for growing crops. in addition, in light of the abandonment and growth of bamboo forests, which has become a topic of concern in society in recent years, it uses phyllostachys pubescens bamboo from forest thinning activities as its main structural material, enabling renewable use of bamboo materials.
inside the greenhouse image © designboom
here are images of the building process:
image © designboom
image © designboom
image © designboom
image © designboom
image © designboom
image © designboom
image © designboom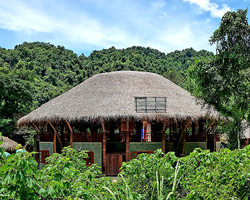 jul 12, 2017
jul 12, 2017
jun 21, 2017
jun 21, 2017
jun 14, 2017
jun 14, 2017
nov 17, 2009
nov 17, 2009
nov 17, 2009
nov 17, 2009
nov 16, 2009
nov 16, 2009