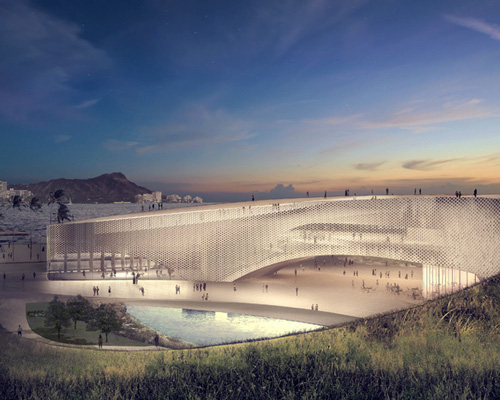 dec 22, 2014
teams unveil proposals for obama's hawaii presidential center
teams unveil proposals for barack obama's hawaii presidential center
image © snøhetta / WCIT
all images courtesy of hawaii presidential center
as one of four finalist locations to host the 'obama presidential center', the state of hawaii has submitted a written proposal that outlines three different proposals for the honolulu-based project. the scheme is envisioned as an 'action-oriented, education-based' complex that is able to unite the public in order to solve global problems. to this end, the response includes four principle program components: a global youth leadership academy; a convening institute; a university center for community organizing and an interactive visitor center.
to explore the full potential of the site, three conceptual designs were commissioned by renowned architectural firms working in local-national partnerships: snøhetta and WCIT architecture; MOS and workshop-HI; and allied works architecture. the conceptual plans are not meant to be prescriptive, as the architects who will ultimately design the center will be selected in a separate process.
alongside columbia university, the university of chicago, and the university of illinois at chicago, the university of hawaii was selected as one of four finalists to host the obama center in september 2014. the president and first lady are expected to make a decision on a location before mid-2015, with the barack obama foundation supervising the project's design, construction, and program operations.
'we are proposing a presidential center that not only commemorates barack obama's legacy, but also advances innovation, research and education,' stated president of the university of hawaii, david lassner. 'the president will continue to build upon his legacy once he leaves the white house, and this institution will help him continue to make a difference, not just in hawaii but throughout the united states and around the world.'
read on for more images and information concerning each of the three proposals.
snøhetta and WCIT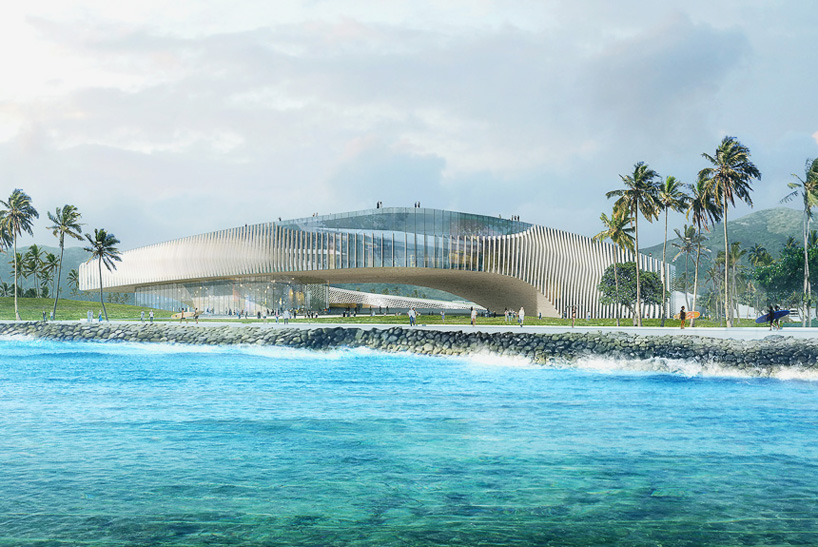 image © snøhetta / WCIT
'according to the kumulipo, a native hawaiian creation chant, life begins with 'āko'ako'a, a single coral polyp which over time creates the land and all life that inhabits it. as a diverse collective of individuals growing over many generations, the notion of coral parallels the ambitions of the presidential center to become catalyst of thought, action, and community. the genealogy of the proposed site itself, reclaimed land sitting above what was once the exposed reef shoreline, provides a historic precedent which reinforces this connection. much like the polyp, the center has the unique opportunity to create a new environment that encourages assembly, provides places to congregate, and creates shared community resources. he pūko'a kani 'āina. the coral becomes an island.' – snohetta / WCIT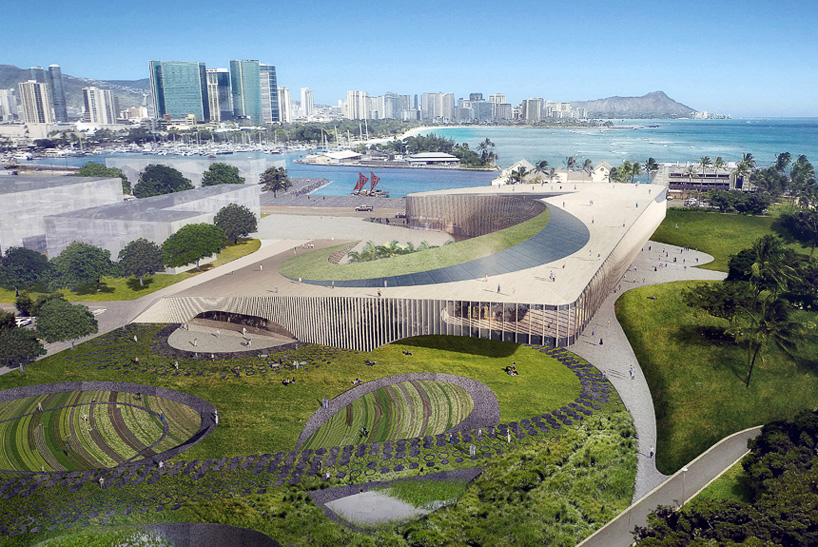 image © snøhetta / WCIT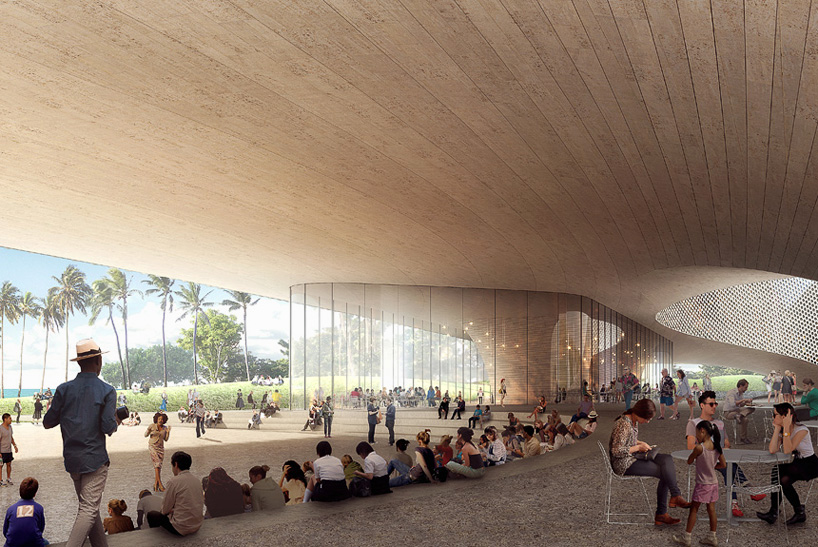 image © snøhetta / WCIT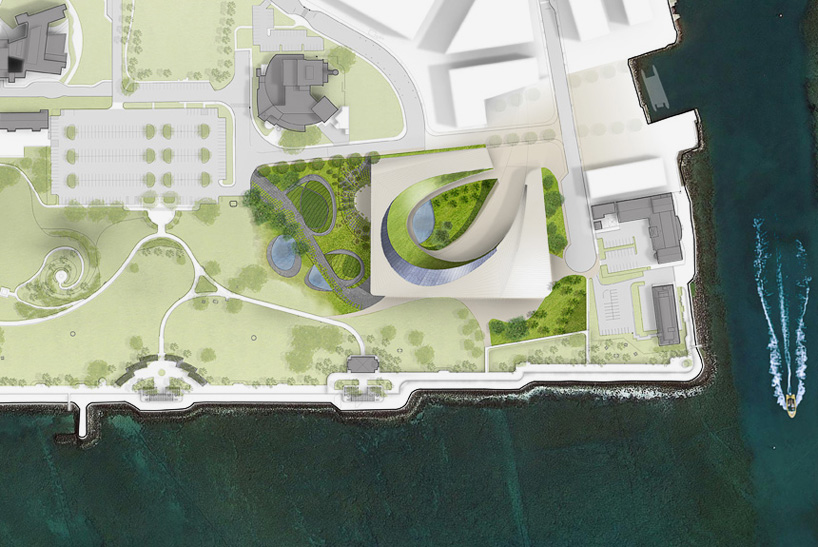 image © snøhetta / WCIT
allied works architecture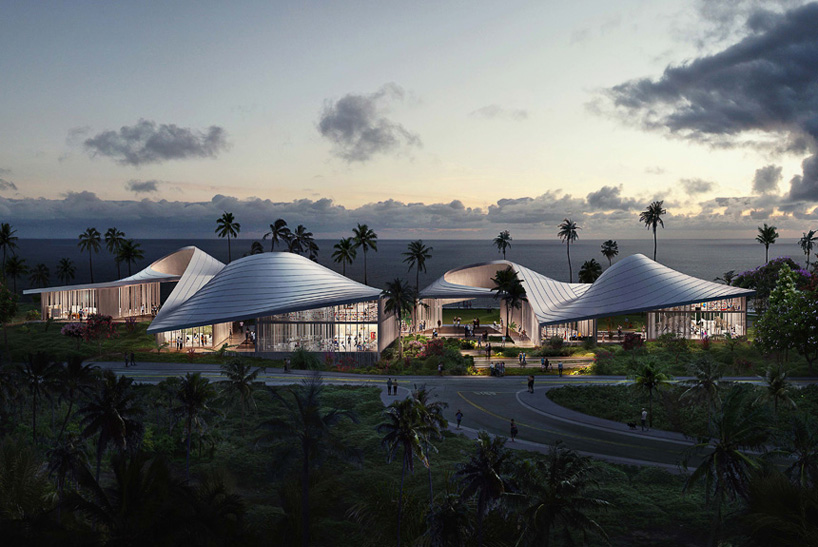 image © allied works architecture
'our vision for the hawaii presidential center seeks to engage the beauty of the land and culture that define the hawaiian islands, and to serve the mission of the center as a space of dialogue and an agent for positive action on issues that we face as a nation and across the globe. it is inspired by the history and principles of president obama, whom it seeks to commemorate and serve after the completion of his term of office. the design concept can be seen as the synthesis of three acts; each corresponds to specific aspects and core values of the center: land—'aina; community—ohana; and integrity or righteousness—pono. the center stands for the values of our democracy, the beauty of our land, and the resilience and ingenuity of our people. united under a single roof, we are reminded that we are stronger together.' – allied works architecture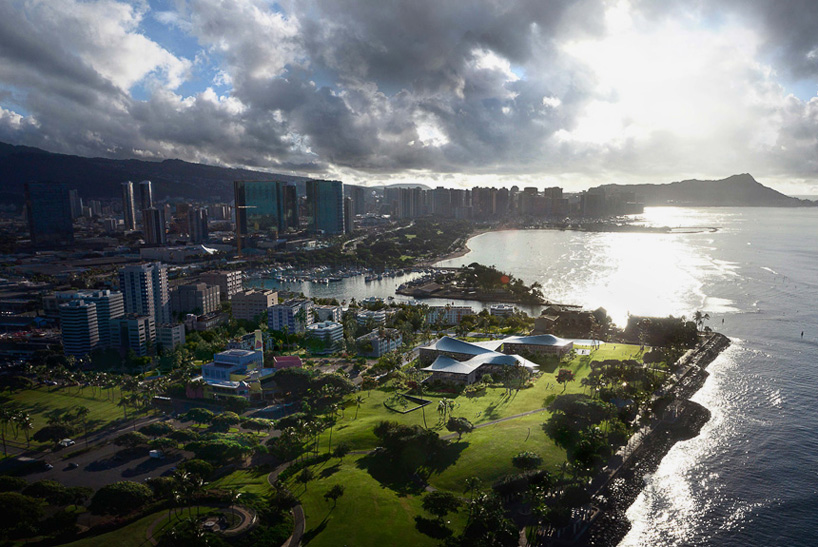 image © allied works architecture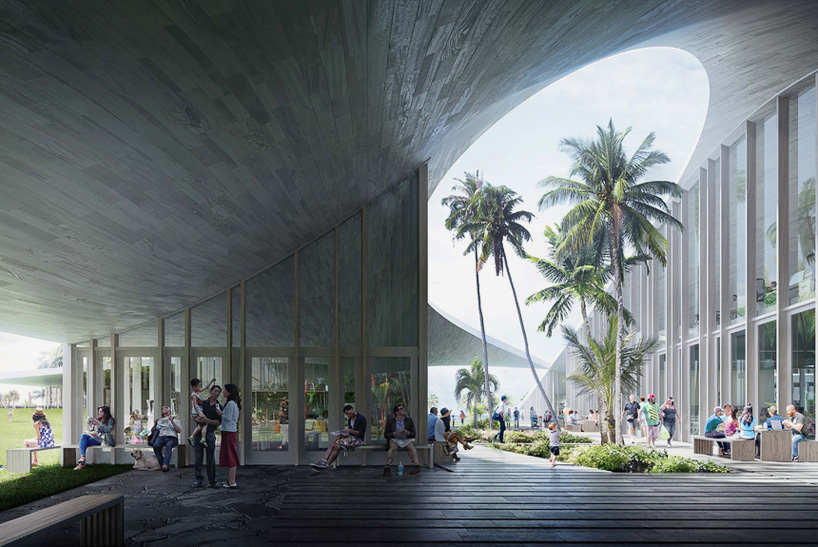 image © allied works architecture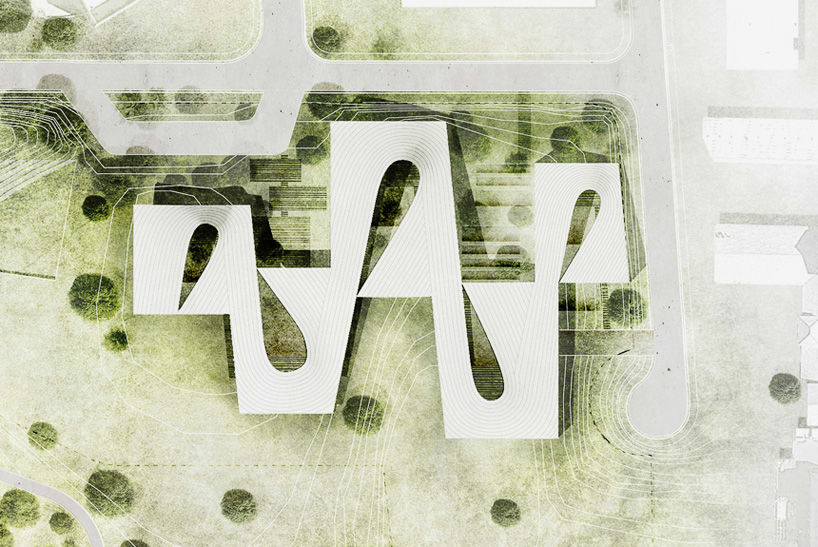 image © allied works architecture
MOS / workshop-HI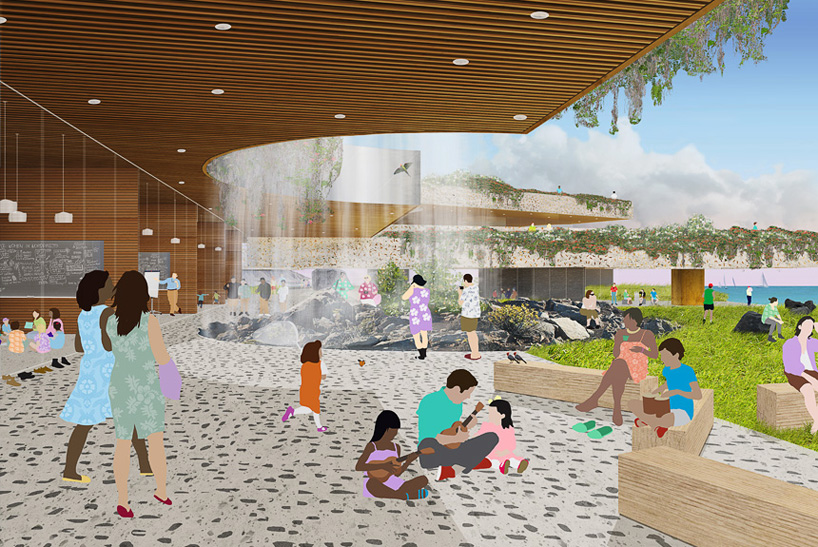 image © MOS / workshop-HI
'the proposed center celebrates the diversity of hawaii's natural environment by expanding the adjacent kaka'ako waterfront park into a campus of interconnected pavilion structures, publicly accessible courtyards, a ramped landscape podium, and a large park-like roof structure composed of community and public gardens. walking across the roof, locals and visitors explore a wild landscape of native and endangered species on the mauka side, or circulate through a series of gardens and seated areas on the makai side viewing panorama that includes diamond head, the pacific ocean, and downtown honolulu. the building, through its design, aims to be as public and open as possible, to nature and to the community.' – MOS / workshop-HI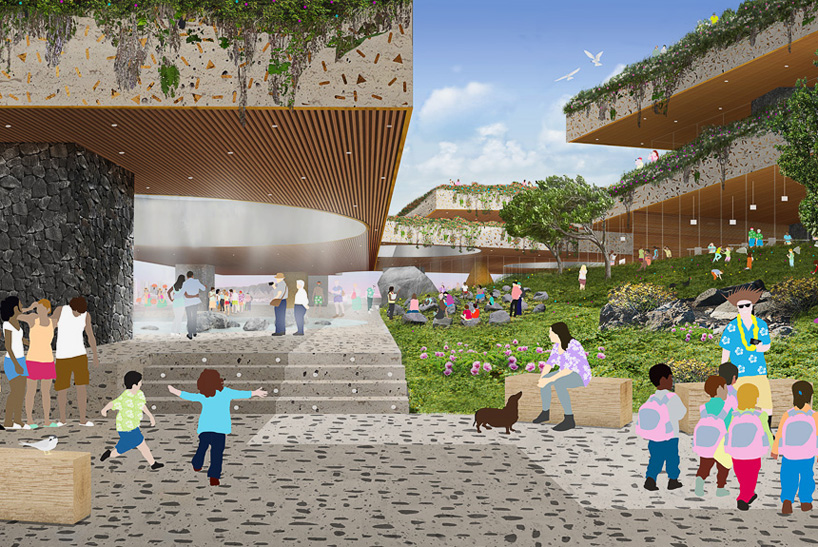 image © MOS / workshop-HI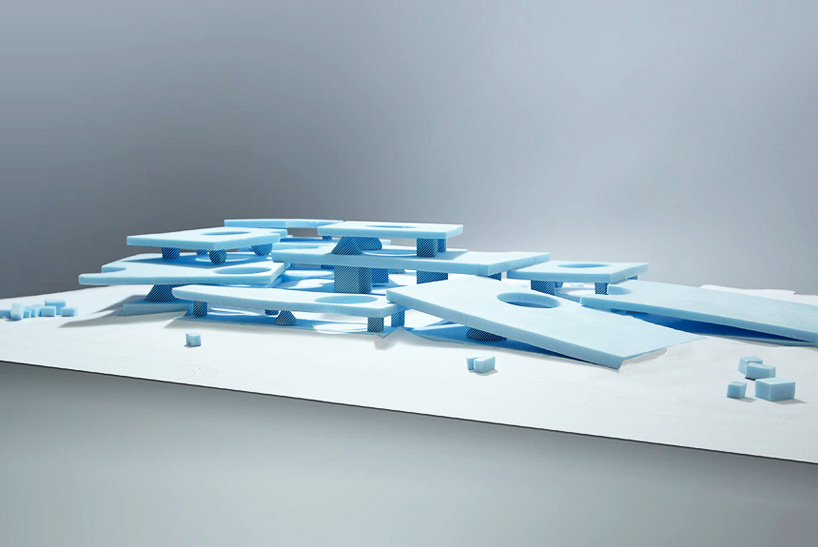 image © MOS / workshop-HI
oct 26, 2018
oct 26, 2018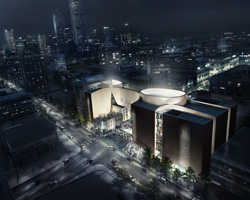 jan 09, 2015
jan 09, 2015
dec 23, 2014
dec 23, 2014
nov 16, 2011
nov 16, 2011
jun 07, 2020
jun 07, 2020
jun 27, 2019
jun 27, 2019
nov 15, 2018
nov 15, 2018
jan 10, 2018
jan 10, 2018
may 03, 2017
may 03, 2017
dec 22, 2015
dec 22, 2015
jul 03, 2020
jul 03, 2020
jun 19, 2020
jun 19, 2020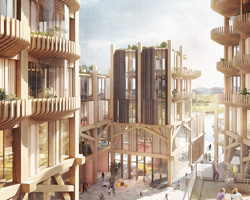 may 07, 2020
may 07, 2020
a diverse digital database that acts as a valuable guide in gaining insight and information about a product directly from the manufacturer, and serves as a rich reference point in developing a project or scheme.