baranowitz kronenberg architecture is a tel-aviv based studio whose founders use design as a means to tell stories, with narrative and purpose at the core of their work. begun in 1999 by alon baranowitz and irene kronenberg, the duo have long had their fingers on the pulse of contemporary interior design. a testament to the pair's acumen for space, the studio recently picked up the entree hospitality & style awards for both best restaurant (MR PORTER) and best hotel (W amsterdam). now more than ever, personal and engaging spaces are needed to combat the casual excess of the internet marketplace. when anything can be delivered to your doorstep, why bother venturing out to that new shop, gourmet restaurant or local hotel?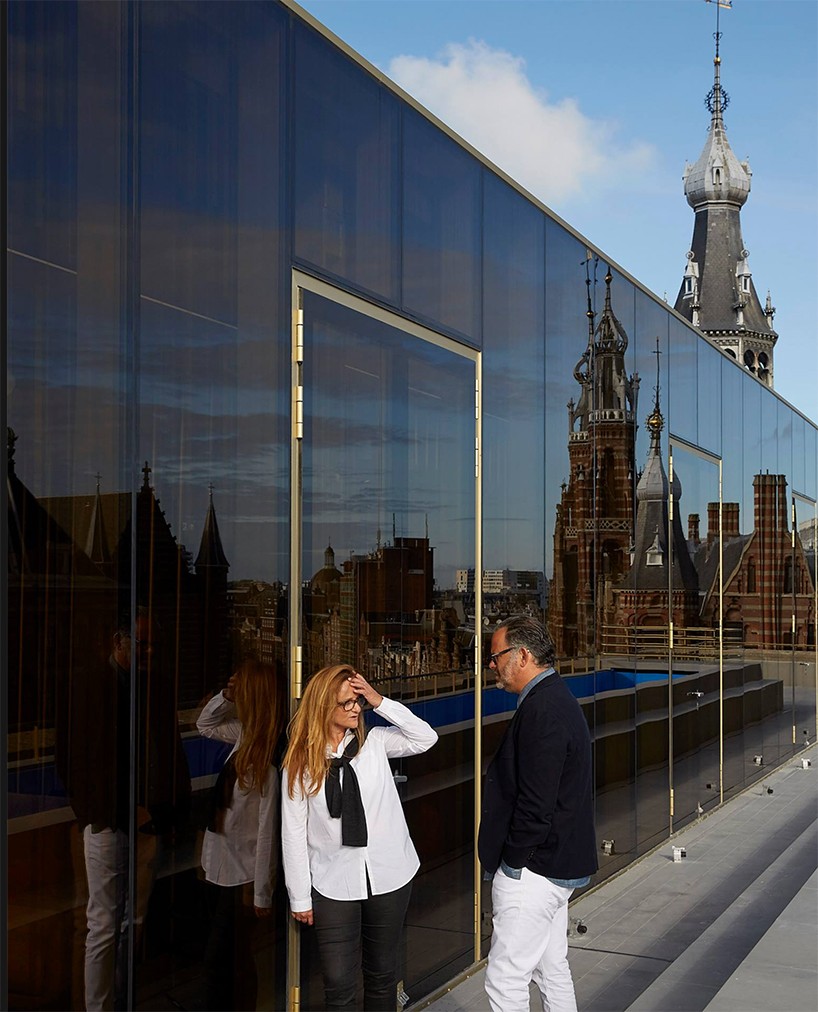 alon baranowitz and irene kronenberg at W hotel in amsterdam
the answer, according to baranowitz kronenberg, are spaces defined by narrative: environments and atmospheres that demand exploration, examination and discovery. 'it's about finding a strong DNA that goes beyond color and texture,' said irene kronenberg when designboom spoke to the pair recently, but the most important aspect that they identified was the creation of a memorable dialogue between body and space. if you're trying to communicate a story, then language is the vessel — but you can't have language without humans.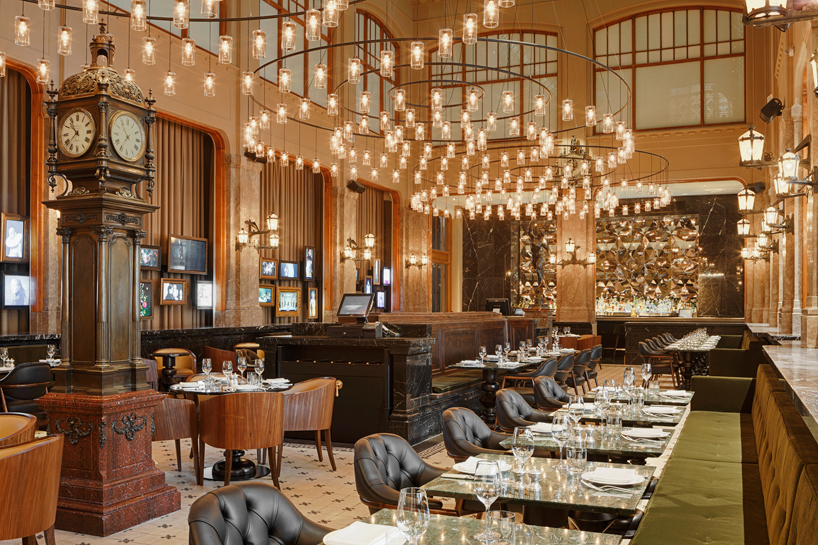 THE DUCHESS restaurant as part of the W hotel in amsterdam
'the moment we start to try and define what themes we want to explore within a space, as soon as we define them, we realize that none of them can exist without the interaction of a human', smiles kronenberg. 'the design [of a space] exists because of this emphasis on its dynamic with the people that engage with it; the people that work there, that people that visit — everyone — and it changes all the time.'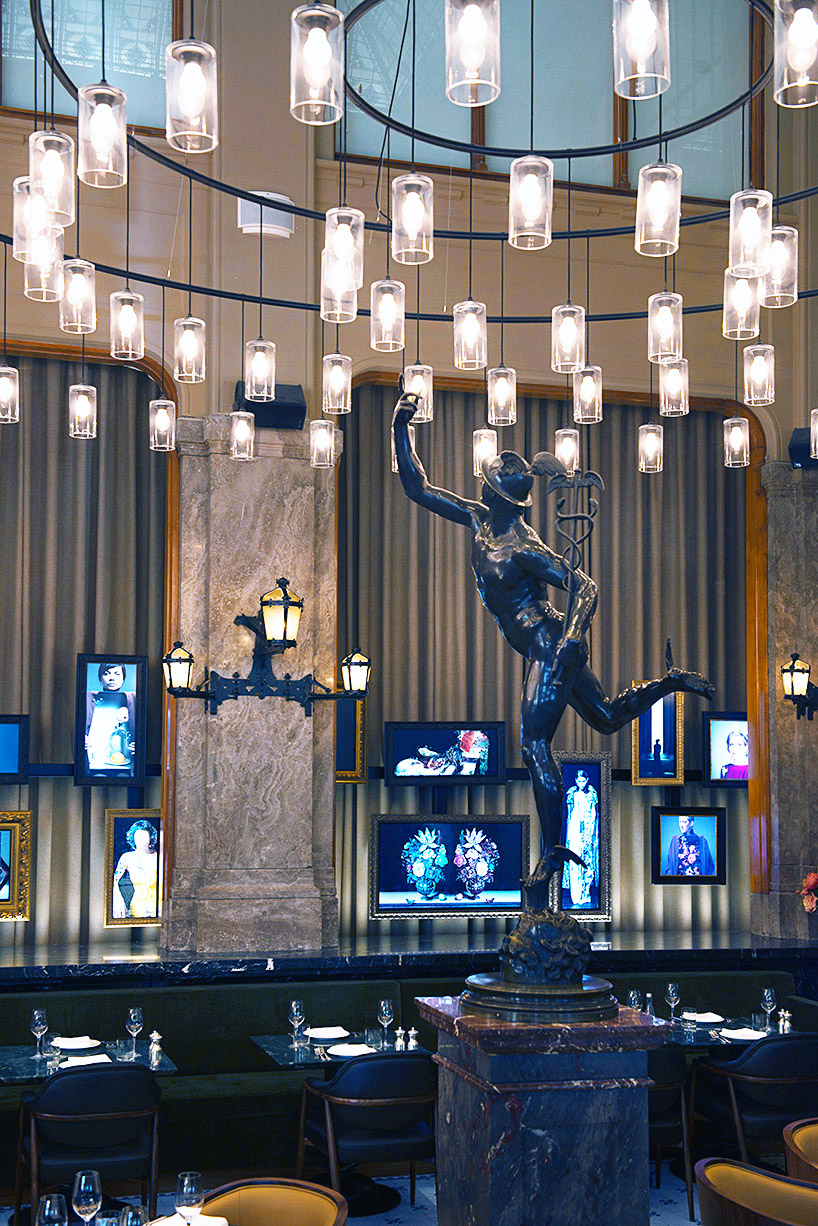 THE DUCHESS references the spirit of 'grand brasseries' and the history of the former bank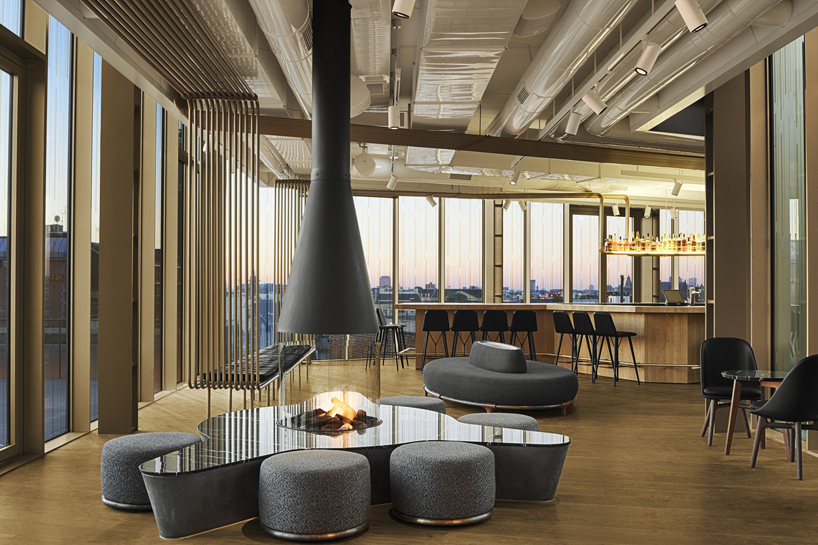 MR PORTER is located on the sixth floor of the W hotel
image © lutz vorderwuelbecke
the success of the studio centers around its adroitly turning a site from one thing into another — transforming rooms and buildings into intricate iterations of their old selves. despite this penchant for change, culture is kept at the core of each project and retaining a firm link to the history of the building and the story of its surroundings is key to each new initiative.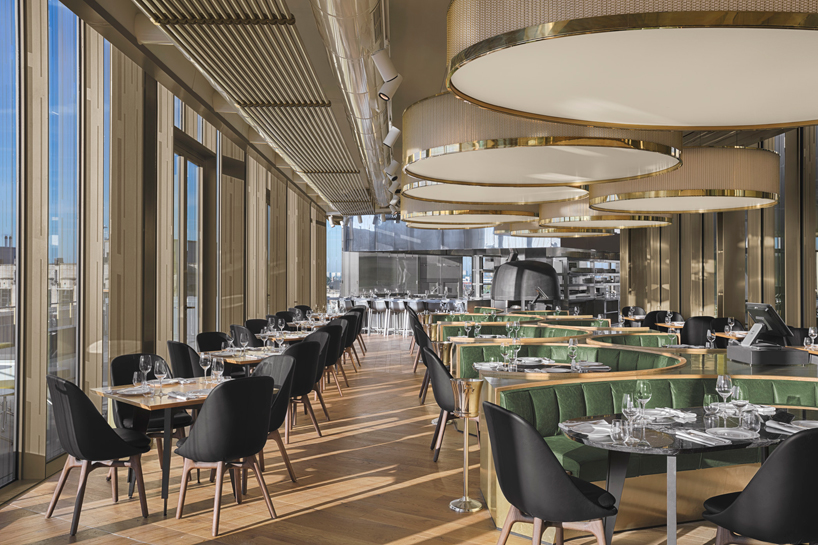 MR PORTER: the design revolves around the contrasting spaces which make it a whole
image © lutz vorderwuelbecke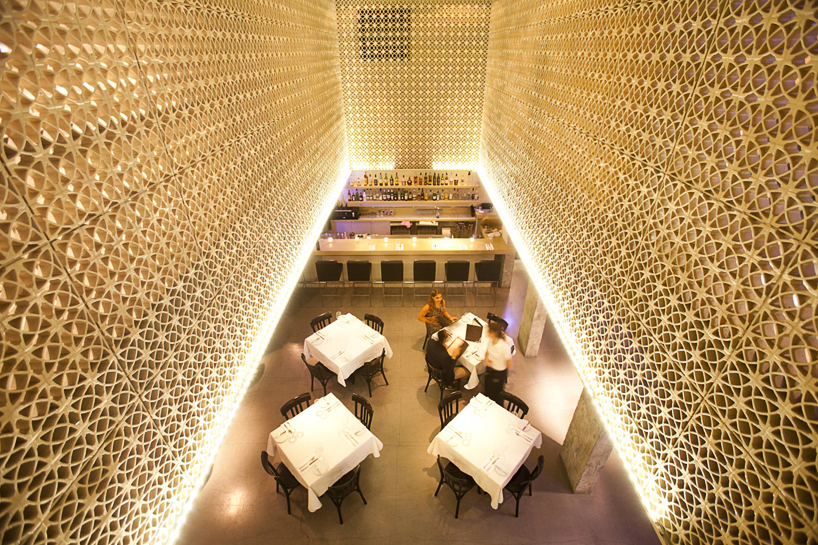 kosher restaurant 'deca' was influenced by jewish shabbat
this ethos was evident in their design for kosher restaurant 'deca'. located in their hometown of tel aviv, deca is defined by a warm, golden atmosphere that at first seems at odds with its industrial origins. previously a two storey storage facility, the design retained existing structures like columns, beams and stairwells, leaving a rough, unfinished presentation to boldly compliment their more luxurious additions. with dining tables influenced by jewish shabbat and glimmering lace-like wall tiles, the restaurant is at once austere and alluring, as the studio describes it, 'a conciliation between the sacred and the mundane'.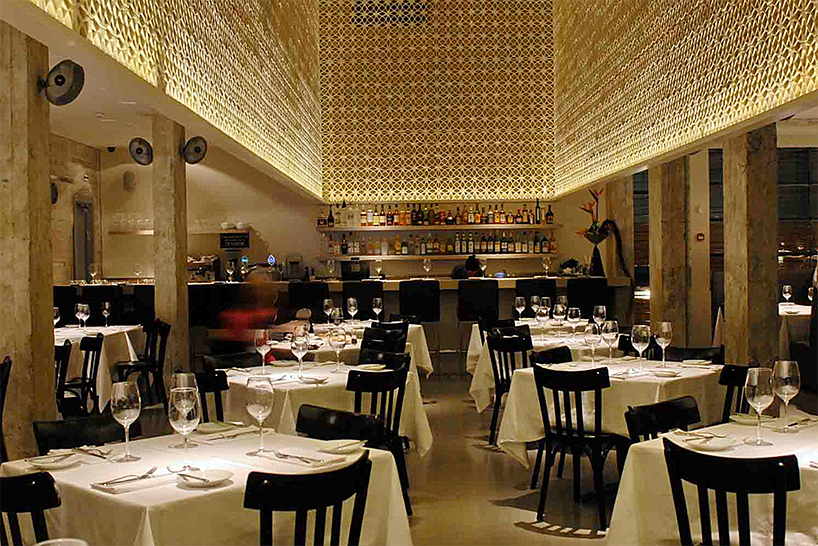 'deca' has dining tables influenced by jewish shabbat and glimmering lace-like wall tiles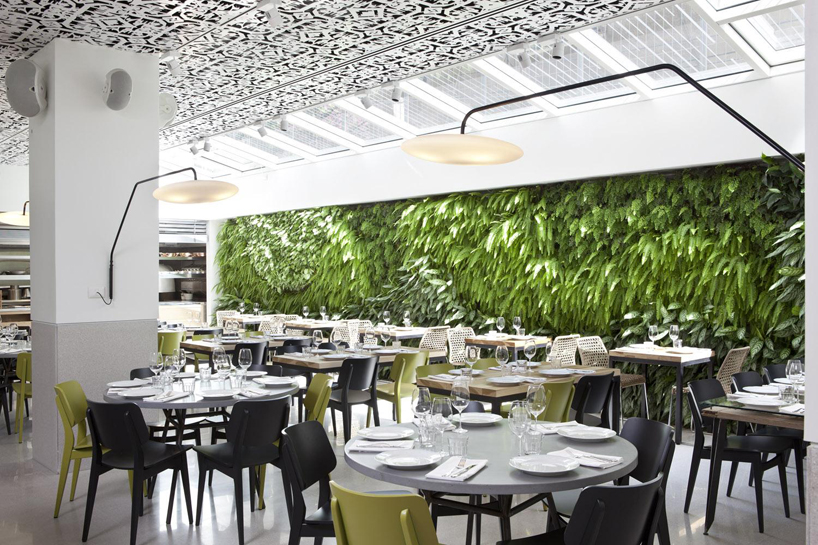 rather than driving non-guests of the hotel away, the point of the mendeli is to invite them in.
BK manipulate letters of the hebrew alphabet to form a decorative aspect throughout.
their renovation of the mendeli hotel on the tel aviv beachside saw the duo take their experimentations with language to a more literal level. manipulated letters of the hebrew alphabet feature as a decorative aspect of the aesthetic throughout, and a fine balance exists between the buzz of the surrounding nightlife and the sanctuary of the rooms above. for BK, the key to creating spaces like this is to connect them with their environments rather than turning them into spaces of exclusivity. floor to ceiling windows open the mendeli onto the street, and invite the attention of passersby. this doesn't mean skimping on quality however.
'it's a very restrained kind of luxury, it's not intimidating', says baranowitz. 'it kind of insinuates luxury. it implies luxury but intentionally doesn't take you all the way there, because we don't want it to be an intimidating space'.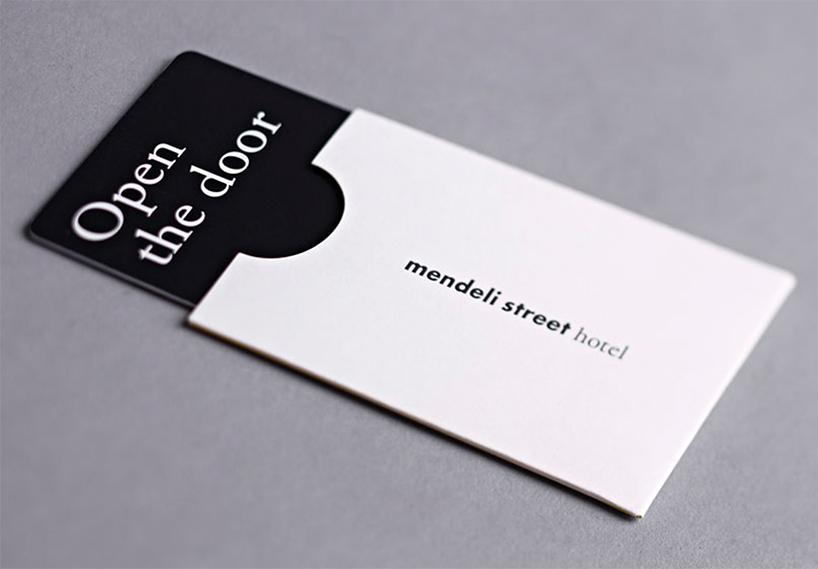 design studio koniak developed the brand identity
this is achieved by fusing traditional israeli nuance with a more contemporary broader vision — appealing to locals and tourists alike. 'quality is a language that's spoken all over the world', explains baranowitz in an interview with surface magazine, 'but it's communicated here with local materials and a local theme.'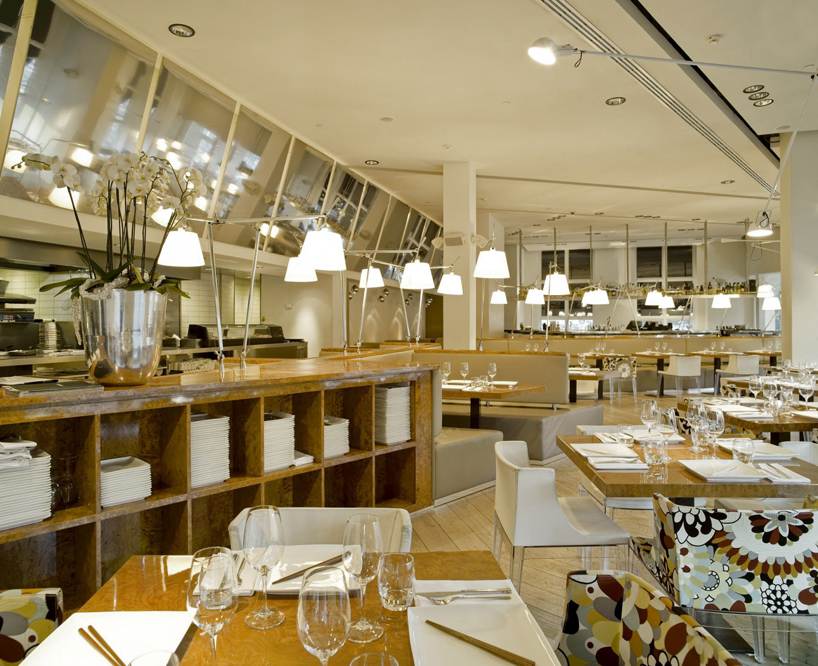 MOMO has become a fixture the dutch capital's restaurant scene
image © ewout huibers
amsterdam's MOMO restaurant marked the studio's first project in the dutch capital, and the beginning of a long standing relationship with the city. now a favourite among locals, the space was designed as a multi-social program, capable of hosting early morning breakfasters and late night revelers alike. although attached to a hotel, baranowitz kronenberg was firm in its assertion that the restaurant should belong to the city first.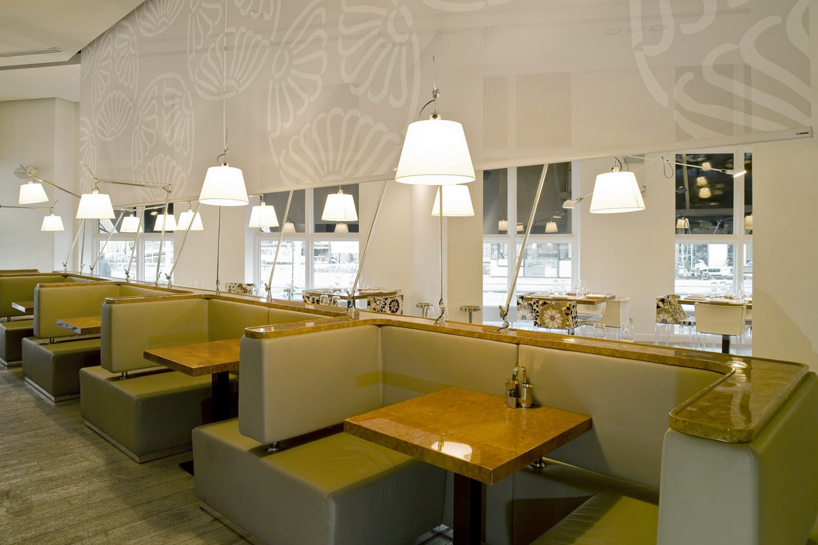 'for us, not just for me, ninety percent of the success of a project is space planning'
image © ewout huibers
'once that level of communication is achieved, the added value for the hotel, economically and in terms of public relation and exposure would be priceless', they explain. MOMO's clean and uncomplicated furnishings lend a sense of movement to the space, allowing the architecture of the location to breathe and putting patrons center stage.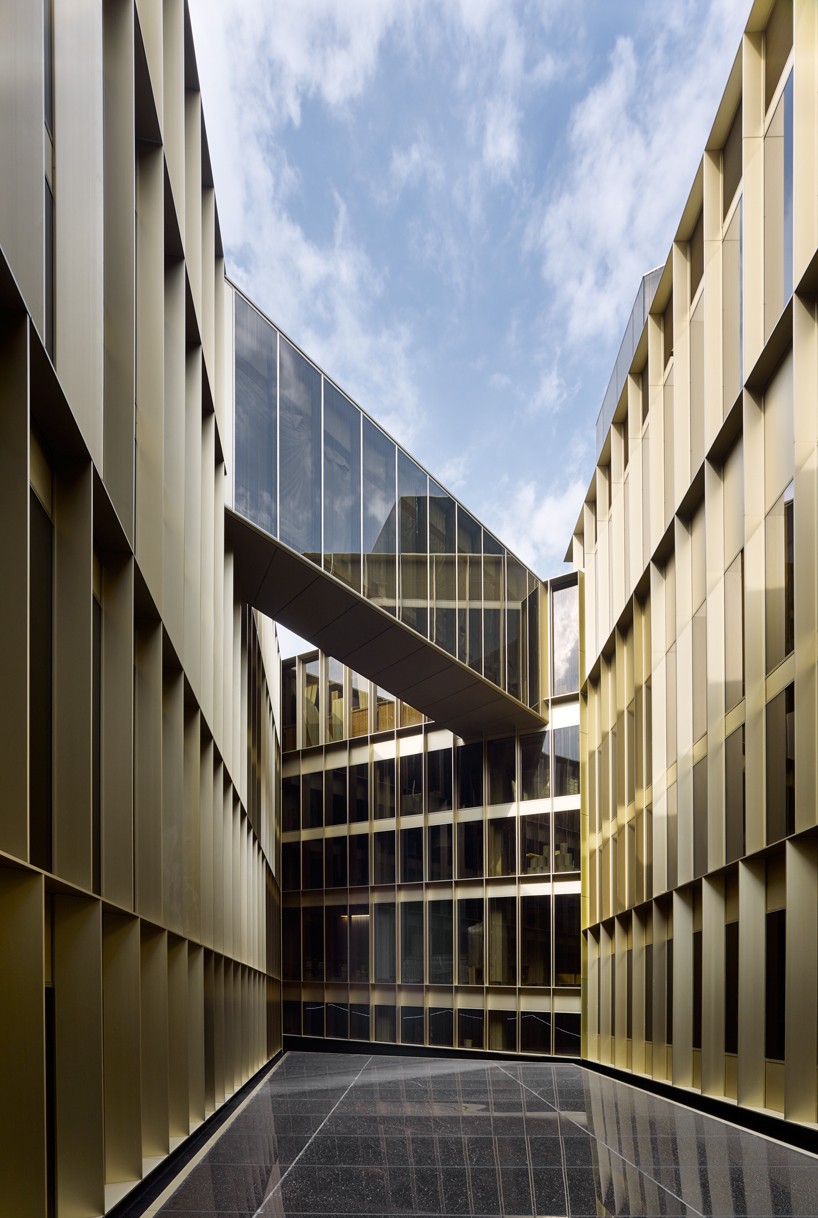 the W was once a telephone exchange building and sits at just a stone's throw from the royal palace
their most ambitious and well-recognized project to date is undoubtedly that of the W hotel and X BANK buildings in the heart of amsterdam. at just a stone's throw from the royal palace, the location is a multi-program project that includes a hotel, spa, retail spaces, restaurants, bars and more. the combination of the two buildings and all that they contain has been described by some as a city within a city, and it's an analogy the pair agree with. rather than design a conventional collection of stores and eateries, BK set about creating an entire urban infrastructure.
'first we talk about what we need the store for: what is the concept? what is going to be displayed? when we understood that in this case, it was very obvious that we needed to develop a language, a vocabulary of design that was based on flexibility,' says baranowitz. 'it's based on versatility, dynamics, change, and of course flow, but it's also based on a kind of…lingering. you don't just walk around the store, you linger in the store. you discover, you explore — nothing is in full view. as long as you keep going, you keep discovering.'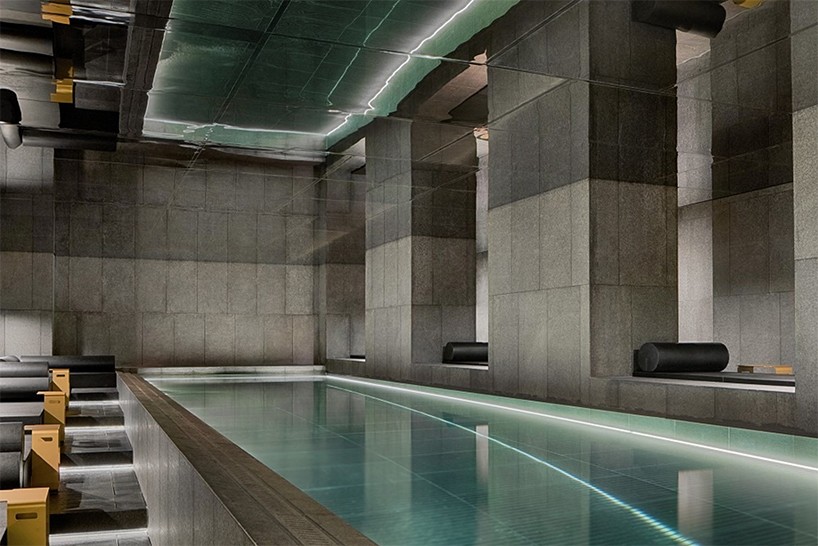 AWAY spa center at the W hotel
it is through this language that BK expresses its vocabulary of design. each new project represents a dialect formed specifically to communicate the space to its audience — much like telling a story. with regards to X BANK, that language was distinctly urban, but it changes case by case. 'the language we used for [X BANK] was really a that of a street rather than a museum', says kronenberg. 'you wander down this street and see where it takes you.'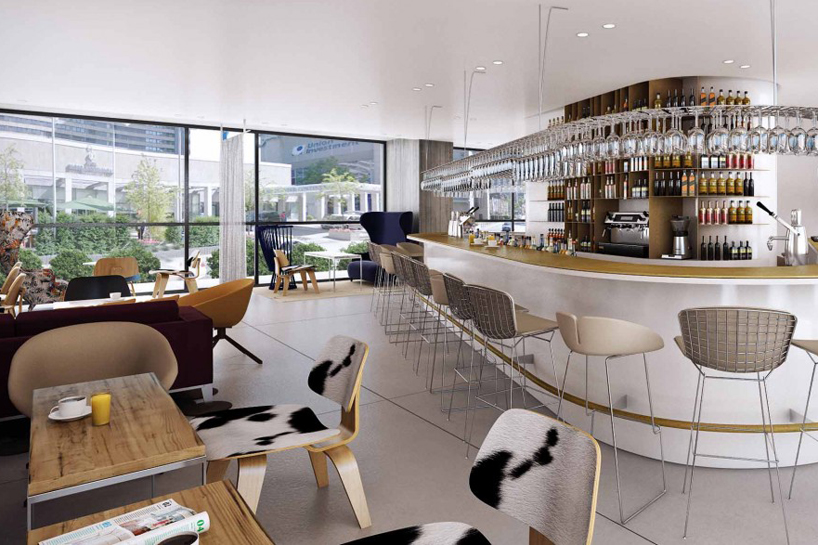 the wyndham grand frankfurt is designed as an urban platform and a social hub
for BK, a job is a success when this spatial language is compatible with whatever product or service eventually inhabits it. 'I look at it like creating a machine,' she continues. 'you can say 'this coffee is great', and you can say 'the machine that makes it is great'. ideally, these two things come together. this is what we want to do, create something the end product of which is this interaction.'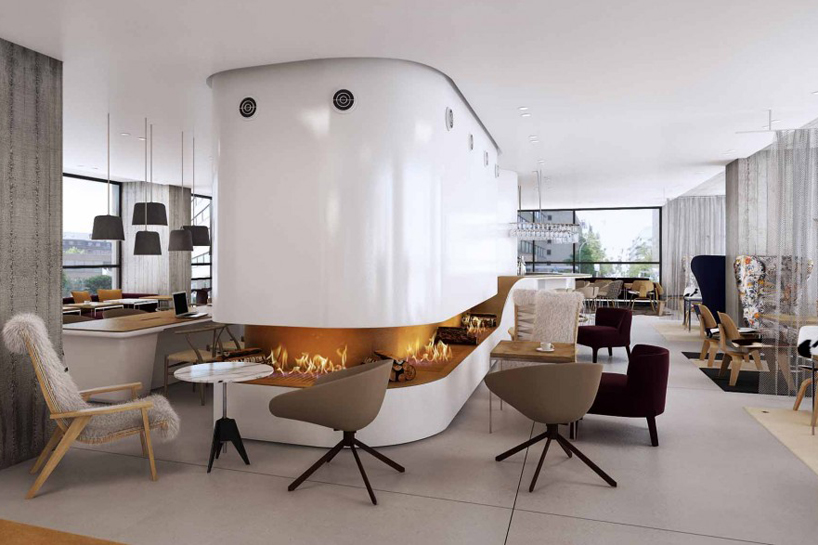 the aim of the design is to transcend the classical perception of business
this idea of give and take, of connection and exchange is something that baranowitz kronenberg mention a lot, and is undoubtedly integral to the way they work. 'in our research, that's where we start. we start the design from that connect and exchange.' it's not something that's easily achieved however. 'we work a lot. a lot, a lot, a lot', says kronenberg. 'in the office we all start everything together, and then we separate later on. we speak all the time though,' add baranowitz. 'we speak in the office, we speak in bed, we speak in the shower. it's crazy, but this is it.' the pair even have a running joke that their daughters have an extra sibling — the work. 'he's sitting with us at family dinners, he's there all the time,' continues kronenberg. 'it's our life'.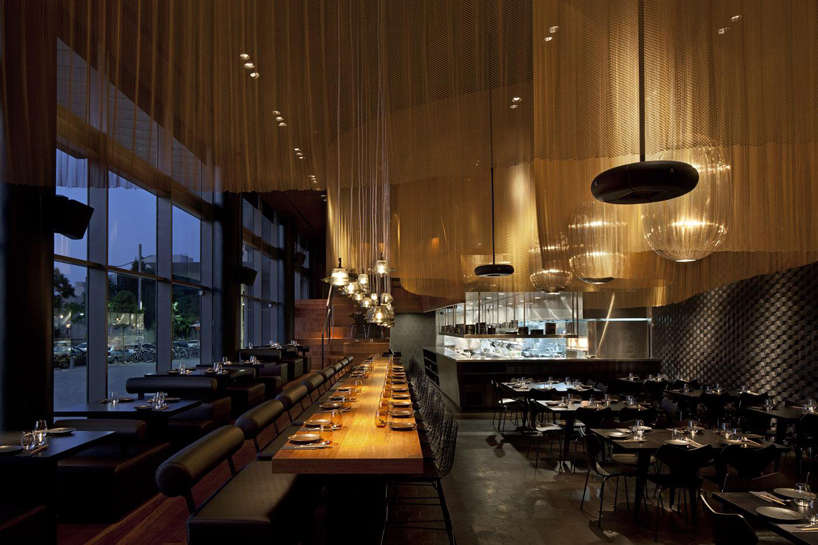 located in tel aviv, topolopompo is a fire kitchen restaurant inspired by the exotic culinary traditions of the east
the major renovation project of the KAS bank in amsterdam includes remaking into the new structure of the W Hotel with AWAY spa center. the architects followed the classic pattern of bank buildings — a vault on the ground floor and basement, a monumental hall on the first floor, and offices above — while restructuring and updating it in coherence with the here & now. the rich aesthetic, unveiled in a fresh context, serves as a base to the 'playful luxury' theme for which BK have become known.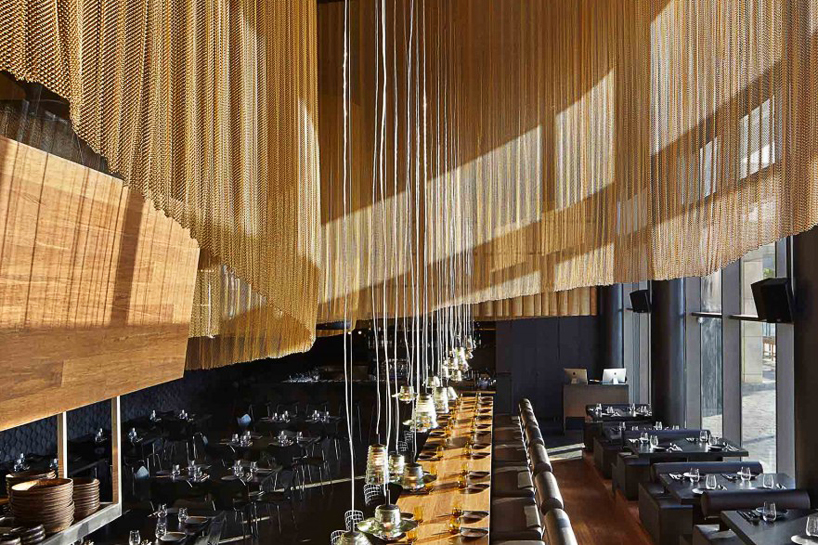 topolopompo's design alludes to a tribal bonfire seating of old where tales and myths crystallized intoindigenous cultural heritage
despite the size of the amsterdam project, it was only one of many projects they were working on simultaneously. 'we usually have maybe…12 at the same time?' guesses baranowitz, 'but we really try to choose projects that are interesting for us, because if you live your life through your work…you need to enjoy it.' when asked if there were any dream project they had yet to work on, the answer was a far cry from the hustle and bustle of the W hotel. 'I don't know about him, but I would love to do a house of prayer', suggests kronenberg. 'I'm atheistic, absolutely, but it interests me very much, this situation of meditation within a space. it's something that I never did and it's something that I would love to do.'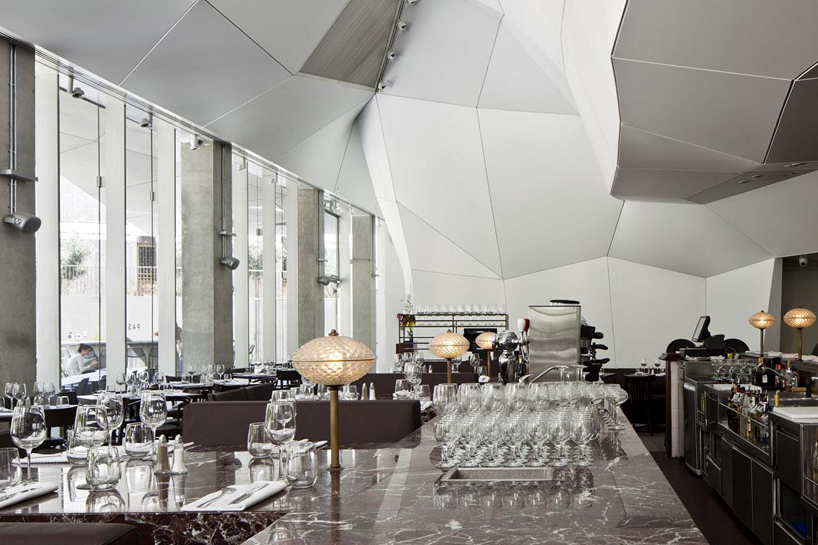 called 'pastel', this brasserie is located in tel aviv
a knowledge of space, of course, is integral to every studio's toolbox, but for BK arch it takes on a new importance. their MR PORTER restaurant, perched on the rooftop of the W, revolves around the contrasting spaces which make it a whole; the surroundings rooftops, the street below, the cozy interior. this interchanging of spatial programs is also seen in THE BUTCHER (located on albert cuypstraat in the city's de pijp neighborhood) a burger restaurant with a hidden speakeasy concealed behind a freezer door.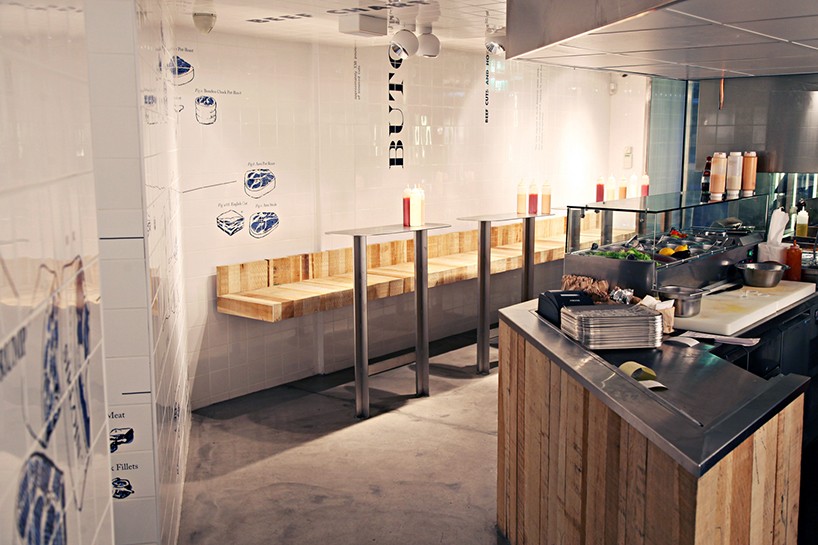 THE BUTCHER restaurant in amsterdam
in creating these spaces however, they prefer to work with their hands rather than renderings, insisting it's the only way to truly understand the essential dimensions of a project. 'in our office, we don't do renderings, we do spacial models. the first thing we do is start to develop a model. we start small and gradually get a little bigger, because it's all about space. if you really want to understand space, for us, this is the only way of working. our office is a mess because of it, we never have enough room for all the models'.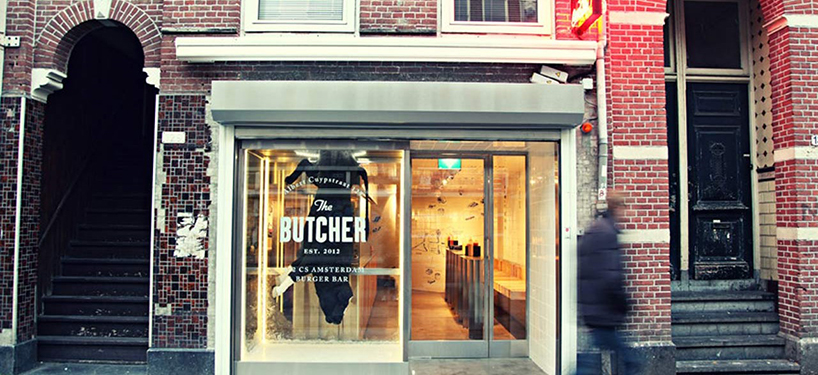 street view of 'THE BUTCHER' with concealed speakeasy behind a rear freezer door
'for us, not just for me, ninety percent of the success of a project is space planning', says kronenberg. 'you're supposed to have good taste and you're supposed to know about materiality, but if you have good space planning its very difficult to do wrong, and it's actually something that you don't find a lot.'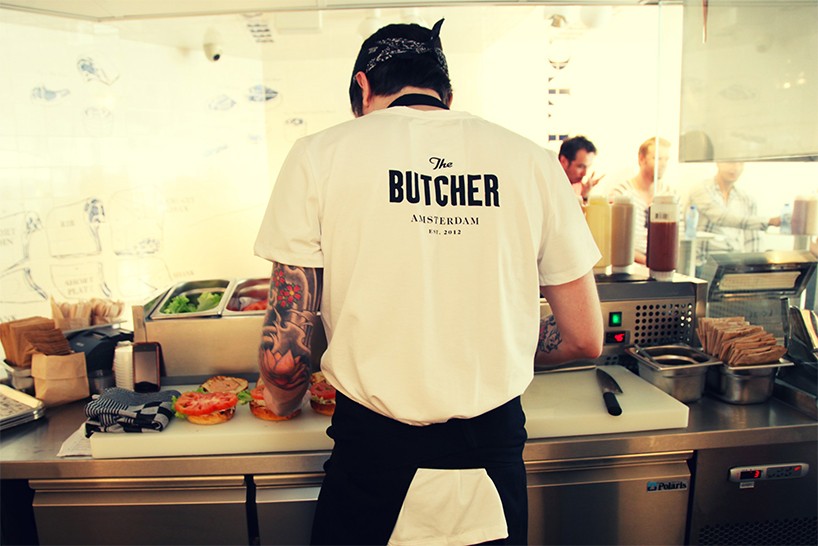 the relaxed atmosphere of THE BUTCHER and the professional service level make for the ideal relaxed meal out
peter corboy
I designboom
feb 10, 2017
a diverse digital database that acts as a valuable guide in gaining insight and information about a product directly from the manufacturer, and serves as a rich reference point in developing a project or scheme.
designboom will always be there for you
milan, new york, beijing, tokyo

,
since 1999