oct 30, 2012
behind the scenes of yung ho chang's material ism exhibition at UCCA
building-up of yung ho chang's exhibition 'material-ism' at UCCA, beijing image © designboom
yung ho chang of atelier FCJZ sees architecture as a narrative tool to conceive what-if scenarios through visual and spatial theatrics – to engage what may be an increasingly ever-seeing, yet never-perceiving world, through exploring sight lines, vistas, the viewer's relationship with the space as well as using complex reflection to create dynamics of motion. the studio's retrospective 'material-ism' at UCCA ullens center for contemporary art in beijing which designboom covered here, is derived from chang's understanding of architecture and design as disciplines ultimately grounded in tangible concerns. allusions to marxism and consumerism nod to a kind of material objectivity and chinese pragmatism, challenging notions about icons and symbols. these are highlighted in the exhibition's structure which is organized according to six recurring ideas that have characterized chang's practice: inhabitation, materiality and construction, visual-spatial play, redefinition of chinese space, micro-urbanism, and the greater cultural project.
installation view image © designboom
the overall scenography of the showcase expresses the importance of material experimentation and rough prototyping in chang's design process. each one of the six main structures is raw in its appearance, composed of the mould used to make the display surfaces, and the resulting monolithic objects themselves. each themed section has been cast from forms made of different materials such as plastic tubing, glass, rubber sheeting etc., whose wooden framework stands as the supporting structures of the installations, raised above the ground, each of the cast pieces sitting on the ground below, whereby the process of building-up the show remains in tact and purposefully functional, providing a raw and unpretentious backdrop for atelier FCJZ's work.
overall, the rawness of 'material-ism' engages the viewer with new and often-overlooked materials and structural systems, in an attempt to close the gaps between ideas and action, low- and high-tech, engineer and craftsman, and tradition and modernity.
each mould is made from a wooden framework which is finished with various materials in order to cast the counters image © designboom
image © designboom
each mould is raised above the ground making it appear as if the cast object has simply fallen out of it onto the ground to serve as a display surface image © designboom
texture detail image © designboom
corrugated plastic mould image © designboom
the rubber sheet mould creates a bulging concrete counter image © designboom
preparing to hang the exhibition's two-dimensional elements image © designboom
concrete walls used as display for the models image © designboom
textured results on one of the display surfaces image © designboom
image © designboom
image © designboom
apr 30, 2016
apr 30, 2016
oct 10, 2015
oct 10, 2015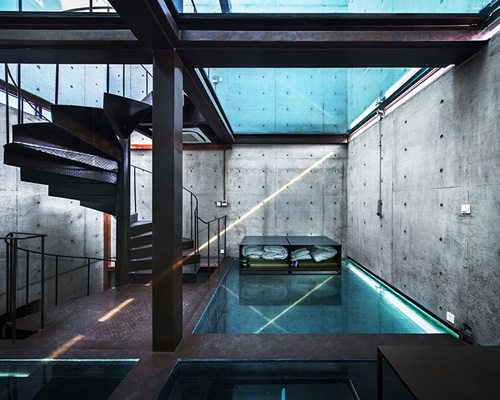 feb 24, 2014
feb 24, 2014
oct 15, 2012
oct 15, 2012
oct 15, 2012
oct 15, 2012
oct 13, 2012
oct 13, 2012