nov 12, 2013
behnisch architekten realizes ergolding secondary school
behnisch architekten realizes ergolding secondary school
all images courtesy of behnisch architekten
a new school constructed by behnisch architekten, alongside architekturbüro leinhäupl + neuber, has been built in germany. 'ergolding secondary school' features a large open atrium as its focal point, providing an instant visual connection among the institution's various departments, in addition to serving as an assembly hall. this color-coded central hub allows students to intuitively find their way around the building.

the school features a large open atrium at the heart of its design
each area of the project has been designed to be as flexible as possible, with circulation spaces becoming extensions of the learning environment. as well as offering informal meeting points for both students and teachers, these zones provide places for both individual and collaborative study.

flexible classrooms can be divided into smaller work areas
at the third level, science labs feature a partition wall enabling the room to be divided into smaller work spaces, while teachers' work rooms are placed between the individual lecture rooms and laboratories. these versatile classrooms have been designed to accommodate the needs of a modern educational environment. at lower levels the gymnasium, cafeteria and break out areas can be found.

throughout the interior, large quantities of natural daylight enhance occupants' comfort and well-being
the scheme also has a strong commitment to environmental sustainability with a ground source heat-pump, located beneath the playground, meeting 85% of the building's heating demands. working both manually and automatically, an air conditioning system provides high quality air throughout the day, while classrooms oriented north channel daylight from southern areas of the school through the implementation of light-directing solutions. additionally, LED lighting is used throughout the design, saving up to 70% of energy when compared to more conventional systems.

circulation spaces become extensions of the classrooms

hallways are open and brightly lit

color-coded volumes assist wayfinding

circulation spaces serve as informal meeting points for students and teachers

a ground source heat-pump beneath the playground meets 85% of the building's heating demands

LED lighting is used throughout, saving up to 70% of energy when compared to conventional lighting systems

siteplan showing the green areas of the scheme

floor plan indicating the layout of the new building

sectional drawing
project info:
location: ergolding, germany
client: district of landshut
completed: 2013
area: 12,500 sqm (135,000 sqf)
volume: 55,000 sqm (1,940,000 sqf)
jul 09, 2014
jul 09, 2014
nov 19, 2011
nov 19, 2011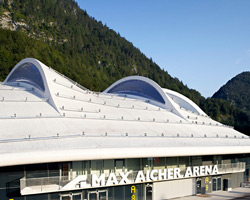 nov 06, 2011
nov 06, 2011
jul 18, 2017
jul 18, 2017
jul 13, 2017
jul 13, 2017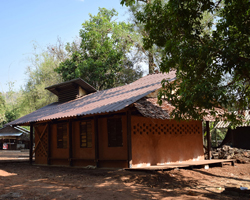 jul 03, 2017
jul 03, 2017