interview with architect ben van berkel of UNStudio
image © inga powilleit

ben van berkel is a dutch architect responsible for more than 80 built projects across the globe. after studying at the rietveld academy in amsterdam and london's architectural association, van berkel founded UNStudio in 1988 with caroline bos. since then, the amsterdam-based practice has grown to a total size of almost 150 individuals. in 2009 UNStudio asia was established, with its first office located in the chinese city of shanghai — five years later the studio opened an additional branch in hong kong. van berkel has also successfully designed a range of products, including lounge furniture, door handles, and even 3D-printed shoes.
designboom recently spoke with the architect who discussed the future of travel, his introduction to the world of architecture, and the words of advice he received from frank gehry.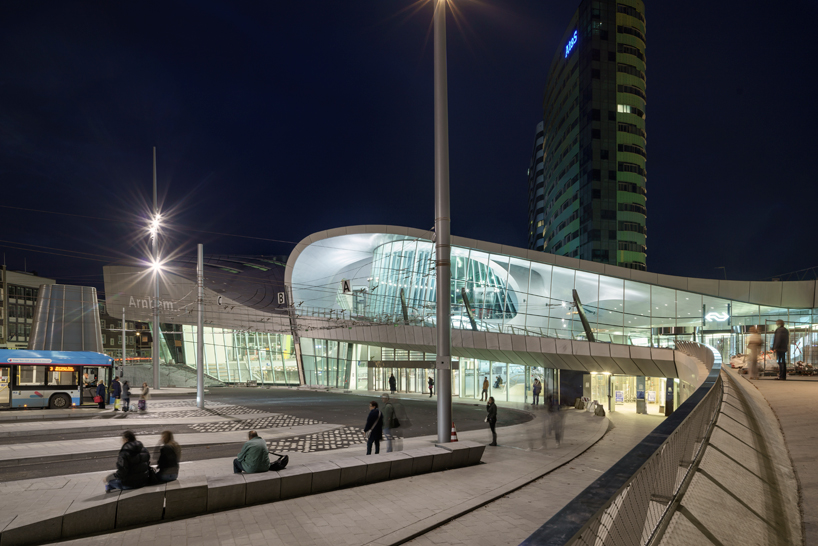 the arnhem central masterplan was completed in 2015 / image © ronald tilleman
see more of the project on designboom here
designboom: you have recently completed a major new station and masterplan in arnhem after 20 years. how has the role of travel changed in that period?

ben van berkel: train travel has become faster – and therefore much more attractive – in recent years. in europe we now have an international train network with high speed links, which means that we can travel between countries and cities much faster than was previously possible. this speed will also increase in the future, as new high speed lines are added to these networks. 
train stations themselves are also changing. they are becoming much richer spaces, with varied programs and greater urban and economic impact. they are now almost becoming destinations in themselves, rather than simply a means to an end.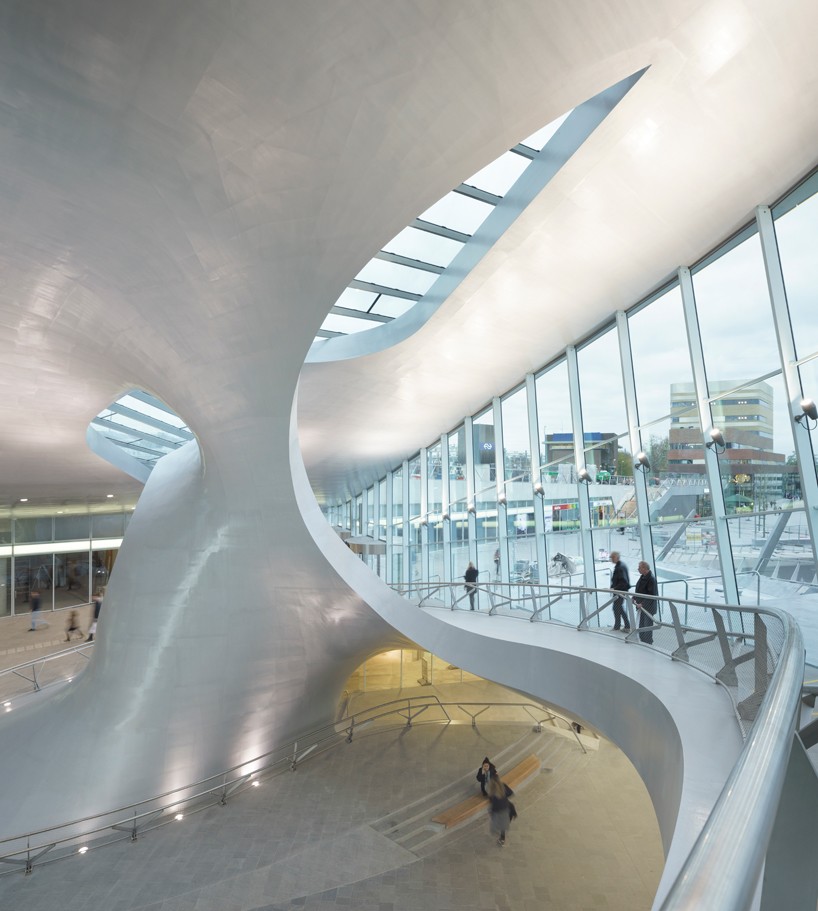 the arnhem scheme features a distinctive twisting roof form / image © ronald tilleman
DB: which aspects of the design were you most proud of? 

BvB: I like that the design works. that it does what it promised. the feedback we are getting is that the public is really experiencing the concept of celebrating travel and that the design facilitates this. I mentioned before that speed is an important factor in encouraging people to use public transport, but travel is not just about getting from A to B in as little time as possible, it is also an experience. infrastructural architecture plays a large role in facilitating this: it can help to amplify the theater of travel and take it beyond a prosaic experience. the transfer hall in arnhem central is the key part of the masterplan that plays with these ideas: it is the space in which everything comes together, the heart of the project where all flows converge and are organized. a certain dynamism can be created when architecture and the public come together and this is what makes this project special for me.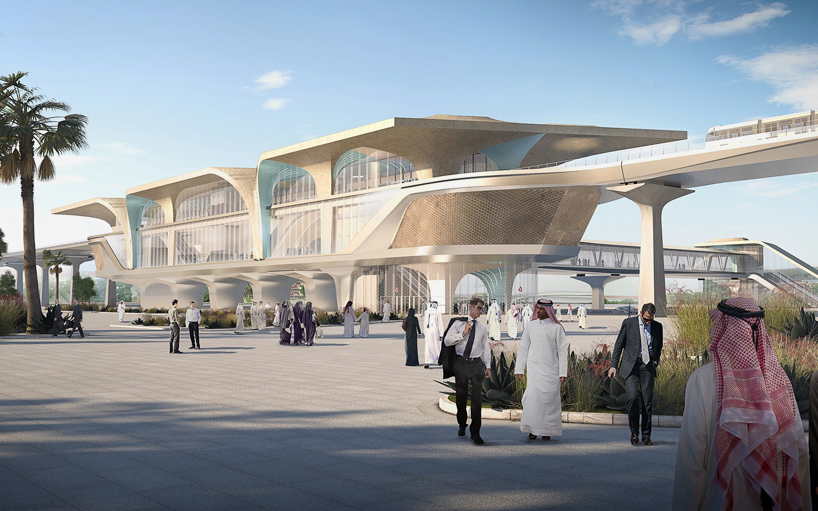 UNStudio will complete a metro network for the greater doha area in qatar / image © qatar railways
see more of the project on designboom here
designboom: UNStudio's other transport projects include a new railway system for qatar. how did this project compare to arnhem in terms of its location, scale, and budget?
BvB: 
it actually can't be compared. arnhem central was a compact masterplan centered around one station that accommodates multiple modes of transport. the work we are doing with qatar rail involves the design of around 35 stations (in the first phase) along four planned metro lines that span the greater doha area. the stations for the doha metro network are all of different scales and budgets, so a completely different design strategy was needed.

the first phase of the project includes around 35 stations / image © qatar railways
DB: how do you see the future of travel developing, and what role does architecture have to play in that?

BvB: at UNStudio we refer to this as mobility+: an approach which also focuses on how we can stimulate the use of public transport. we can talk endlessly about making cars more sustainable, but we need to look at encouraging the use of other modes of transport in a far broader way. arnhem central, for example, was a whole masterplan. it resulted in a new and vibrant part of the city where living, working and leisure facilities are included to stimulate the use of the station and turn it into a transfer location: a hub for public transport of different kinds.
we believe that the phenomenon of the station should be changed as a typology into transfer locations with multiple programs. this means that we need to come up with new ideas for how we can support the users in these new environments and provide new types of comfort. we also need to learn to think about the whole passenger experience, not just the stations that start and conclude a journey, but also everything that happens in between, the whole network of travel.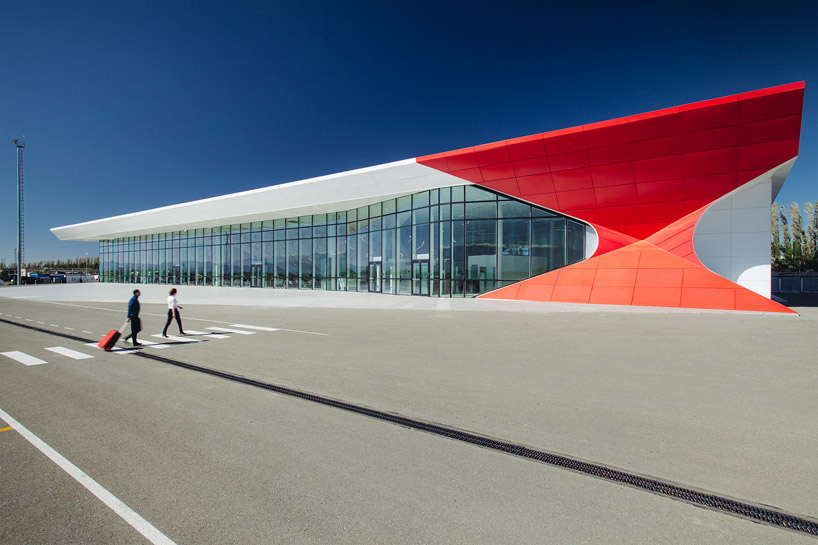 UNStudio designed georgia's kutaisi international airport, which opened in 2012 / image © nakanimamasakhlisi
see more of the project on designboom here
DB: what originally made you want to study architecture and become an architect?

BvB: strangely enough it was graphic design. I started out as a graphic designer making magazine covers. I was always interested in producing something that could be directly connected to the public, which the magazine covers provided, but at the same time magazines are only there for a week and I never liked the idea that they were so impermanent. but architecture had always interested me. I worked briefly for a japanese designer and he advised me to go to japan. when I was there I saw the katsura palace in kyoto and I decided almost on the spot that I wanted to become an architect. my visit to the villa was a very special, intense, almost indescribable experience. I also read a lot about it in connection to bruno taut and the understanding that modern architecture was seen to have started with the katsura palace. it was tough to switch professions, but I have never regretted it.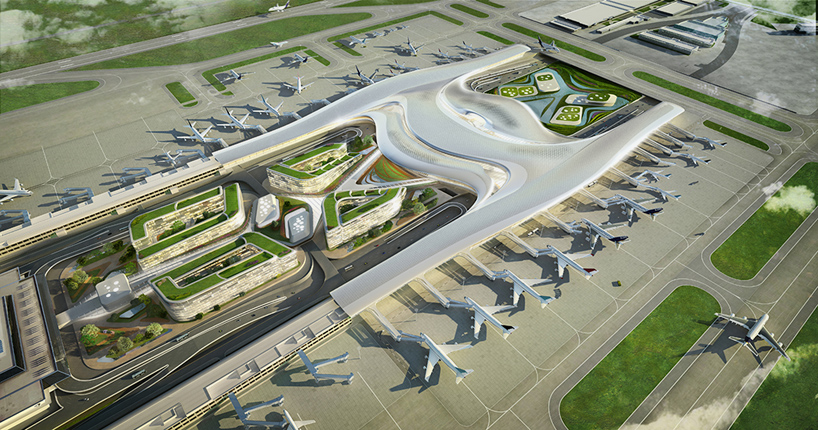 the amsterdam-based practice also presented proposed plans for taiwan's taoyuan airport / image © UNStudio
see more of the project on designboom here
DB: what particular aspects of your background and upbringing have shaped your design principles and philosophies?
BvB: 
traveling in my early 20s to various places, like japan and america, had a great impact and influence on me. I was really interested in art and design when I was studying at the rietveld in amsterdam and even though I was studying graphics, I had teachers from a variety of disciplines: from an artist to a furniture designer and an architect, and this gave me a really rich and diverse education at the time. it was the same at the AA in london, when I was studying architecture there. I was a student of mohsen mostafavi, who taught me everything about the viennese school – not only the architecture, but the whole culture of that period. at that time I was reading everything I could get my hands on from freud and kraus to adolf loos. zaha hadid was also teaching at the AA and she encouraged me to be bolder and to experiment much more with geometry.
after I had finished studying I became part of a group of called the paperless studio, along with people like hani rashid, stan allen, jesse reiser, alejandro zaera-polo, and greg lynn. within this group we were primarily fascinated by the discourse that came about due to the influence of computation on design and it was a very important period for me in terms of shaping my thinking about parametric design. critics like jeffrey kipnis and sanford kwinter were also an important influence when I taught for several years at numerous universities in the U.S. at the beginning of the 90s.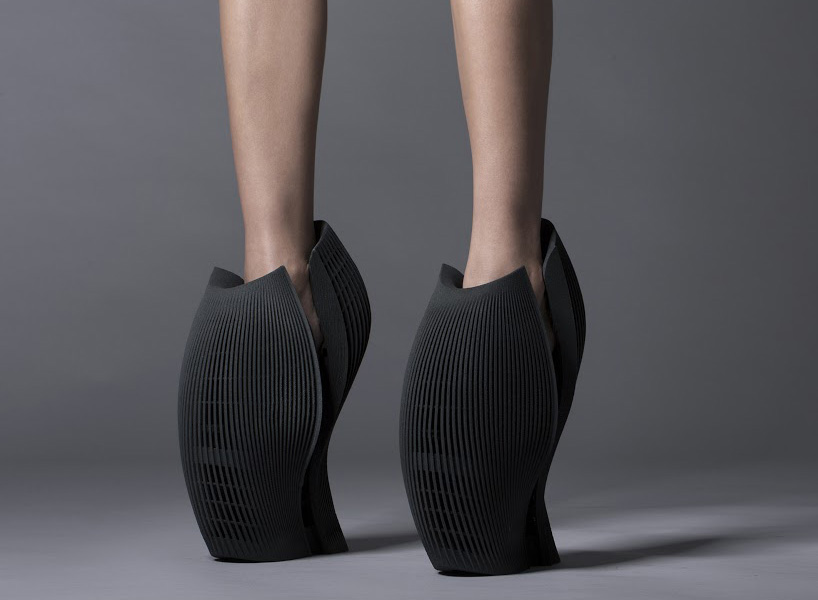 in 2015, van berkel collaborated with united nude to design a pair of 3D-printed shoes / image © united nude
see more of the project on designboom here
DB: overall, what would you say is your biggest strength and how have you developed that skill over time?

BvB: as an architect you almost have to be a bit clairvoyant, you have be able to predict how things will be in the future on multiple levels, and I suppose I could say that years of experience have enabled me to develop that skill to some degree. I'm not always right of course, but it comes down to envisioning how best to develop a location and being both a good editor of information and a good troubleshooter at the same time. I have also had to hone my skills in guiding everyone who is involved in the design process and I would like to think that I am a good motivator, also when it comes to teaching. but I'm glad you didn't ask me to list my weaknesses!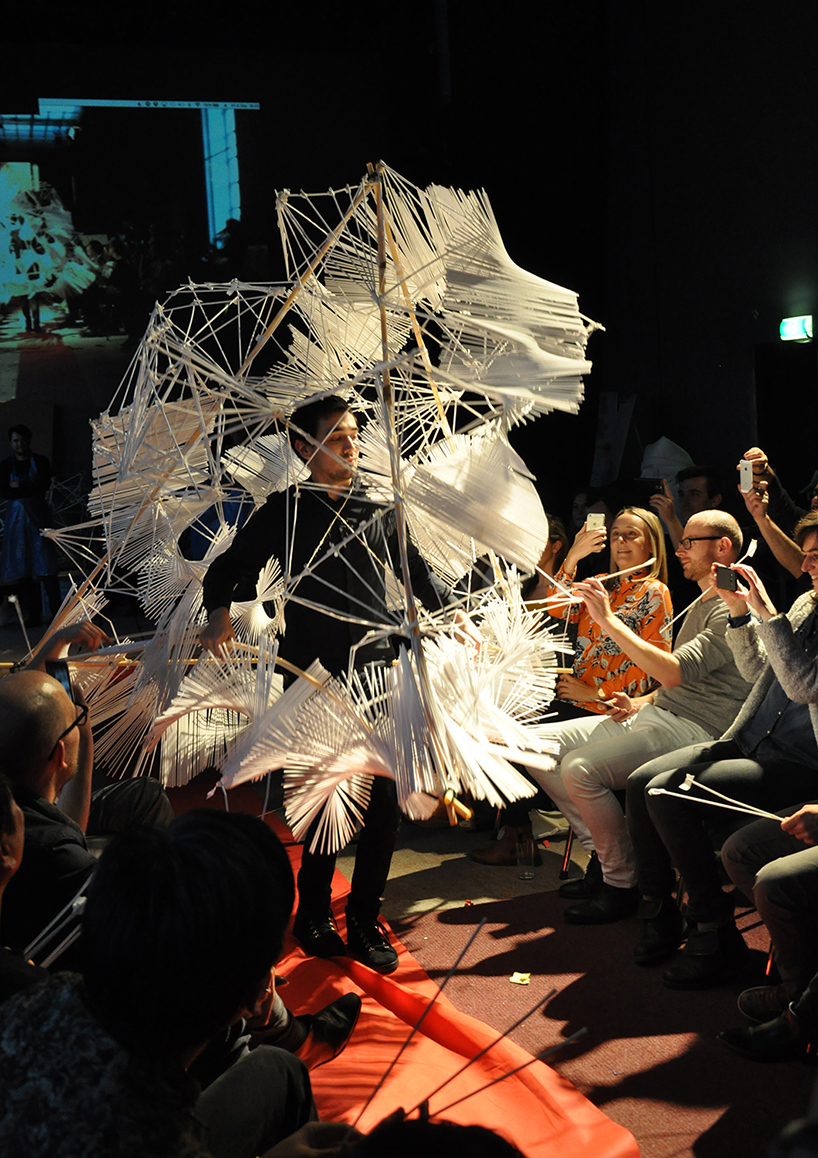 UNStudio's latest internal conference focused on model making / image © UNStudio
DB: now that computer generated visualizations are so commonplace, do you think there is still a place for physical model making or sketching designs by hand?

BvB: definitely! I still sketch every day and I paint whenever I get the opportunity. the computer certainly changed architectural production in extremely significant ways — as much as the smart phone changed communication, I would say — and I have no doubt computation will continue to impact how we work in ways that we can't yet fully predict. 
I am also now really encouraging physical model making at the studio again. 3D modelling is of course so fast and it's a language today's designers automatically turn to, so it's an obvious choice to use this process.
until recent years there was also the danger in physical model making that people would automatically work with styrofoam blocks, which ran the risk of limiting the results to box architecture. so for a time I avoided model making because I wanted people to experiment much more with the geometry. but we have now extended the facilities in our model workshop, so model making is becoming popular again. in fact for our latest internal conference we focused the whole day on this activity (computers were banned), with really interesting results.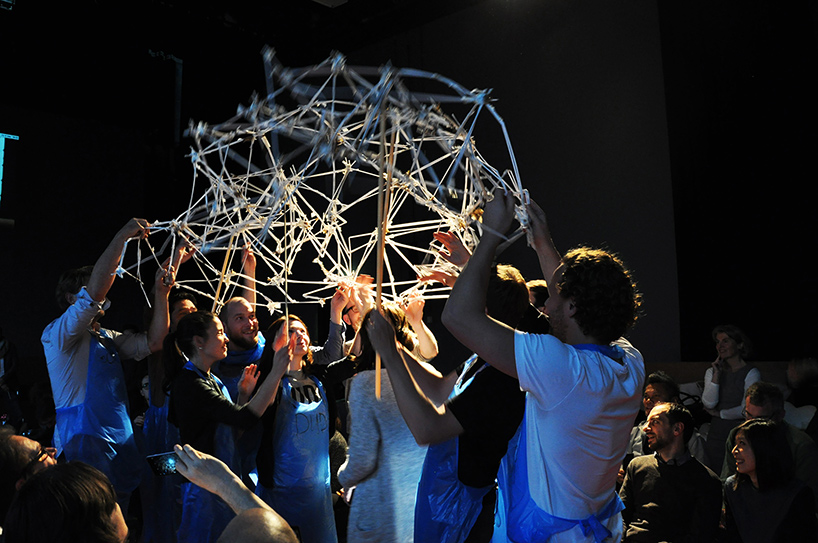 employees were not allowed to use computers to develop their designs / image © UNStudio
DB: outside of architecture, what are you currently interested in and how is it feeding into your work?

BvB: right now I'm listening to a lot of music, researching bands from the early 70s, like roxy music, jefferson airplane, chicago and led zeppelin, as well as music from the mid 90s. I'm actually interested in where composers go wrong and trying to find patterns in how some of these composers lose the original qualities of their music over time.
 I am also fascinated by a wide range of things that influence my work in different ways, like science, art, literature, psychology, and particularly ideas related to perception: how we perceive things on multiple levels and even the instruments we invent to enable or enhance this.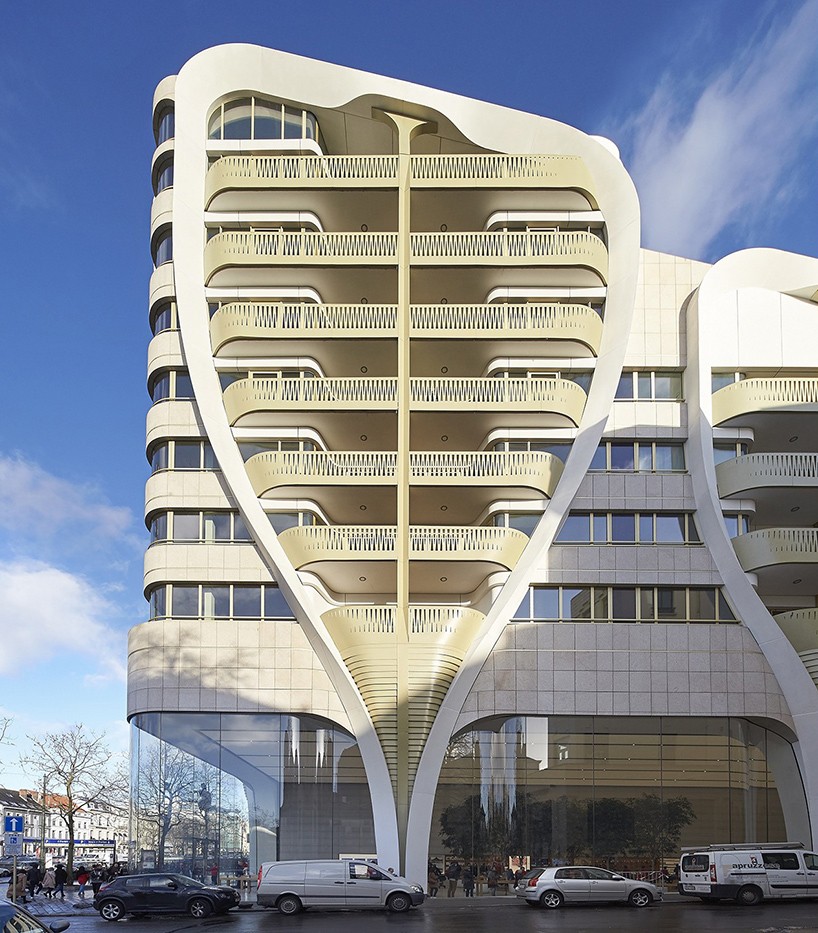 van berkel and his team recently completed le toison d'or development in brussels / image © hufton + crow
see more of the project on designboom here
DB: which architects or designers working today do you most admire?

BvB: I tend not to answer this question, because I have so many incredible colleagues that should be included in any list I may give, that the possibility that I may leave somebody out is too great.
DB: what is the best advice you have received, and what advice do you give to young architects and designers?

BvB: well, frank gehry once told me, 'never borrow money', which was excellent advice. so my advice to young architects and designers would be, 'after you have paid back your student loans, never borrow money again!'
philip stevens
I designboom
feb 16, 2016
KEEP UP WITH OUR DAILY AND WEEKLY NEWSLETTERS
a diverse digital database that acts as a valuable guide in gaining insight and information about a product directly from the manufacturer, and serves as a rich reference point in developing a project or scheme.
designboom will always be there for you
milan, new york, beijing, tokyo

,
since 1999