architecture students melvin koolen, paul breteler, and thomas rosema have designed an addition to bernard tschumi's pavilion in the city of groningen, the netherlands. the design addition, a wooden shell, aims to enhance the disorientation experienced by visitors to the sloping structure.

the wooden component enhances the disorientation effects of the sloped structure
all images © peter de kan
the wooden structure is made of wooden slats cut in just two different lengths. its staggered design creates a dynamic whole as each slat is attached to the next one with a single screw to form a solid self-supporting construction. the design appears to be floating motionless around the glass pavilion.

the wooden shell adds an additional component to the existing structure
the exact positioning as well as curving of the slats were both determined during the construction phase. as visitors enter the pavilion, they 'discover they are in a space with all kinds of different sight-lines and entering light rays', explains the design team. 'with a renewed view the city starts re-appearing through the wooden shell again'.

the tschumi pavilion is still being used as an exhibition space for art projects to this day 

the staggered design creates a dynamic whole as each slat is attached to the next one with a single screw

'with a renewed view the city starts re-appearing through the wooden shell again', says the design team

in contrast to the transparent pavilion, the new addition does not immediately reveal what it contains

different sight-lines and entering light rays define the space

the structure is made of wooden slats cut in just two different lengths

the design appears to be floating motionless around the glass pavilion

concept diagram

concept diagram

floor plan

sectional diagram
Save
Save
Save
nov 02, 2017
nov 02, 2017
oct 11, 2017
oct 11, 2017
sep 19, 2017
sep 19, 2017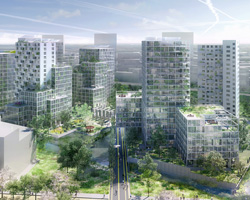 sep 12, 2017
sep 12, 2017
sep 05, 2017
sep 05, 2017
aug 27, 2017
aug 27, 2017
sep 17, 2014
sep 17, 2014
aug 27, 2014
aug 27, 2014
aug 28, 2012
aug 28, 2012