spanish architecture firm beta.0 has designed a pair of small gabled buildings for a tennis school in madrid. the first structure contains an office and customer service area, while the second forms a storage space for the venue's various equipment. the facility was originally going to be one large building, however the design team decided to divide the program in half so as not to disturb the site's numerous trees and their bucolic natural setting. through their specific placement, the two cabins not only resolve functional requirements, but also establish a new recreational space between them.

all images by imagen subliminal
beta.0 designed the structures as simple, unobtrusive shelters that are capable of protecting their inhabitants. appearing as two identical industrialized units, the steel enclosures each rest on a small concrete slab, which both provides stability and ensures that the site's tree roots and forest floor remain unharmed. the exterior is composed of phenolic panels and a skin of oxidized and varnished sheet steel, while a metal mesh allows plants to grow over the entirety of each cabin.

a metal mesh allows plants to grow over the entirety of each cabin
internally, the office and customer service area is lined with varnished pine plywood paneling, with a large span of glazing providing external views. meanwhile, the interior of the storeroom is wrapped with waterproofed plasterboard and sheets of embossed steel. the positioning of the two cabins — in accordance with the site's trees — also provides each building with the necessary amount of shade during warmer months, while allowing sunlight to penetrate the structures during the winter. see more images of the project, taken by miguel de guzmán and rocío romero of imagen subliminal, below.

the exterior is composed of phenolic panels and a skin of oxidized and varnished sheet steel

the pair of small gabled buildings have been designed for a tennis club in madrid

the structures have been conceived as simple, unobtrusive shelters

the first cabin contains an office and customer service area

the space is lined with varnished pine plywood paneling

the second unit forms a storage space for the venue's various equipment

the storeroom is wrapped with waterproofed plasterboard and sheets of embossed steel

the positioning of the two cabins provides each building with shade during warmer months

the site's layout also establishes a new recreational space between the two cabins
project info:
architect: beta.0
team: borja peña, ernesto sierra, xabier ortega, sandra rodríguez and david parra
completed: 2016
location: madrid, spain
typology: office building.
client: club de campo villa de madrid, s.a.
size: 100 sqm / 1,076 sqf
Save
Save
Save
Save
Save
Save
Save
Save
Save
Save
nov 01, 2017
nov 01, 2017
oct 29, 2017
oct 29, 2017
oct 25, 2017
oct 25, 2017
oct 22, 2017
oct 22, 2017
oct 12, 2017
oct 12, 2017
oct 10, 2017
oct 10, 2017
beta.0
(2 articles)
dec 29, 2016
dec 29, 2016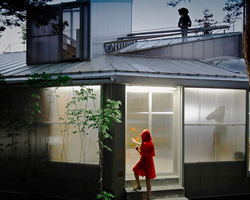 nov 02, 2017
nov 02, 2017
oct 22, 2017
oct 22, 2017
oct 10, 2017
oct 10, 2017