jul 23, 2014
BIBO restaurant in hong kong furnished with street art
BIBO restaurant in hong kong furnished with street art
photo by red dog
all images courtesy of BIBO / substance
a french restaurant in hong kong has been furnished with works of street art from renowned designers – a collaboration between anonymous project coordinator BIBO and creative design agency substance. inside, installations by invader, JR and mr brainwash are accompanied by hangings from banksy, damien hirst and daniel arsham offering diners a new way to experience art. the space has also become a studio for new work, with creatives from around the world invited to undertake independent projects.

external signage and the view from upper lascar row
photo by nathaniel mcmahon
occupying a heritage building in on hollywood road, the space embodies a 1930s parisian saloon with luxurious marble floors and elegant light fittings. in order to connect french cuisine with contemporary street art, a new history for the building was created: the abandoned regional headquarters of the fictional 'compagnie générale française de tramways' (CGFT). some furniture, train timetables and unused ticket rolls remain as part of the design, rendering the new inhabitants squatters, or artists who gather in the vacated building to share food and ideas.
the structure's fittings include brass pipes that are reminiscent of subway ventilation systems, while complex light fixtures appear as train signal lights. referencing abandoned construction sites, the bar is crafted from layers of unevenly stacked marble, with individual dining tables created from misaligned stone slabs.

the bar is crafted from layers of unevenly stacked marble
photo by nathaniel mcmahon
'BIBO is a space that I had never seen before; I wanted to see it but couldn't find it anywhere. it's a vision that passion has brought to reality,' commented BIBO, the project's mysterious coordinator. 'at the core of the project is an artistic concept. I invited street artists from around the world to create installations directly on the walls, even before the design was finalized. alcoves, doors, walls, ceilings have been used by the street artists as surfaces to express themselves. we wanted things to look slightly unfinished, but in an organic way. it makes the artists feel more at home. hence the idea of a squat.'

JR's famous eye motif gazes at drinkers sitting at the bar
photo by red dog
'when BIBO came to us with his pioneering idea, we were faced with the challenge to create a fine dining restaurant and bar that would be a backdrop for street and contemporary art,' explained maxime dautresme, creative director of substance design agency. 'the idea of 1930s design was a perfect fit, modern enough to serve as a setting to constantly changing and extremely eclectic artistic expression, while creating an elegant and comfortable environment in which to serve french gastronomy.'

menus are printed on fictional train schedules from the past
photo by nathaniel mcmahon
dautresme continues, 'we wanted to connect the decade, street art and gastronomy. street artists often begin their careers spray-painting trains and trams. they also like to occupy disused heritage buildings and construction sites. they express themselves by layering their art on surfaces with a history. this building has age and is in a part of town with history and character. what if it had once been the office of a prosperous french transportation company?'

entry to BIBO's restrooms
photo by nathaniel mcmahon

creatives from around the world are invited to undertake independent projects
photos by nathaniel mcmahon
jul 20, 2017
jul 20, 2017
jul 13, 2017
jul 13, 2017
jun 25, 2017
jun 25, 2017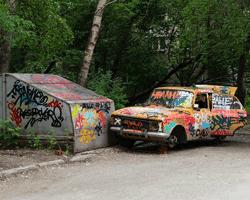 jul 13, 2017
jul 13, 2017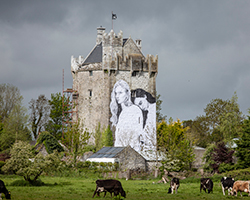 jun 29, 2017
jun 29, 2017
jun 19, 2017
jun 19, 2017