dec 08, 2012
BIG leads the grove at grand bay in miami
BIG leads the coconut grove at grand bay in miami developmentall images courtesy of BIG
the 'grove at grand bay' residences, located on the former site of the grand bay hotel and just minutes from key areas including the airport, 
downtown miami and coral gables shall leave an imprint on the south bayshore drive community, redefining luxury and breathing new life into 
coconut grove for decades to come. developed by terra group miami's leading real-estate development company, in collaboration with BIG, raymond jungles, nichols brosch wurst wolfe & associates, esrawe, desimone, and HNGS, the construction is scheduled to 
begin in the fourth quarter of 2012, completing end of 2014. upon completion, the project seeks LEED certification silver designation, the first such 
structure in coconut grove.
porte cochère entry
rising 20 stories over the bay-front, grove at grand bay will showcase 96 expansive residences with panoramic views from every angle as the two 
towers take off from the ground and clear the surrounding buildings, readjusting their orientation to capture the full breadth of panoramic views from 
sailboat bays and the marina to the miami skyline. the interactive movement of the two towers creates a new dancing silhouette on the grove's skyline.
gardens surrounding the towers
whether in the shade of the buildings' twisting facades or inside, residents of the grove at grand bay will fully experience and relish living amid the 
open air. the gardens and architecture will fuse seamlessly at the amenity levels, maximizing indoor outdoor living experiences that are unique to the 
south florida climate. views down into the gardens, towards the surrounding canopied neighborhoods, and beyond sailboat bay will offer peaceful,
verdant backdrops to elegant residential interiors and vast balconies. the interior design of the individual units are refined towards minimalism and 
luxury. with an open flow-through floor plan, each residence will showcase 12′ ceilings and 12′ floor-to-ceiling windows, first among florida 
developments, and spacious outdoor terraces with wraparound balconies that create a continuous indoor/outdoor living environment.
lobby

'miami has developed a contemporary condominium vernacular that combines brise soleil style balcony shading with floor-to-ceiling windows in order to best enjoy the panoramic water views of the area. we propose to elaborate on these indigenous elements and continue the evolution of the local condominium architecture.' – bjarke ingels, founding partner, BIG.
pedro martin, chairman, chief executive officer and founder of terra group has stated: 'grove at grand bay's impressive aesthetic and unparalleled service are tantamount to the evolution of coconut grove and raises the bar to olympic 
heights.'
lounge
communal space
ocean view from apartment
view of gardens and pool from balconies
marina views
aerial view of towers
at night
model
project info:
partner-in-charge: bjarke ingels, thomas christoffersenproject leaders: leon rost, ziad shebab 
team: tiago barros, jitendra jain, brian foster, ed yung, terrence chew, ji-young joon, kasper hansen, chris malcolm, alana goldweit, martin voelkle, greg knobloch, ho kyung lee, mina rafiee, cat huang, maureen mcgee, chris falla, valerie lechene
aug 11, 2017
aug 11, 2017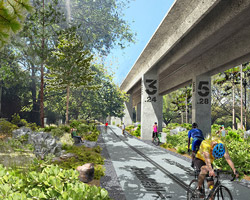 aug 07, 2017
aug 07, 2017
jun 11, 2017
jun 11, 2017
aug 08, 2017
aug 08, 2017
jul 13, 2017
jul 13, 2017
jun 01, 2017
jun 01, 2017
dec 22, 2013
dec 22, 2013
dec 20, 2013
dec 20, 2013
dec 19, 2013
dec 19, 2013